Amazon has revised the terms of customer review and informal free / discounted reviews prohibited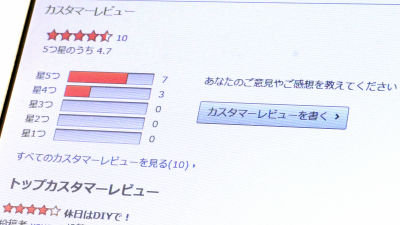 What to refer to when shopping at Amazon is no longer a matter of necessity It is said that the terms of "customer review" have been revised, and in the future when products are offered free of charge for products that are officially offered through Amazon Only the review can not be done. Amazon says that this will result in a more equitable review.

About Amazon Blog - Update on Customer Reviews
https://www.amazon.com/p/feature/abpto3jt7fhb5oc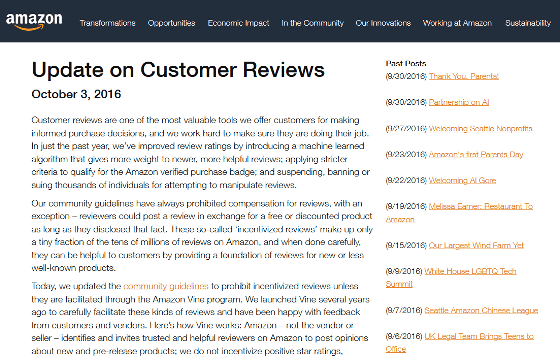 This amendment was announced on October 3, 2016 in the US time. Until now, Amazon also allowed reviewing items to be posted on a condition that they are to be provided at no charge or discounted price from manufacturers, shops, etc., subject to the fact that they are specified in the text It was. This has been called "incentivized reviews" and has been required to distinguish it from other "organic" reviews as a preliminary customer review with a reward.

And this time, it was revisedCommunity Guidelines(Community Guidelines) further strengthened its rules, and the incentive buzzed review as described above can be done by Amazon's invitation program "Amazon Vine(Amazon Vine pre-emption program) "only when products were offered.

Amazon Vine is a system that allows users who received invitations from Amazon to receive sample samples before and after release and post opinions and impressions as customer reviews. The posted reviews are marked as Amazon Vine's review so that they can be distinguished from other reviews.

Amazon.co.jp - Amazon Vine Preemption Program
https://www.amazon.co.jp/gp/vine/help

The Amazon Vine pre-emption program (hereinafter "the program") is an invitation program that allows customers to use samples of reserved items and new products and post opinions and comments as customer reviews. Customers who are members of this program have a track record of posting frank customer reviews that are useful to other customers. Amazon.co.jp will send samples provided by each supplier to members for free. Post reviews will not be modified or edited unless they violate the review guidelines. Therefore, members can freely write opinion on products. For members' reviews, a green stripe of "Customer Review by Amazon Vine Preemption Program Members" is displayed and can be distinguished from other reviews.

For this program, samples for review are provided at the expense of the manufacturer, etc., and items will be sent to Amazon Vine invited users selected by Amazon. Users who received merchandises are permitted to post their thoughts and opinions freely as reviews, and also that the option to not conduct the review itself is guaranteed.

Chee Chew, vice president of Amazon's customer experience for Amazon Vine's review system, said in the release that "Amazon Vine has not yet sold enough and lacks the number of organic reviews by regular users It is proved to be particularly useful for obtaining reviews of the initial stage of the launch of new products, "I hope that more fair reviews will be received.

In addition, as for Amazon's review guideline of Japan as of 11:45 am October 4, 2016 which published the article, along with review by the Amazon Vine preliminary program, "If you received the product for free, It is requested to disclose ", and the above change is not reflected yet. Nonetheless, similar revisions may be added in Japan as well.

Amazon.co.jp Help: Review Guidelines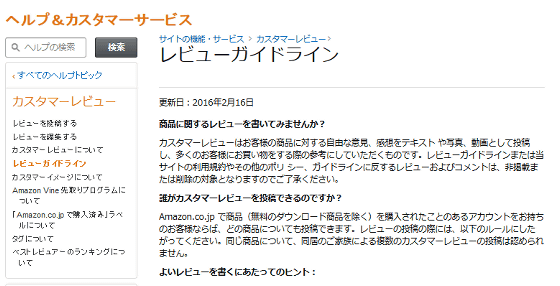 · Provide adequate information disclosure: If you received a product free of charge subject to posting in customer review, please disclose to that effect clearly. For reviews to be posted through Amazon Vine preemption program, there is no need to disclose.