In Taiwan's "cat village" there was a gentle world coexisting with people and cats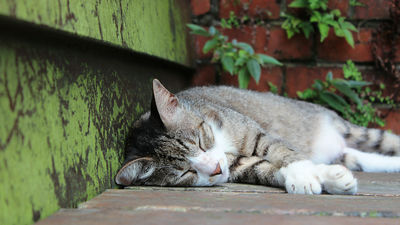 Cat island, cat cafe, cat pub, Nicobara, cat atsume. Everyone in Japan who spends the unprecedented cat boom, "Town Village" is in Taiwan. A community village without even a convenience store was succeeding in locally making cats the leading role. It is a popular sightseeing spot where tourists with a huge camera carry their feet.

Hello,Takuya SAITO who did a round around the world by bicycle @ Charridermanis.Pictures of cats all over the worldI have taken. That is why Taka 's cat village was also anxious. There was a different spot of cats in the world, there.

猴硐 station
When I visited in November 2015, I heard from Taiwanese friends "Have you been to a cat village?" I learned about its existence. I visited Taiwan in July 2016. Because I remember Nekomura it is easy to access by rail if I look it up on the internet. Because there was also time, Nekomura says "猴硐I went to go.

Here is a Google map.


From Taipei Station, it takes about 1 hour by train to Naka station with a cat village.猴硐 is pronounced Hoorong (Houtong).

This time, I moved from Yilan city in eastern part of Taiwan.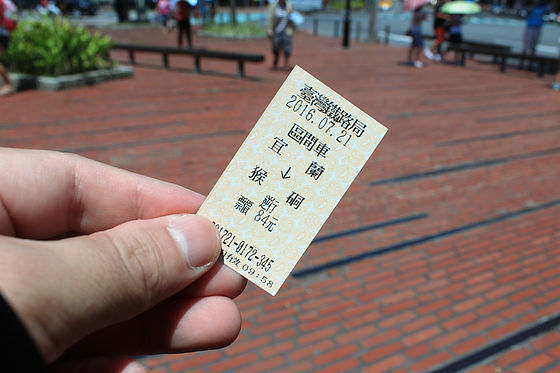 猴硐 Station home.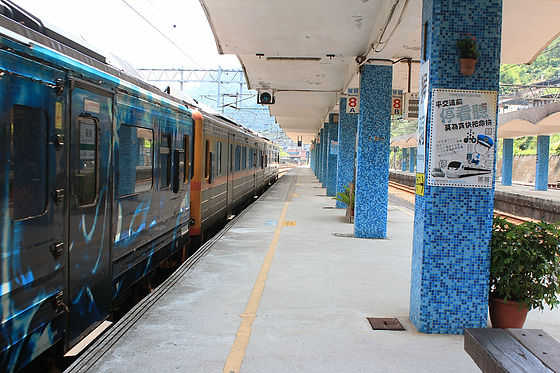 The cat village begins when I get off at the station.

There are lots of exhibits on the theme of cats as well as the connection bridge between the home and the station building.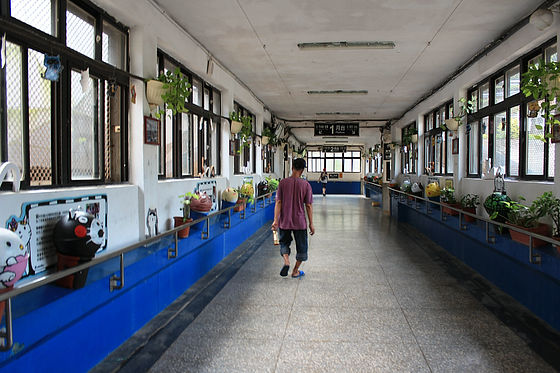 With this kind of feeling, explanation panel of cat village and object of cat were placed.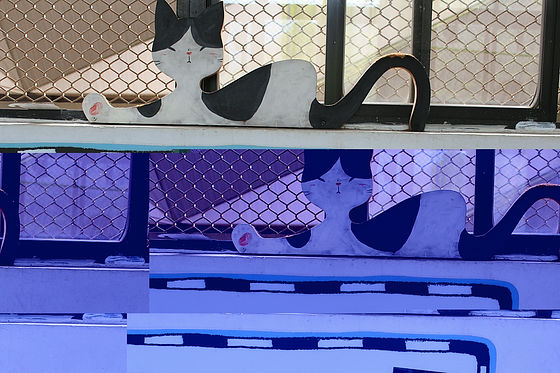 A cat who does not have a bear appearance in brief is informed of cat attention in short.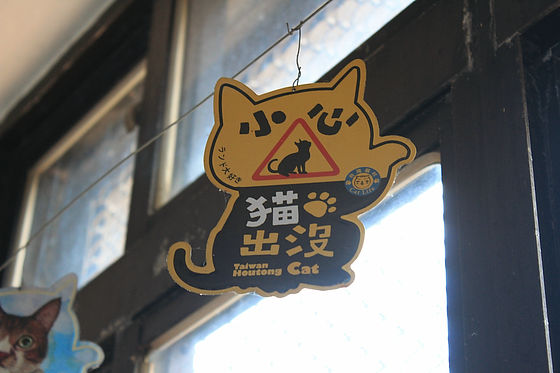 The buoys (buoyes) that were supposed to be cats were also lined up.

But this is Melonkuma.



This is Pikachu. It is not a cat but a mouse ... ....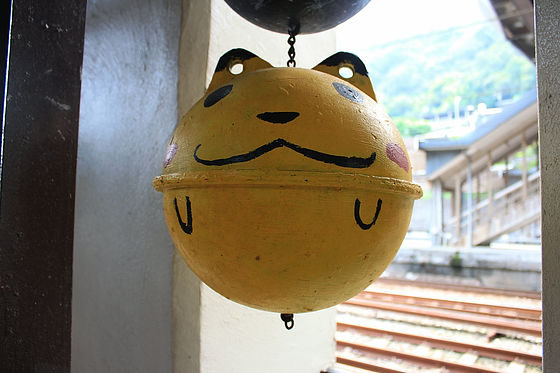 When you leave the ticket gate, it is a ticket office. There was no coin locker, but there was a luggage storage service and I left my bag. I get burned when it gets easier to move.

There are lots of illustrations of cats in the station building, and my cheeks are unintentionally loose.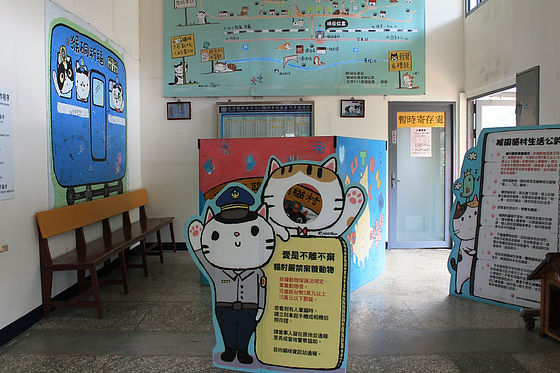 The station manager, meow.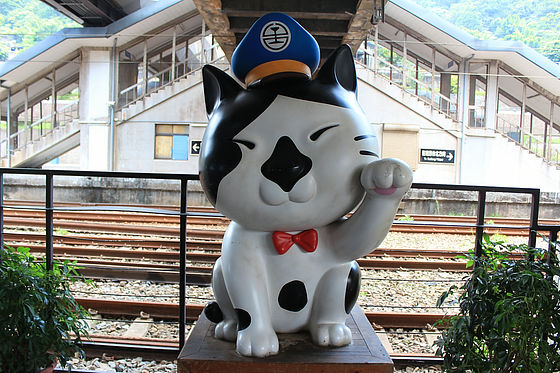 Toilets are also cats.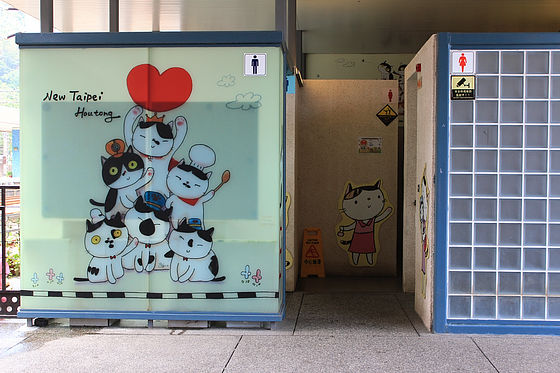 The figure of an adorable cat was drawn also at the bus stop outside the station building.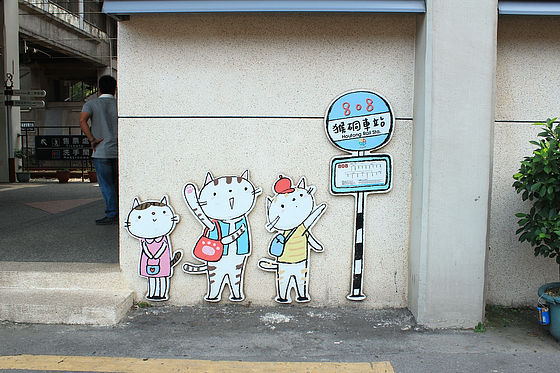 全 The whole view of the station.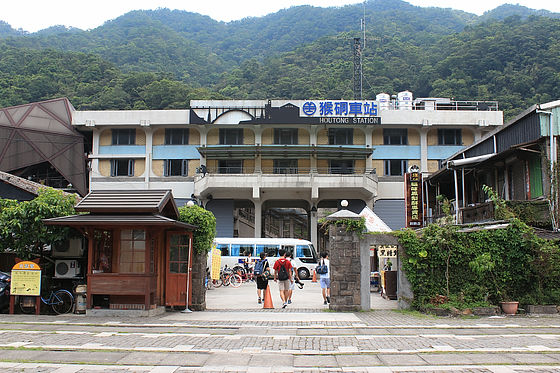 It was a quiet village in the mountains where greenery grew. It seems that it is also in Japan.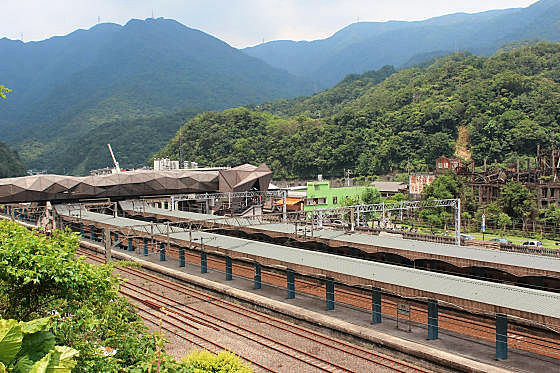 A river called Keelle River flows in the north and south of the village. Railways and roads were made along this river. People are gathering near the river.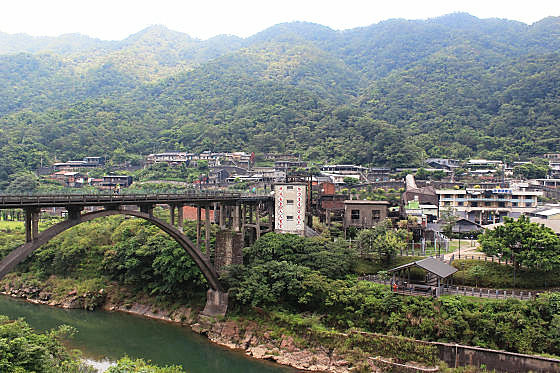 ◆ East side of the track
As you leave the station building, there are plazas in front of you and some eateries are open. Going further there is a big building called "VISION HALL." This place once flourished as a city of coal mines. Diorama etc. which reproduced the facility of those days were adorned.

There are ruins of coal mine facilities around.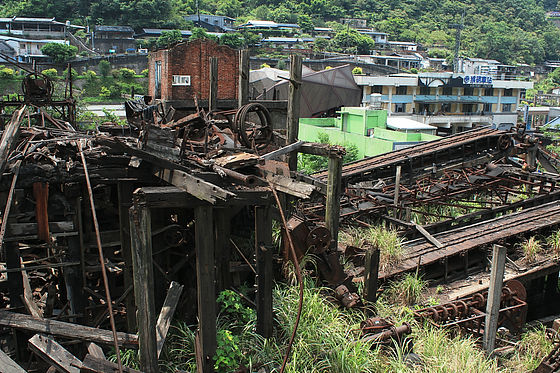 Long ago, many cats were kept for measures against rats which roughened the tunnel. The cat breeds as a stray cat. It falls into a situation where more than 100 cats inhabit. In October 2009, according to the activities of cat lovers, 猴硐 is to aim for "the land coexisting with people and cats". This situation became known, and today it is a sightseeing spot where many cat lovers visit Taiwan both inside and outside Taiwan.

First I tried walking on the east side of the railroad center.

I sleep soundly with my arm as a pillow.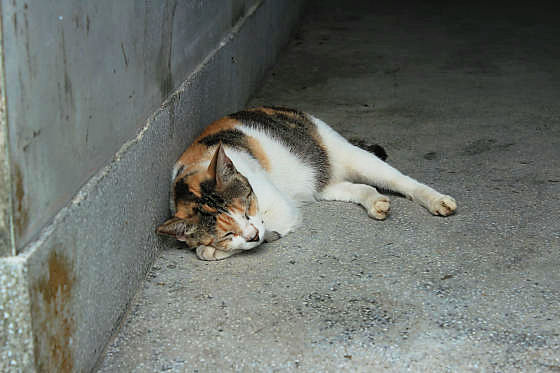 This cat is an eye for some reason.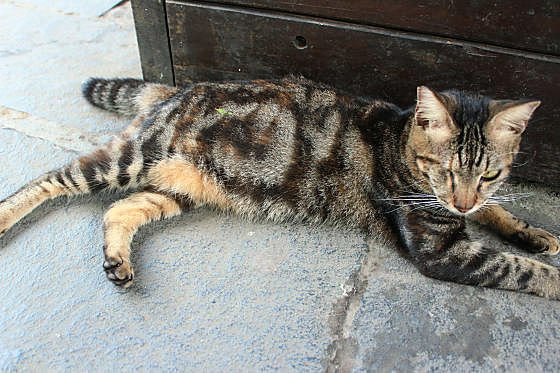 Sit at the edge of the sidewalk.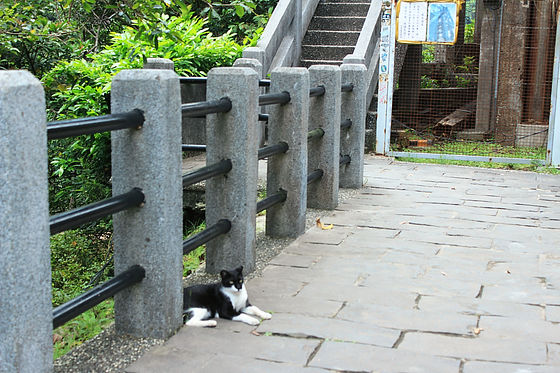 It is adorable that the eyes are closed ... ....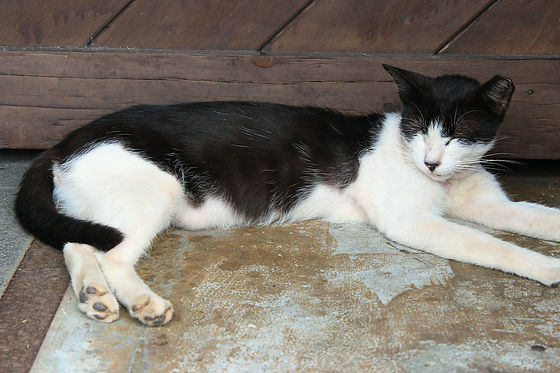 One animal was jumping over the grass as if hunting.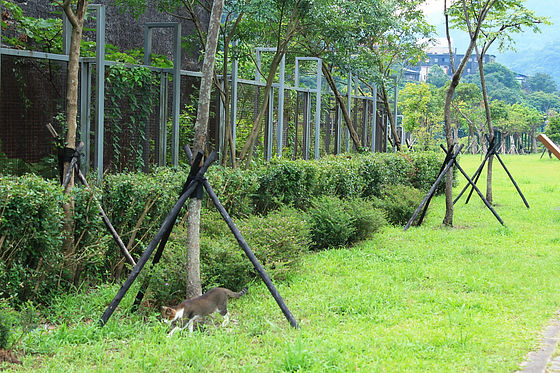 Sleepy sleeping face.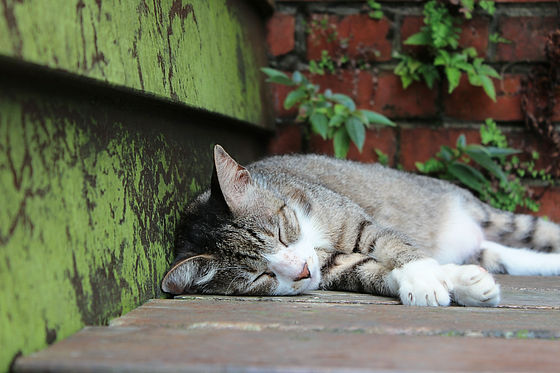 I do not know whether it is a cat house or a cat house, like a doghouse, but it is located.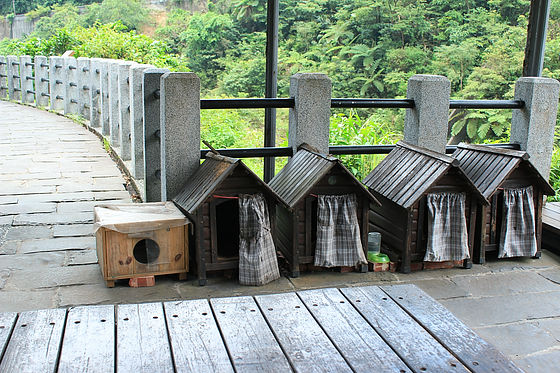 Lots also under the bench.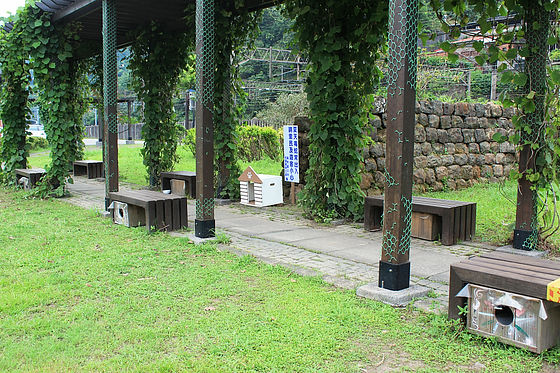 There is also a traffic sign that prompts the cat to "cat hat" on the road. Actually it's the first time for a cat's sign ... ....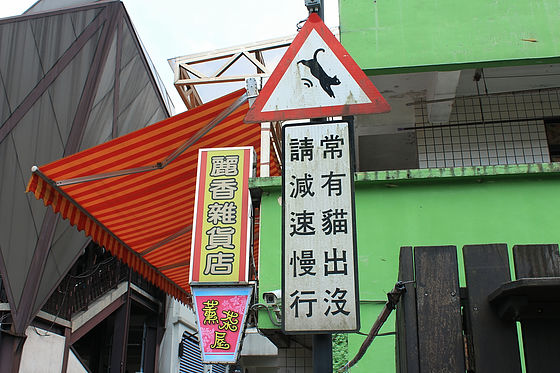 Also a cute sign of cute cats.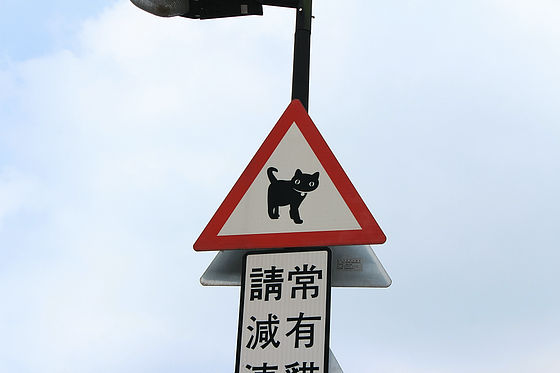 ◆ West side of the track
When I tried searching with a smartphone saying, "How is this?" When I was not enthusiastic about cats, I found that the main village of the village is the west side of the railroad track. I went back to the station building and crossed the overpass.

An overpass bridge shared by people and cats. It was a new and beautiful bridge.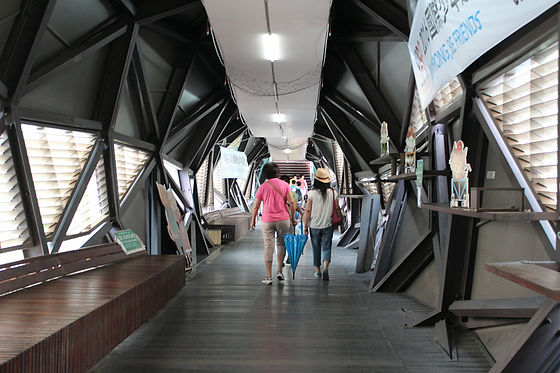 The overpass bridge has an appearance like a huge caterpillar.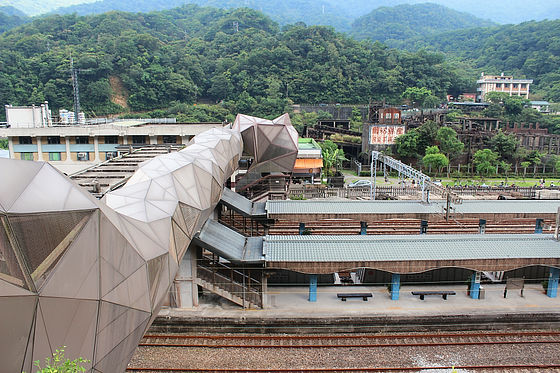 Because the houses are lined up on the slopes of the mountains, I walk on the stairs and slopes. This one has a higher density of cats. As I am lurking in the gap, I noticed it and confirmed by returning from the sense of incompatibility. Cats are hiding everywhere.

It seems to be alert.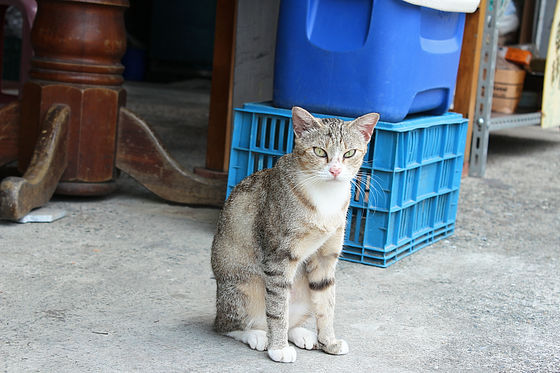 A cat is staring at the entrance of a private house.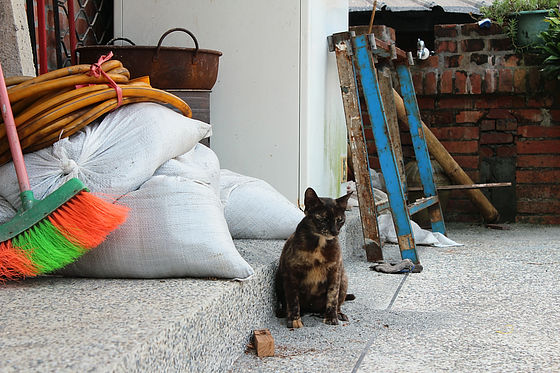 Exquisite sense of balance.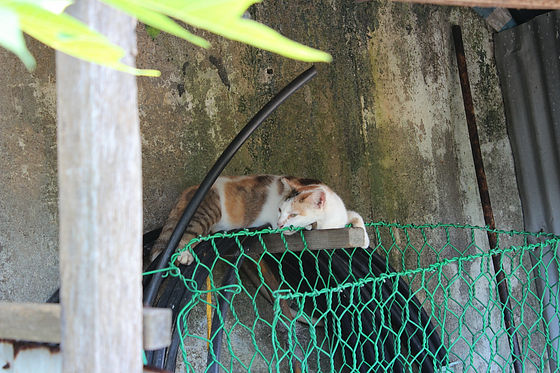 Hidden in the gap between the desk and cardboard.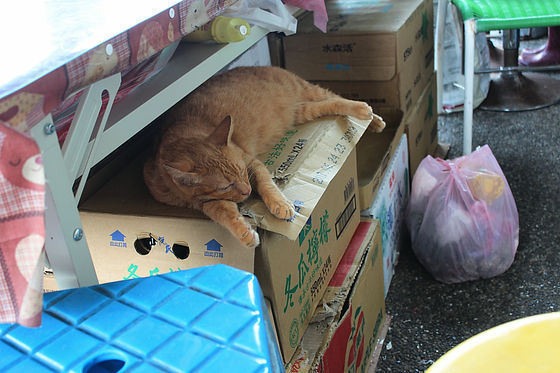 An old boat was in the house of a cat.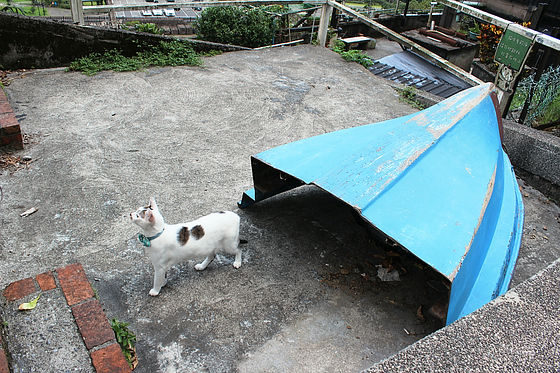 It is the same cat, but what did you find?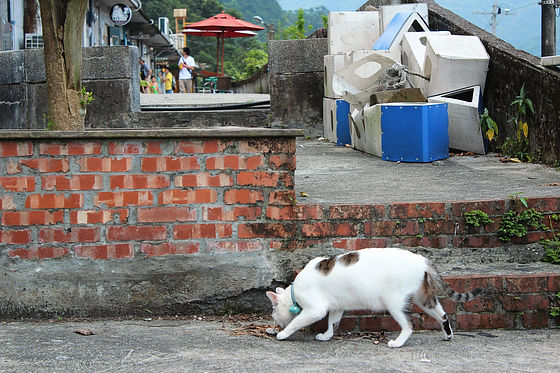 Walking through the gap between the house and the house as a nurse, I will face "Oh, hello."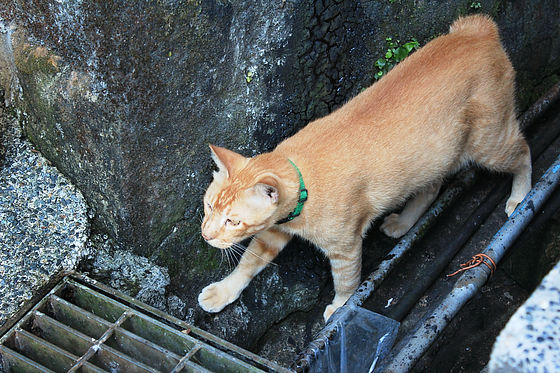 Cats melted into the lives of local people.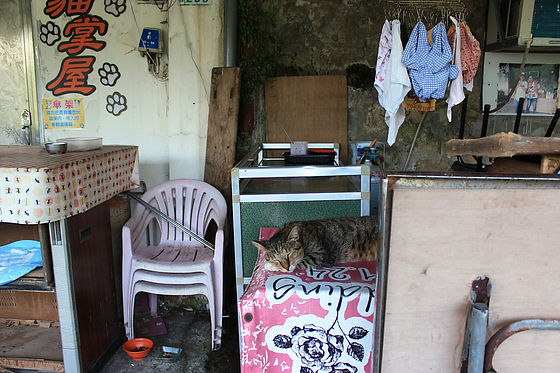 Shaping in the gap between the guide plate and the wall.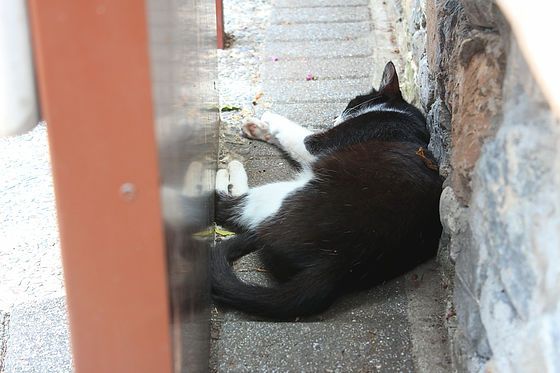 This cat was asleep on the bushes on the wall.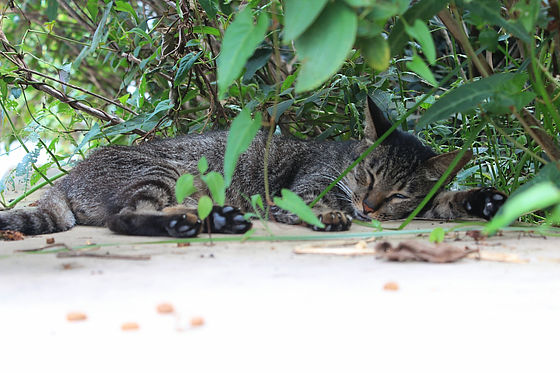 Actually it was the two on the other place. It is a picture of "one stone two cat" "one cat both cats".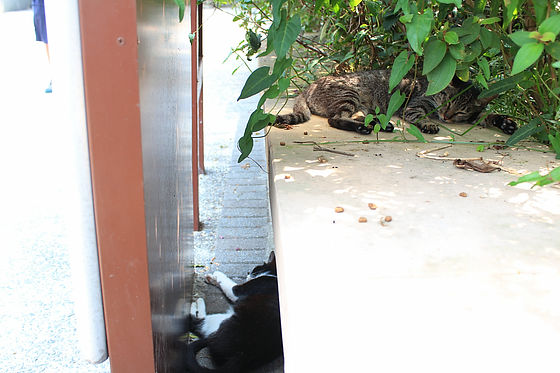 "Above the item is fluffy, pleasant Nyan" and a sleepy sleepy black cat. I was rolling Elizabeth color to prevent scratching licks.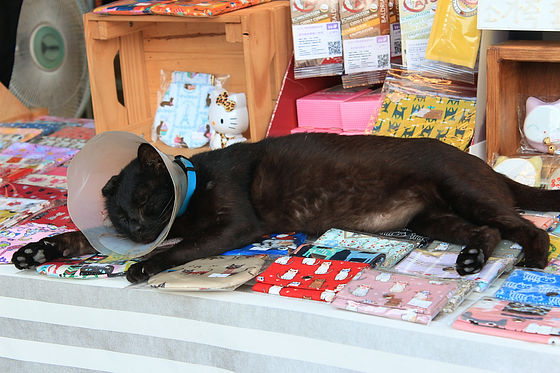 When stopping on the road the cat walks next to the staaster next door. I'm sorry, I get a little cat.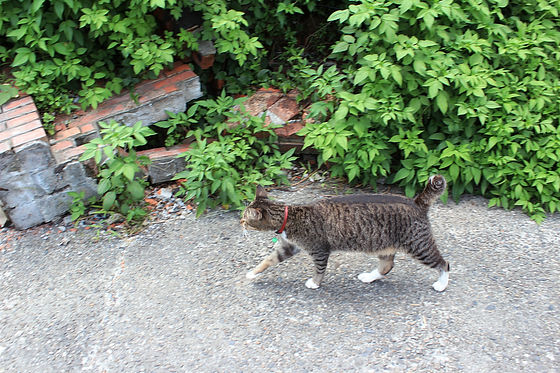 This land where cats and people share their living space.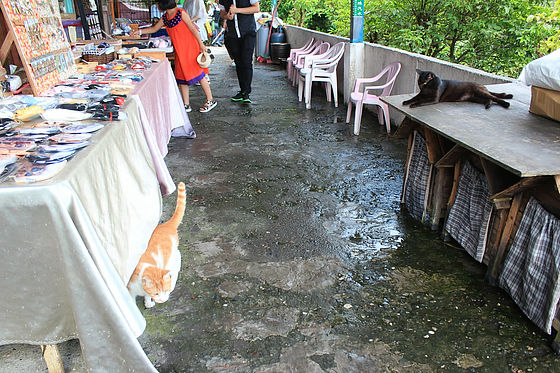 Country life, life where a cat lives.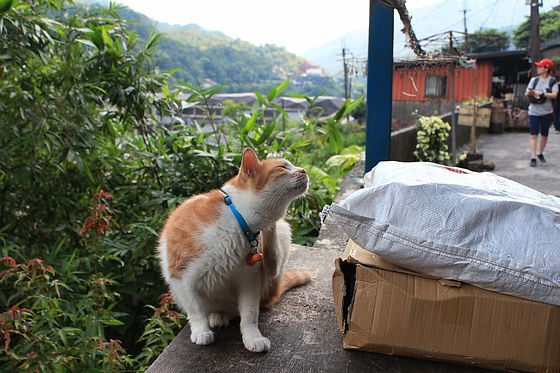 Stop temporarily so that the legs do not get caught in front of the wire gauze in the side groove.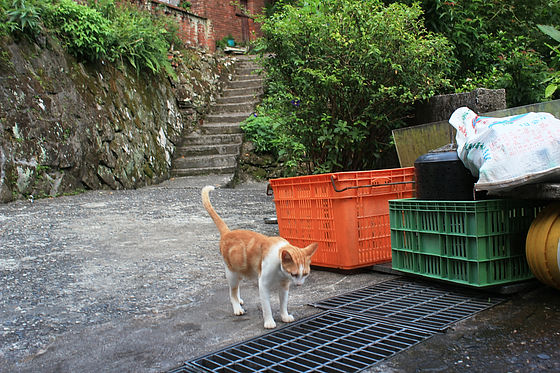 Not only the live cat but also the cat as a design looked impressive.

An object of a huge cat was sitting on the roof of a shop dealing with cat goods.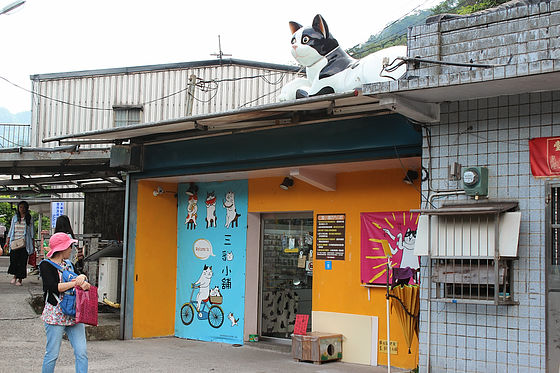 Illustration of a cat on a bicycle and a kitty to chase after a bicycle.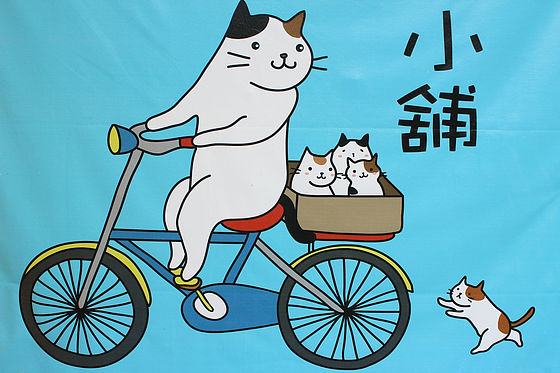 A few cat cafes were also open.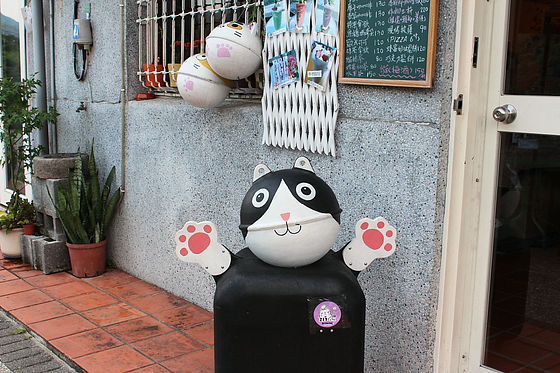 Cats with bad eyes.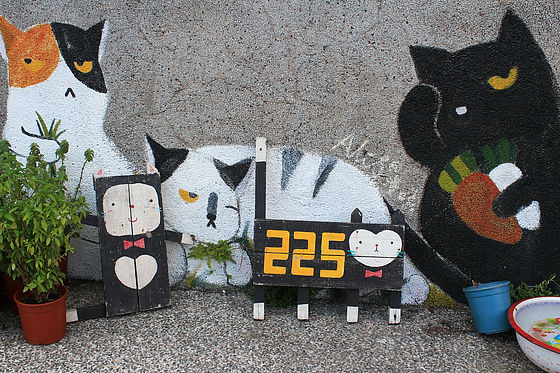 These cat objects were also decorated everywhere.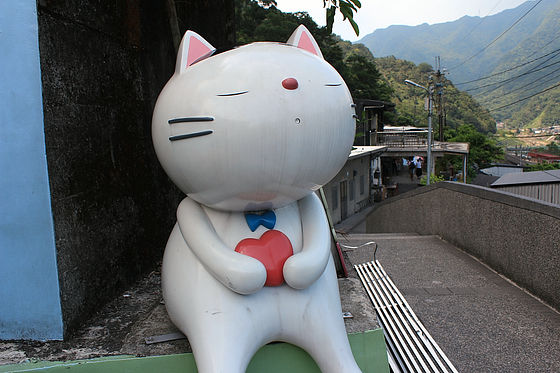 A girl with a gentle face.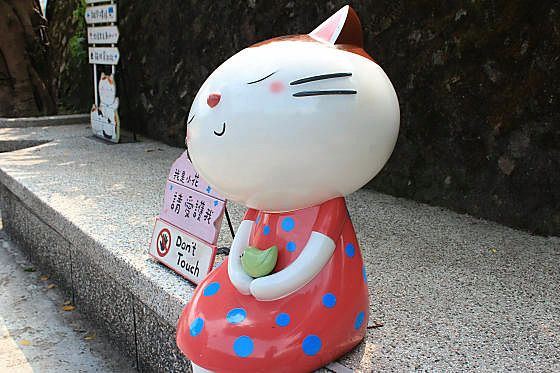 Two cats waiting for the bus and afternoon.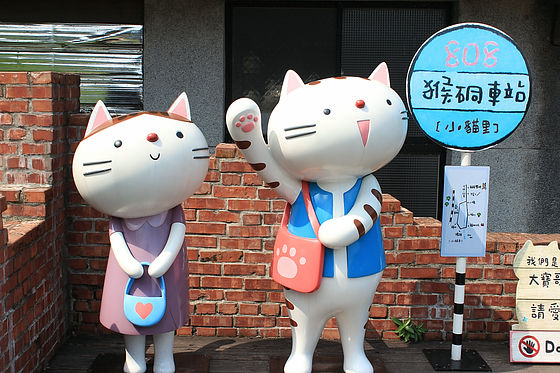 Pictures with cats as subjects also were drawn on the wall. I stopped my feet and saw it seriously.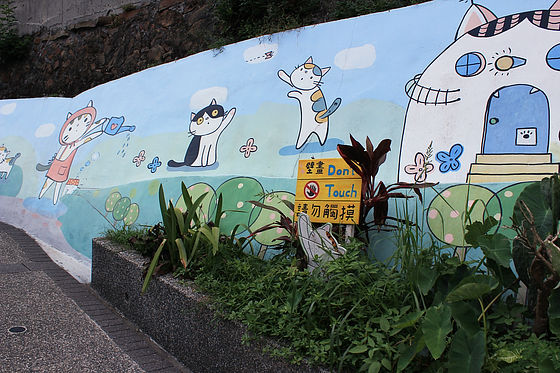 Footprints of cats are embedded in the path when turning their eyes on their feet.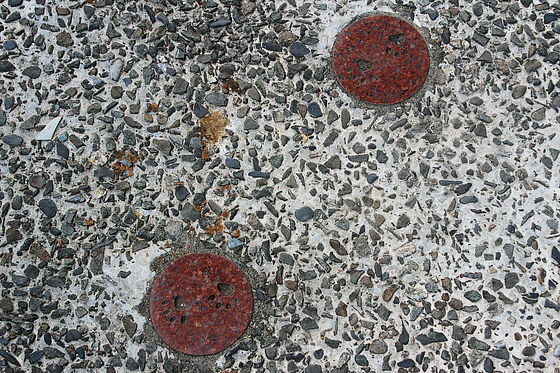 Well, I do not need to dare to object. No one can stop the cat. They leave footprints on their own. Fuu.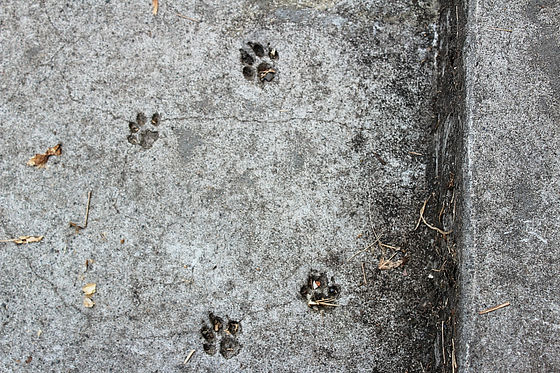 ◆ To the return trip
Walking around all the way to the first spot.

Two cats and laundry to lie down. It is peaceful. It was a world that was too peaceful.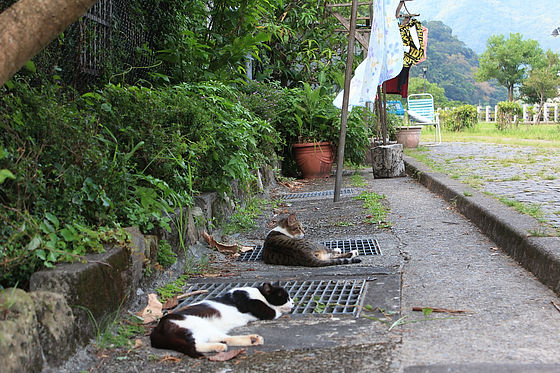 Photograph together.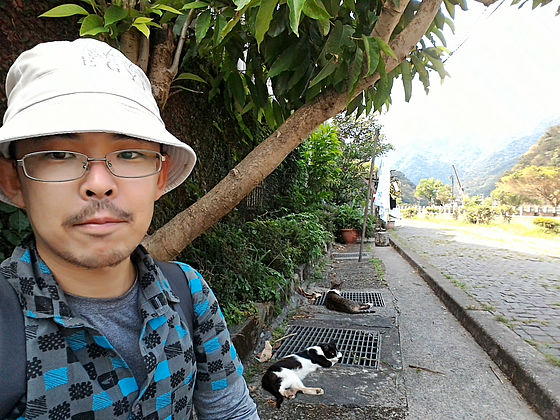 I tried staring.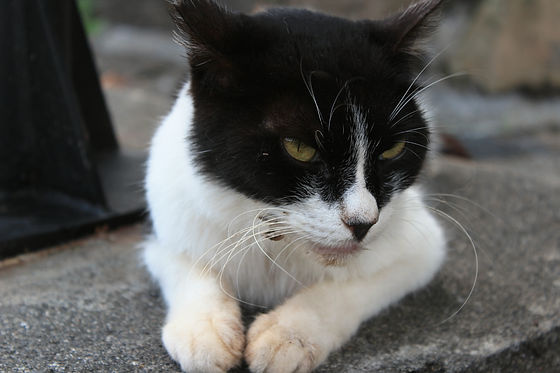 Cat ears paradise. Neko. Chest full of cats. I am satisfied enough that I will return to the station building to head to the next place.

Then I found a cat standing on the post.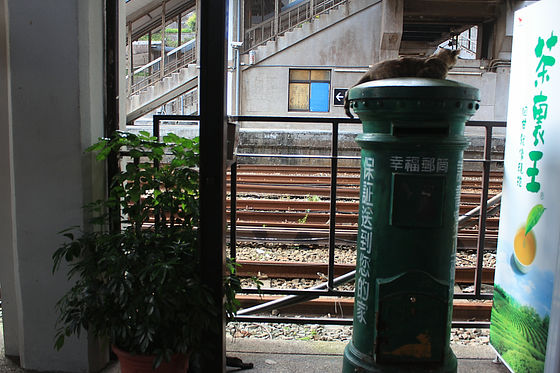 favorite? How about comfortable sitting?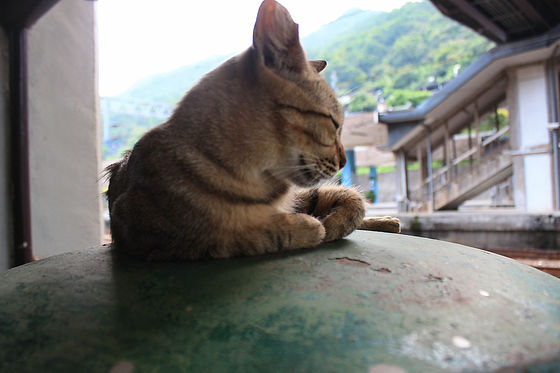 A cat was also sitting on the table.



There was also one straying in the ticket office on the second floor.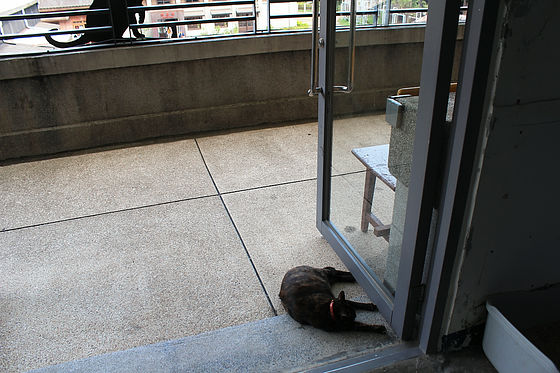 There were lots of cats until the end.

After this 猴硐 猫 village visits a sightseeing spot called "Chihpu" which spreads the scenery close to the stage of "Spirited Away".猴硐 猫 村 と 九 叶 is in a close place.

Notes
The whole picture of 猴硐 猫 village is like this. Eastern (bottom) across the track is a flatland, west (north) is a mountainous area.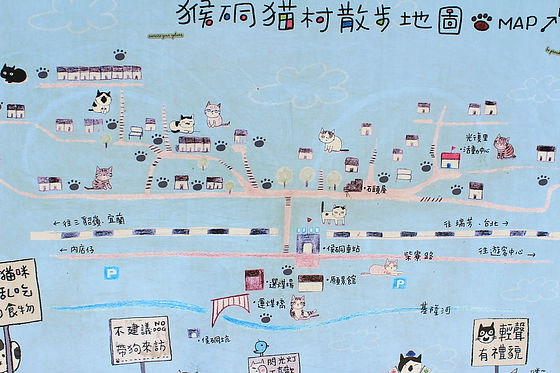 Let's look over your promises such as "Do not bother troubling because it is also the living space of residents" "Take away garbage" "Do not bring dogs".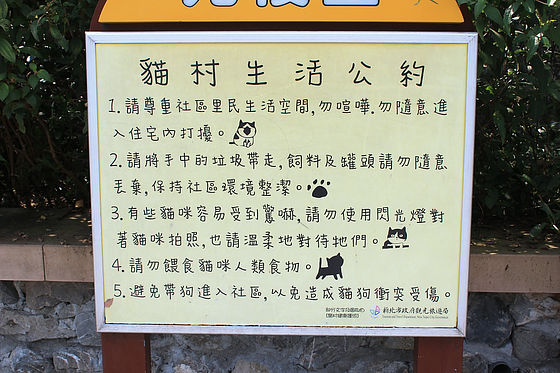 Camera flash is also prohibited.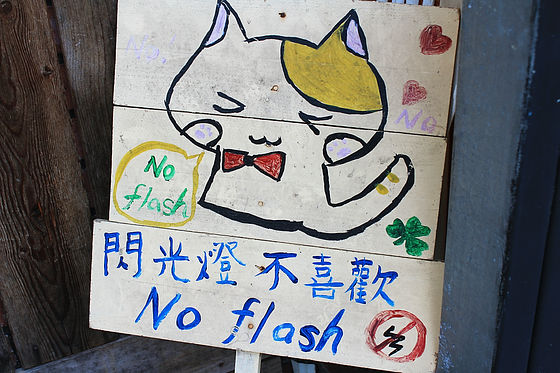 It's such a place, but you should not throw your cat away. There was also an announcement "It's fine."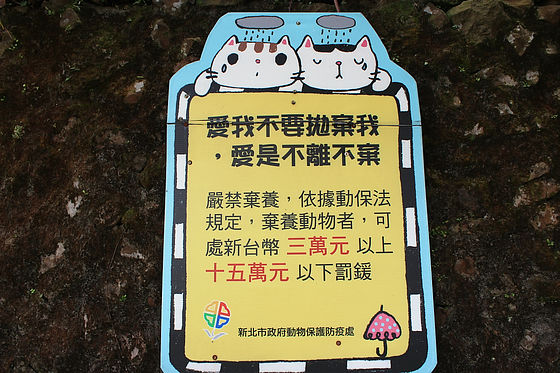 This is a cat's village filled with such a feeling that the body and mind are filled with cats. Why do not you add it to the list of visitors for everyone planning to travel in Taiwan?

(Sentence / photo: Takuya S. Narou Charriderman
Cycling around the world for a bicyclehttp://shuutak.com
Twitter@ Shuutak)

·Notice
As in this article, I have taken pictures of cats all over the world. I would like to summarize these pictures together into one book, but why do not someone do it together?