Official application "YouTube Go" that allows you to watch and download YouTube appears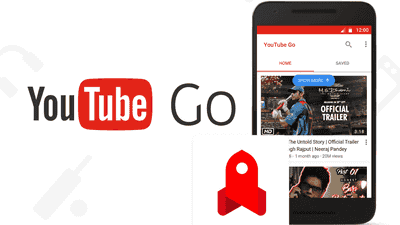 A monster service saying that more than 1 billion users, accounting for about one-third of the Internet population all over the world, hundreds of millions of hours a day, and billions of movies are played in terms of viewing times Shared siteYouTubeis. Although I think that there are many people who are indebted to by the fact that they can watch various genres of movies anytime and anywhere, such as during commuting or when going to school or in the bed before going to bed, but in emerging countries etc, the internet environment is still in perfect condition It is hard to say that it is a situation. That's why Google developed an official application that can download not only movies on YouTube but also downloads "YouTube Go"is.

Official YouTube Blog: YouTube Go: YouTube reimagined for the next generation of YouTube viewers
http://youtube.googleblog.com/2016/09/youtube-go-youtube-reimagined-for-next.html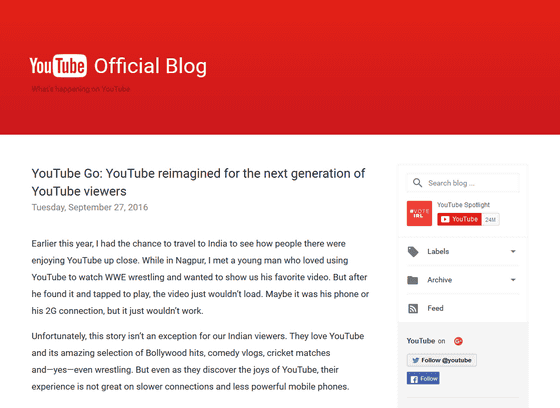 Signup - YouTube Go
http://youtubego.com/intl/en/signup/index.html



YouTube Go a new app for offline viewing and sharing - The Verge
http://www.theverge.com/2016/9/27/13070804/youtube-go-announced-india-offline

We announced a newly designed "YouTube Go" application to make Google use YouTube for more users. This YouTube Go is an application developed mainly for users in India and it is designed to enjoy YouTube efficiently even in areas with limited internet connection.

The feature of YouTube Go is that you can download movies to enjoy the service even when you are offline. Also, since the size of the movie to be played by the user can be selected, the size of the movie is also displayed, so there is no worry that you will carelessly play back a movie with large data capacity.

The YouTube Go screen when playing movies is as follows. There is a "PLAY" button for playing the movie and "SAVE" button for downloading, and the size of the movie is displayed above it.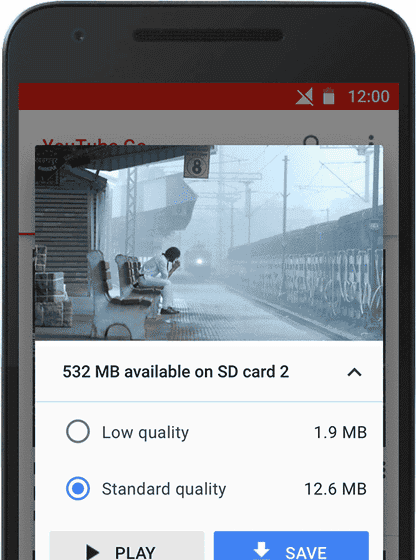 Furthermore, even when you downloaded movie data offlinelocalIt is also possible to share with other users.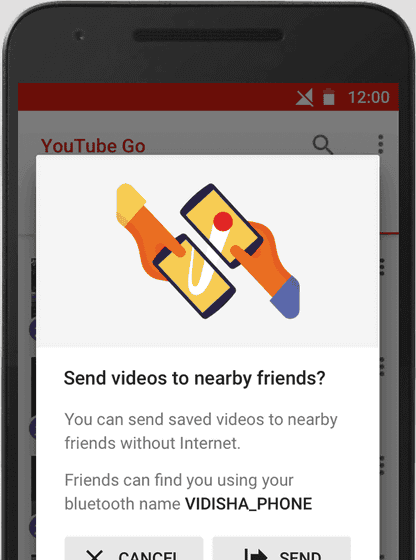 "YouTube Go is a totally new application to help next-generation users enjoy and share movies," said Joanna Wright, the director of YouTube's product management department. She also said, "YouTube Go was developed targeting the Indian market from the beginning to the end and you want Indian people to feel more of the power of the movie by using methods considered in terms of data usage and connectivity "It explains the history of application development.

Please note that why Google's Thunder Pichai CEO will focus on emerging markets like India,The Economic TimesIt is explained above.

Best innovations come from the most surprising places: Sundar Pichai - ET Blogs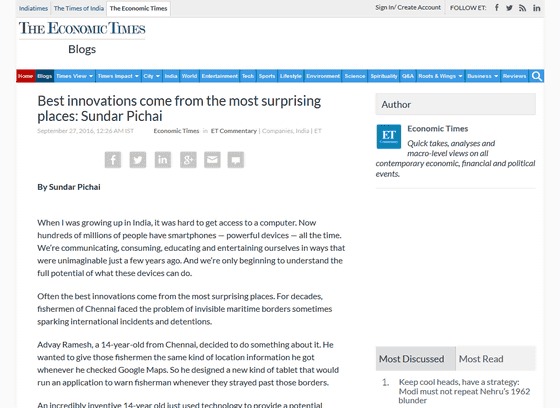 Pichai CEO, in India, where he grew up, has been using the Internet for the popularization of mobile terminals, and accordingly, "With the form of economy, education and entertainment that was unthinkable until a few years ago has been completed It is said. And, paying attention to the high potential of the Internet device, "increasinglyMobile FirstAs the world changes, India will give us insight into the future of the Internet as soon as possible. "