IPhone 7/7 Plus is faster than MacBook Air · Galaxy S7 etc.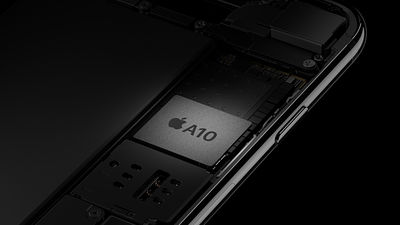 The iPhone 7 series is equipped with the latest SoC "A10 Fusion" and says "2 times faster than iPhone 6". AlreadyComparison of benchmark tests of successive iPhone seriesAlthough it is out, the Geekbench benchmark test revealed that the iPhone 7 series has better performance than the latest Android smartphone and MacBook Air.

Daring Fireball: Geekbench: Android Benchmarks vs. the A10 Fusion
http://daringfireball.net/linked/2016/09/14/geekbench-android-a10

IPhone 7 Series is Faster Than Any MacBook Air Ever Made - Mac Rumors
http://www.macrumors.com/2016/09/15/iphone-7-faster-than-macbook-air/

IT blog · Daring Fireball has released comparative results by Geekbench's benchmark test of the latest Android terminal such as iPhone 7 series, Galaxy S 7 · Galaxy Note 7 · Galaxy S 7 Edge · Huawei P 9 · One Plus 3 etc. It was the iPhone 7/7 Plus that got the highest score, it turned out that both single core and multicore are quicker than the most high-spec Galaxy S7 on the Android terminal at the present time.




Mac Rumors who received this result also mentioned the score of the benchmark test of MacBook Air and MacBook Pro by Geekbench. The scores of the successive MacBook Air are as follows and you can see from the MacBook Air with Intel Core i 5 that the iPhone 7 series is the high score. MacBook Air with Core i7 is not inferior in score, but the results of single core are nearly equivalent.



Compared to the 2015 model with Core i 5, the MacBook Pro has a single core score that results in the iPhone 7 series winning.