Suspected that 'OnePlus 9' and 'OnePlus 9 Pro' had performance restrictions on some apps, OnePlus explained as 'optimization'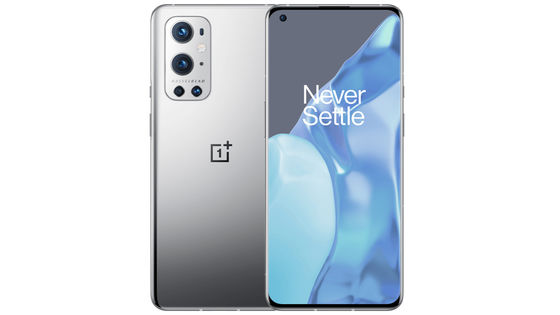 2021 March and smartphone 'OnePlus 9' that OnePlus announced in the 'OnePlus 9 Pro', we found that the performance of some applications is limited. In response to this, the standard benchmark application 'Geekbench' has announced that it has removed 'OnePlus 9' and 'OnePlus 9 Pro' from the aggregated data.

Examining OnePlus' Performance Behavior: Optimization or Misrepresentation?

https://www.anandtech.com/show/16794/oneplus-9-performance-examination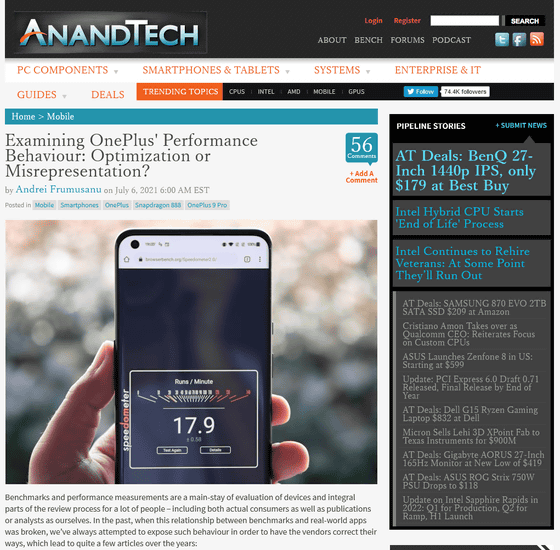 OnePlus 9 benchmarks deleted from Geekbench over cheating allegations
https://www.androidauthority.com/oneplus-9-benchmarks-1640058/

AnandTech, an IT news site, discovered that performance was limited.

Samsung's Galaxy S21 Ultra and OnePlus 9 Pro have the same Snapdragon 888, but when I run the browser benchmark app Speedometer 2.0 in Chrome, it makes a big difference, so OnePlus blocks something in Chrome. He noticed that he was daring to reduce the amount of cores used.

Same Snapdragon 888, same Chrome version.
S21 Ultra top, OP9Pro bottom

Explanation: ??????? pic.twitter.com/090VdNOWmV

— Andrei F. (@ andreif7) June 30, 2021


A detailed benchmark video is available on YouTube. The first benchmark result will appear at 1 minute 30 seconds, but this '61.5' is unusually low for a terminal equipped with Snapdragon 888. Kryo 680, the CPU of Snapdragon 888, has one high-performance core called Cortex-X1, three cores called Cortex-A78, and four high-efficiency cores called Cortex-A55. When I monitored the CPU behavior of the OnePlus 9 Pro during benchmarking, I found that I was using only the Cortex A78, not the more powerful Cortex X1. Even though the maximum number of clocks is 2.41 GHz, it was operating at 2 GHz. In addition, when I rerun the benchmark, this time I only work with the Cortex A55 without the Cortex A78, and the score drops to 16.8.

OnePlus 9 Pro --Chrome Speedometer Behavior --YouTube


After various trials by AnandTech, it was when using Vivaldi that it was possible to load the X1 core with OnePlus 9 Pro and draw out the full power of Snapdragon 888, and the score was 107, which is finally the same level as other Snapdragon 888 equipped terminals. That thing. However, when the app is closed and restarted, the X1 core is no longer loaded and it only runs on the A78 core.

Further research revealed that there are performance limits on Google's app suite, Microsoft's office apps, and all the popular apps on the Play Store. This is hard to notice subjectively even if you use OnePlus 9 Pro alone, and it seems that you will notice it for the first time when you use it side by side with the same Snapdragon 888 equipped terminal Galaxy S21 Ultra and Xiaomi Mi11 Ultra.

In response, a OnePlus spokeswoman said, 'After launching the OnePlus 9 and OnePlus 9 Pro in March 2021, some users provided feedback on battery life and heat management. The R & D team has been working to optimize device performance by meeting the app's processor requirements with optimal power when using popular apps such as Chrome, which reduces power consumption. has realized the smooth operation while. Although the part of the benchmark app might affect performance, we are always on behalf of the user, we will continue to the things you can do with the performance improvement of the device 'and comment I am doing it .

In addition, the classic benchmark application 'Geekbench' reports on official Twitter that it deleted the data of OnePlus 9 and OnePlus 9 Pro with disappointment.

... It'S Disappointing To See OnePlus Handsets Making Performance Decisions Based On Application Identifiers Rather Than Application Behavior We View This As A Form Of Benchmark Manipulation We'Ve Delisted The OnePlus 9 And OnePlus 9 Pro From Our Android Benchmark Chart Https: // T .co / G40wmWeg7o

— Geekbench (@geekbench) July 6, 2021