What is the reason for the report that the GPU performance of Pixel 5 has 'improved by up to 50% with the update'?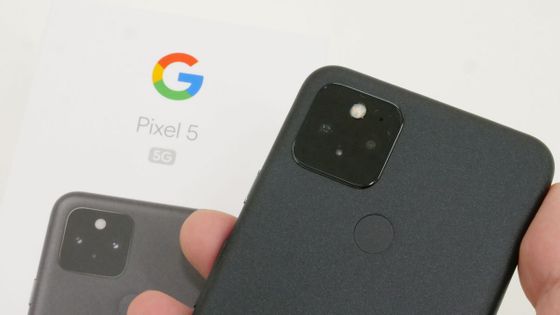 The Google smartphone '
Pixel 5
' released in October 2020 is the latest model in the 'Pixel' series and can wirelessly supply power to other devices and
new shooting functions such as 'cinematic shooting' and 'portrait light'.
It is equipped with a
'battery share' function.
After the security update for Pixel 5 in April 2021, it has been reported that 'GPU performance of Pixel 5 has improved by up to 50%'.
Pixel 5 GPU performance'doubles' w / latest update --9to5Google
https://9to5google.com/2021/04/06/pixel-5-gpu-performance-upgrade/
Pixel 5 sees dramatically improved GPU performance after April patch | Ars Technica
https://arstechnica.com/gadgets/2021/04/pixel-5-sees-dramatically-improved-gpu-performance-after-april-patch/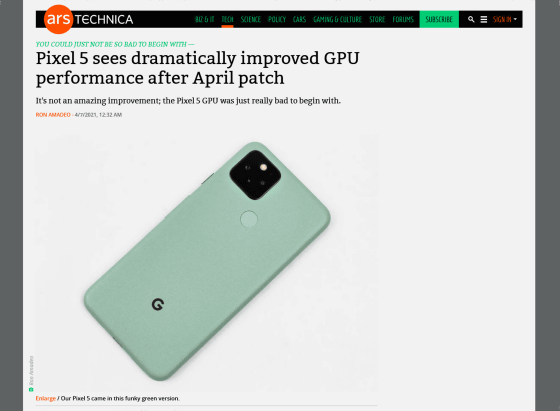 Google released a security update for the Pixel series in April 2021. The content was 'improving the quality of Pixel 5 cameras in certain third-party apps' and 'optimizing the performance of apps and games that make heavy use of certain graphics.'
With this update, reports of 'record improvements in graphics performance' have become a hot topic.
Andreas Proschofsky
, a Pixel 5 user who actually applied this update,
said, 'We investigated the performance with 3DMark,
which tests 3D graphics performance, and compared it with Pixel 5 when the March update was applied, 30 There was an improvement of ~ 50%. '
Turns out the Pixel 5 is now getting way better results in 3DMark. Like in 30-50 percent better compared to a P5 w March patch level. Even the results in general benchmarks like PCMark Work are a bit better (even though in this case really only just a bit). 2 / pic.twitter.com/58Ze5qFE6d

— Andreas Proschofsky (@suka_hiroaki) April 5, 2021


Ars Technica, an IT news site, pointed out that the reason why the GPU performance of Pixel 5 soared due to the update was 'only the terrible condition at the time of release was fixed'. At the time of launch in October 2020, the GPU performance of the Pixel 5 was significantly lower than other Snapdragon 765G-equipped smartphones, and Ars Technica called it 'the slowest Snapdragon 765G-equipped smartphone in the world' in the review at the time of launch. I was there. So, rather than improving the GPU performance of the Pixel 5 with this update, we're just looking at it as 'fixing a GPU performance issue.'

'We can see that the Pixel 5's performance is essentially doubled from the published score(in Anandtech's review ) and is equal to or better than other Snapdragon 765G-powered smartphones,' said one Twitter user. Finally, he added, 'The fact that it took six months is sad.'

Thanks for the ping.

I can confirm that performance has been essentially doubled from the scores published there, and in line or better than other 765G phones. Tested on Pixel 5.

The fact it took 6 months is sad though.

— Andrei F. (@ andreif7) April 5, 2021


If you want to update the system manually, select 'System Update' or 'Check for Updates' from 'System' on the setting screen. When you actually update Pixel 5 in April 2021, the system update is first prepared ...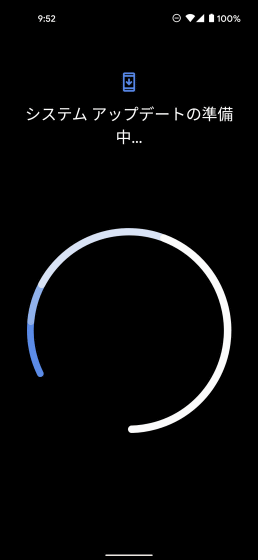 It will be installed.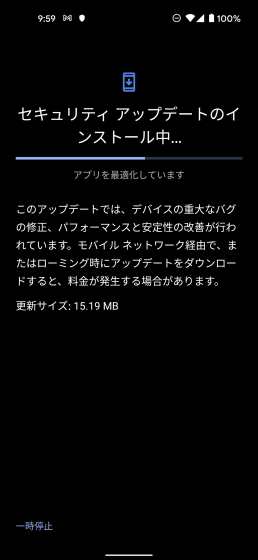 After confirming that the security update is available, tap 'Restart Now' to complete the restart ...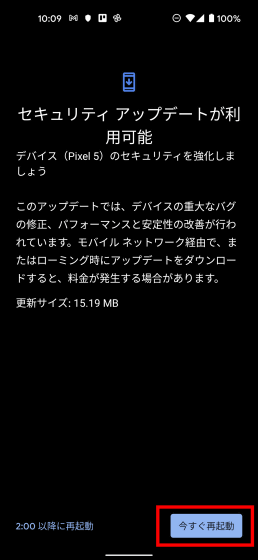 The latest updates will be applied.