Samsung announced the 1.3 million scale Galaxy Note 7 recall, 92 problems have been found so far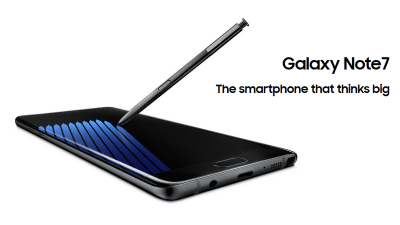 Following repeated battery explosion accident, Samsung's smartphone "Galaxy Note 7An official recall was announced with.

Samsung Recalls Galaxy Note 7 Smartphones Due to Serious Fire and Burn Hazards | CPSC.gov
http://www.cpsc.gov/en/Recalls/2016/Samsung-Recalls-Galaxy-Note7-Smartphones/#remedy

Samsung formally recalls the Note 7 in the US - The Verge
http://www.theverge.com/2016/9/15/12933410/samsung-galaxy-note-7-recall-us-cpsc

On September 15, 2016,US Consumer Product Safety Commission(CPSC) announced to recall all Galaxy Note 7 sold in the United States. The target terminal is a terminal sold by September 15th, and the total number is 1.3 million.

The CPSC informs the user of the terminal, "Immediately discontinue use, turn off the power, contact a communication carrier or retail store, Samsung.com, exchange it for a new battery-free Galaxy Note 7 for free, We will recommend refund of the price or exchange with an alternative machine ".

At the time of the recall, Samsung had 92 troubles grasped, including 26 burns and 55 fire accidents. The influence of explosion / ignition was very large, and the case where the car was burned down as follows also occurred as follows.

Samsung's GalaxyNote 7 explodes and the Jeep explodes, and when the FAA brings it in the airplane, it recommends turning off the power - GIGAZINE



As the battery explodes and flames up and causes damage, the airline industry which saw the situation seriously embarks on countermeasures. On 9th September, the Federal Aviation Administration (FAA) issued a statement to call passengers to refrain from using, charging and depositing in the aircraft in the form of naming Galaxy Note 7, and refraining from depositing in the baggage.

FAA Statement on Samsung Galaxy Note 7 Deviceshttps://t.co/NADpT5Jma4Pic.twitter.com/e9uJvNmUUq

- The FAA (@ FAAews)September 8, 2016

This movement was also transmitted to Japanese airlines, and the following notice was posted at the reception counter of JAL.

It is the first time I saw such a note at the airportPic.twitter.com/tyS7OpMco 6

- STY (@ STYjp)September 12, 2016

It is already known that the cause of this trouble exists in the built-in lithium ion battery, and as a countermeasure there are situations where there is no choice but to replace with a new battery. To that end, recall was announced, but prior to this, Samsung distributed patches that forcibly stop the battery charge up to 60% as a measure for the domestic domestic market.

Galaxy Note 7 More than 70 cases of explosion accident occurred in the US alone, patch distribution that only charges 60% as a measure Distribution - GIGAZINE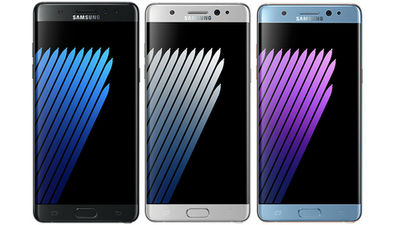 In a series of cases, the stock price of Samsung plummeted suddenly.

Samsung's stock plunges to biggest ever price decline, but analysts see a bottom - MarketWatch
http://www.marketwatch.com/story/samsungs-stock-plunges-to-biggest-ever-price-decline-but-analysts-see-a-bottom-2016-09-12

The stock price plummeted on September 9 when the incident was largely reported, and Samsung lost $ 14.3 billion (about 1.4 trillion yen) in the valuation. However, some experts already have a movement to see stock prices hit bottom.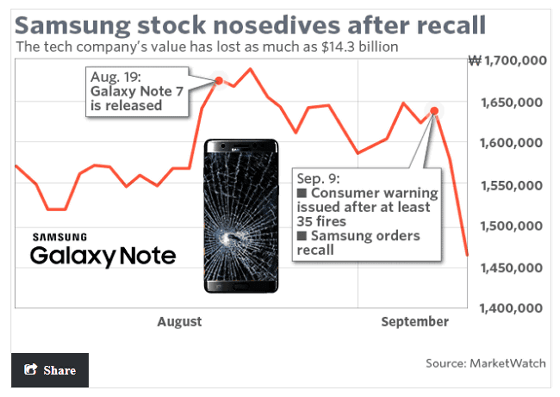 The battery problem of Samsung "Galaxy Note 7" is an unprecedented situation that all released smartphones are recalled. In the press release below, the president of Samsung's US corporation announces the recall and has released a movie calling for users to deal with it.

ADDING MULTIMEDIA Samsung Announces US Availability of Replacement Note 7 Devices as Part of Voluntary Recall | Business Wire
http://www.businesswire.com/news/home/20160915006560/en/Samsung-Announces-Availability-Replacement-Note7-Devices-Part