Interview with Keiichiro Toyama of "GRAVITY DAZE 2" and Kohei Tanaka, a composer, as to how the idea of ​​gravity manipulation was born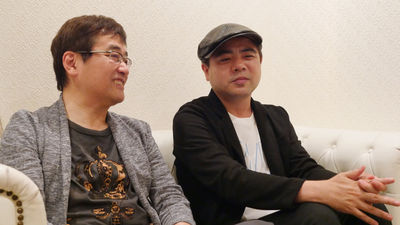 Adopting a novel game system that freely manipulates gravity, the creative approach that had never been before been evaluated, and the 16thAgency for Cultural Affairs Media Arts FestivalEntertainment category excellent prize andJapan Game AwardContest of "2012 GRAVITY DAZE" game for PlayStation Vita which won 2012 year work category grand prize etc.GRAVITY DAZE 2 / Gravity Dizzy Complete Edition: As a result of returning to the upper layer, the choice that converged into her inner universe"Will be released for PlayStation 4 on December 1, 2016.

The director of that GRAVITY DAZE 2Keiichiro ToyamaMr.Kohei TanakaI interviewed Mr. and heard about digging digging about GRAVITY DAZE 2.

GRAVITY DAZE 2 | PlayStation Official Site
http://www.jp.playstation.com/scej/title/gravitydaze/2/

You can see what kind of game "GRAVITY DAZE 2" is, by seeing the following movie.

"GRAVITY DAZE 2" Release date decision trailer - YouTube


GIGAZINE (hereinafter, G):
First of all, please briefly introduce the game like GRAVITY DAZE 2 released on December 1st.

Keiichiro Toyama (hereinafter referred to as Seiyama):
GRAVITY DAZE 2 adventures the world quite different from reality based on a world view like a comic while a girl named Kittun who has a mysterious ability to manipulate gravity runs around the sky manipulating gravity I will play the game.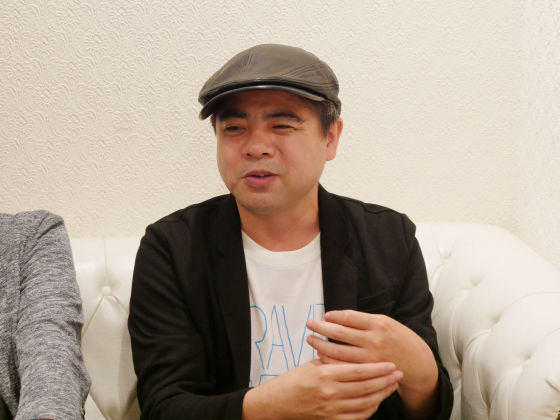 G:
"GRAVITY DAZE" for PS Vita released in 2012 was a highly novelty title with elements not found in the game called gravity manipulation until then. This time is a sequel, but what part of the game does the "freshness" part felt by users leading to novelty is expressed?

Mt. Oyama:
While pursuing reality by making use of the computing power of PS4 such as physical computation and lighting, we are showing expressions that evolved several stages while keeping the concept of the previous work straight.

G:
Is there anything that could be expressed by making full use of the power of the PS4?

Mt. Oyama:
Expressions that make use of PS4's abilities are numerous in the game, but the depiction of "fragments" is particularly wonderful. The destroyed thing becomes fragments of pieces and it gets caught up in the gravity operated by Kittun, and if it is originally falling down to just below it will flow sideways, such a dynamic picture is another I think that it is becoming an action which can not be experienced on the picture medium.

G:
What is the pleasure and interestingness unique to the sequel in development?

Mt. Oyama:
In the case of the previous work, I was promoting development in trial and error, and there were a lot of things "I could do more such things". Although I wanted to do with my previous work in this work, I was able to enjoy a lot since I was able to follow up a lot of things I could not do.

G:
Hmph.

Mt. Oyama:
On the other hand, when making a sequel, you have to think about who you are playing for the first time from this work. In the case of "GRAVITY DAZE 2", while making the game more profound than the previous work, I make the entrance which becomes the entrance of the player wider, making it easier to cling than the previous work.

G:
So, does not "GRAVITY DAZE 2" be able to go about stories and games without problems even if you have not played the previous work?

Mt. Oyama:
Yes, I think that it's okay because it's a part I made with tremendous care. However, as there is a mystery-like element like a story in the story, if you can play the previous work, you are supposed to be able to enjoy more.

G:
For Mr. Tanaka it will be a sequel composition. In the case of composition, what kind of things should be kept in mind and wished for the sequel?

Kohei Tanaka (hereinafter Tanaka):
The world of GRAVITY DAZE is quite distinctive. What I like most about GRAVITY DAZE is "the color" of my work. The previous work was a little cloudy coloration, expressing the characteristics of GRAVITY DAZE well, it was very good. From this time it has become a bright color while leaving the features of the previous work. It seems that the color is deepened. In composition, I also made it while conscious of the color of GRAVITY DAZE. To put it in my songs, I tried to make a song that reminds me of the world of GRAVITY DAZE simply by listening.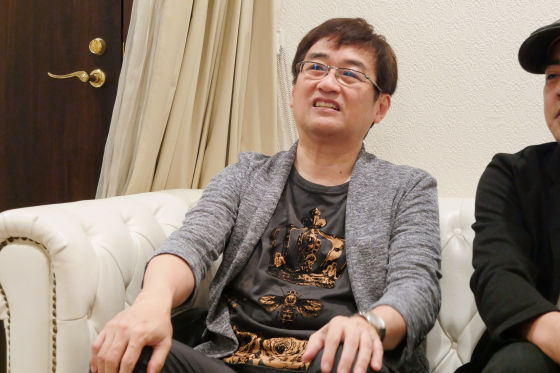 G:
This time I heard that about 70 songs used during the game will be played.

Tanaka:
It's amazing songs. Well I think I wrote this song differently so I put a title (laugh)

Mt. Oyama:
It is already beyond the category of game music, right? I think that there is no soundtrack that has a wide range of songs so far.

Tanaka:
surely. It may not be believed even if you say that you wrote it by yourself.

G:
In the previous interview, I heard that the theme of gravity, which is the gimmick of GRAVITY DAZE, inspired me from the obsessions I had when I moved from the office to the office. Is there any element that I got inspiration from Mr. Toeyama's delusion this time and reflected it in the game?

Mt. Oyama:
Although there is an office in Shinagawa now, I am going to fly to the office by leaving the ticket gate of Shinagawa station and jumping to the office as it is (laugh) It is a new gravity action appearing from this work "Luna tune" is the basis of. It is awesome if you leave the ticket gate and use Luna Tune to get to the office to the office.

"Luna Tune", which makes gravity less light and the speed of movement increases without using gravity gauge, "Luna Tune" is an action born from Mr. Toeyama's delusion.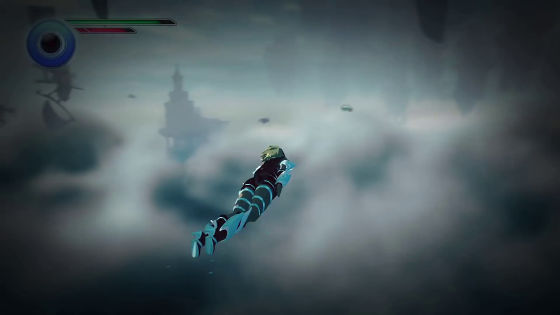 G:
Please tell us about your recent delusions that will be useful in future game development.

Mt. Oyama:
I am doing a lot of delusions that are likely to become some keywords .... There are places I can not say yet. Is it called a multilayered feeling of the world, GRAVITY DAZE is also so, but I think that we will continue to dig such themes that look like a bird's-eye view of the world as a layer.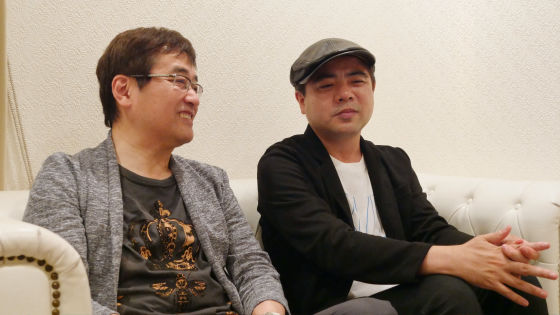 G:
I see. Next time I ask you two questions. Is there anything you are trying to do in your ordinary life in order to output ideas?

Mt. Oyama:
Well, I have recently been concentrating on comics to read that I can not take the time quite easily. Since it will take about several hours to start watching a video work, I can hardly see it on my time axis. So, on a train comic that can be read quickly is read on a tablet.

Tanaka:
I am not too much of a time, but I will play games that I've composed. I am really looking forward to GRAVITY DAZE 2, but thankfully there seems to be tremendous volume, so it may be stuffed until I clear it. After all, if the play period becomes available, you will have to remember the operation method again, so it is fun to play stuffed when playing the game. If GRAVITY DAZE 2 has many volumes, it will be playing every day for about two weeks.

Mt. Oyama:
It may not end in two weeks (lol)

G:
There seems to be a considerable volume saying that it will not end in two weeks. Next let me tell you about Jirga Pararao, the stage for GRAVITY DAZE 2. Jirga Pararao is a tremendously vibrant, complex city but with a structure of interest that is interesting, is this actually modeling a town?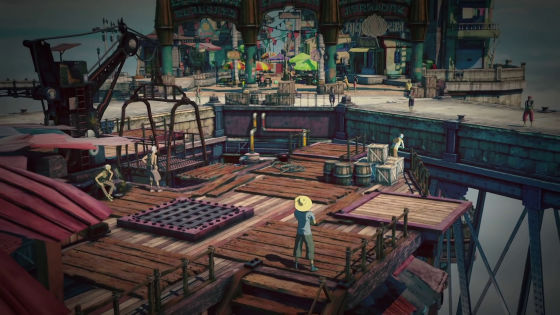 Mt. Oyama:
As for me, I am inspired by the landscape of Mexico or Singapore that I went through at the promotion of GRAVITY DAZE ... ... The artists in charge of the world view of GRAVITY DAZE 2 went to Vietnam, and there were many from the scenery there I heard that you got inspiration for.

Tanaka:
Actually, the music of GRAVITY DAZE 2 has something that gets ideas from the music of Venezuela. Opening songs that had a high reputation in the previous work also appear somewhere in the current work, so please look forward to it.

G:
I heard that the city of this work, the size of the map, is about 2.5 times the size of the previous work.

Mt. Oyama:
It is 2.5 times as simple as the map of PS Vita 's GRAVITY DAZE because it is not built comparatively, but I think that the size of the experience will be more than that.

Tanaka:
I think there are more than 2.5 times.

G:
In creating a map, what kind of measures are taken to deal with users' unexpected behaviors? When the map becomes extensive so far, it seems that things like forcedly forcibly going to places that I had not imagined.

Mt. Oyama:
I am controlling to prevent places that would interfere with the story, but basically I want you to go to various places and explore. This time we have a "camera mode" that can be posted on Twitter, so that the player can contribute "I found strange things in such a place!" Since there are also phenomena that occur only at a specific time in a specific place, I think that we want our players to explore more and more.

G:
"Living city" is a concept, but what is what the user is doing to make it feel like "This city is alive"?

Mt. Oyama:
In order to get a feeling of "a living city", I tried not to show the screen which stopped anyway. In this time the city itself moves, the clouds are flowing all the time .... There are places after the area where it will rain.

G:
Does Kittun that comes out in "GRAVITY DAZE 2" grow from becoming "GRAVITY DAZE" and growing up?

Mt. Oyama:
According to the designer in charge it seems a bit tightly (laugh) PS Vita and PS 4 have different screen sizes, so we thought that balance was just a little from the previous work considering the balance in the screen, I made it plump.

Tanaka:
There are also kinds of dresses, right?

Mt. Oyama:
Yeah, I have prepared a lot.

G:
Now it is SNS, product reviews, opinions on users' works are immediately visible on the internet. Would you like to review user reviews?

Tanaka:
I'm going to see you messed up, because I also do egosearch. Once I was doing an ego search in the train, someone in the train was tweeting as "Tanaka!" I was surprised (laugh) I thought without thinking about me without thinking.



G:
Does Mr. Toyama also check the evaluation etc of the work on the internet?

Mt. Oyama:
I will see! It is somewhat nice to say that it is worth living for me to say "It was fun!" "It was good!"

Tanaka:
Sometimes it is noticed from the opinion of the user what you did not notice like yourself, "Well, there was that kind of point of view!" I am watching Twitter frequently among SNS.

Mt. Oyama:
I also see Twitter. Twitter has a lot of natural reactions.

G:
Is there something to incorporate user opinions from Twitter and reviews into the game?

Mt. Oyama:
I do not intend to directly incorporate opinions, but I'm aware that "users want this direction".

Tanaka:
So, please do tweet your comments (laugh)

G:
Mr. Tanaka seems to think that "GRAVITY DAZE 2" should be replaced with his own business card.

Tanaka:
There are many works that become a business card for animation, but it is not quite as for the game after "Sakura Wars". Actually, when searching for "Tanaka Kohei Music" on the Internet, what comes out at the top is "Gravity Rush (English version title of GRAVITY DAZE)". GRAVITY DAZE not only games but also game music is accepted by many people abroad. Therefore, I hope that this "GRAVITY DAZE 2" will be a work that you can talk as a business card abroad.

G:
Does GRAVITY DAZE mean that fans are also abroad?

Mt. Oyama:
That's right. I think that overseas is the most popular in Europe.

Tanaka:
GRAVITY DAZE has a slightly different atmosphere from Japanese animation, I think that there are many people overseas that seem to grasp it kindly. Elements such as the color of GRAVITY DAZE and the characters of KITUN are very Western western. It is the strength of GRAVITY DAZE that people who like 2D or 3D likes to enjoy both people.

G:
Please give a message to GIGAZINE readers at the end.

Mt. Oyama:
There is something that does not quite tell even though it says in terms of the interest and pleasure of "GRAVITY DAZE 2", so I really want to play and try to make sure. There are about four months until the 1st December 2016 on the release date, but please look forward to playing.

Tanaka:
I think "GRAVITY DAZE 2" is really a work to do. From the meeting stage, I felt a strong enthusiasm for Sony Interactive Entertainment Japan Asia to "GRAVITY DAZE 2". I also worked on composing it with my life, so I think that you will be satisfied whenever you pick it up.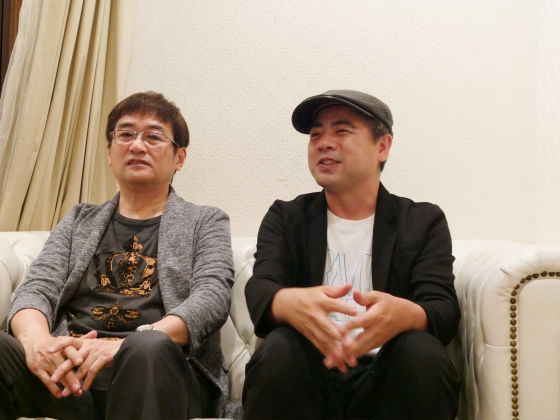 G:
Thank you for today.

"GRAVITY DAZE 2" scheduled to be released on December 1, 2016,PlayStation StoreYaAmazonWe are accepting reservations with. The first limited edition comes with various items such as Blu - ray Disc of animation work at the same price as the regular version. Also, when you reserve a download version on the PlayStation Store, you can purchase it from the regular price for 1000 yen off.

title:GRAVITY DAZE 2 / Gravity Dizzy Complete Edition: As a result of returning to the upper layer, the choice that converged into her inner universe
format:PlayStation 4
Release date:Scheduled 1 December 2016
Number of players:1 person
price:Disk version suggested retail price 6,900 yen + tax
Download version selling price 6,900 yen + tax
Genre:Action Adventure
CERO:C (over 15 years old)