"Sakashima's Patema" in which a great adventure in the world of sakashima that seems to fall into the sky was drawn Greeting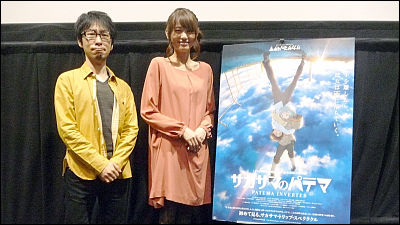 Film "Sakasama's Patema" released from November 9'S stage greetings were held in Osaka Station City Cinema, and director Yasuhiro Yoshiura and Yuki Fujii serving as heroine · patema entered.

Movie 'Sasasama's Patema' Official Site
http://patema.jp/



The propaganda complaint of this work is "Sakashima spectacle for the first time". As the title suggests, Patema is a sarkasma (the direction in which gravity acts) is saw from the hero's boy · age, and if Age does not grasp the hand firmly it will fall to the sky. At the same time, from the viewpoint of Patema, Age is like a bat hanging from the ceiling, as far as the feet of Patema is as far as the age's world is, the sky spreads widely, so it is clinging to something, the roof As long as it does not stand on the back side of the car, it will fall.

In the process, the viewpoint of the age side and the viewpoint of the Patema side are effectively used properly, especially the big act after the middle when the mystery of this world is revealed can feel the feeling that the brain is becoming a sakasama .

So, the story of the two people who took the stage is from the following.

Yoshiura Yasuhiro (hereinafter, Yoshiura):
Thank you for coming in from such an early time! "Eve's timeI am glad to be able to come in Osaka for the second time.

Yuki Fujii (Fujii):
Today, thank you in the rain during the morning! Please enjoy until the end.

Q:
Yesterday was the first day greeting in Tokyo in Tokyo, but what is the difference between Tokyo and Osaka?

Yoshiura:
There are many female customers in Tokyo, Osaka is overwhelmingly male! (* Osaka was male from 8 to 90% of the venue) It is Mr. Fujii's power!

Q:
First of all, I will ask Mr. Yoshiura. In "Eve time" I draw an android, this time I am drawing the world of the sakashima, but why did you decide to draw this world?

Yoshiura:
I was born in Hokkaido, and when I was looking up at the sky, I felt as if the sea of ​​clouds was looking down from the high place. Suddenly, this is actually the ceiling and the sky is above the ground? I often get delusions. If I thought that people would imagine well, it was not so, I was throwing it all in the neta book with "Well, let's use this setting someday!"

Actually I am not very good at high places, and the Ferris wheel is useless. I thought that I would draw a place called "scary place is more scary" than "feeling refreshing and refreshing to fly in the sky". I think that fears can make scary works, so I made a point of view in those places.

Q:
Why did you appoint Mr. Fujii to Patema?

Yoshiura:
Anyway it is a voice. In this volume, men and women of subtle age of 14 years are holding hands hugging all the time. In order for this to look refreshing, I wanted an innovative atmosphere not rubbing. It was not good even with a messy and glossy voice, I wanted you to hurt Mr. Fujii 's original voice two years ago.

Age and Patema hugging about sakashima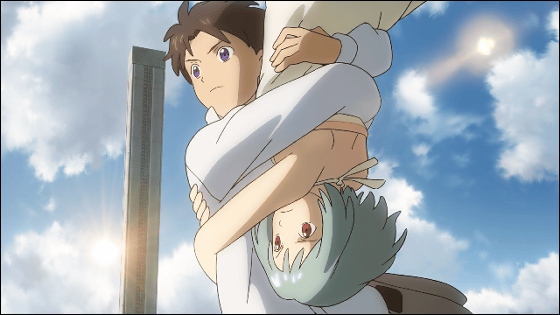 Q:
Screening has already been decided in Europe, but what is your frank opinion?

Yoshiura:
The concept was easy to understand, I got a lot of nice comments so that I can feel the sympathy in every country. I am very happy to be able to screen in general.

Q:
Next, I have a question for Mr. Fujii. What is your frank opinion when I got an offer to play Patega?

Fujii:
Since I knew this story in the audition, I was very happy because it was a role I absolutely wanted to take! It is a very memorable work for me as it is a fixed audition after entering the office of a voice actor for the first time.

Q:
What was the point of having trouble with "Sakashima" 's role as partte?

Fujii:
As I had to imagine, I tried handstand at home, but it was not useful ... (Venue haha) But the drinking day is a very beautiful blue sky, the picture is as beautiful as the same, sucked in here I was scared of being scared and it was helped by the image. I thought that Shohiko Okamoto, a boy / age role, would be similar to the feeling when flying a bungee jump and I should have flew for a role (venue haha)

Q:
How was your job with Mr. Yoshiura?

Fujii:
There were three auditions but the third time I read in the conference room with the director about 1 to 2 hours. The director changed his voice and played the role of an age! (Venue lol)

Q:
It was an end time in no time. Finally, I would like to have a greeting every word.

Fujii:
I am really happy to be involved with this work. It is a work that I wanted to see as an audience, forgetting memory. Please enjoy until the end! And since it is the 2nd day of public release, I'm happy if you would like to murmur many of your reviews etc. from now on! Inaba!

Yoshiura:
I also like movies very much, so I went to see the stage greetings and so on. So I am really happy that I did this way early in the morning. More than 100 staff members were involved in the production, said they liked this work, and got a clean line carefully. It is pleasant as a director if you enjoyed the work purely and you know that there are many staff who participated. And I hope everyone will spread it! Thank you.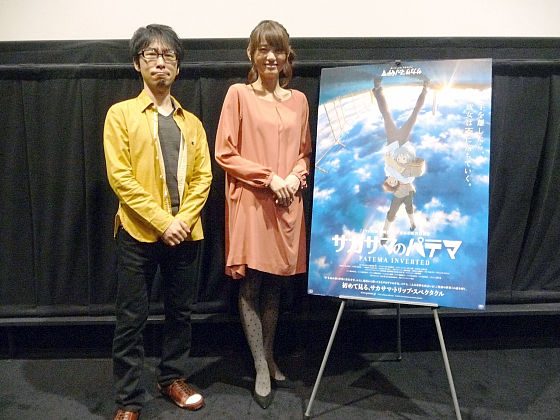 Film "Sakasama's Patema" is on sale all over the country including Kadokawa Cinema Shinjuku, Human Trust Cinema Shibuya, Osaka Station City Cinema. GyaO! · Nico Nico Channel · J: COM On Demand · Video Path 4 sites draw the beginning day which is the beginning part of the main part "Sakashima's Patema Beginnig of the DayAll four times are being delivered.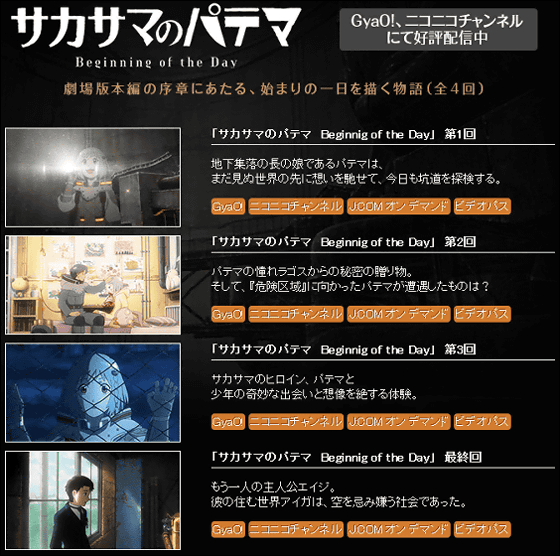 ◆ Staff
Original · Screenplay · Director: Yasuhiro Yoshiura ("Eve Time Theatrical Version")
Music: Oshima Michiru
Distribution: Asmik Ace
Official site:http://www.patema.jp

© Yasuhiro YOSHIURA / Sakasama Film Committee 2013