I've eaten Japanese Shake Meister Burger, the first Japanese landing berger popular in NY, with Shake Shack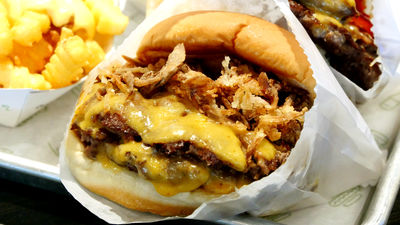 On 13th November 2015Japan's first shop openedHamburger shop from New York made "Shake Shack(SHAKE_SHACK)"is. With that shake shack, from July 18th Japan's first landing popular menu "Shack Meister Burger"Will appear. Since it is a popular burger developed by Mr. Mark Rosetti who is Director of Shake Shack 's menu development, I have actually eaten it.

SHAKE_SHACK
http://www.shakeshack.jp/

I came to the second shop opened in Ebisu on April 15, 2016, not Shake Shack 's No. 1 shop in Gaien.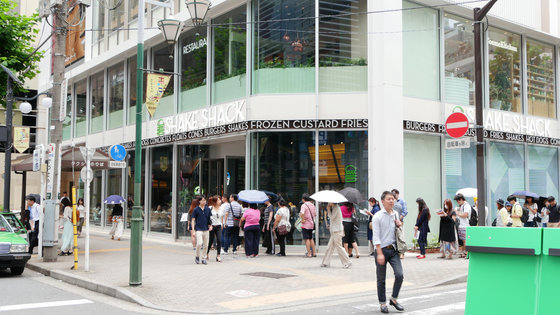 The order counter looks something like this. When I visited the store at lunchtime on weekdays, I was able to order items for about 30 minutes of waiting time.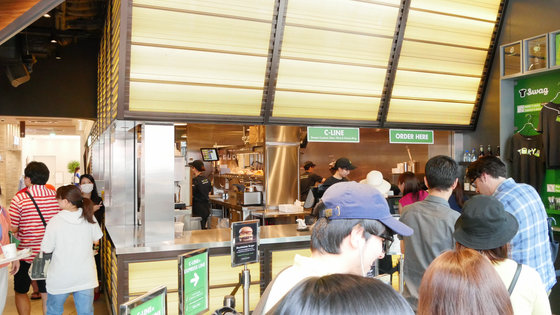 Inside the store is a huge menu table.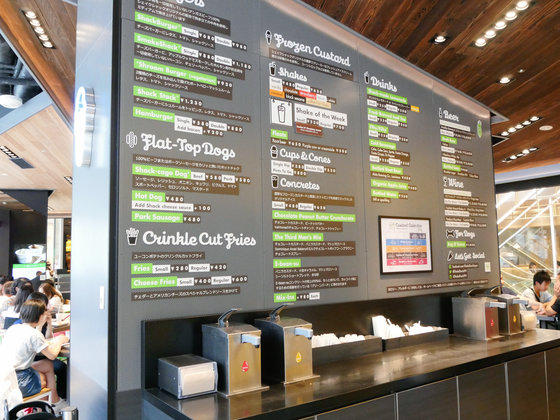 In addition, we found "Shack Meister Burger (Single: 770 yen for tax, Double: 1070 yen for tax)" in the summer limited menu. So, I will order it.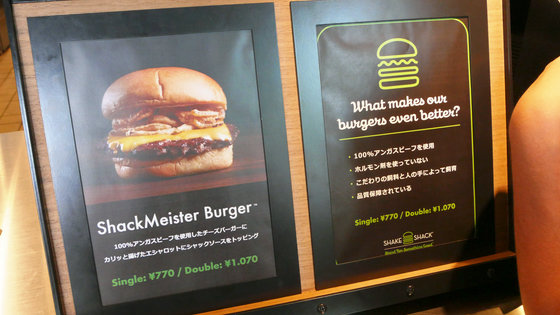 After ordering products and accounting, you will be given a terminal that informs you of the completion of the product with alarms and vibrations that you see on food courts and others as shown below.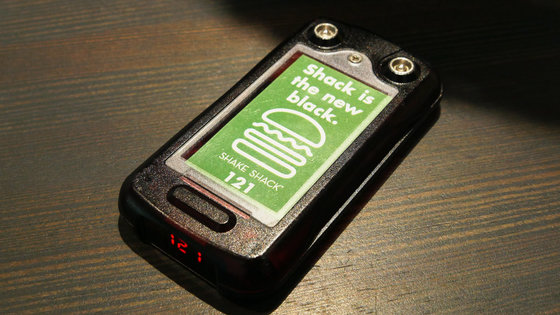 From there we waited for about five minutes, the goods were offered. This time I ordered the double (Patty 2) of the Summer Limited Burger "Shack Meister Burger" released on July 18, 2016, and "Smoke Shack (Single: 880 yen without tax, double: 1180 yen without tax ) ", Cheese fry (small: 400 yen without tax, regular: 600 yen without tax)" soft drink.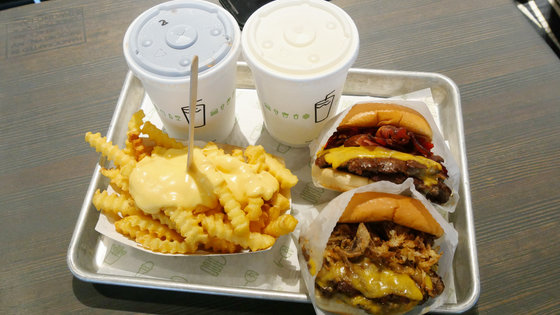 This is "Shack Meister Burger". It is a hamburger sandwiched with patties of Angus beef 100% and cheese and shack sauce, crisply fried shallards marinated with Shackmeister ale, without using any hormones, healthy breeding.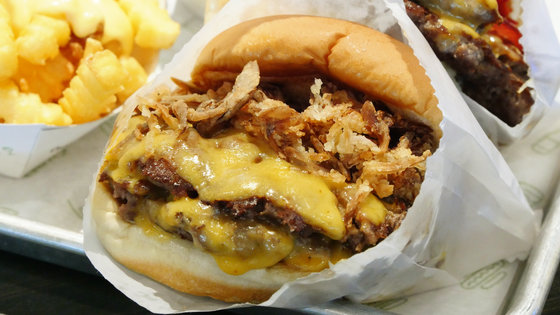 Comparing the size with iPhone 6 / 6s looks like this.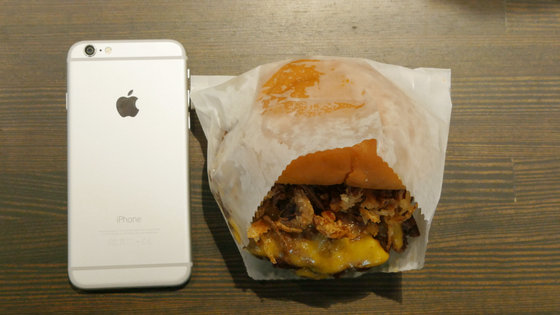 Crunchy fried mustard is smaller than onion rings and larger than fried onions.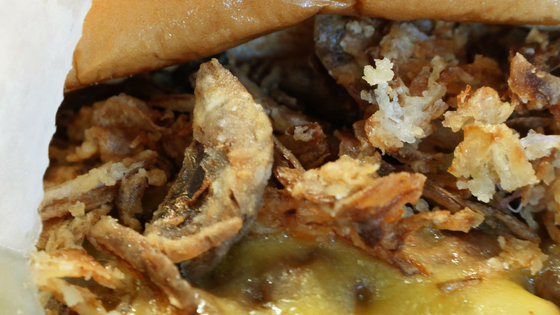 Angus Beef 100% beef patty has plenty of cheese making it appetizing.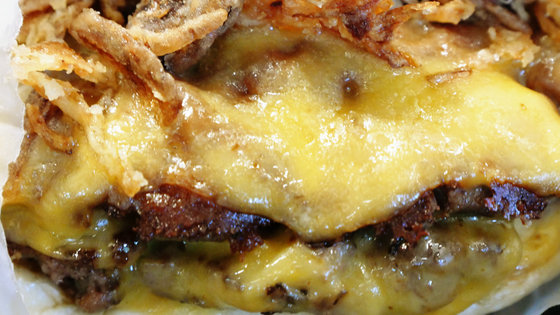 A special shack sauce between the buns and the shallot. However, the amount is small.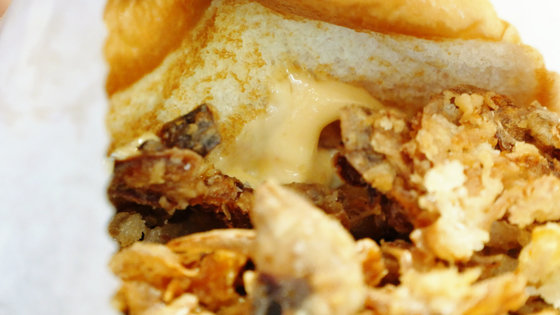 So when you eat it actually, the moment you put it in your mouth, the fragrance of rich beef will spread from mouth full of beef patty, which is voluminous. The beef patties are baked crisply on the surface, but the inside is fluffy & juicy. Of course, the compatibility of beef patty and rich cheese which can taste beef as a gut is quite obvious. On the other hand, Vans is a very crisp texture, and it is very good with beef patty baked crisp. Shallot is firmly fried, crispy texture is accented. It is a firm shallow deep fried but it also makes me feel the original sweetness of the ingredients firmly, making it more deeply flavored with hamburgers that tend to be simple overall.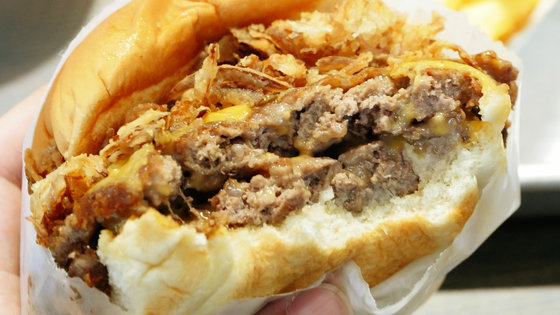 Next, I try to eat "smoked shack" which was not a new item but I could not eat when I visited Shake Shack last time.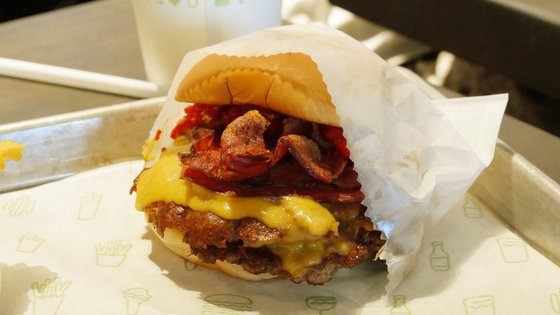 Bacon and crispy baked ... ...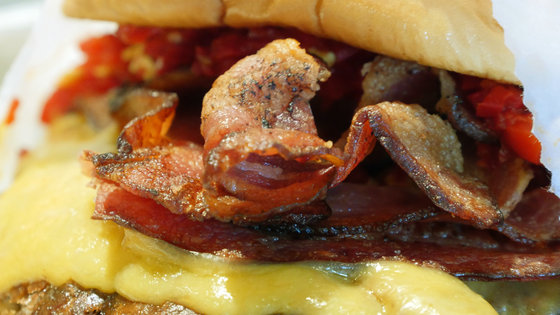 Cheese & beef patty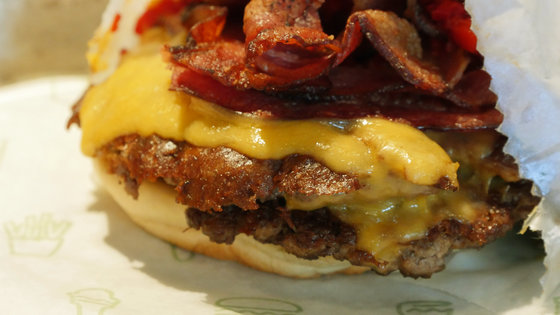 In addition, it is a hamburger with plenty of cherry pepper topped.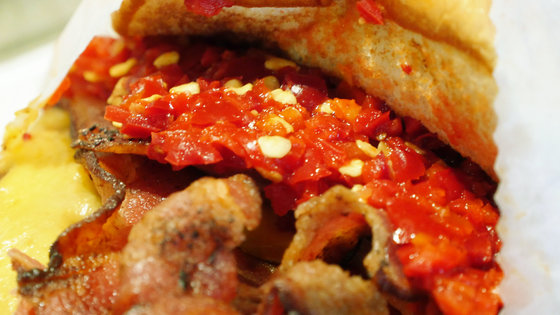 When actually eating, beef patty seems to lose a little on these flavors as bacon and cherry pepper are plentifully topped. It is recommended for people who want to eat more voluminous hamburgers plus toppings such as bacon and cherry pepper than those who simply want to taste beef patty.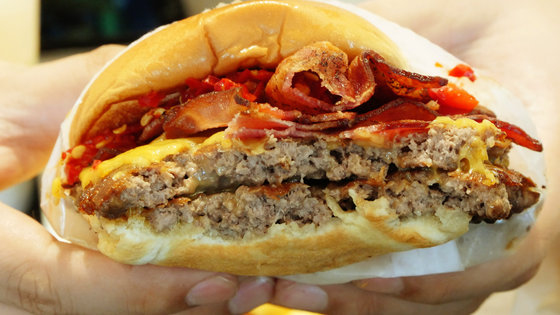 I also eat the regular size of the popular menu 'Cheese Fry'. Potato fries are cooked with a cut called Crinkle cut and the surface is zigzag patterned. The potato fries are cut thick, but thanks to the crinkle cut, the surface area gets bigger, while the exterior is crisp inside the fluffy and it has become a potato fly with a very eating response. The cheese sauce of the special blend is also outstandingly compatible with potato flies, and it is also convincing that all customers are also ordering cheese flies.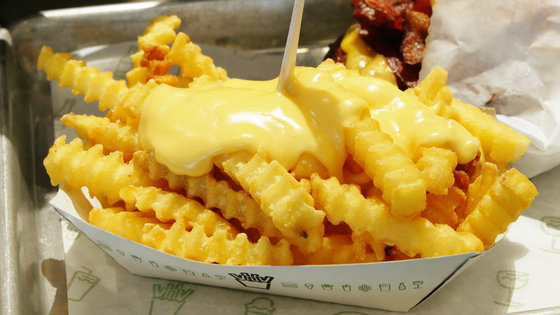 In addition, "Shack Meister Burger" is limited-time sale from July 18, 2016 to August 28.