Game Capture Strategy "Japanese salary & professional picture book Plus" reviewing 375 different professions in book style, sales work "Modern Gladiator"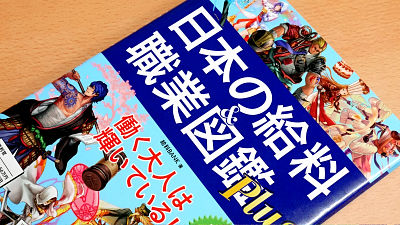 Based on the concept of "One hundred million good-looking professions", I explained the profession and salary in Japan with fantasy-like illustration and world view "Japanese salary & professional picture book Plus"is. Appeared in January 2016Japanese salary & vocational guidebookIn the second round following the second round of work, this time, including employee families (salaried workers) and city officials, including familiar occupations, blasting technicians and crab fishing boat fishermen, women, oriented persons, salary of age for a wide range of occupations Change · Lifetime wage etc can be known.

This is "Japanese salary & vocational guide Plus". The size is 21 × 15 × 1.5 cm.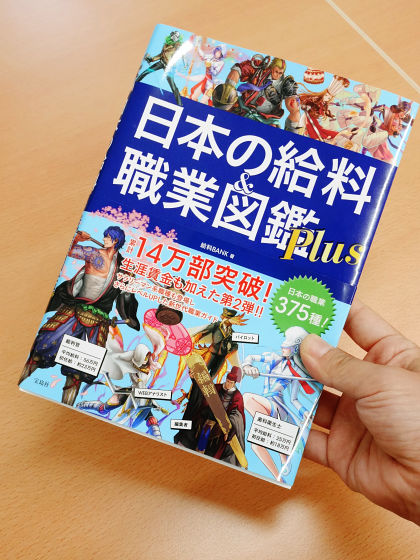 The total thickness of this page is 191 pages.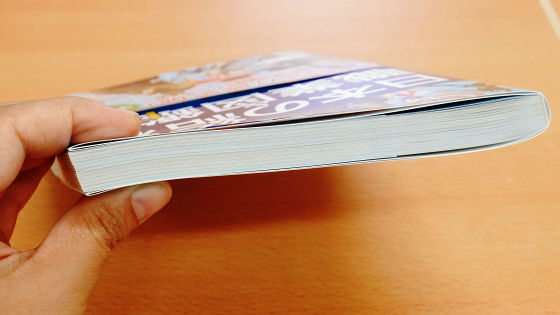 Turning over pages and pages, the table of contents first.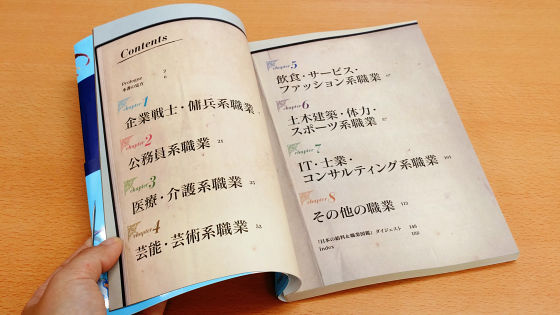 Japanese salary & professional illustration Plus is organized in 8 chapters as follows.

◆ Chapter 1 Corporate Warrior / Mercenary Occupation
◆ Chapter 2 Public Service Occupation
◆ Chapter 3 Medical / nursing care profession
◆ Chapter 4 Entertainment and Arts Occupation
◆ Chapter 5 Foodservice · Service · Fashion occupation
◆ Chapter 6 Civil engineering · physical fitness · sports occupation
◆ Chapter 7 IT · Masters · Consulting Occupation
◆ Chapter 8 Other occupations

Chapter 1 is about "corporate warrior / mercenary occupation". Unlike in the previous survey, Japan's salary & vocational guidebook Plus focuses on more familiar occupations such as "business warrior (salaried worker)" such as sales staff and clerical worker, "civil servant system profession" such as elementary school teacher .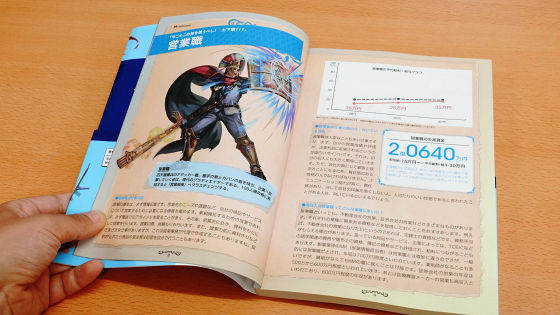 "Today is the time to use this technique! Daisukeza !!!" So, the salesman has a handshake sword and a shield of the bag, "It is a contemporary gladiator that assaults the company." When it is promoted to the head of a group of 100 people, it seems to change to a sales manager.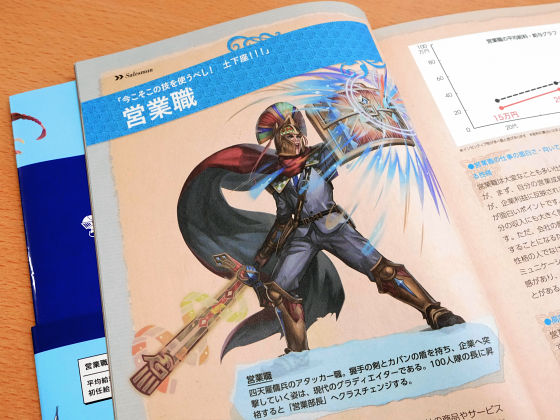 Under the illustration there is an explanation about the work content of the sales staff.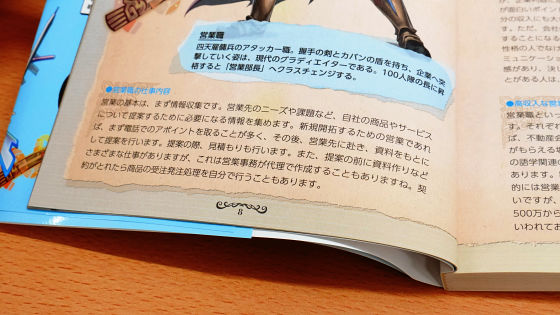 The average salary / salary graph for sales employees is slightly less than the average salary in Japan.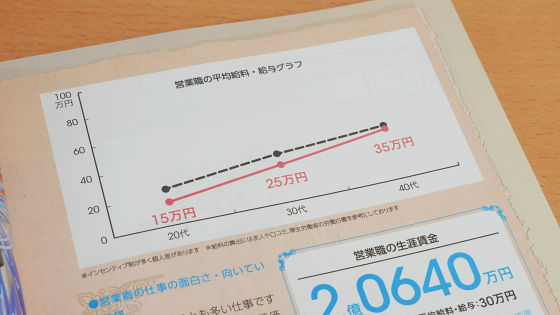 Starting salary 150,000 yen ~, average salary · salary 300,000 yen, lifetime wage is 206.4 million yen.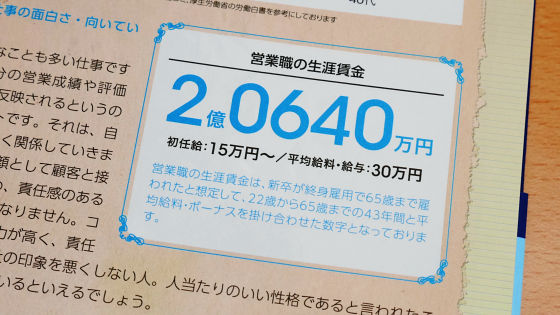 Under the information of salary and lifetime wages, the fun and the personality of the job of the salesperson are written, and "person who has been told that it is a character perfectly suited" for the sales job It is said that there is. In the item "What kind of high-income salespersons are in many industries?", Sales of drug information officers, securities companies, medical equipment manufacturers were cited as examples.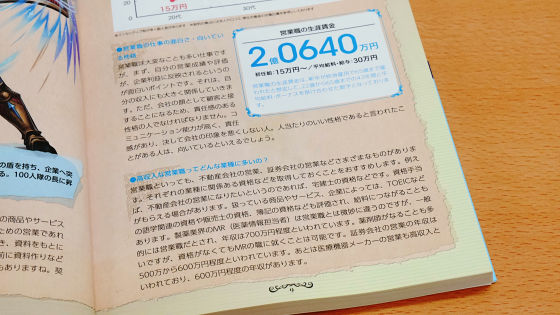 I will look at other occupations. A central job having a different name "shadow brain" is "planning job". Planning is a department that presents realizable options to managers! And that.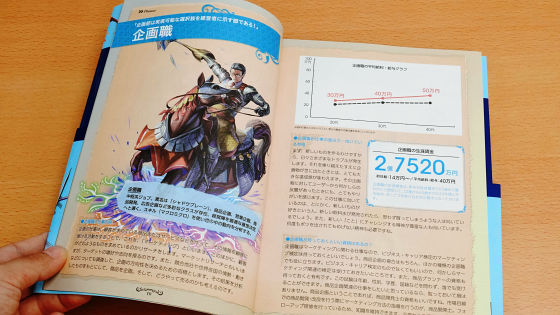 Public relations officials saying "Please do not let the flames so much" is strong people in information manipulation / psychological warfare. In the case of recruitment of new graduates, since we have decided on appropriateness of personnel after recruitment with a long-lasting kang, what we need to become "luck".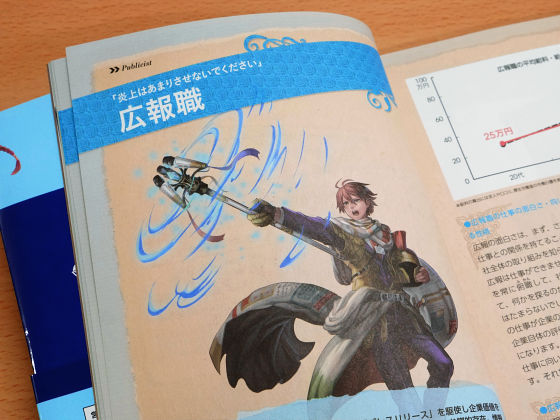 "General clerk" in charge of defense of four heaven employees is an illustration that protects you from attacks and manages money with a shield with numbers written because it has bookkeeping skills. The clerk who got "bookkeeping first class" has power comparable to accountants.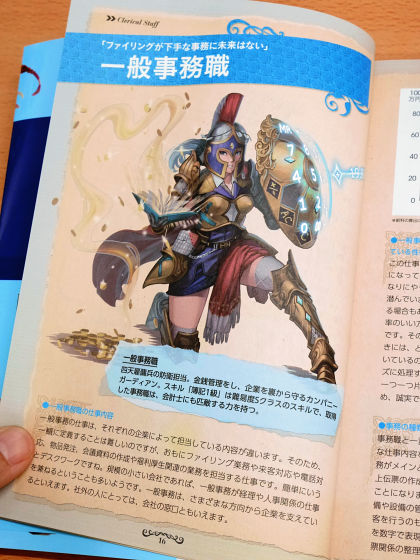 A mercenary job "freelance" that seems somewhat easy to win is freedom. People who work at Nomad and home work are this, and salary and salary graphs are lower than the average salary in Japan, but you can employ as many side jobs as you can, and you can change your class as a manager.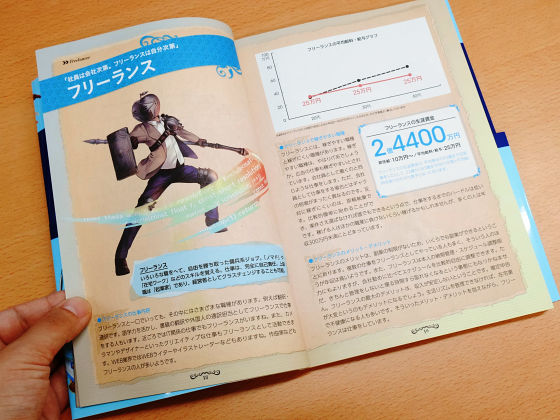 A diplomat appeared first in Chapter 2 "Civil servant system occupation". "I 'm regrettable" I mean "I do not want to stay on the forever" ", so in the illustration I have a skill" diplomatic officials privilege "and are making an absolute area of" body invasion " It is drawn. Lifetime wage is 288.96 million yen, in order to become, it is necessary to undergo general job examination adopted as a national civil servant.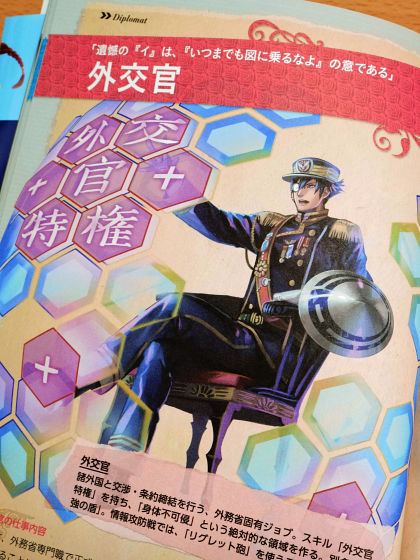 Hold a long-term vision, create regional happiness, serve Japan and the job is "city office staff". In order to undertake complaints to the municipal administration etc, we must acquire skill "complaint correspondence". Lifetime wage is 28280 million yen.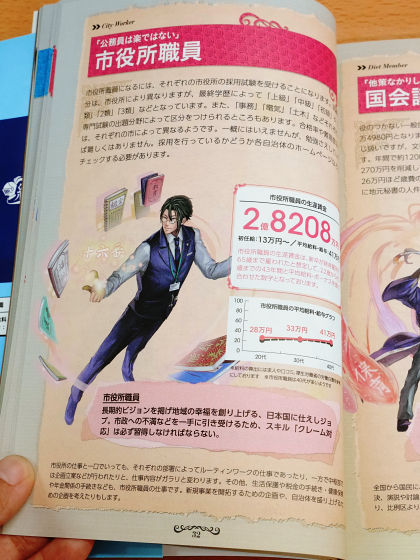 A special job directly under the Ministry of Health, Labor and Welfare, a special judicial police official who cracks black companies is a "Labor Standards Inspector." Because there are many jobs on site, physical strength and mental power are needed, people with a nice personality looking closely at people are suitable. Lifetime wage is 195.52 million yen.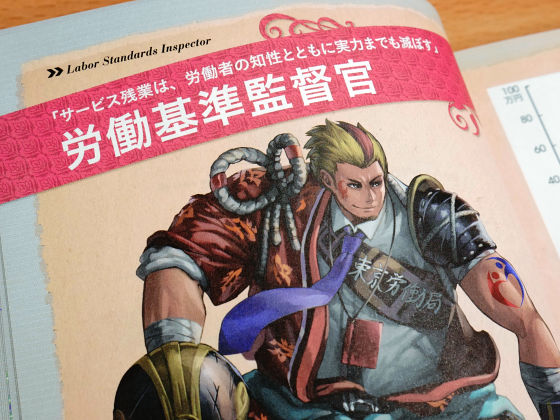 In Chapter 4, Illustrator, animator, game planner etc. are written about "entertainment / artistic occupation". A game planner that "Creating what great nature has is creative is a creator who plays the beginning of the game. We deal with a lot of information such as planning, title, genre, number of players, platform, concept, target, selling point, etc., assign specific work to each department and person, logical thinking, communicative ability, idea power etc. All abilities are necessary. Lifetime wage is 263.5 million yen.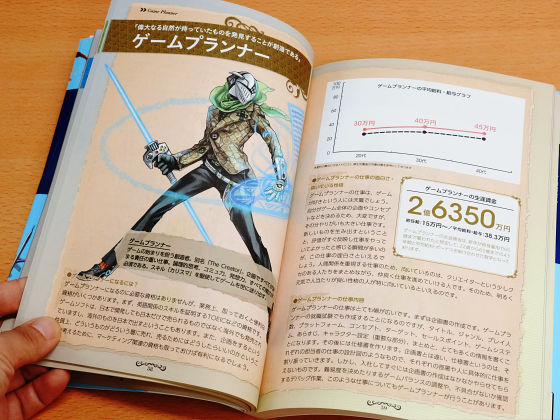 In addition, we found a job called blasting technician in Chapter 6 "Civil engineering / physical fitness / sports system occupation". It is a medium-range flashing job that explodes is an art, you must explode every moment, and a master job to handle explosives. If you learn the skill "blasting", it is possible to cause an explosion at the mining site or the construction site. Lifetime wage is 172 million yen.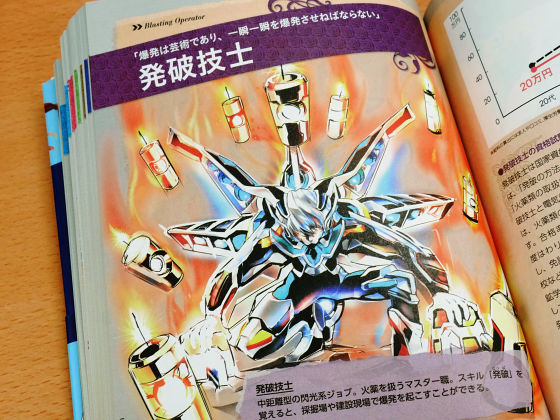 In Chapter 8 "Other occupations" housewives were drawn. Lifetime annual income is 108 million yen · initial salary 180,000 yen · average salary is 450,000 yen, but "?" Is attached to the figure. This is calculated by converting cooking, laundry, cleaning, shopping, etc., which is the main job of housewife, to cooking (hourly wage 1175 yen), cleaning (hourly wage 910 yen), cleaning business (hourly wage 1200 yen), etc. Because there is. Since the special housewife business has monthly income of 183,300 yen, and child rearing corresponds to monthly income of 530,000 yen monthly, the housewife who raises children is calculated to have monthly income of 723,300 yen.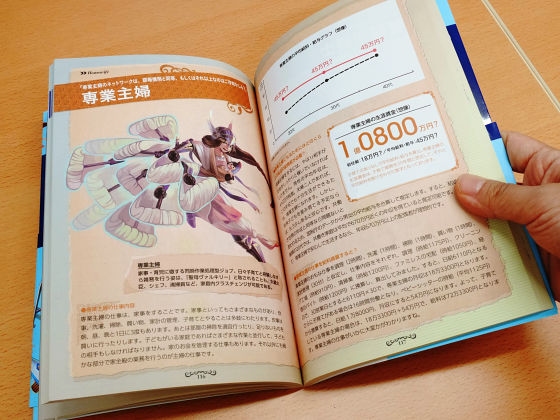 It is a simultaneous work type job that dedicates to household chores and child rearing, the appearance of doing miscellaneous work while struggling with child rearing every day is also called "the Virgin Valkyrie".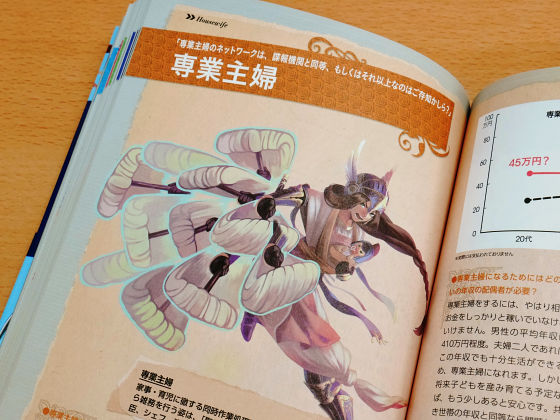 Furthermore, it is the fisherman of the crab fishing boat which is drawn by saying "Welcome to the world with a sensible temperature minus 30 degrees, working time 20 hours". Lifetime wages are as high as 366.4 million yen, and some crab fishermen in the Bering Sea earn 100 million yen in annual income, but there are also stories that more than 30 people have died in the fishing three months a year It is said that "the toughest job in the world" is.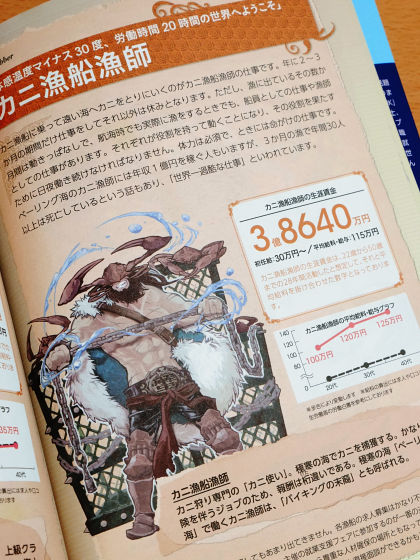 And at the end of the book is the first step "Japanese salary & vocational guidebookThe digest of "was posted.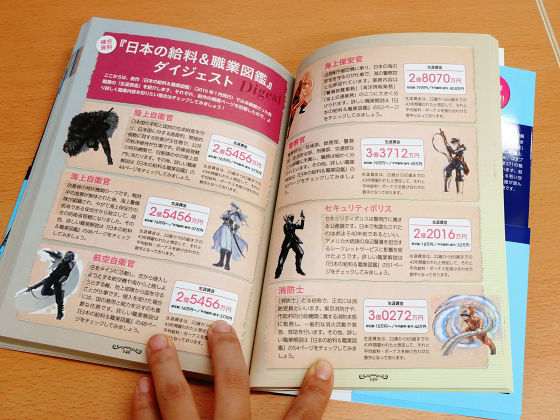 Furthermore, the price of Japanese salary & vocational guidebook Plus was 1058 yen including tax with Amazon.

Japanese Salary & amp; Career Chart Plus: Salary BANK: Books: Amazon