Dogs in Thailand are too free to be cold at the entrance of Seven - Eleven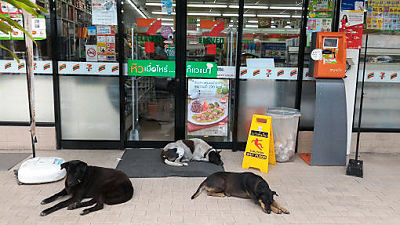 "I will pass you like a dog, a dog," I did not put out in the voice, but I had a respectful heart. Because it was too dignified, it looked like a beast to protect the entrance of the Seven - Eleven.

Hello,Takuya Sudo @ circle around the world bicycle @ Charridermanis. I came to Thailand, which I was good at, from China who finished my visit to Mongolia. Bangkok, the capital of Thailand in the latter half of May, will continue to be a hot and humid day like entering the sauna. The dogs were also busy.

◆ Seven - Eleven
China was also hot, but it was dry as it was dry. In spite of this, the heat in Thailand is quite frustrating due to its humidity. When going outdoors from the place where air conditioning worked out, the body is heavy with no mind with moisture that is moist. Eyeglasses also become cloudy. Just a little walk I was sweating at the jiffy.

From Bangkok 's inn to Seven - Eleven it is a 30 - minute walk. I went through like everyday from its convenience.Thailand's Seven - ElevenIt is a presence blended into the daily lives of Thai people. Inside the convenience store 's store was cool and air conditioning was working. When entering a convenience store from the outdoors of unpalatable heat it will be cool and revitalize.

Dogs were also caught in a strong sun as it hurts. Such dogs reached the front of convenience store's automatic door. The sensor does not sense dogs. A door opens when a person passes. At this time the dogs were taking a whole body with the cold air leaking from inside the store.

·5/23:It looks cool in front of the automatic door.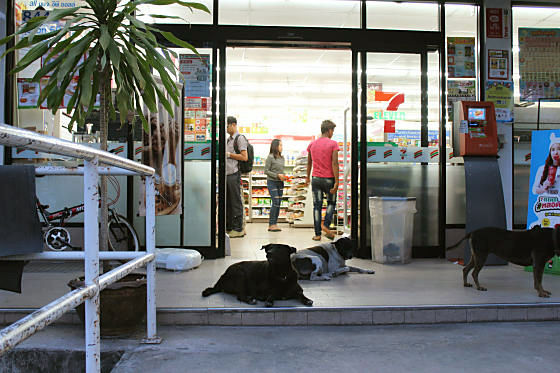 ·5/24:Once promised that we will not enter the store. White, black, tea and three are here.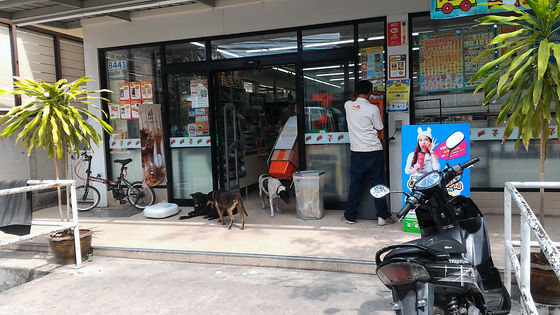 ·5/26:Oh, I'm breaking into the store!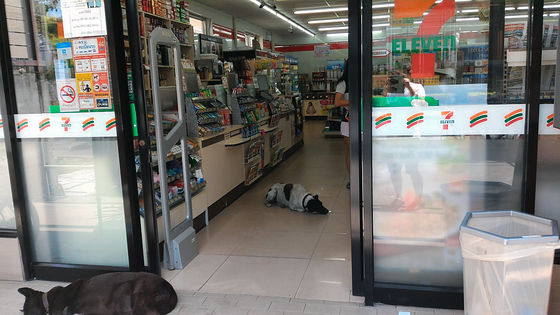 ·5/26:Only this white dog was occasionally in the shop. If found, it will be kicked out.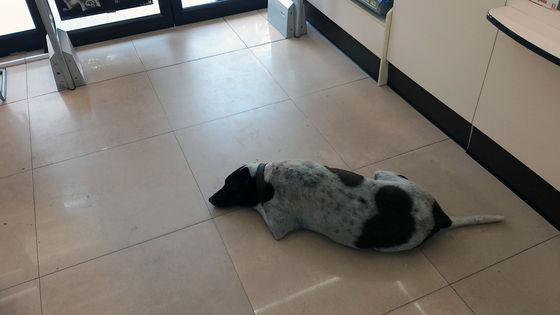 ·5/28:The dog was always drunk. It was just lying down.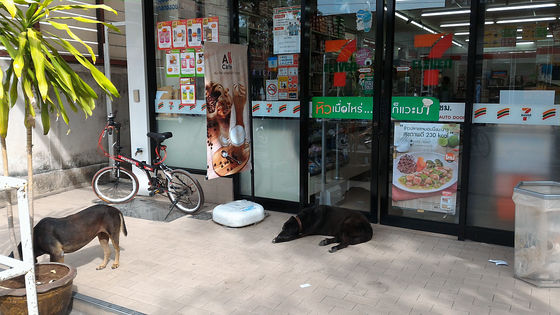 ·5/30:Because I am accustomed to humans, I am marvelous if it is disturbing. Still I was chewed in India, so I was careful not to step on.



·5/31:Hide behind the trash can.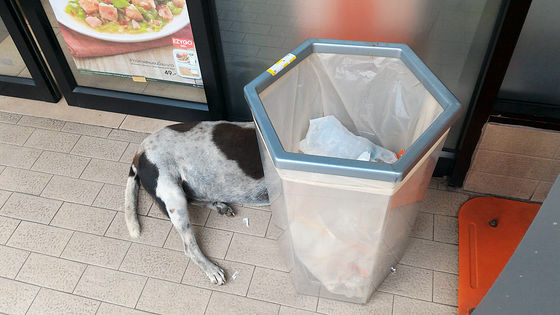 ·6/1:Like an ancestral dog, like a shisa, a dog that turned into a divine beast protecting the door.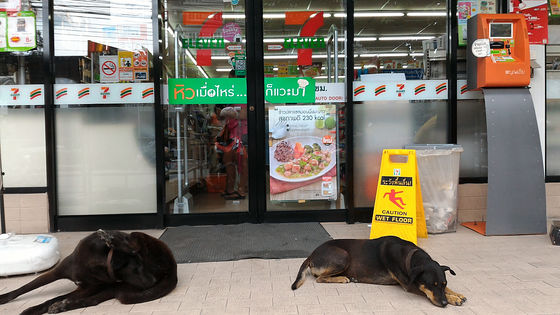 ·6/1:After shopping, another one was on the rise.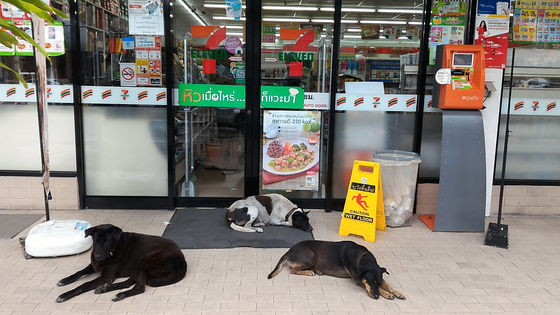 ·6/1:Seven - Eleven passed by, there are no fried foods such as "Family Quiche" or "Karigake Kun", but a stand will sell fried chicken to the sidewalk in front of the store. There is a dining room next to the convenience store, and the dining environment of the dogs seems to be substantial. Originally it also has a collar, so it looks like a dog ......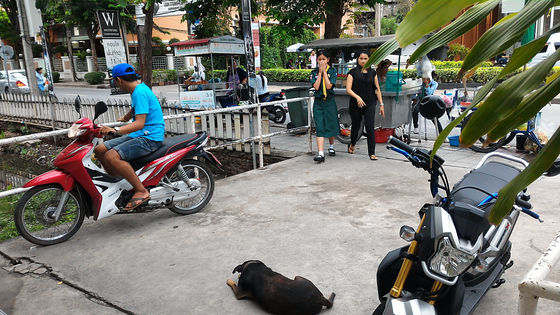 ·6/2:I relaxed too much on this day.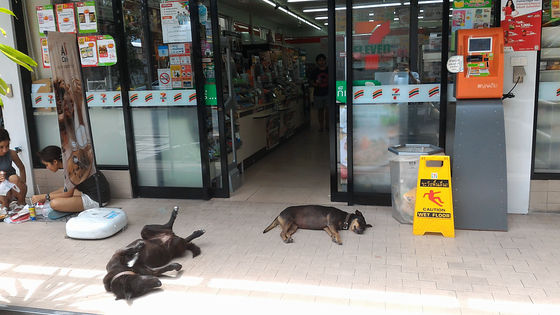 ·6/2:Familiarity with a dog whose dog has completely forgotten wild blood.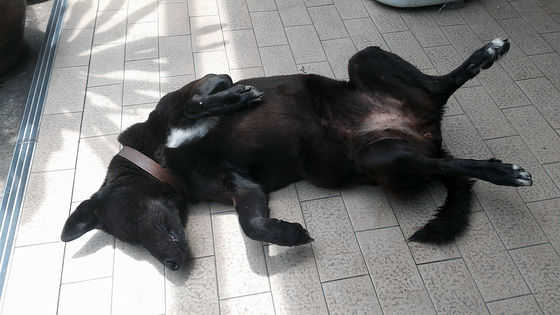 ·6/8:I had been through for about two weeks, but there was always a dog there. While looking at this gentle sight while grinning.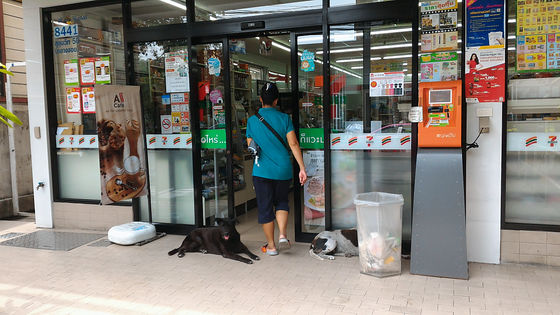 ◆ Dog House
Seven - Eleven is not the only one that has a dog.

Dogs, your dogs, do not desolate. On the way to the BTS (elevated railway) station from the inn, I was always excited. A dog house in a hut was digging in a vacant lot like a jungle where vegetation grows, and several dogs have settled down. There was also a pretty puppy. But you can bark if you are cautioned.

There is a dog in a hut in the middle vinyl sheet. Since the vacant lot is a southern country, the vegetation grows thick and dense.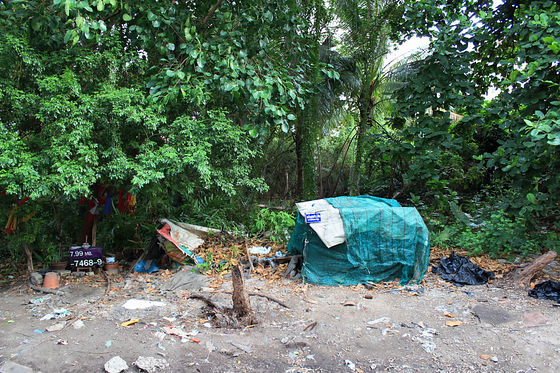 The dog was looking at a street passenger like this. It is safe to go through without worrying about anything. You can bark when you are oddod consciously odd.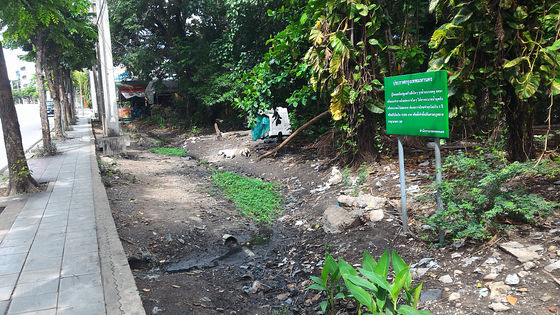 I was barked alarmed and barked. The dog barks while approaching but picks up a stone and throws it (by pretending to pretend) to escape. Keep walking and let 's walk quickly. I will not chase after leaving the territory.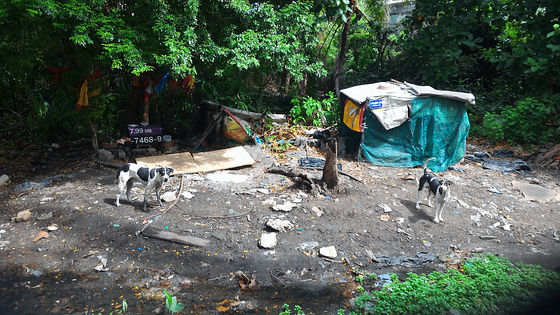 There were days when I was hanging out on the sidewalk. A test of your dog existed.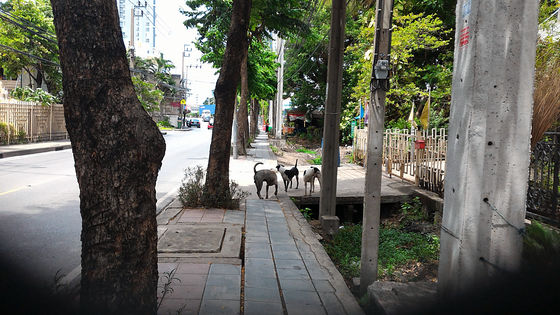 ◆ Also in Chiang Mai
There are dogs in Chiang Mai, the second city in northern Thailand.

It seems like she wanders around the city with a party. Dogs group and act.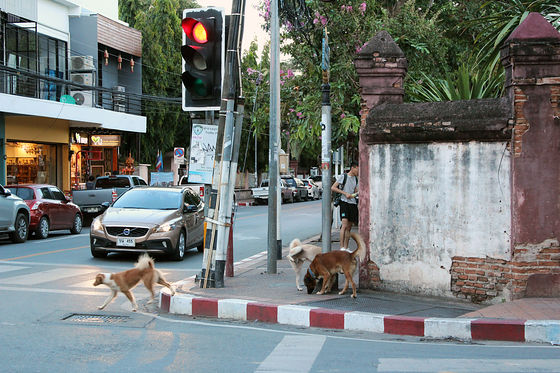 As I left the inn and looked at my feet, there was a dog. I was just about to step on.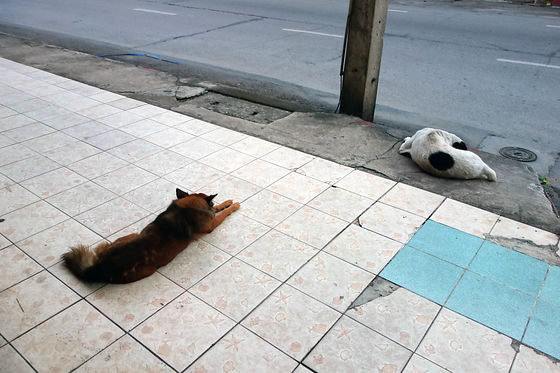 A dog who was sneaking into the eaves of the shop.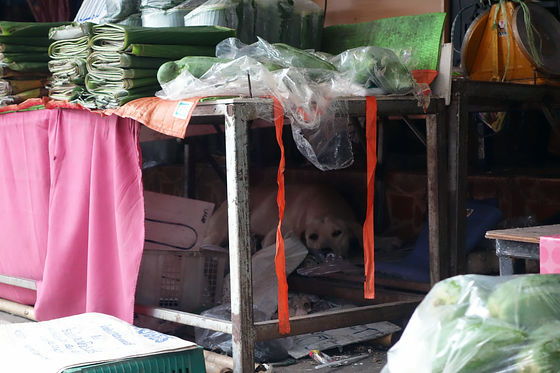 ◆ Cat density
Thai people are gentle not only for dogs but also for cats.Cats with high density of catsSometimes I picked up Bangkok. In the same way there is a cat in Chiang Mai. You are walking behind the alley with a disgusting face.

A cat who came to catch the trash can.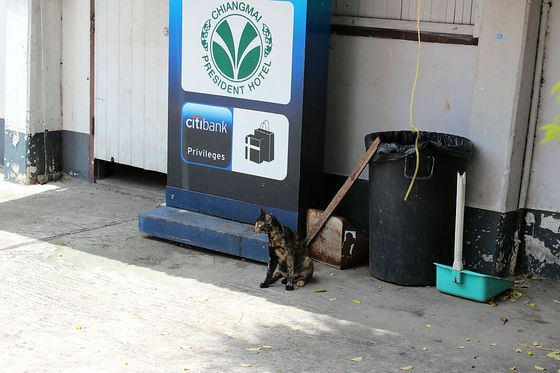 A figure standing up with two legs and drinking water.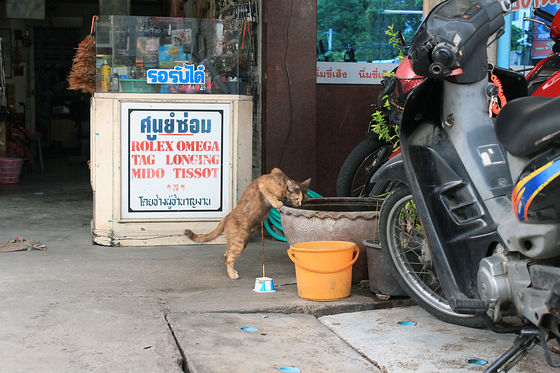 Two animals that were funny on the market.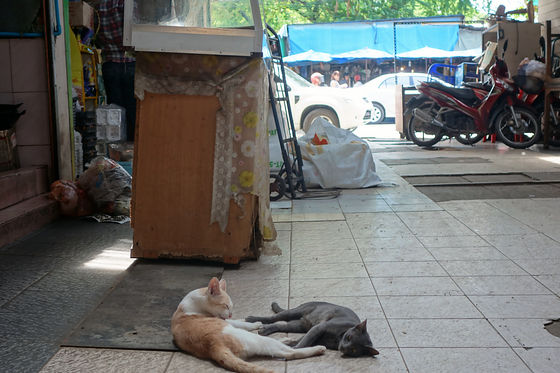 This black cat was breathing under the car.



◆ Find footprints
Thai people can not stop dogs and cats freely roaming like this. That is why their pretty footprints remained on the concrete grounds in the streets. Before the cement solidifies, he is stepping in unnoticedly.

It was such feeling.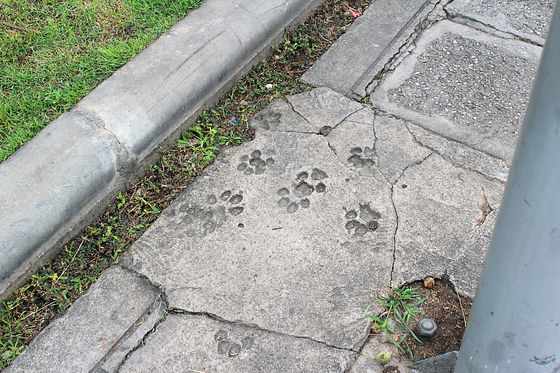 Traces of palm and fingers that remain clearly.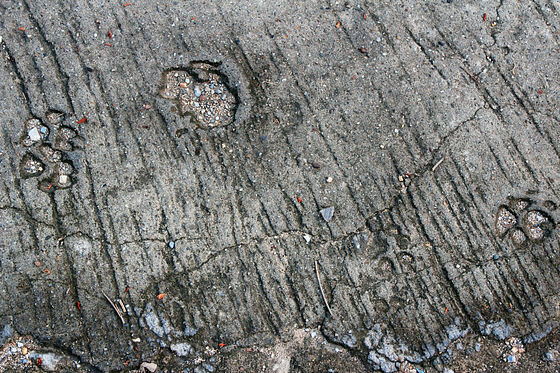 It is a bit hard to understand, but this is also true.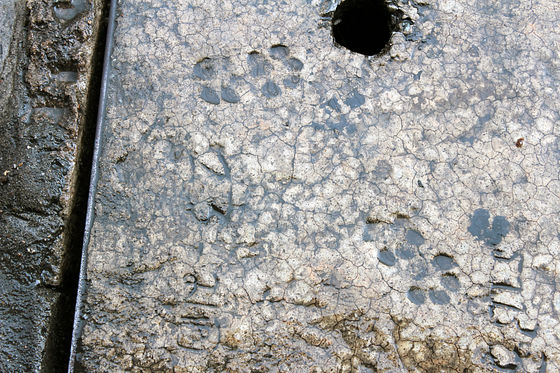 It was like a fossil.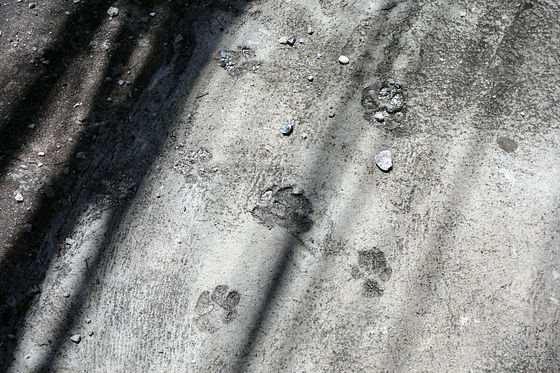 Because it is such a feeling, those who visit Thailand should pay attention to dogs and cats. It will surely be healed.

(Sentence / photo: Takuya S. Narou Charriderman
Cycling around the world for a bicyclehttp://shuutak.com
Twitter@ Shuutak)