Spam mails that the popular "Pokemon GO" becomes a monthly pay system will be on the market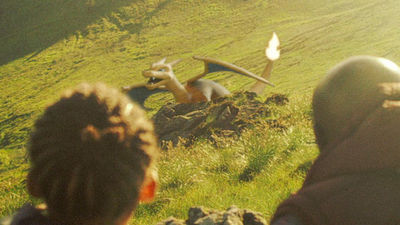 Applications released in the US, Australia and New Zealand "Pokémon GOIn a blink of an eyeAppStoreWhenGoogle PlayRanked first in the rankings, America alone has exceeded 75 million downloads. While Pokémon GO gained worldwide attention, it was confirmed that spam mails such as "Pokémon GO shifts to monthly pricing because the server became too heavy" was on the market.

Pokemon Go: Paid App Email Scam Looking to Trick Users | Variety
http://variety.com/2016/digital/news/pokemon-go-paid-version-scam-1201812900/

Pokemon Go Scam Tries To Get To Users Pay $ 12.99 A Month For Free App | Deadline
http://deadline.com/2016/07/pokemon-go-scam-monthly-fee-1201785616/

Do You Have To Pay For Pokemon Go? The Truth Behind The 12.99 A Month Email - Hollywood Life
http://hollywoodlife.com/2016/07/12/do-you-have-to-pay-for-pokemon-go-free-money-scam/

It is a development company of Pokémon GONiantic LabsThe spam mail that pretends to be "" Unfortunately, our new app "Pokémon GO" will require a more powerful server and you will not be able to keep your account free of charge Please log in to the app store and purchase the full version for $ 12.99 per month (if you do not upgrade, your account will be frozen in 24 hours ", guided to a fake app store The text to write is written.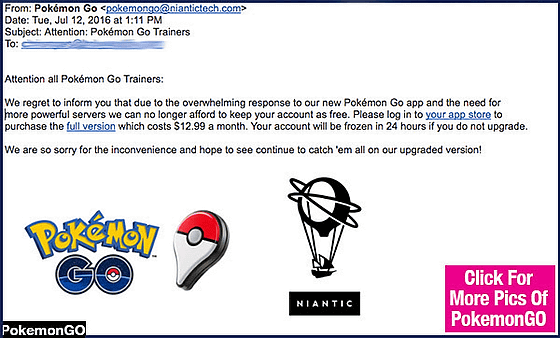 Meanwhile, the sender of the e-mail is "[email protected]", a domain different from the development company Niantic Labs (nianticlabs.com) is used, it is obvious that it is a fake. In addition, Pokémon GO shows that there is "in-app purchase" on the application page, and an option to purchase "pocket coin" and goods etc. is provided, but it is not written that there is pay charge.

Different pages are set for AppStore and Google Play in the link in the e-mail, and it is not a page that urges purchase of a paid version when accessing, but is requested to certify a famous mail provider, and the mechanism of stolen authentication information when entering It is becoming.Pokémon GO will be released in Asia and Japan including Japan in a few daysIt is said that similar spam will increase as well. Allow smartphone remote accessReported that a fake Android app has appearedBecause it is done, care must be taken not to inadvertently trace the link of e-mail or install unofficial application or plug-in.