Does "16 GB" disappear from the storage capacity in the new "iPhone 7"?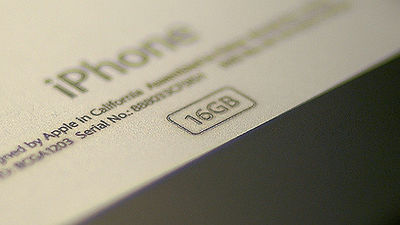 ByRyan Tir

It was held in June 2016WWDC 2016So, the next OS for mobile terminals developed by AppleIOS 10Was announced. If we go with the schedule as usual, the new iPhone 7 equipped with this iOS 10 will be announced and released in September, but in the new iPhone the 16 GB model disappears from the storage capacity,The Wall Street JournalIt reports.

It's a Bad Time to Buy an iPhone - WSJ
http://www.wsj.com/articles/its-a-bad-time-to-buy-an-iphone-1467744006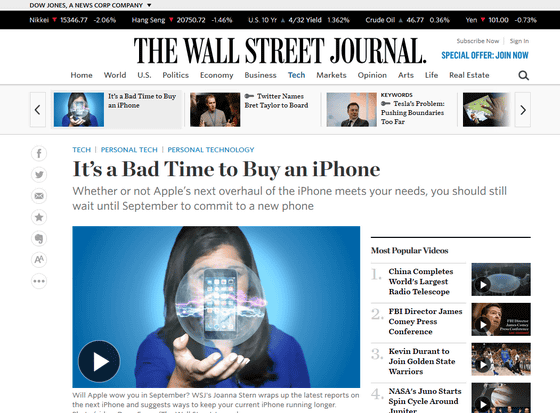 The 16GB iPhone may finally be going away soon | The Verge
http://www.theverge.com/2016/7/5/12100944/iphone-7-16-gb-32-gb-storage-option-apple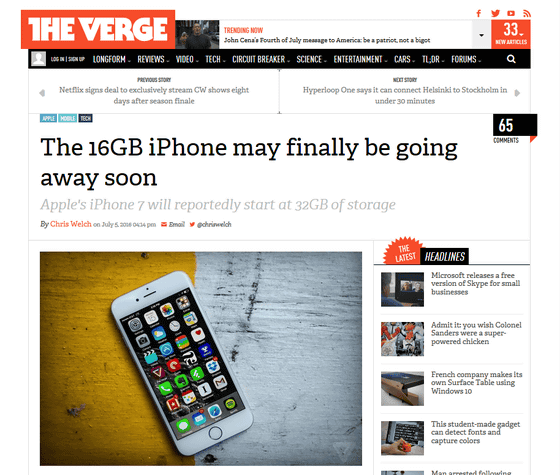 In the "iPhone 7 (tentative name)" which is the next flagship model of Apple by The Wall Street Journal of the international influential economic newspaper, the 16 GB model is eliminated and the 32 GB model becomes the model with the smallest storage capacity, I am reporting.

In recent years, Apple was suffering from customer complaints that "storage capacity is insufficient." Indeed, it is clear that enjoying large-capacity applications and games, placing hundreds of songs of music, shooting pictures and shooting 4K movies with cameras, storage capacity will soon be short for 16 GB. Even if you use Apple's iCloud or other cloud storage services, organizing your data every time the device's capacity is full is a very cumbersome and inefficient way to operate. In other words, Apple uses the 16-GHz model iPhone to notice that "the storage space is not available" that often appears on the screen triggered the impaired user experience of the iPhone It is considered to think that it is thinking to abolish the 16 GB model which is too small in capacity.

The current iPhone 6/6 Plus / 6s / 6s Plus has three storage capacities of 16 GB, 64 GB and 128 GB, but since the 32 GB model also existed in the iPhone earlier, if the iPhone 7 and 32 GB models If it appears, it will be a resurgence after a long time.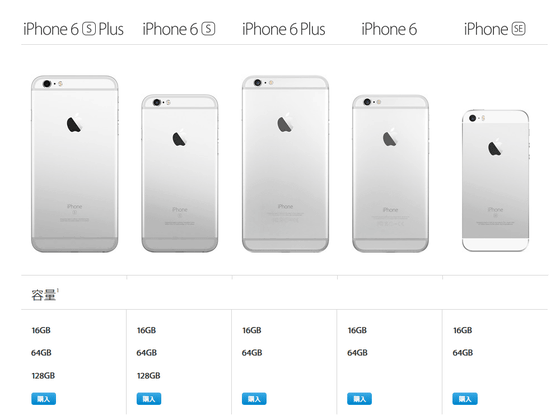 The change to three storage capacities of 32 GB, 64 GB, 128 GB, "It seems to be very reasonable," The Verge of foreign news site. However, Apple also says that iPad Pro sells devices with 256 GB model of mass storage, which is not surprising if added to the entire iPhone or "iPhone 7 Plus".

Also, for a while it is certain that the 16 GB model iPhone sold on existing models such as the iPhone 6/6 Plus / 6 s / 6 s Plus will be sold by carrier and Apple, but The Verge is "16 GB The model seems to be almost finished. "