Scarlett · Johansson plays in live-action movie version "Ghost in the shell" is not "Kusanagi element" but "Major"


Movie "Ghost in the Shell" planned to be released on April 14, 2017 (Hollywood live action version)Scarlett Johansson starred and in April 2016An appearance in the play is announcedIt is being done. According to the producer of the work, the role that Johansson plays isNot "Kusanagi element" but "Major"It is said that.

"Ghost In The Shell" Producer Explains Why The Film's Approach Is "The Right Approach" - BuzzFeed News
https://www.buzzfeed.com/susancheng/ghost-in-the-shell-producer-defends-scarlett-johanssons-role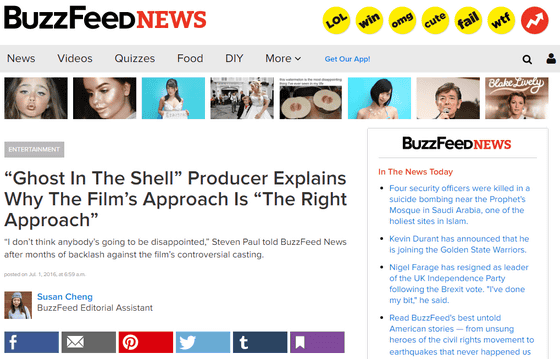 The Producer Behind the Ghost in the Shell Movie Finally Responds to the Casting Controversy
http://io9.gizmodo.com/the-producer-behind-the-ghost-in-the-shell-movie-finall-1783043260

"Ghost in the Shell" is an SF comic by Masamune Shiro. Theater version animation "GHOST IN THE SHELL / Ghost in the Shell" handled by Director Oshii Mamoru has been highly acclaimed worldwide, and then the TV series "Ghost in the Shell STAND ALONE COMPLEX "" Ghost in the Shell SAC 2nd GIG "and others were produced.

Starring in this movie is Scarlett Johansson, known for the role of Black Widow (Natasha Romanoff) in the "Avengers" series and Charlotte's role in "Lost in Translation". However, since the Ghost in the Shell was originated from Japanese cartoon animation, there was not a lot of voice in Johansson saying it was different from the image.

The scene cut that was released in April 2016 was that Johansson was not a conspicuous blond hair, but a black haired shortcut figure, and it was a thing to know that it plays quite a bit to "Kusanagi element" which plays.

However, according to the content produced by Steven Paul, producer of the work, according to BuzzFeed's telephone interview, the role played by Johansson is written as "Kusanagi element" in the material, but in the play "Major" , It turned out that it is not stated that it is "Kusanagi element".

In addition, the stage of "Ghost in the Shell" is Japan in the near future and the fictional city "Shinhama (Nijima Prefecture Shin-hama shi)" appears, but in the movie it is not Shinhama but " International world "will be the stage.

Besides Johansson, as a cast, Mother of Pilu Asbeck (role of Batou), Michael Pitt (role of Kuze · Hideo), Takeshi Kitano (role of Daisuke Aramaki), Juliet Vinosh (role of Dr. Owley), Kaori Momoi ("Major" The role), Chin Han, Rira Fukushima's name has been raised so far.

Paul says, "If you look at it, it is a work that everyone is satisfied with, I do not think anyone will be disappointed."