Microsoft official free application "Microsoft Flow" that makes multiple web services cooperate automatically, such as "saving specific tweets in database"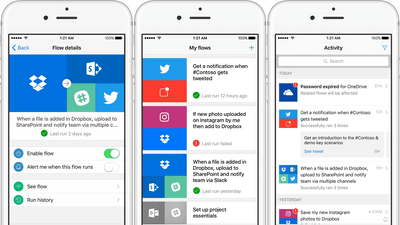 By linking multiple different web services, Microsoft's new service "Microsoft Flow" that can automate tasks such as "Save the Twitter timeline trends in Excel"Web preview versionWas released in April 2016. In addition, on June 20th local time, the mobile application version of Microsoft Flow was announced and the iOS version has already been released.

Introducing the new mobile app for Microsoft Flow | Flow Blog
https://flow.microsoft.com/en-us/blog/mobile-ios-launch/

Microsoft Flow on the App Store
https://itunes.apple.com/us/app/microsoft-flow/id1094928825

Microsoft Flow is a service that can coordinate 36 Web services and automate tasks that they want to do. What is different from "IFTTT" which provides similar services is supposed to be used by companies and organizations. The created automated task is called "Flow", you can create your own favorite Flow, or you can register Flow created by others with your application for use.

What tasks can be automated using Microsoft Flow?Published templateThere are the following ones.

·Office 365 Add a task to Wunderlist when you receive high-priority mail in Outlook
·Office 365 Save email attachments you receive in Outlook in OneDrive for Business
·Save Twitter specific hashtagged tweets in SQL Azure database
·Save the Twitter timeline trends in Excel
·Notify the smartphone when issues (problems) on Github's own page occur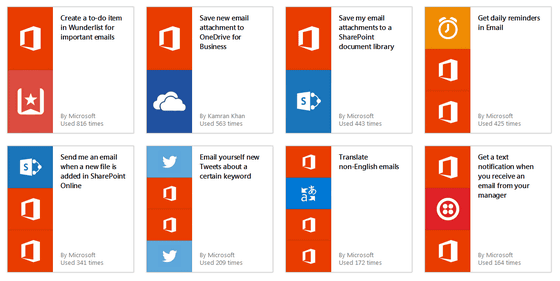 As for the service that can cooperate at the time of article creation, 36, it is possible to not only register flown Flow from the template but also create Flow to automate tasks that you need.

Services | Microsoft Flow
https://flow.microsoft.com/ja-jp/services/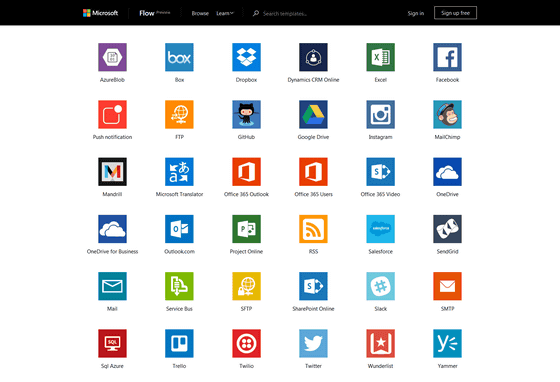 Although the iOS application version of such Microsoft Flow is released as early as possible, when actually installing it, all the screen is being read and it was not available from Japan. However, an official movie that makes it possible to see what kind of experience you can use using the application version of Microsoft Flow is released, and you can see how this will be possible in the application .

Introducing the Mobile Flow App - YouTube


The following is the "My Flow" page, and the registered Flow is listed.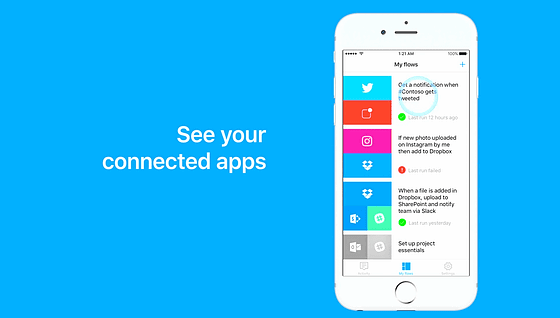 For example, if you create a Flow saying "Notify me when tweets containing" # Contoso "comes out", it will appear on the screen as shown below. You can easily enable / disable the created Flow by tapping the button.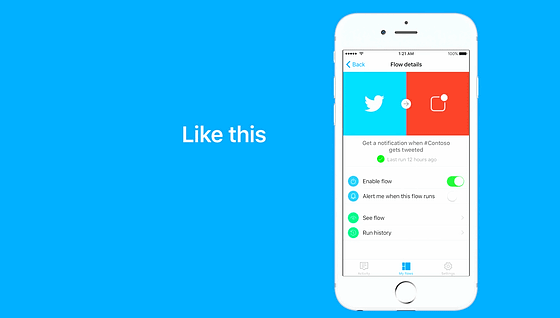 On the "Activity" page you can see the history of when the Flow you are activating worked.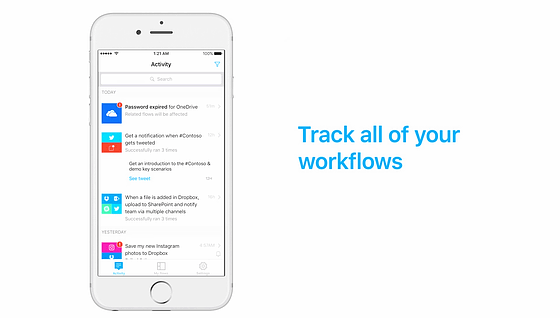 It is also possible to switch the display of Activity screen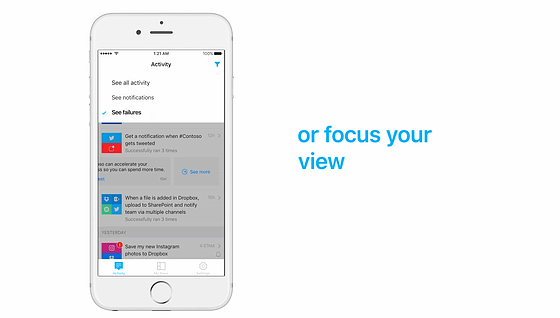 For example, if you display "failed Flow", Flow that got the error knows the whole. You can quickly make changes to Flow that does not work well.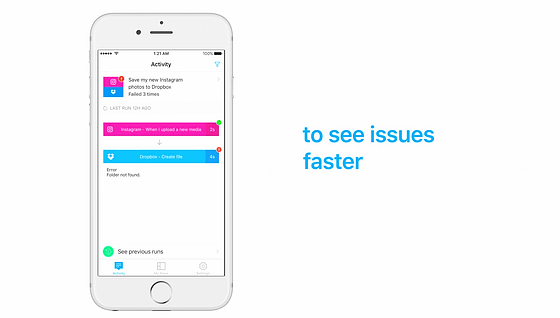 When "Flow of" notice when tweet including "# CONTOOSO" comes up is activated, a notification has arrived at the smartphone.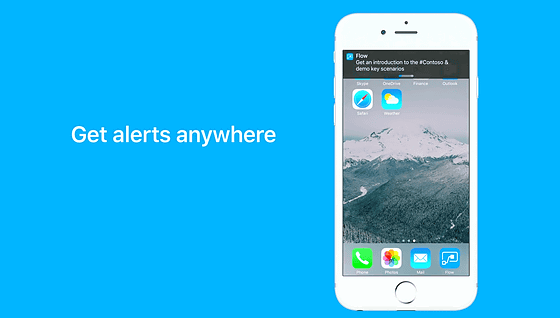 The concept of Microsoft Flow is "Work less, do more (less work, do more)".