For self-made PC fans, "COPPE EXT TAIPEI 2016" sprinkled PC parts related booth at a glance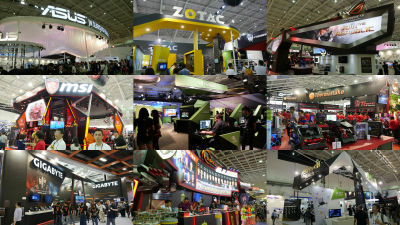 The world's largest IT trend show "COMPUTEX TAIPEI 2016At home, mainly local Taiwanese makers, if you are a self-made PC fan, manufacturers that you have seen once gathered together to display new products and blown-out demo PCs.

Computex Taipei - the world's largest IT trend show, the best procurement platform for IoT solution
http://www.taitra.gr.jp/event/computex/

This year's ASUS booth is a cool color design based on white.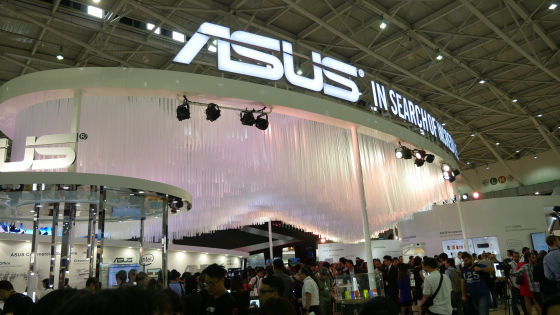 Wireless LAN router called "BRT-AC828 / M2".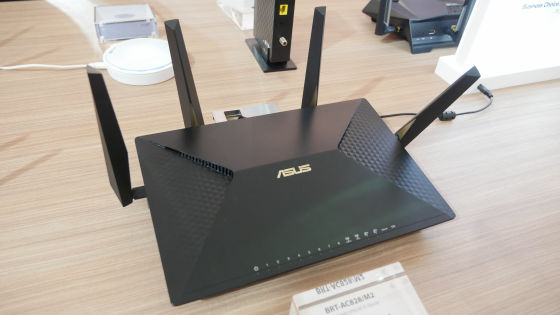 It is an edge-effective design.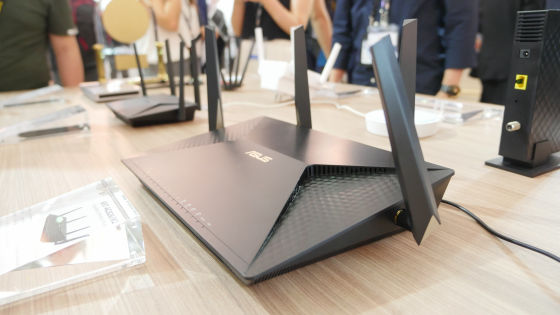 There seems to be eight wired ports.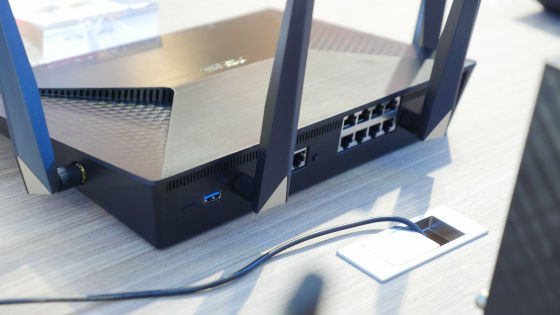 Also "WL-32" of the wireless LAN router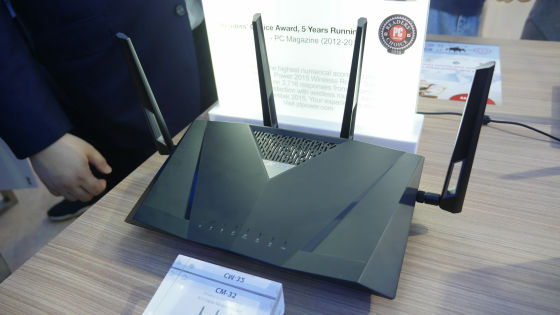 A PCI - Express connected Wi - Fi adapter "PCE - AC88". The maximum speed is 3100 Mbps.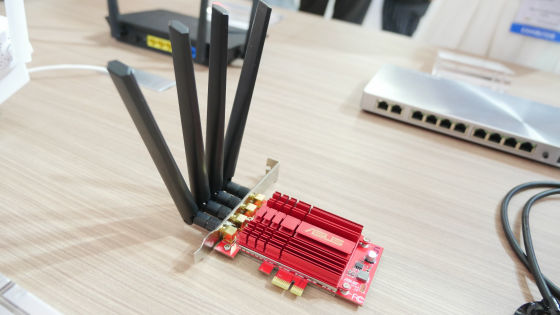 A huge heat sink draws an eye.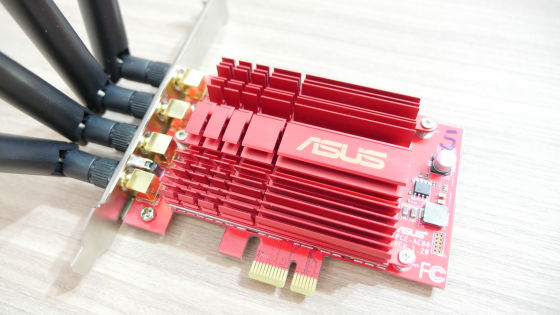 Wi-Fi adapter "USB-AC68" with USB 3.0 connection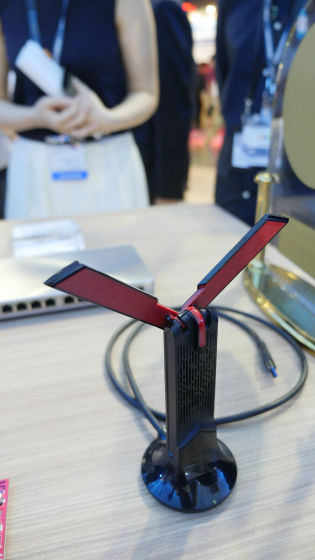 Compared to smartphones this is about this size.



The ASUS booth gathered the most people was ASUS's first robot "Zenbo"was. However, there are too many people, Zenbo can hardly be confirmed ... ....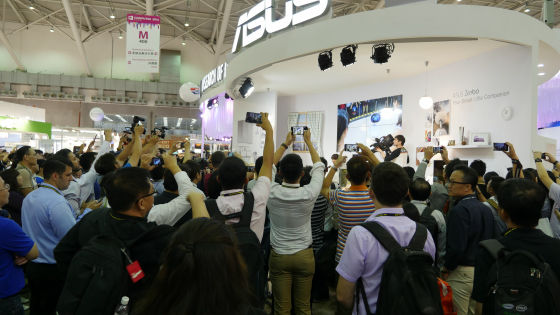 ASUS's gaming brand "ROG" was also deployed so as to face the ASUS booth.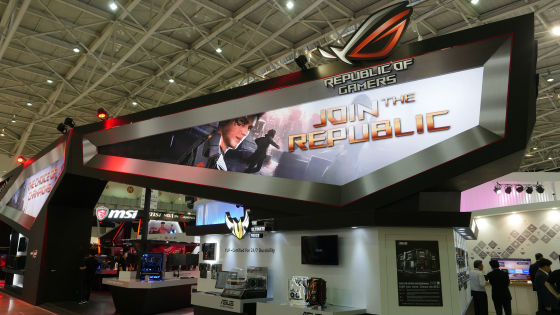 Graphic board expansion box "ROG XG Station 2".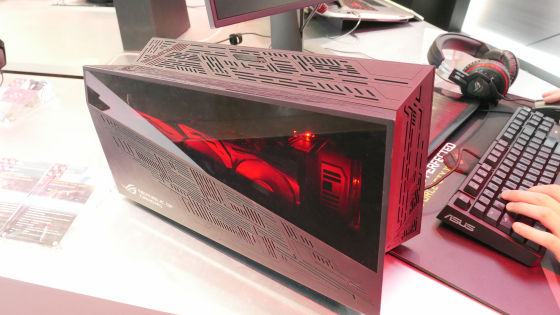 You can add high performance graphics boards to laptop via Thunderbolt 3.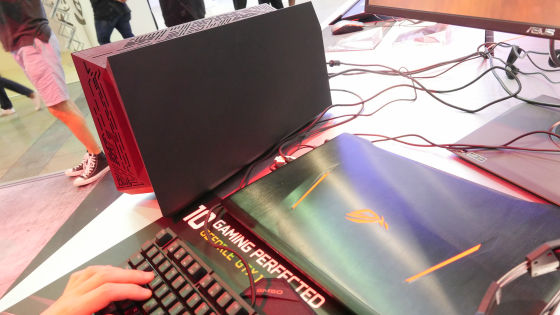 A graphic board is built in the interior that glows with the red LED.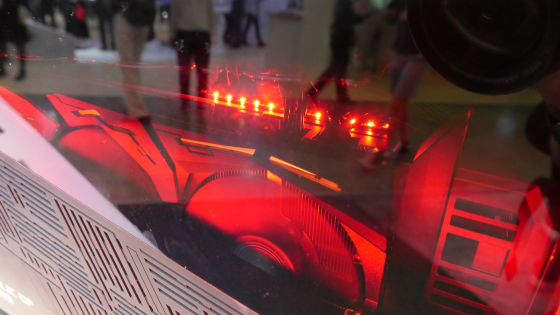 A high-performance graphic board is externally attached to the notebook PC, and it can be transformed into a high-performance gaming PC.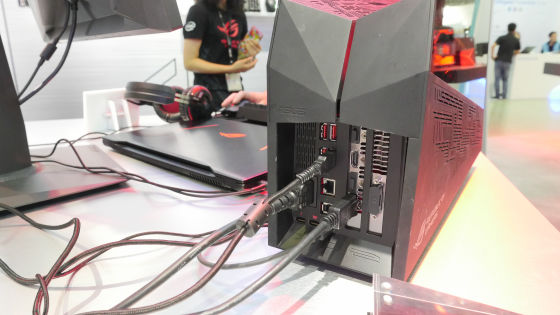 "ROG AVALON" that embodies the new self-made PC standard proposed by ASUS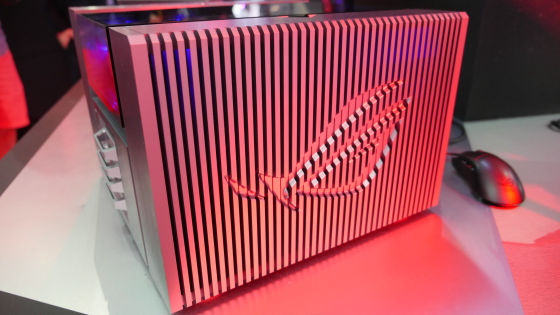 A docking type storage tray in front.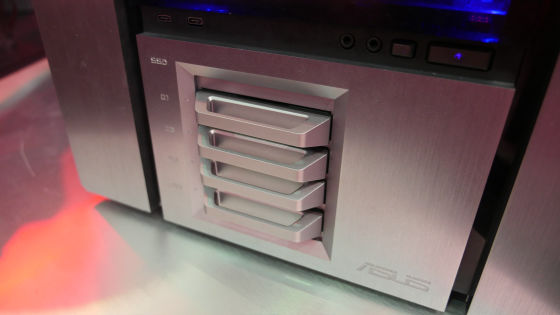 It means that you can make your own PC without cables by connecting the storage and I / O panel parts with slots to the flat motherboard.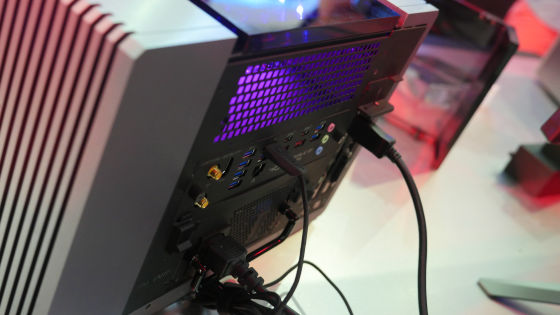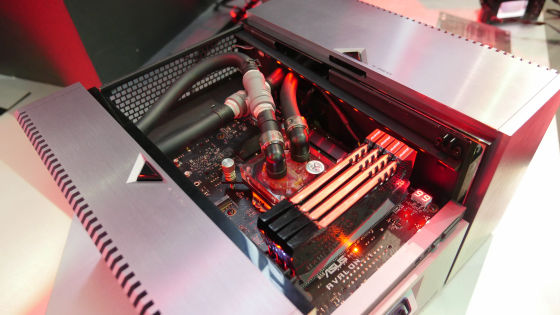 Also, a 3D printer was placed in the booth.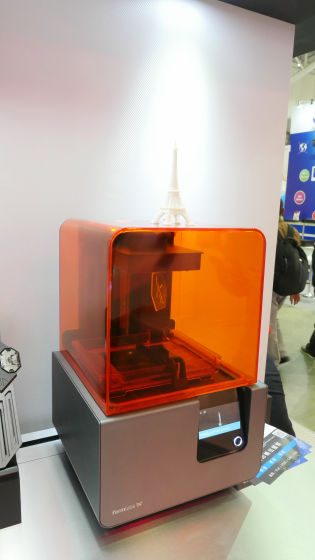 This is an exhibition "ASUS Motherboards 3D Printing Project" which prints accessories for motherboard.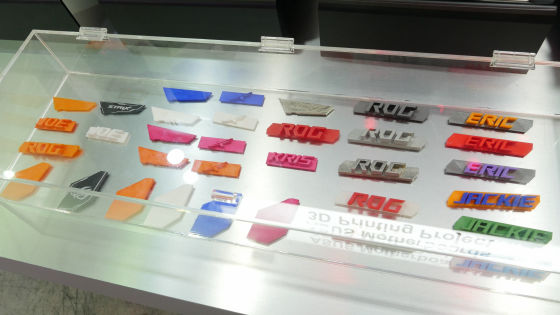 With this kind of accessories to be attached to the heat sink is made with a 3D printer.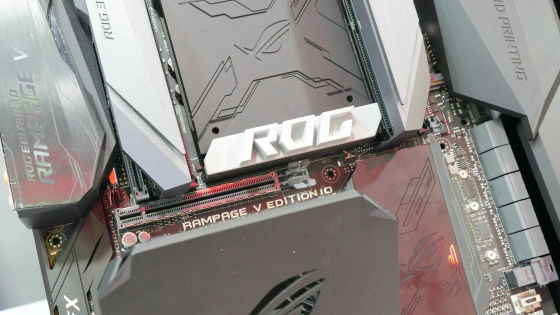 GIGABYTE 's booth in TWTC Hall 1.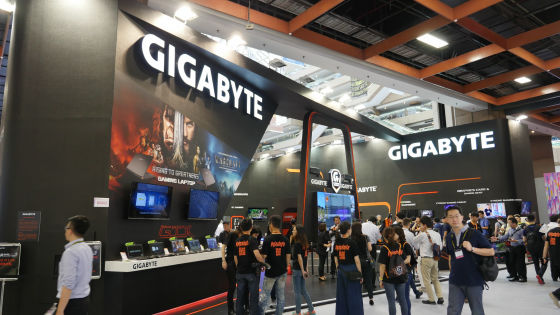 A racing simulator was exhibited with Dodon at the booth entrance. The driver can wear a VR headset and immerse in the world of the race. In addition, the bucket seat moves up and down and right and left according to the behavior of the machine.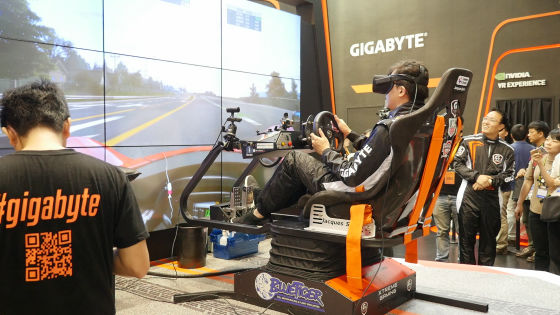 Also, various MOD cases were decorated.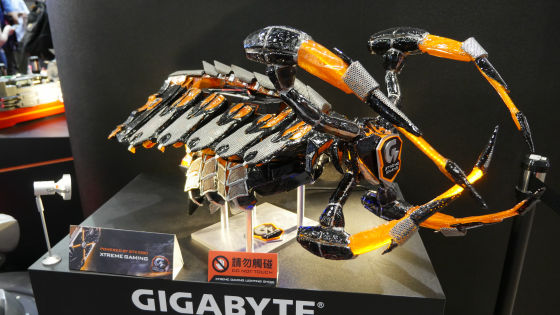 Design like an alien. I do not think it is very PC.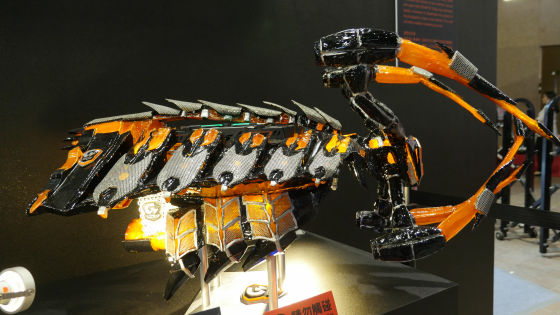 Fan with blue LED on the bottom. The PC is a winning work of MOD case self-made contest by GIGABYTE fans.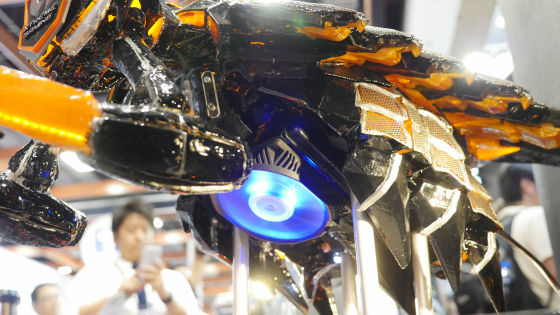 GIGABYTE displays new characters.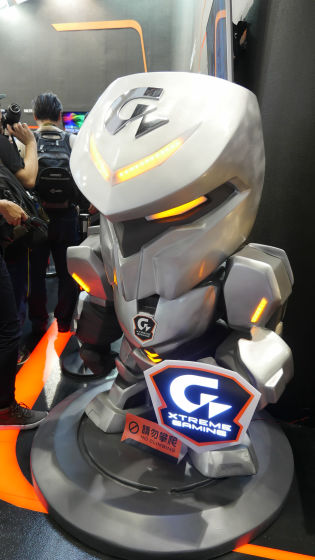 The name is undecided.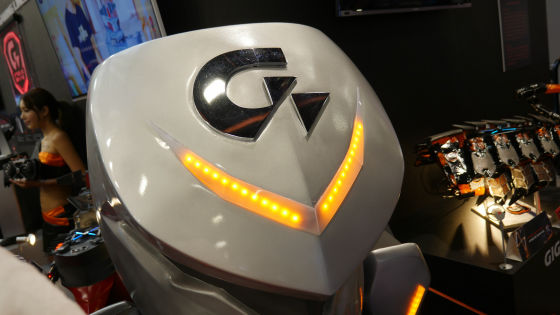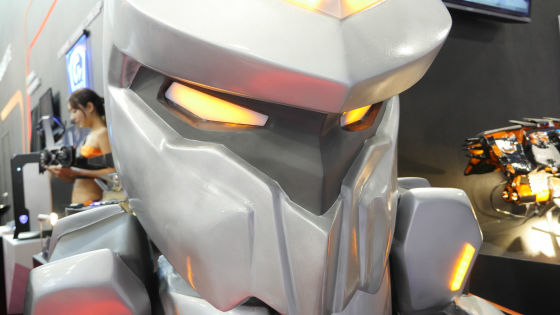 GIGABYTE also exhibited prototypes of graphic board expansion boxes.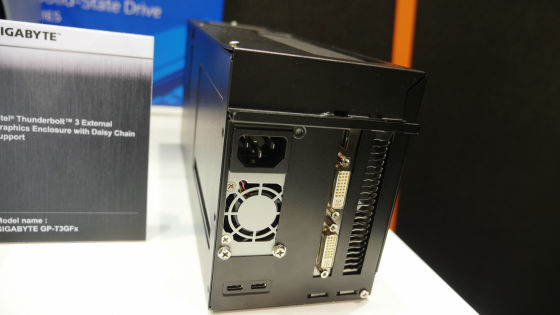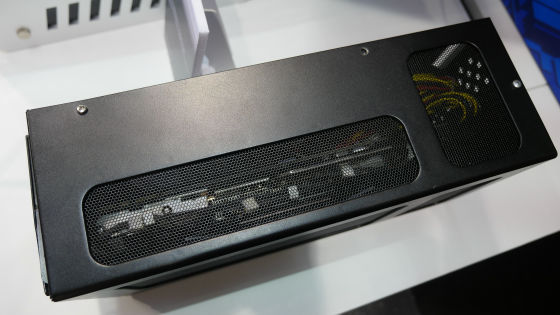 MSI booth.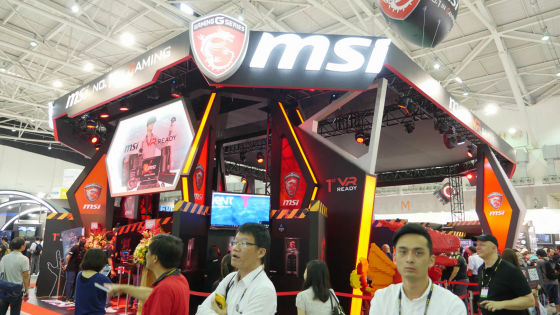 Reference The exhibition corner was "Premium CPU Cooler". The side flow type cooler glows the logo of the dragon with the LED on the top part.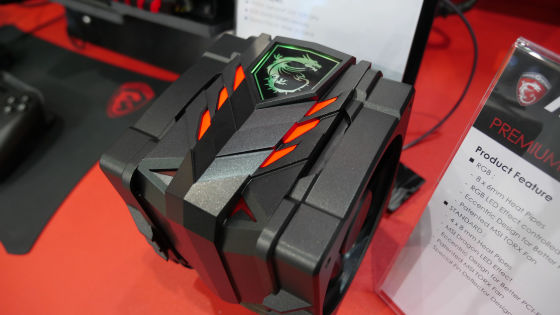 12 cm fans.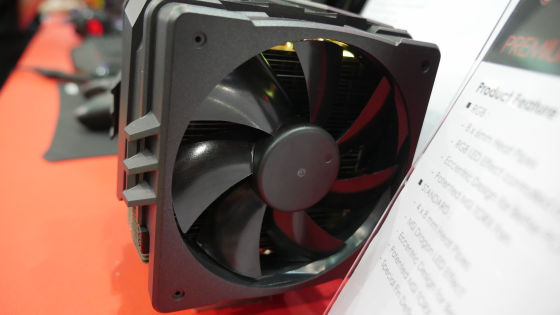 The fins seen from the gaps of the fans are uneven in pitch and size, and it seems that a special design is done.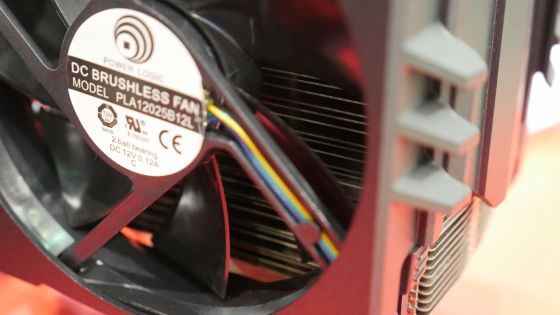 This is a mini PC "Cubi N" with a small capacity of 0.45 liter. By adopting Intel's "Braswell" processor for CPU, mSATA and 2.5 inch size SSD can be mounted.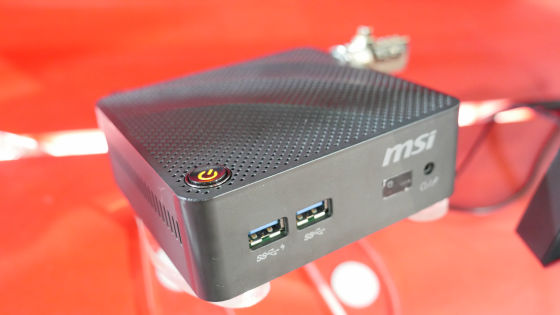 Top model "Cubi 2 Plus vPro". 6th generation Intel Core processor "Skylake" generation Core i5-6700T installed. The DDR4 memory supports up to 32 GB.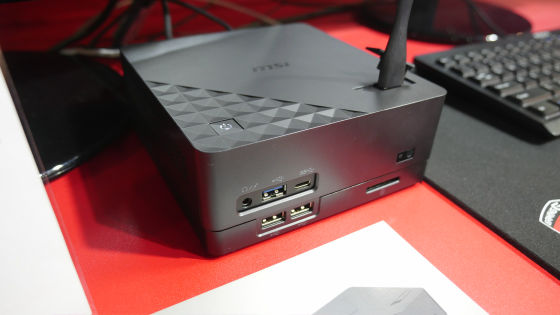 You can also check the Type - C USB port at the front.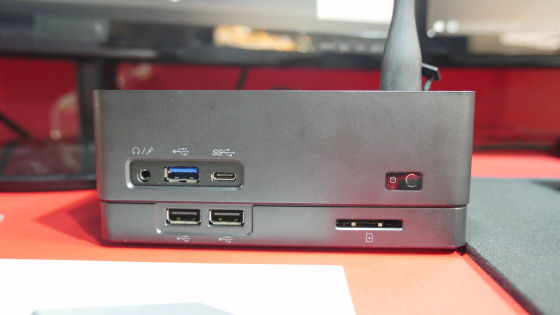 "Aegis X" gaming PC. Skylake's Core i 7 (with K) is installed, and the graphic board is equipped with NVIDIA's GeForce GTX 1080. PCI-Express M.2 supports NVMe. 2.5 inch, 3.5 inch storage can be installed.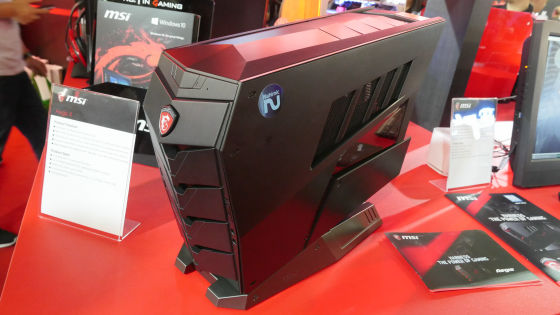 Continue to the AsRock booth.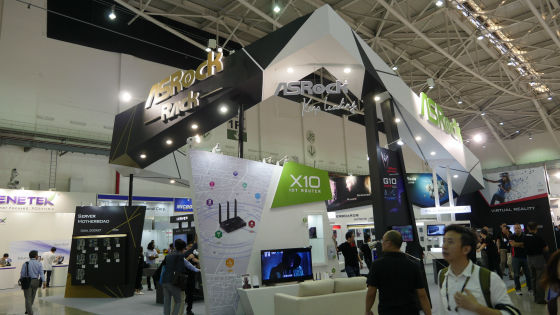 The X99 motherboard for "Broadwell-E" of the Fatal 1ty series scheduled to be released in June 2016 was exhibited at once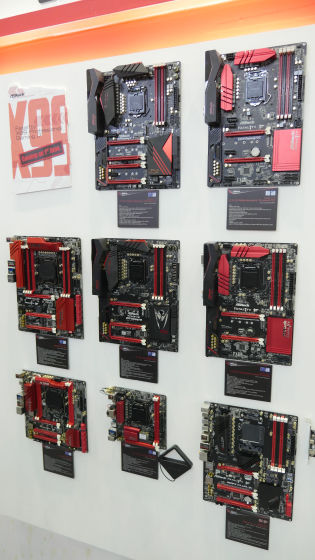 X99 Taichi is a relatively low-cost Broadwell-E compatible motherboard of $ 219 (about 23,000 yen).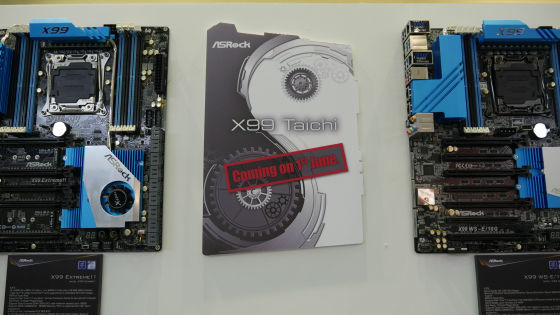 "Barebone PC called" DeskMini ".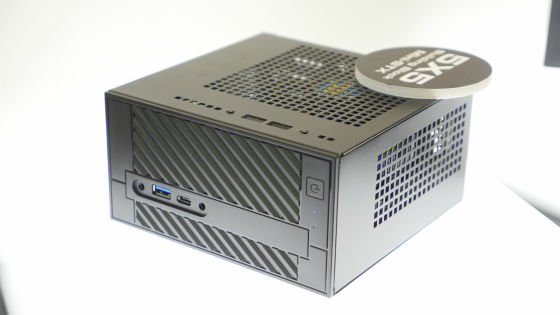 It can also be installed vertically.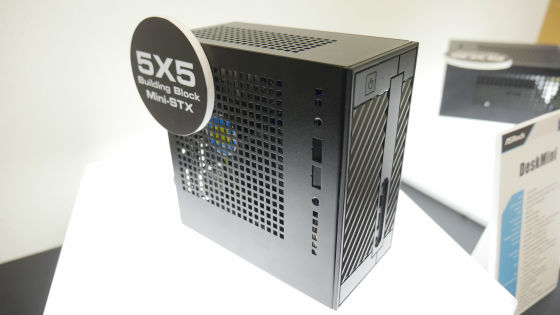 The chipset is Intel H110, and there seems to be a model with Core i7-6700 on.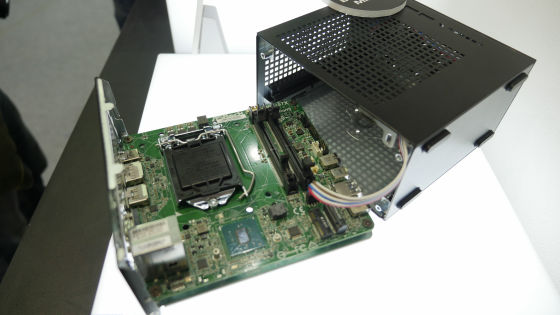 It is driven by an AC adapter and DisplayPort is also carried.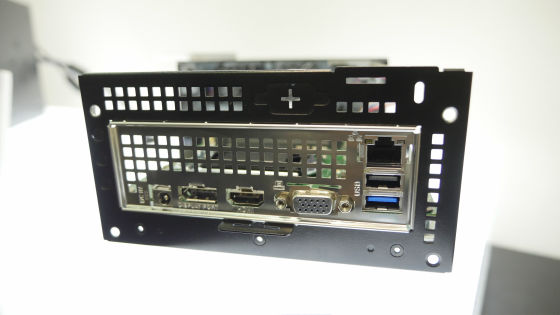 Works of "X99 Extreme 4 / 3.1" named "Absolute Will". Many MOD motherboards were exhibited.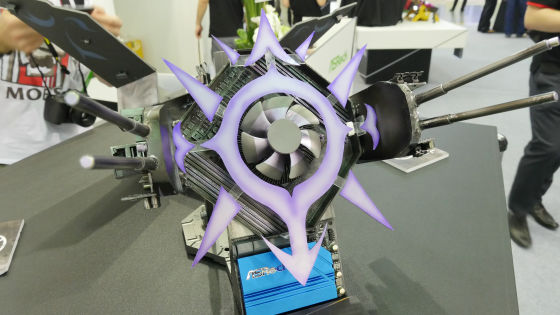 Thermaltake had exhibited a lot of showy cases this year as well.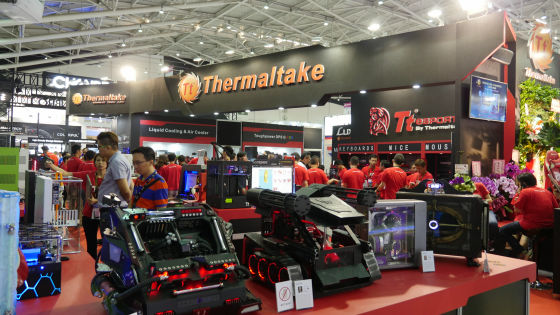 Works of Ali Abbas. The base is Thermaltake's PC case "Core X 31"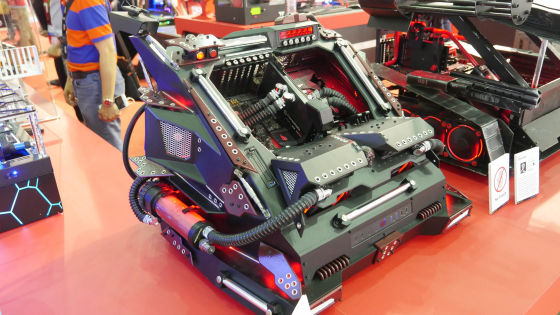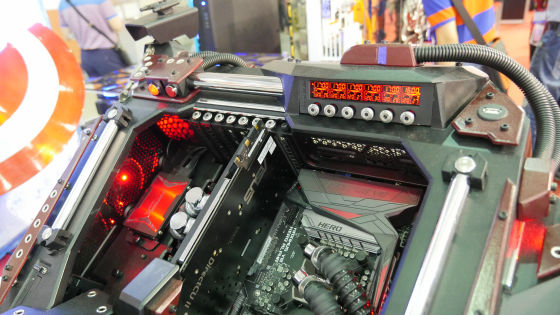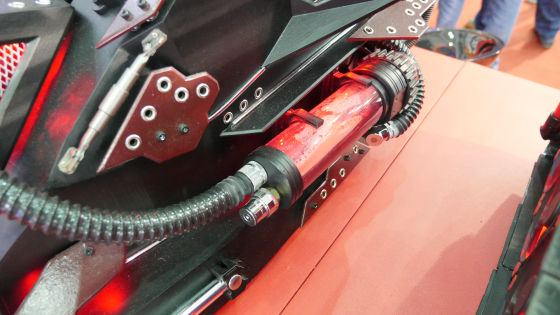 Work by Jesse Palacio. Base is "Core X9"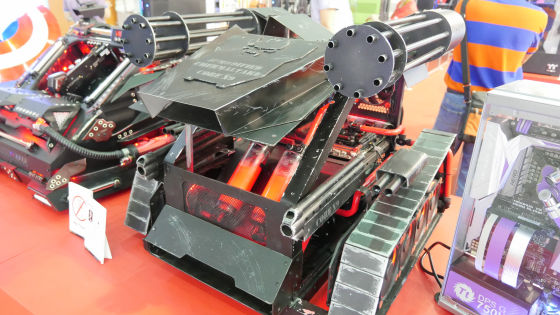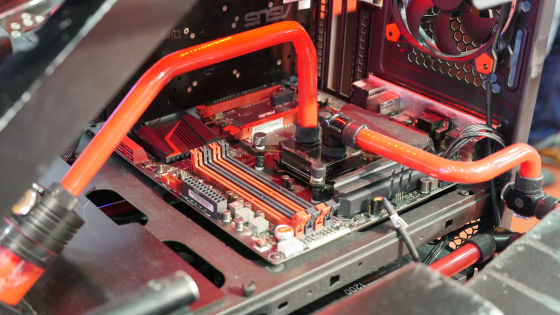 Work by RonLee Christianson. The base is Core X9.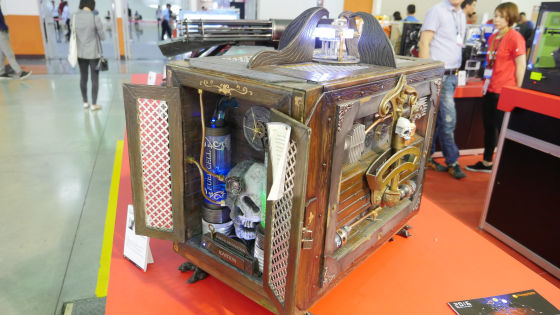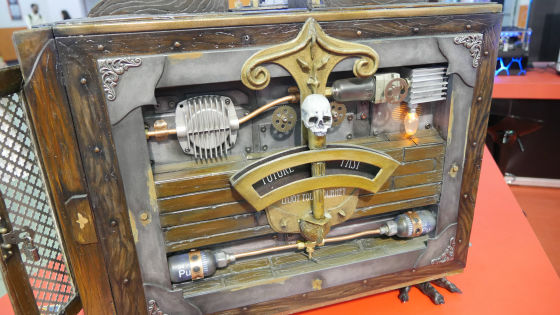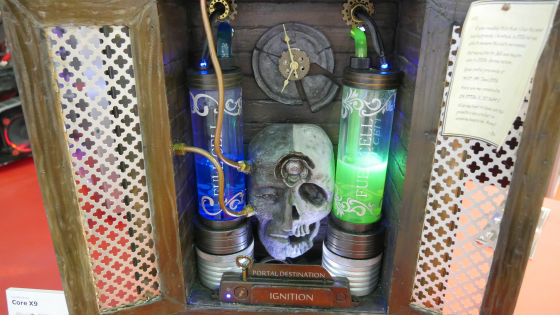 Mathieu Heredia's work. Again the base is Core X9.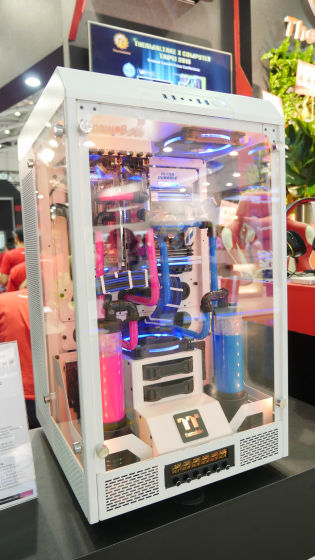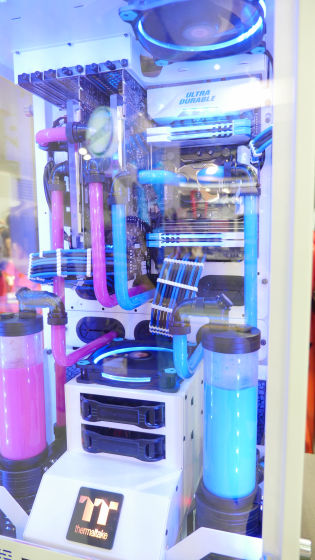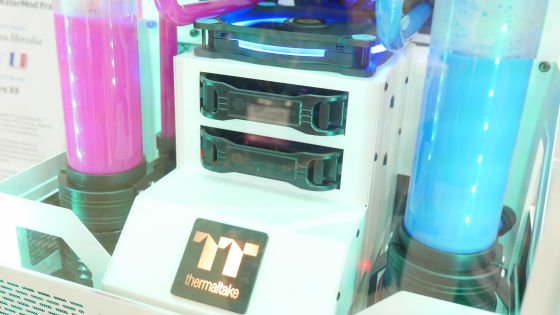 COMPUTEX TAIPEI 2015Then, shocking "Wall PC"Thermaltake exhibited" desk case "desk case" GAMING DESK "this year.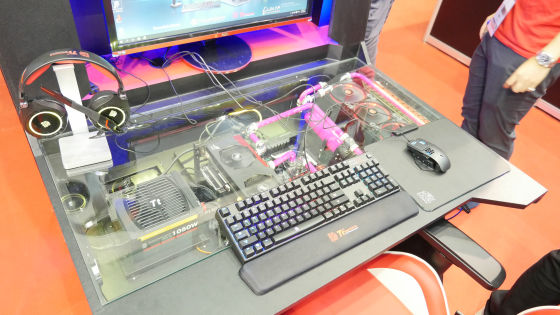 There was also a new model "Core P3" of a wall-mounted PC that can be installed vertically. The height is about 50 cm, slightly compact.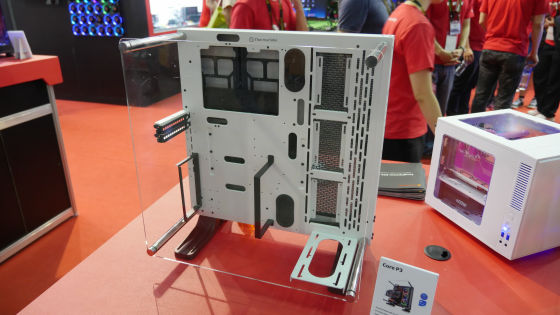 ZOTAC booth.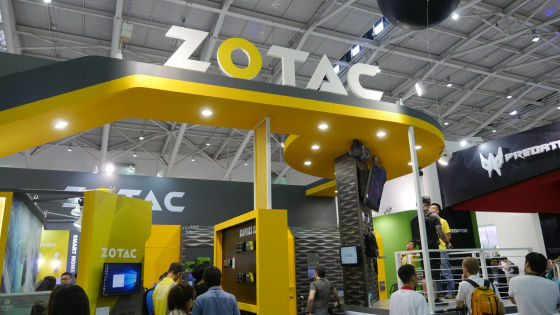 At the corner of the booth, a demonstration of the VR game was being held.



The attention is the backpack where the person who performs the VR game experience is back.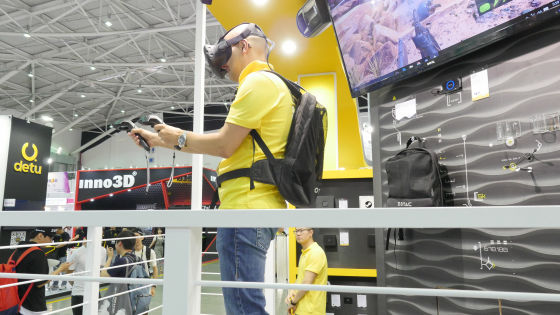 It is a portable PC named "Mobile VR", and it is planned to be commercialized after the summer of 2016.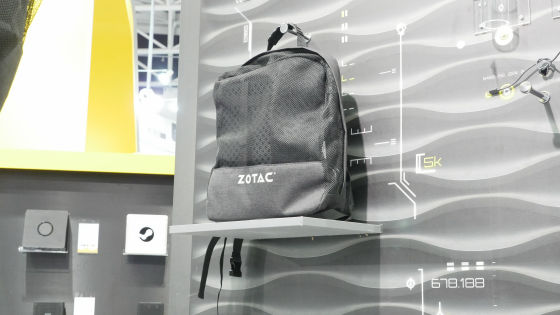 Also at the Grand Hyatt Taipei hotel next to TWTC, Intel and SanDisk have booths.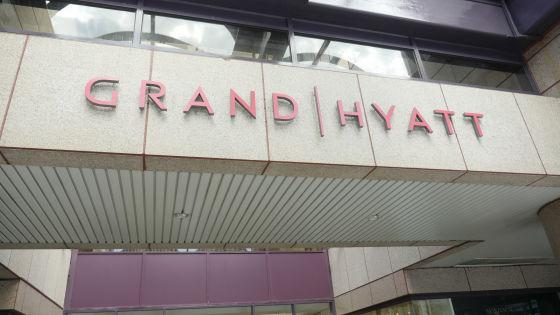 The NVIDIA logo jacks the hall.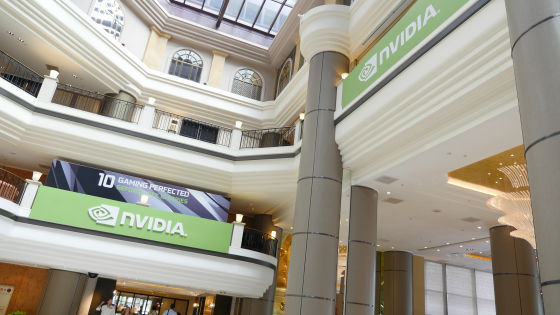 "GeForce GTX 980Ti booth" in 2015Following on, we rent out most of the 3F floor this year, and NVIDIA had set up a huge booth.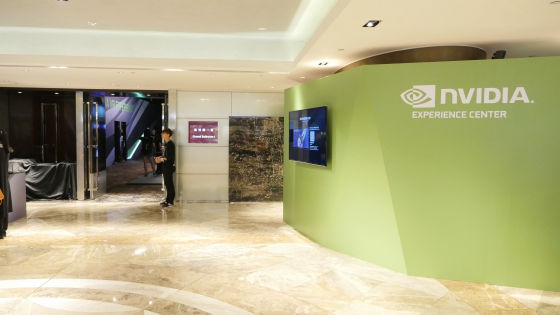 Inside is like this.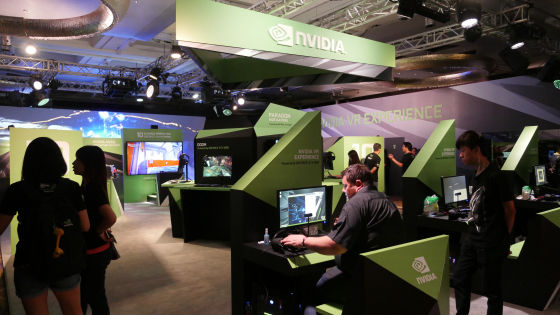 This year's leading role is Pascal generation GTX 10XX series.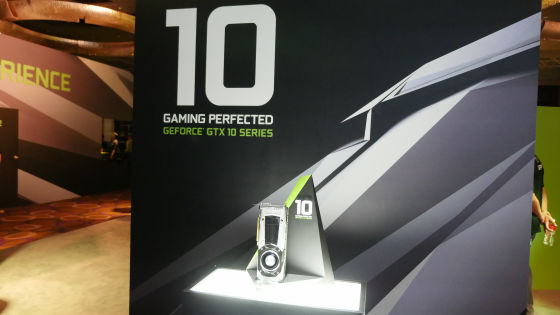 Ansel's demonstration that stops the time of the game and can capture the scene from every accuracy of 360 degrees.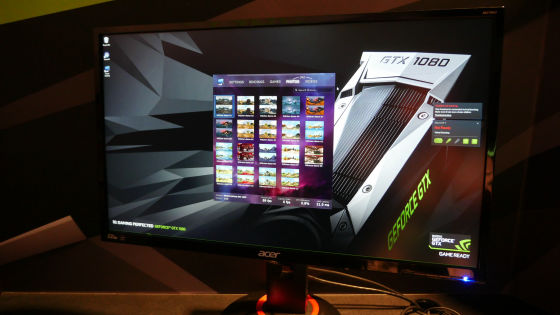 I was able to print out as well.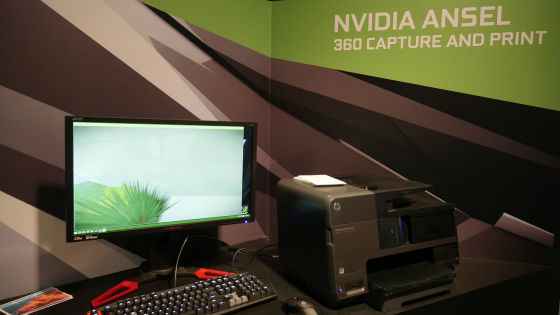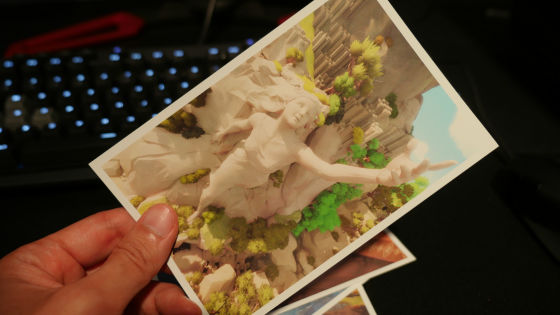 "NVIDIA VR EXPERIENCE" where you can experience VR on both sides of the booth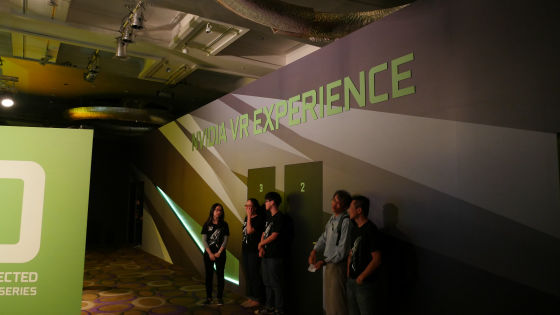 Two types of demonstration machines were prepared, HTC Vive and Oculus Rift.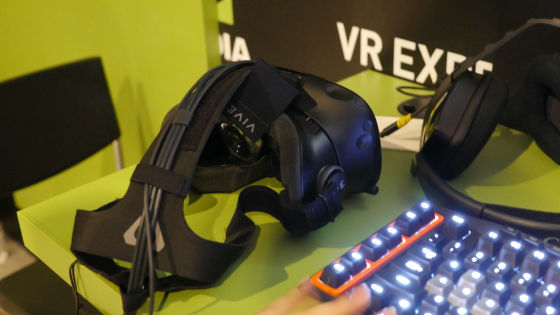 VR is also introduced in the gaming experience corner. It seems that 2016 was completely "the first year of VR".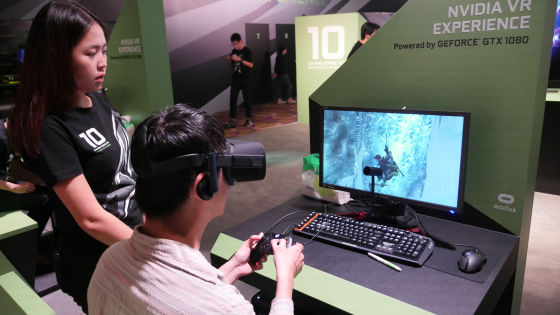 Shuttle booth popular in cube type barebones PC.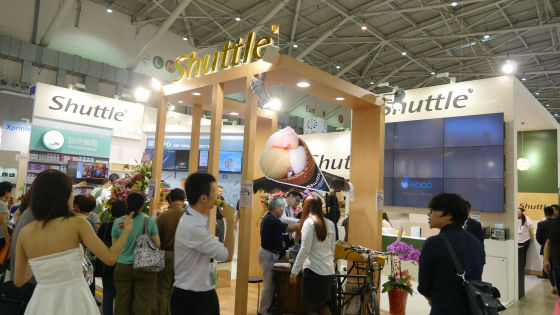 Mini PC "NC 02 U" series with Intel Core i 7 - 6500 U mounted in the booth was exhibited.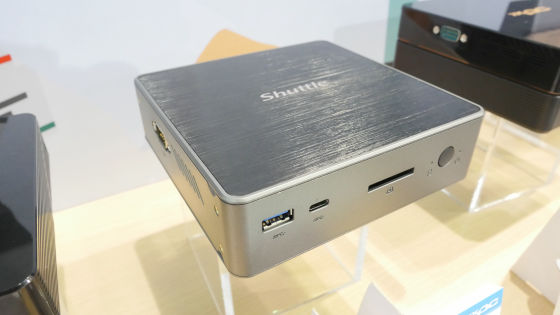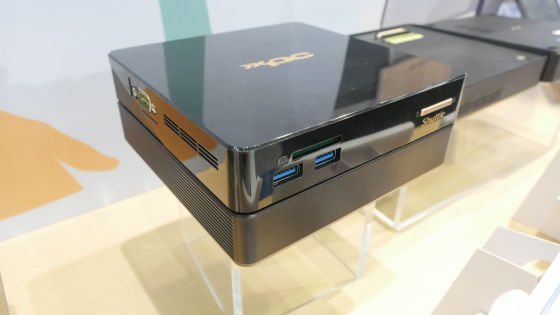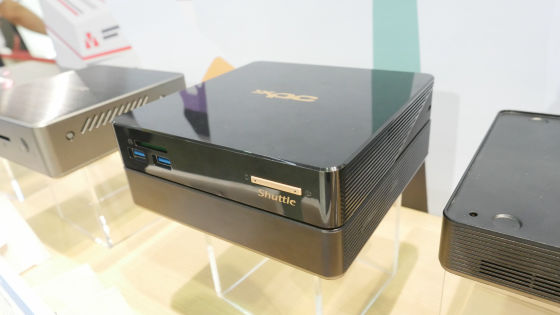 The ice cream shop opens business trip at the booth entrance. Shuttle's official Facebook was "like"! It was an event to receive ice cream.



Founded in 2011WibtekThe manufacturer's booth.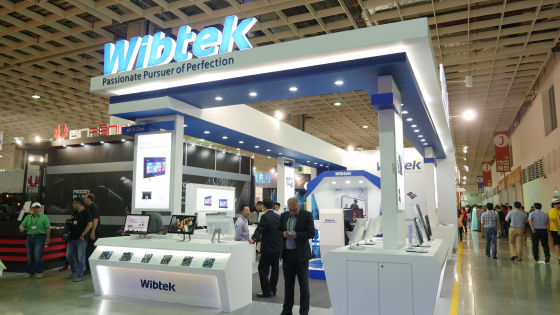 Mini-ITX motherboard with intel Core i5-6200U ... ...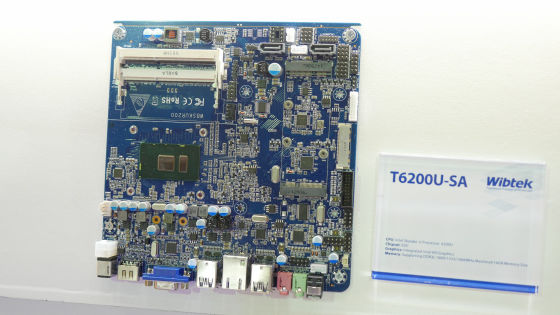 It was exhibiting all-in-one PC equipped with liquid crystal display.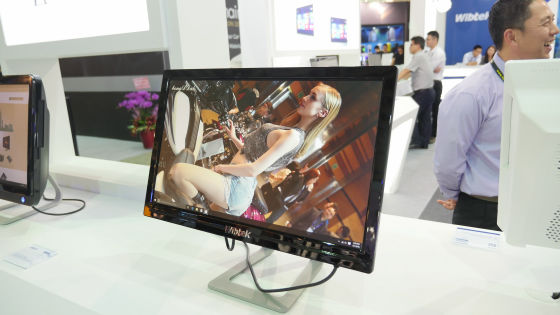 Bitfenix's booth.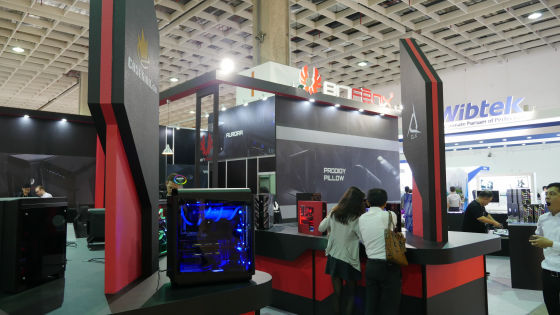 "Prodigy Pllow Window" case.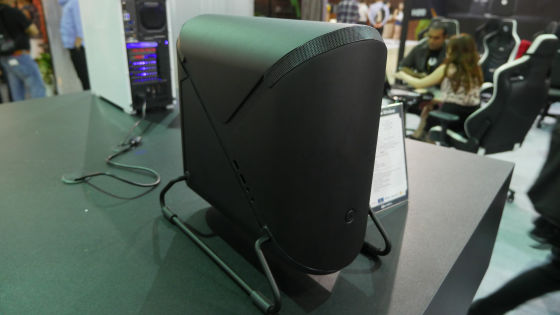 USB port and microphone / earphone jack on the side.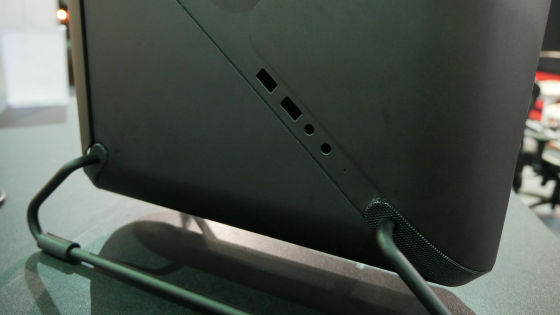 The back panel looks like this. It seems that you can add a graphic board on the top side.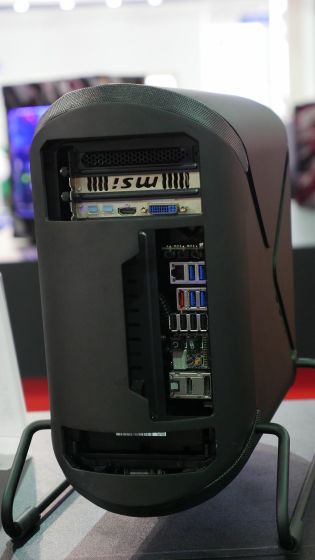 Fans on the bottom.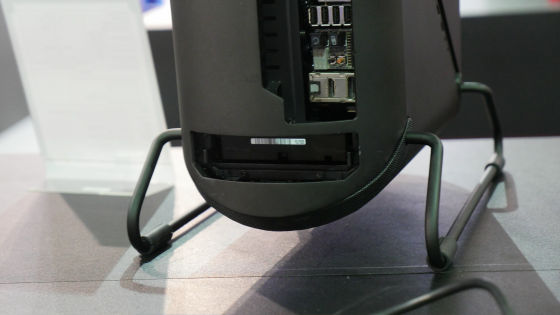 ENERMAX of the power supply maker. In recent years, we are also focusing on PC cases.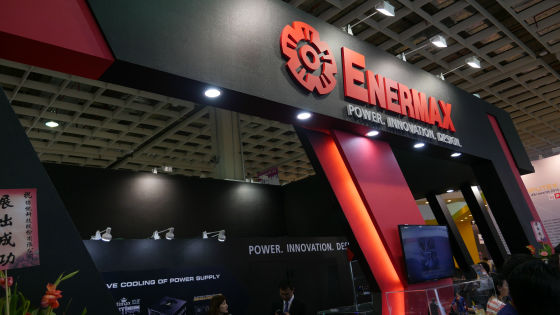 I was exhibiting such a showy demo PC.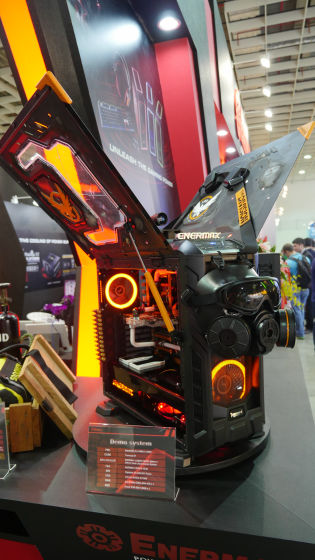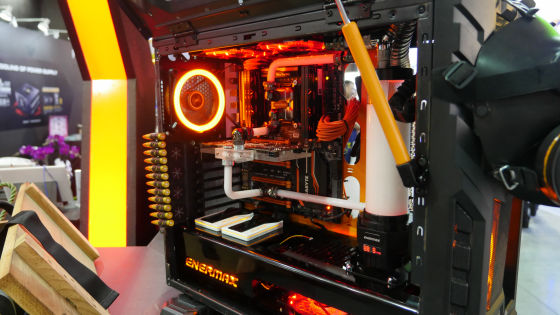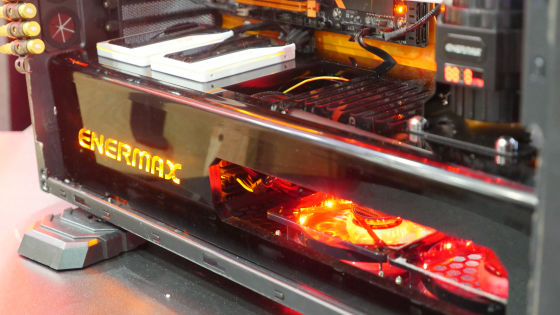 G.SKILL holds an overclocking competition again this year.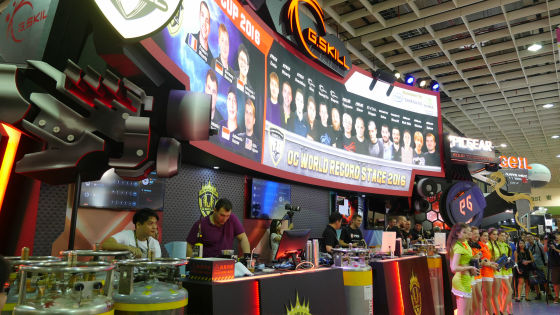 I brought in liquid nitrogen and was doing extreme overclocking.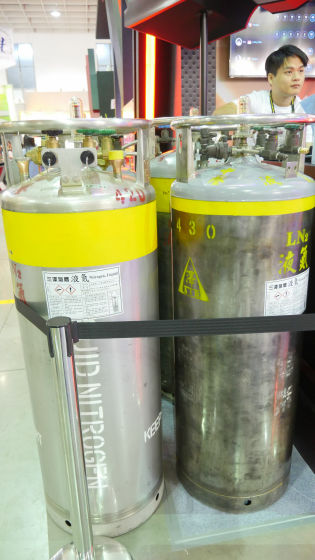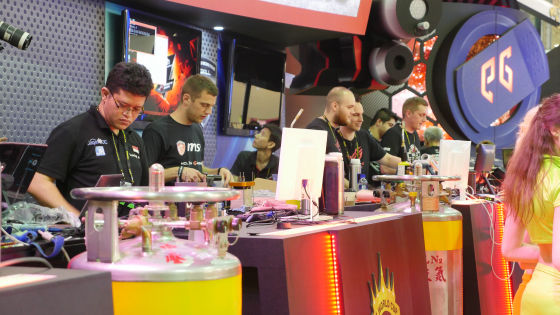 Case maker LIAN LI booth.



I was exhibiting a desk-built PC called "DK-04X".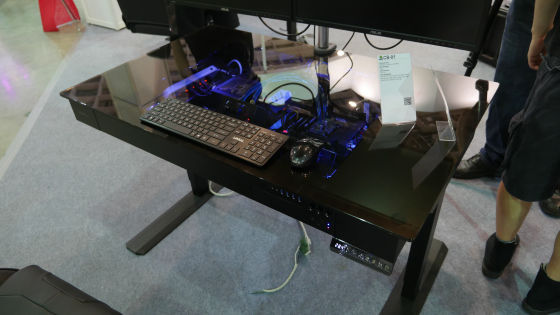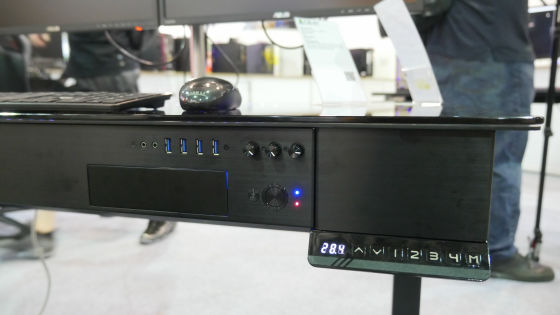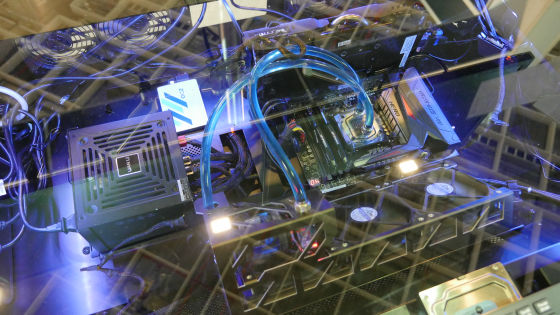 Each power strip can be mounted inside PC case.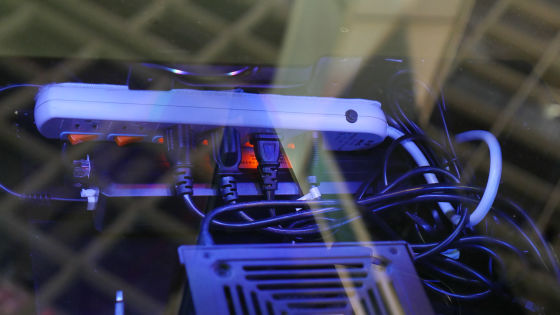 It seems to be able to load a lot of storage.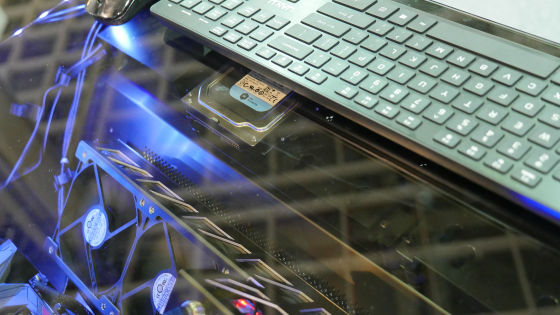 SilverStone booth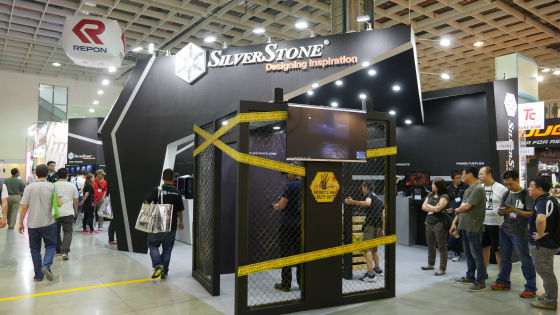 This is the case for Thunderbolt 3 compatible external graphics board.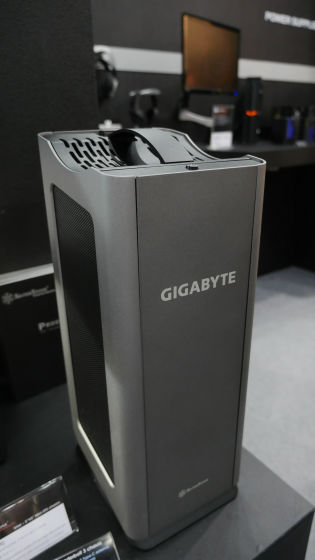 A fan for suction on the side.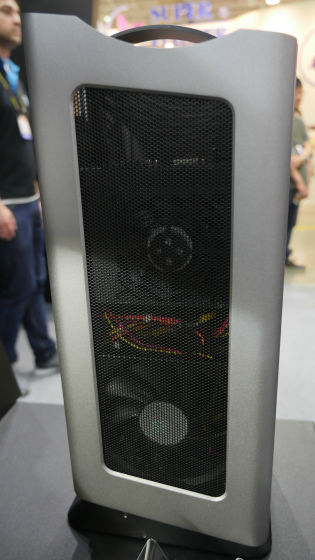 The top surface is a slit.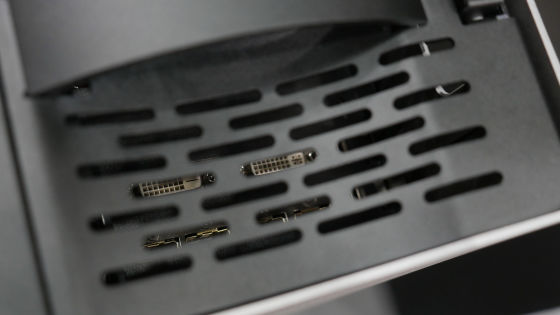 Bitspower booth of water cooling kit.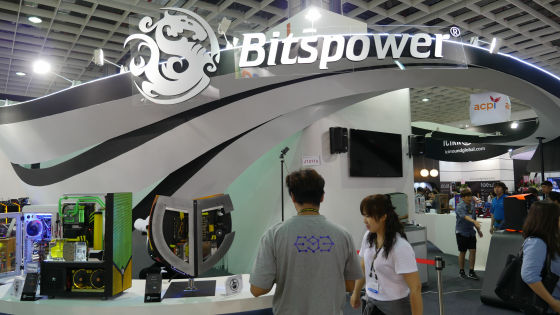 PC named "OC SOUL". Collaboration with AsRock.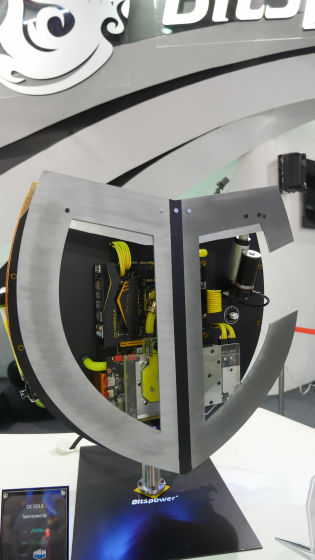 Collaboration PC with ASUS "Weopon of Mass Destruction".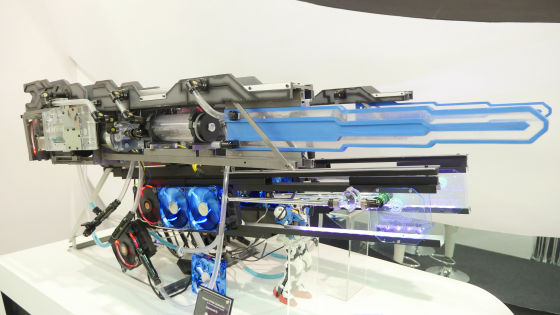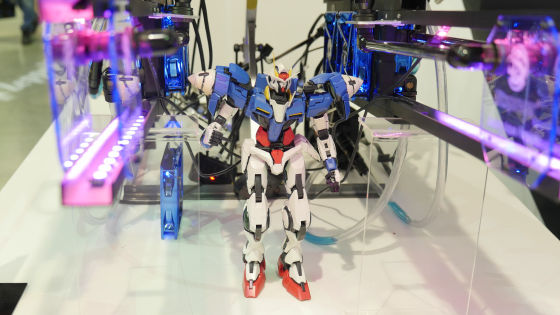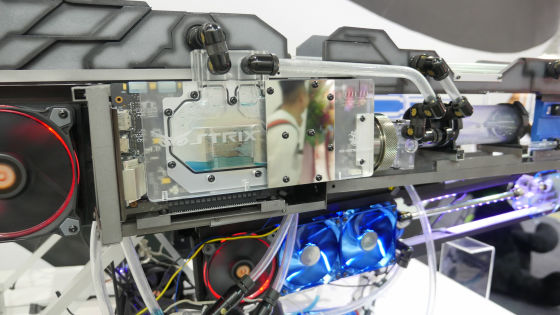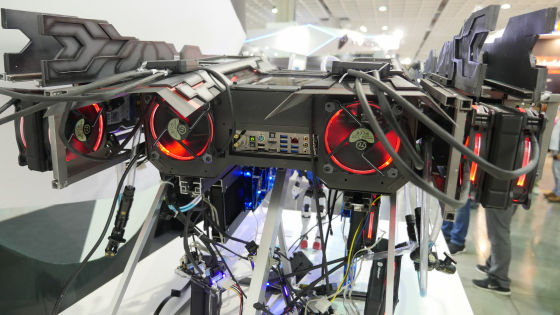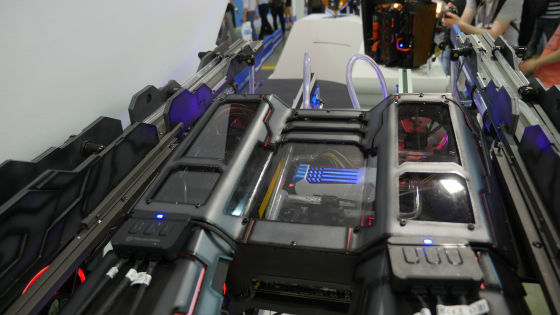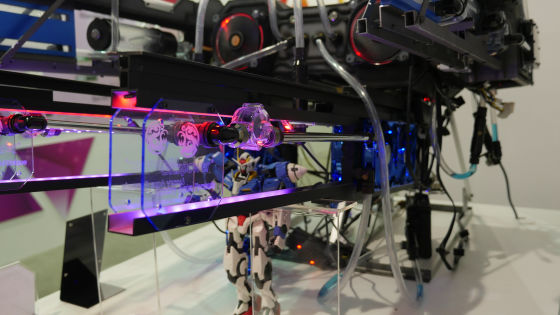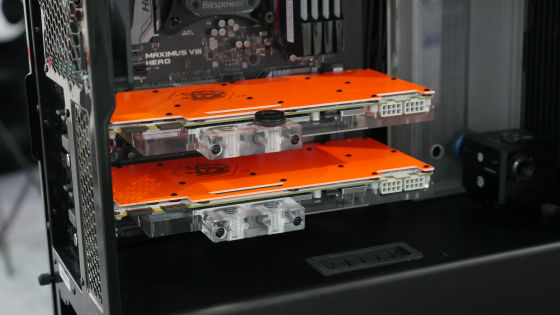 In addition, a water cooling kit for GTX 1080 was also exhibited.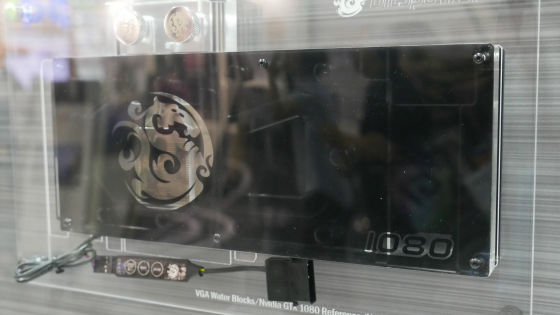 In Win this year with a huge booth with two stories.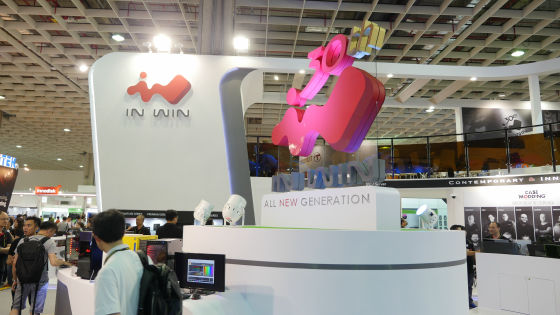 At the booth entrance I was handling the method of MOD (remodeling PC).



DeskMini of AsRock and ROG AVALON of ASUS were exhibited. Apparently In-Win seems to be in charge of both cases.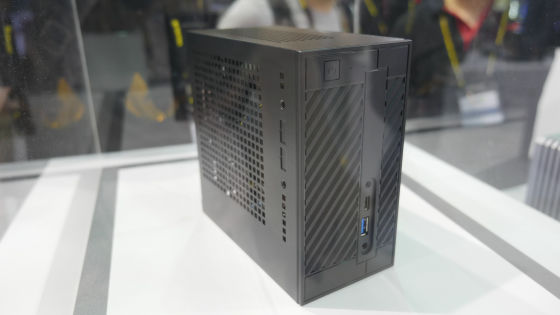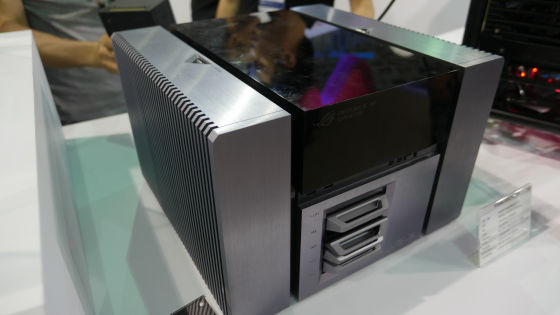 Open style PC case "X-Frame 2.0".



It seems like this when actually assembling up.