COMPUTEX TAIPEI 2015's self-made PC booth swept through the water cooled cooler "Bitspower"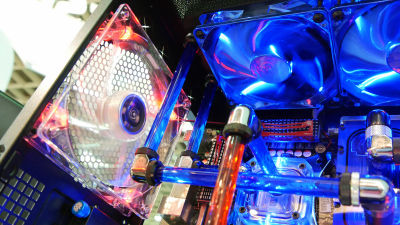 The second largest IT trade fair in Asia, which is currently being heldCOMPUTEX TAIPEI 2015"At home made PC parts manufacturer's booth, demonstration PC of most manufacturers is a fancy color"Bitspower"Water cooled cooler adopted. COMPUTEX TAIPEI 2015 was colored with Bitspower color.

Bitspower - Future Design Unique
http://www.bitspower.com/

Arrived at the Bitspower booth.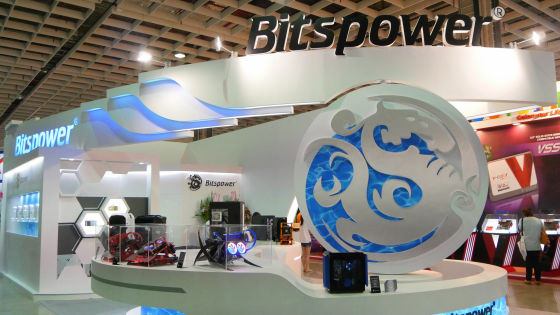 It drifts in the water is the logo of Bitspower's dragon.



Bitspower is a manufacturer that manufactures parts for water-cooled coolers. Even now the simple water cooling kit of the CPU is prevalent, we are offering parts for experts who are self-made PCs called "real water cooling".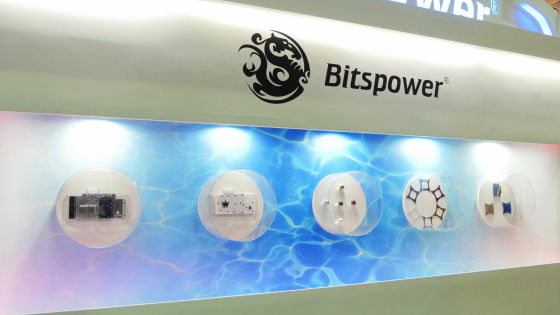 At the Bitspower booth, a demo PC that was sponsored by a homebrew PC maker was exhibited. This is COOLERMASTER, AVEXIR sponsored demonstration PC "H2OC PROJECT BITS'BOX"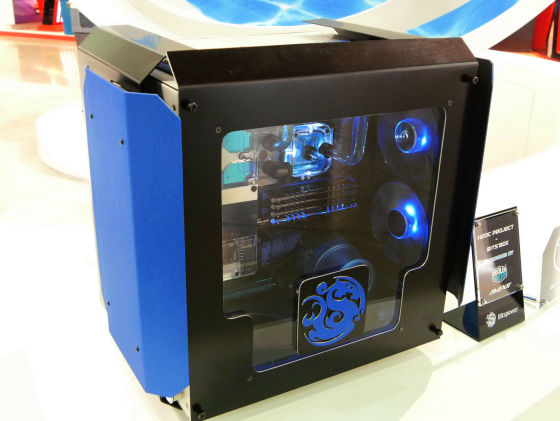 CPU cooler's water block also has a flashy design.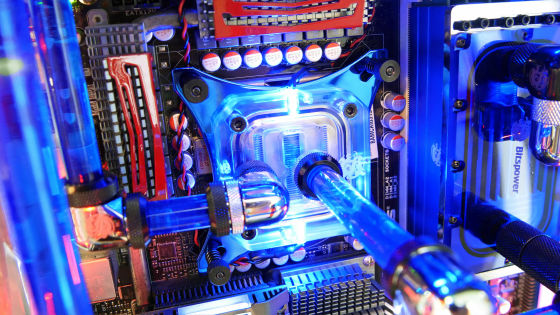 Coolant (The coolant is connected by a pipe instead of a hose, and with a fitting of 90 degrees, the coolant runs around the inside of the case and moves the heat, and the heat is exhausted by the radiator installed in various places.



Water block for graphic board which is the heat source of CPU or more.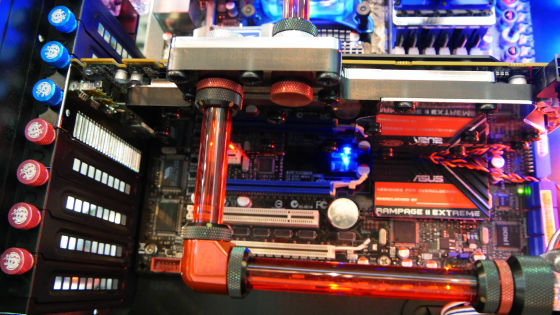 I am cooling too much memory.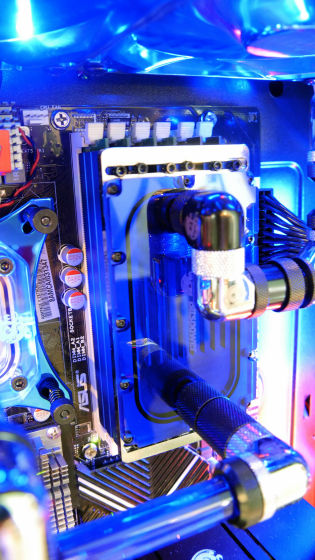 The reservoir that stores the coolant is also illumination specification.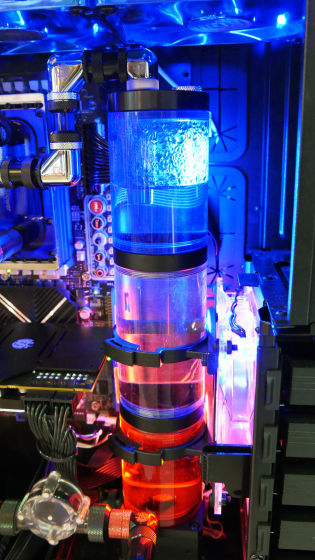 This is a sponsored PC "PROJECT X" such as MSI, COOLERMASTER, AMD.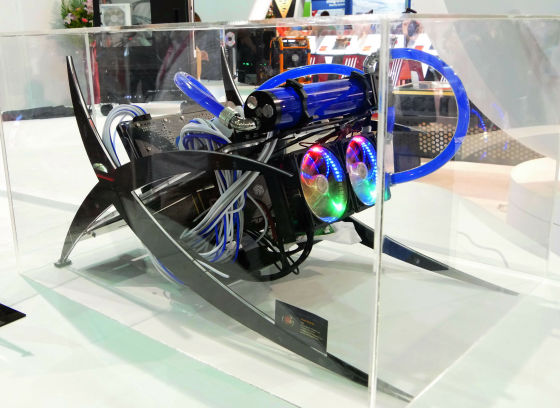 Side is "X" too open parts In exposed cases ...... It is a table.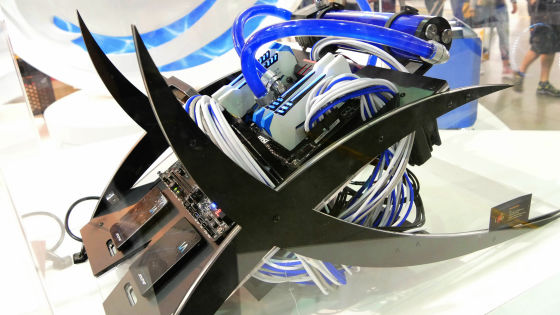 ASUS sponsored "BITSPOWER PEGASUS TEST BENCH"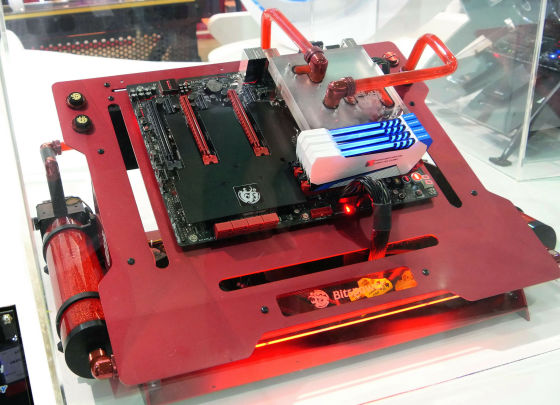 Cutting boards for benchmarks are angled to make it easier to work. The total amount of water cooling parts used for this PC is about 60,000 yen.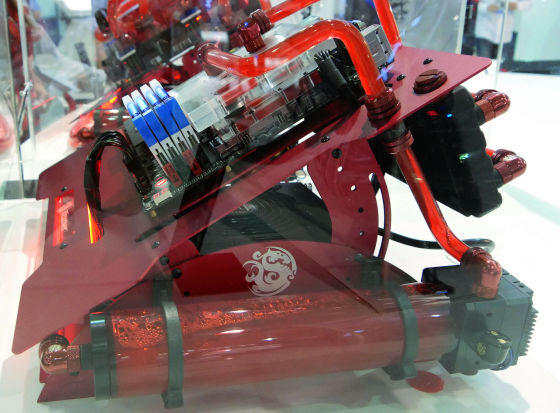 A lot of other fancy machines are exhibited in large quantities.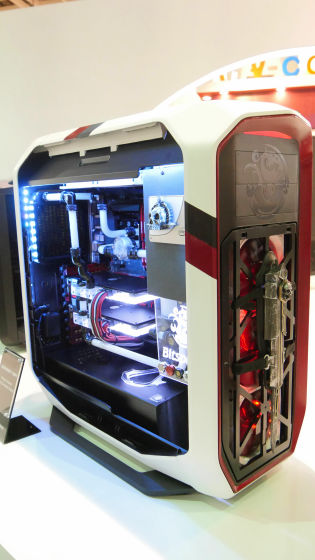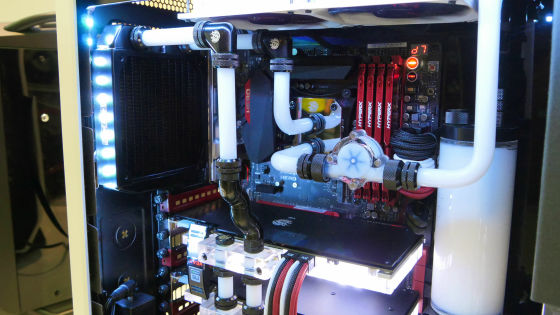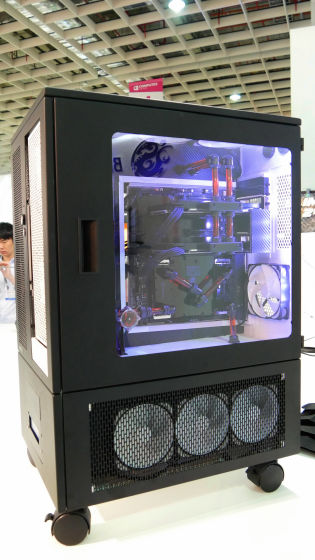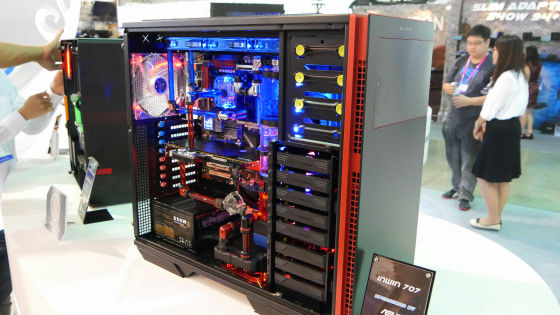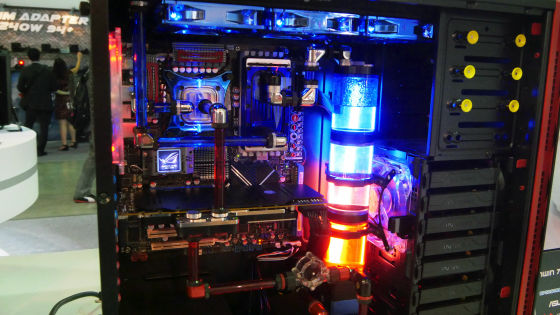 The real water-cooled parts custom-made according to the parts that make up one each was a cool design that can obtain a large "self satisfaction" that can never be obtained by simple water cooling.