Samsung will begin shipping 512 GB size-saving NVMe SSD chip, the size is about half of the stamp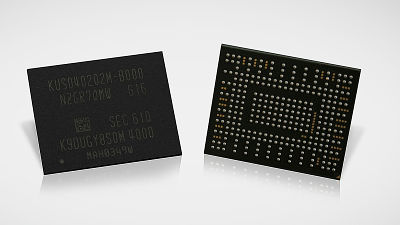 Samsung will begin shipping SSD chips with storage capacity of 512 GB in July 2016. This chip realizes a large capacity of 512 GB with a chip of the size enough to be placed on the fingertip, as well as a connection standard "NVMe"It corresponds to.

Samsung Mass Producing Industry's First 512-Gigabyte NVMe SSD in a Single BGA Package for More Flexibility in Computing Device Design | Samsung Newsroom
https://news.samsung.com/global/samsung-mass-producing-industrys-first-512-gigabyte-nvme-ssd-in-a-single-bga-package-for-more-flexibility-in-computing-device-design

Samsung's new 512 GB SSD is smaller than a postage stamp
http://www.engadget.com/2016/05/31/samsungs-new-512gb-ssd-is-smaller-than-a-postage-stamp/

SSD chip released by Samsung "PM971-NVMe"Has a size of 20 x 16 x 1.5 mm, weighs about 1 gram and it is a small chip, and 3 types of storage capacity of 512 GB, 256 GB, 128 GB are prepared. As its name suggests, very fast data transfer is realizedNVMe, And Samsung announces that it is "the first mass production 512 GB SSD corresponding to NVMe". If SATA of the conventional method becomes a bottleneck because it can not cope with the transfer speed of SSD, expectation will gather as expected to solve the problem that SSD could not demonstrate its original performance.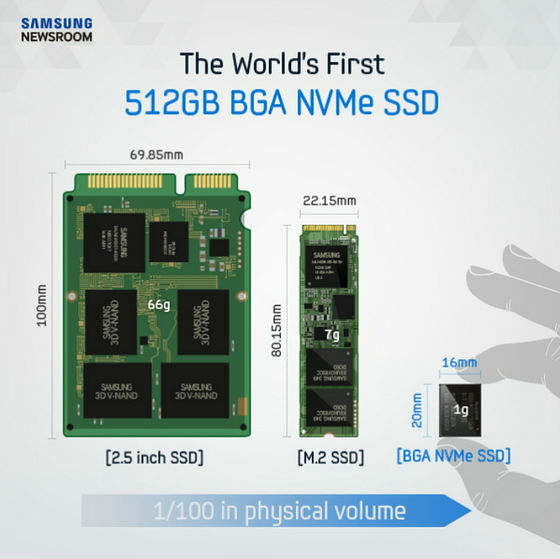 Samsung realizes large capacity by adopting 48 layers of 256 Gbit V-NAND flash in this chip. In addition, this chip has small ball shaped electrodes lined up on the back sideBGA(Ball grid array) type, and it is said to be compatible with the requirements of devices that are becoming smaller and space saving.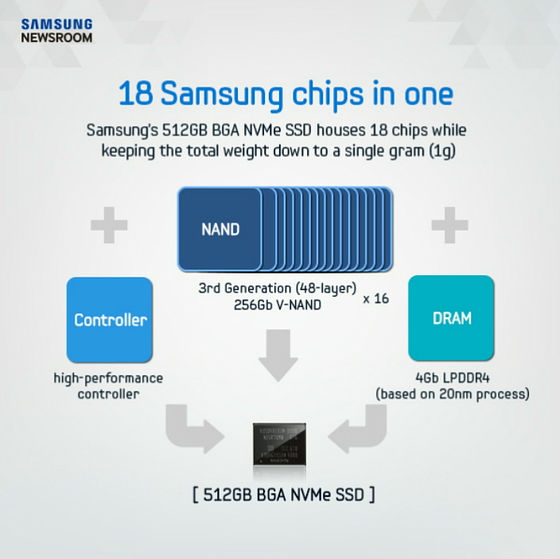 According to press release, PM971-NVMe transfer rate is 1500 MB / s lead, 900 MB / s write. This corresponds to only 3 seconds when converted to the time required for the transfer of 4 K movies with a capacity of 5 GB. Samsung will start offering this chip for "next-generation computers and Ultra Slim notebook PCs". Products actually loaded with this chip are expected to appear even in July 2016.