The world's largest 16 TB (terabyte) SSD has appeared from Samsung, allowing 3D NAND to achieve capacity that can not be realized even in HDD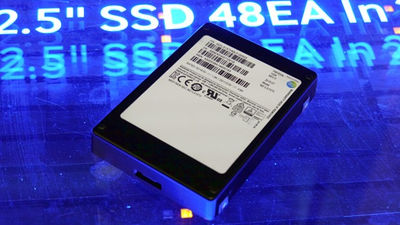 Deliver live video of a recital with banner advertisement, Samsung, who has done a rough skill called California, is being held from 11th to 13th August 2015Flash Memory Summit and ExhibitionWorld's biggest 16 TB (Terabyte) 2.5 inch SSD "PM 1633aWe announced. HGST under Western digital affiliate major manufacturer of hard drive10 TBIt was a big topic after announcing the hard disk (HDD) in 2014, but it changed its maximum capacity greatly, furthermore it was thought that it is difficult to increase the capacity faster & silent & expensive than the HDD 10TB It has attracted a great deal of attention because it has realized a large capacity of 16 TB far beyond.

Samsung Electronics Begins Mass Producing Industry First 256-Gigabit, 3D V-NAND Flash Memory - Samsung Electronics Official Blog: Samsung Tomorrow | Samsung Electronics Official Blog
http://global.samsungtomorrow.com/samsung-electronics-begins-mass-producing-industry-first-256-gigabit-3d-v-nand-flash-memory/

Samsung unveils 2.5-inch 16 TB SSD: The world's largest hard drive | Ars Technica UK
http://arstechnica.co.uk/gadgets/2015/08/samsung-unveils-2-5-inch-16tb-ssd-the-worlds-largest-hard-drive/

In 2014, many semiconductor manufacturers announced NAND type flash memory with capacity of 128 gigabits, but Samsung is a 3-dimensional V-NAND flash memory (3D V-NAND flash memory) with twice the capacity of 256 gigabit (32 GB) NAND) for the first time in the world. In addition, Samsung exhibits the 16TB SSD "PM1633a" which boasts the world's largest capacity developed using this 256 gigabit 3D V-NAND at the Flash Memory Summit and Exhibition.

This flash memory realizes a storage capacity of 256 gigabits per chip by adopting TLC as the data recording method, setting the recording capacity per memory cell to 3 bits and extending the number of stacked cells to 48 layers It is. In addition, the number of cell stacks reached 24 layers in 2013 and 36 layers in 2014.



In the NAND flash memory manufactured by the conventional technology, the semiconductor elements were arranged on a plane, but with the advent of 3D NAND stacking memory, the storage capacity has expanded at once. In Flash Memory Summit and Exhibition Samsung announced 16 TB SSD, there are otherToshibaAnd Intel etc. have also released a new 3D NAND, Toshiba has announced the same 256 gigabit 3D NAND as Samsung. The "V" of Samsung's 3D V-NAND means "vertical" and it seems that it was attached because memory is vertically stacked.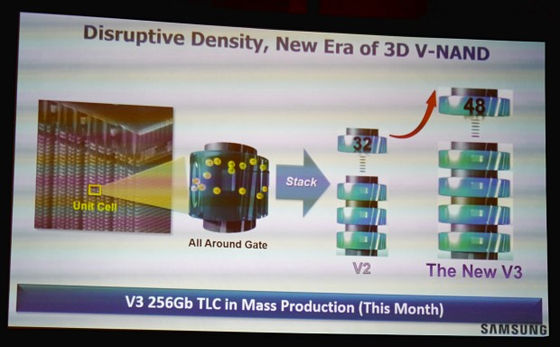 "PM 1633a" increased the capacity to 16 TB (to be exactly 15.36 TB) by using about 256 gigabit 3D V-NAND without regretting about 480 to 500 pieces. Details of "PM 1633a" other than 2.5 inch size remain unknown.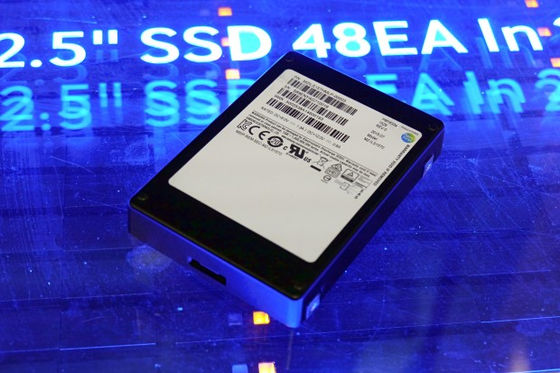 The SSD for enterprises sold as of 2015 will be about 1000 dollars (about 120,000 yen) at 1 TB and about 700 dollars (about 87 thousand yen) of Western Digital's helium-filled HDD (8 TB) Ars Technica predicts that Samsung's 16 TB SSD will be around 7,800 dollars (about 97 million yen) even if it is cheaply estimated.