Pure Storage, which develops all-flash storage, sets an ambitious goal of ``realizing 300 TB SSD by 2026''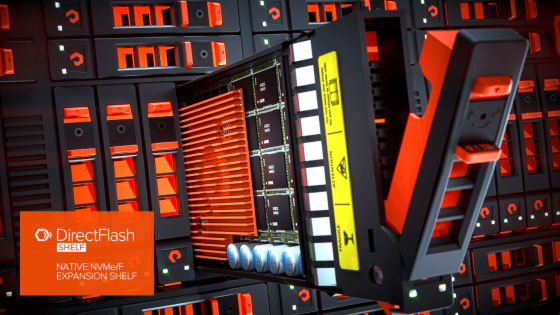 Pure Storage
, a manufacturer of
all-flash storage
made up of
flash memory
, claimed in an interview with storage-related web media Blocks and Files that ``the goal is to achieve 300 TB SSD by 2026.'' was reported.
Pure claims 300TB flash drives coming 2026 – Blocks and Files
https://blocksandfiles.com/2023/03/01/300tb-flash-drives-coming-from-pure-storage/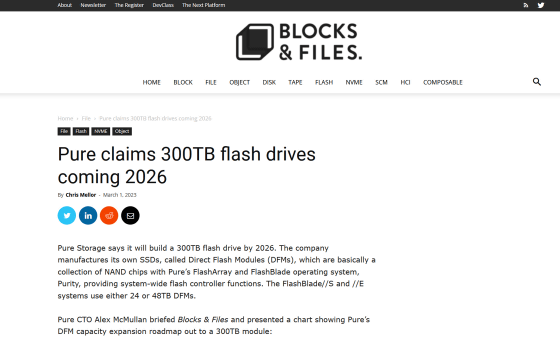 300TB SSDs Due in 2026, Supplier Claims | Tom's Hardware
https://www.tomshardware.com/news/pure-storage-300-tb-flash-drives-in-2026
Pure Storage Teases Monstrous 300 TB Ultra-Large Capacity NVMe SSD With A Tentative 2026 Launch Date
https://wccftech.com/pure-storage-teases-monstrous-300-tb-ultra-large-capacity-nvme-ssd-with-a-tentative-2026-launch-date/
Pure Storage, headquartered in California, USA, develops
FlashArray
and
FlashBlade
,
NVMe-
compatible storage systems, and also develops Direct Flash Module (DFM), a unique SSD that can be installed in these storage systems. .
In an interview with Blocks and Files, Pure Storage CTO Alex McMullan said, 'Our plan for the next two to three years is to take hard drive competitiveness into a whole new realm. Today we have 24TB and 48TB We are shipping the drives, and
the Accelerate conference in 2023
will have a number of announcements centered around even larger drives, with a target of 300TB drives by 2026.' He said.
The graph below, presented by McMullan, compares the capacity roadmaps of HDD (blue) and DFM (orange), showing that DFM plans to expand capacity rapidly after 2023. increase.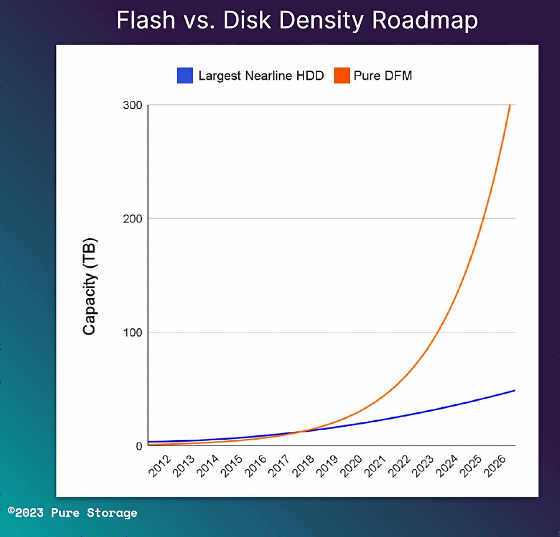 According to Blocks and Files, Toshiba
plans
to produce over 40TB HDD by 2027, Seagate also
plans
to produce over 50TB HDD in 2026, and 300TB SSD by 2026. Pure Storage's goal of achieving is very ambitious, he said.
In addition, McMullan presented the following graph, explaining that the TCO (total cost of ownership) of HDD (blue) will remain unchanged from 2023 to 2026, while the TCO of DFM (orange) will steadily decline. .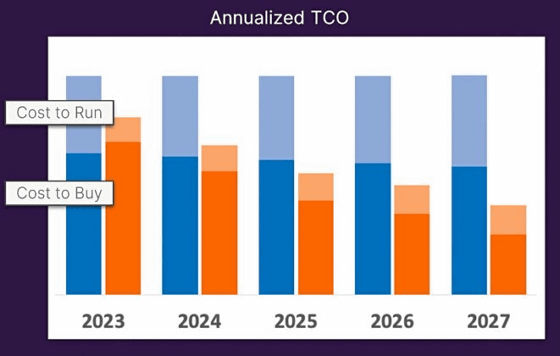 Up to 40 DFMs can be installed in the FlashBlade chassis, and with DFM capacity increasing to 300TB, FlashBlade's maximum capacity is 12PB. "For customers, this is a whole new set of capabilities," McMullan said. I can't think of it realistically,' he said, showing the outlook that it is unclear whether there is demand.

At the time of writing the article, Pure Storage uses 112 to 160 layers of 3D NAND flash memory , but it is expected that 400 to 500 layers of 3D NAND will appear in the next five years, which will develop a 300 TB DFM. It is said that it will be useful for In July 2022, Micron, a major semiconductor manufacturer, announced that it had successfully mass-produced 232-layer 3D NAND flash memory.

Micron announces 232-layer 3D NAND flash memory, data transfer speed is 50% faster and reaches 2.4 Gbit / s - GIGAZINE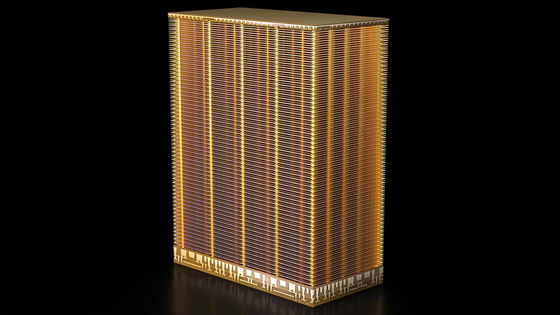 Blocks and Files and technology media Tom's Hardware certainly plan to increase the number of layers of 3D NAND in the next few years, but it is expected that the number of layers will exceed 400 after 2027, and 300 in 2026. It is pointed out that it will remain at the level of the layer. Therefore, in order to realize 300TB DFM by 2026, it is necessary to not only increase the number of 3D NAND layers, but also to increase the size of the DFM itself and install more 3D NAND. I'm here.

Tom's Hardware said, ``Pure Storage's plan to increase the capacity of DFM drives by six times in three years may seem ambitious.On the other hand, not only 3D NAND flash memory but also memory packaging technology is developing rapidly. And it wouldn't be surprising if, in a few years, Pure Storage's DFM-based storage systems would exceed the storage densities offered by storage systems using HAMR (heat-assisted magnetic recording) hard drives.' .