I have experienced "stereoscopic television" technology that you can watch stereoscopic images without glasses with NHK Institute of Technology Open 2016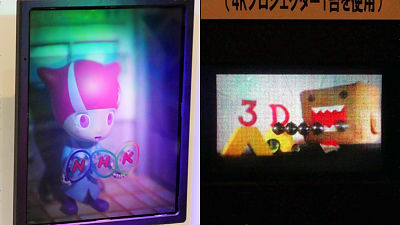 In the world of television, high image quality and high definition are progressing one after another, but what is expected to appear nextThree-dimensional televisionAppearance. It is open to the public from Thursday 26th (Thu) 20th to Sunday 29th (Sun) in 2016NHK Giken Open 2016At the venue of the exhibition, technologies being developed for the realization of the future stereoscopic television are exhibited, and I was able to see it indeed.

NHK Giken Public 2016 ~ Please feel the evolving broadcasting technology continues ~
https://www.nhk.or.jp/strl/open2016/

That's why I actually took a picture with a camera by actually holding it in my hand. Although there is no stereoscopic feeling as when looking with both eyes, you can see how the appearance of the object changes depending on the viewing angle and how the background reflected in the glass ball changes realistically.

I tried to see the three-dimensional TV exhibited at NHK Giken Open 2016 - YouTube


Stereoscopic television corner in entrance lobby of STRL Open 2016. Several stereoscopic display is embedded in the white panel and it is exhibited.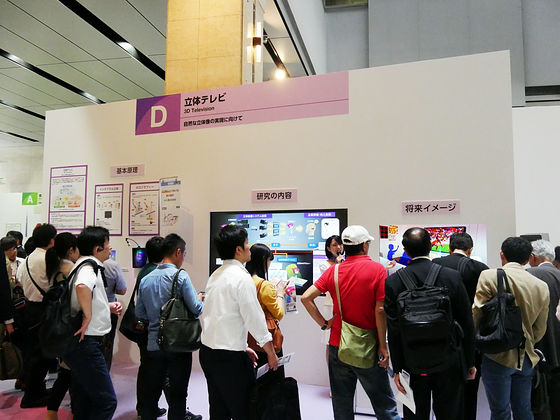 A three-dimensional display with a width of less than 30 cm that was exhibited. Three-dimensional impression does not convey in course of course in the photograph, but in fact it seems that the depth can be felt in the image and if you change the viewing angle the way you look changes.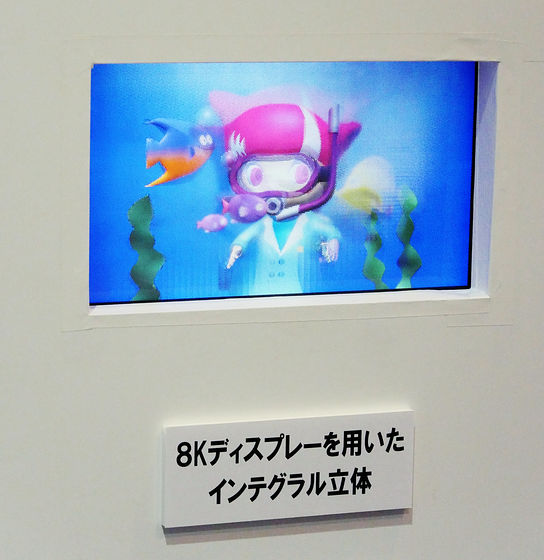 This display uses a technique called "integral 3D" made to obtain a stereoscopic effect by using "lens array" spread with fine lenses, and it is a special special type used in a movie theater It does not require eyeglasses and features a stereoscopic image according to the viewing position. Meanwhile, there is a future problem that it is difficult to raise the resolution because the display is divided into smaller areas and the image is displayed.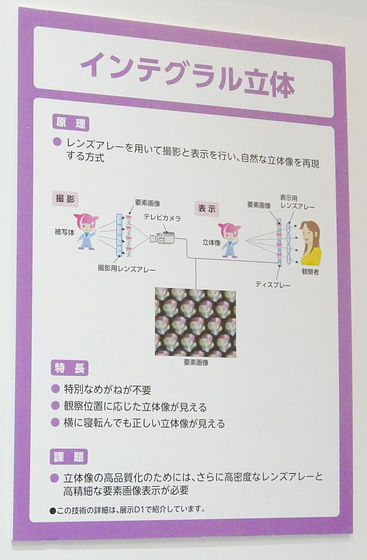 A mock-up showing the appearance of the integral three-dimensional is displayed next to the panel, and it is possible for anyone to see it for the hand.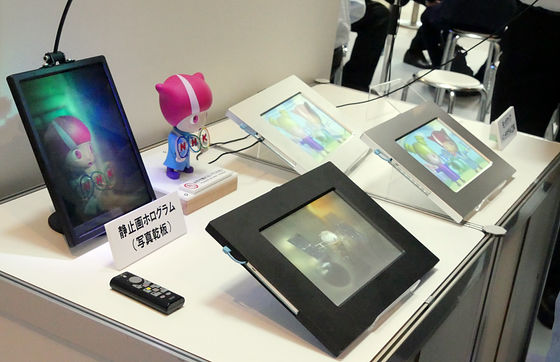 Studies of stereoscopic images by holography which are different from integral stereoscopic are also underway.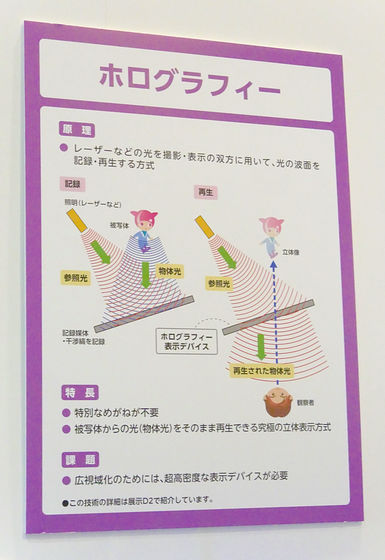 The panel on which the sample was exhibited is here. Even just looking at this picture seems to convey the sense of depth, but in reality it is a panel with a thickness of a few millimeters. This panel is a mockup which imagines the state of motion, and it seems that it takes time until actually moving images are displayed at this level.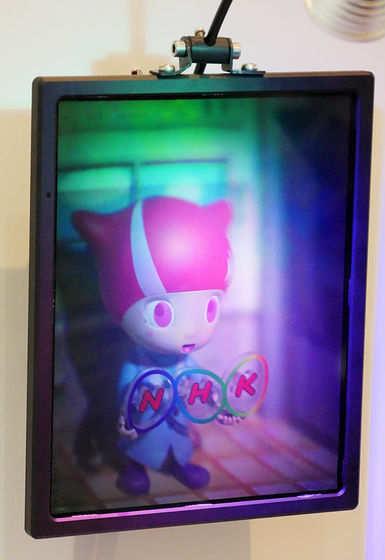 In the underground exhibition space, you can see more exhibits. Among them, one that stands outstanding was the integral stereoscopic display using one 8K projector and a total of 4 4K projectors. In this way, the image is projected with the 8K projector from the back, and the image of the 4K projector projected from the side of 90 ° from the left and right is reflected by the half mirror and combined.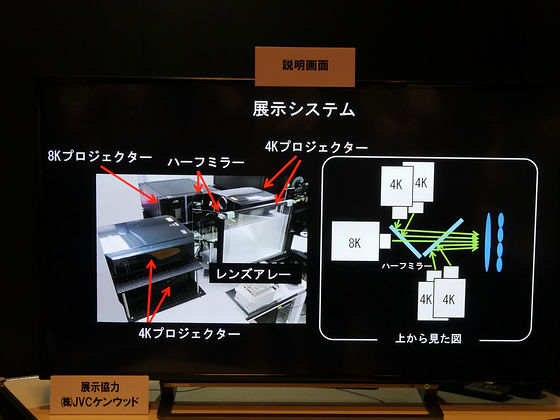 The image projected in this system is kore. Although it is a still picture in the photograph, in the actual exhibition it was able to see the moving picture in three dimensions.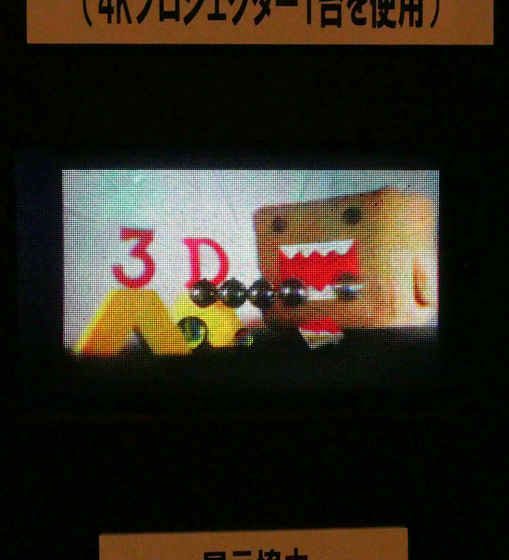 In addition, various researches are prepared to prepare for future 3D television realization. Integral stereoscopic images can display images with depth, but there are restrictions on the depth that can actually be displayed with high quality image quality. In order to avoid such a hurdle, studies are under way to realize high-quality images while maintaining a natural sense of depth by performing processing to compress the depth gently.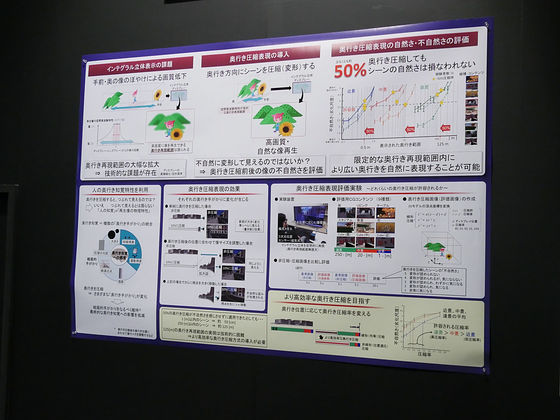 In addition, studies on stereoscopic images using holography are underway.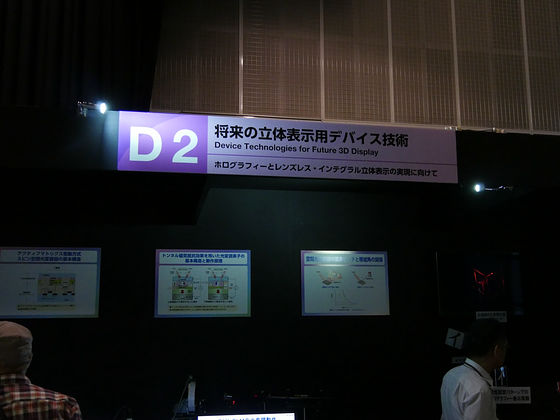 With the use of a device called "spin-spatial light modulator" that displays an interference fringe of light with an ultra-fine magnet at a high speed, development of a technology for realizing holography in a wide viewing range is proceeding.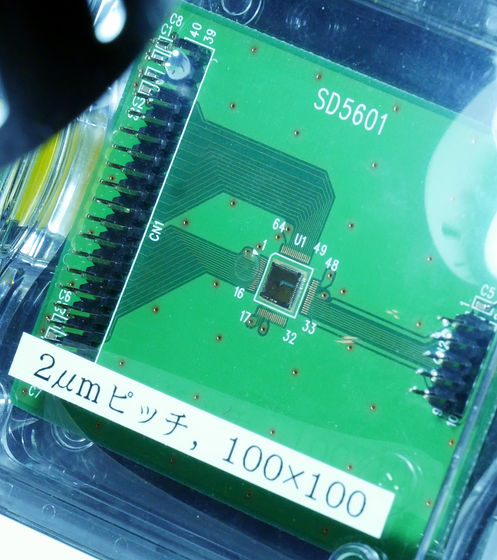 A stereoscopic image written as "A" that appears in the dark. Also when seeing the real thing, I understood that how it looks changes depending on the angle.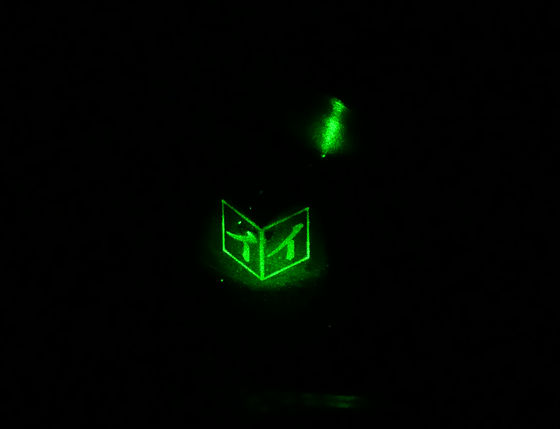 The technology introduced here is developed for the realization of future stereoscopic television, and it seems that various new and excellent devices will be developed in the future. Expectations are expected to expose the next year in what equipment will be exhibited.