It is reported that Android application is compatible with "Chrome OS"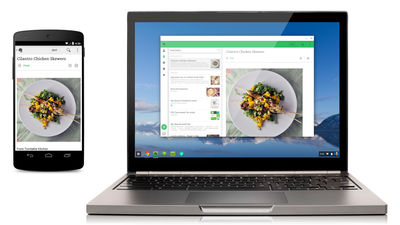 ByPierre Lecourt

Google has been told that "making Android applications work on Chrome OS" has been done since May 19, 2016 "Google I / O 2016It is reported that a session including a test to run the Android application on a Chromebook is planned for.

It's official: Android apps and the Play Store are coming to Chrome | 9to5Google
http://9to5google.com/2016/05/18/its-official-android-apps-and-the-play-store-are-coming-to-chrome/

Google I / O schedule leaks info on Android apps for Chrome OS
http://www.engadget.com/2016/05/18/google-i-o-schedule-leaks-info-on-android-apps-for-chrome-os/

9to5 IT News Media 9Google found that the keynote "Bring Your Android App to Chrome OS" has been added to the Google I / O 2016 calendar.Local time on May 19th at 16 o'clockIt is said that it is scheduled for an hour from the Android application and the Google Play Store to talk about Chrome compatibility and how to optimize Android app for Chromebook. In addition, Chromebooks were distributed free of charge to developers of the first 50 people, and it is now possible to start developing applications immediately.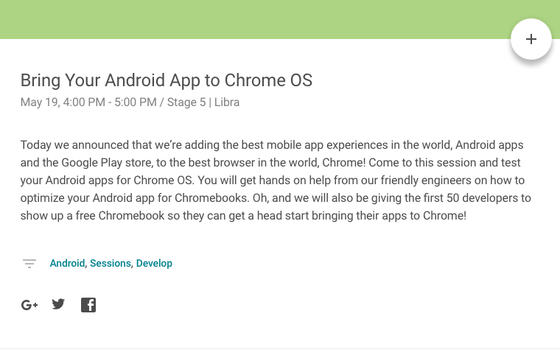 However, at the time of writing the article, the keynote in the same time zone has been changed to the title "Optimizing Android apps for productivity (Optimize Android application for productivity)". The speaker is the same person, but the session content also tells "How to optimize the new features of Android M and Android N applications, including support for multi window, keyboard, trackpad" Whether it talks about Chrome OS compatibility of Android application is not described. In addition, this session is scheduled to start from 8 am on May 20 in Japan time.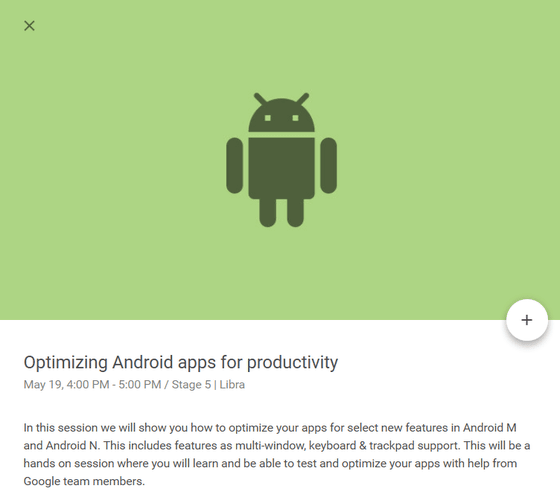 ◆ 2016/05/20 0 9:58 Addendum
Local time At the Android developer blog on May 19, 2016, it was officially announced that the Android application is compatible with Chrome OS. In the second half of 2016, developers will be able to deliver their apps to Chromebook users.

Bring Your Android App to Chromebooks | Android Developers Blog
http://android-developers.blogspot.jp/2016/05/bring-your-android-app-to-chromebooks.html

You can check how the Android application actually works on Chromebook from the following movie.

Android apps are coming to Chromebooks - YouTube


On the Chromebook launched by The Verge reporter, the browser is opened and the The Verge website is displayed. However, the Android application icon is displayed in the task tray, and when tapped ......



Adobe Photoshop ExpressIt started.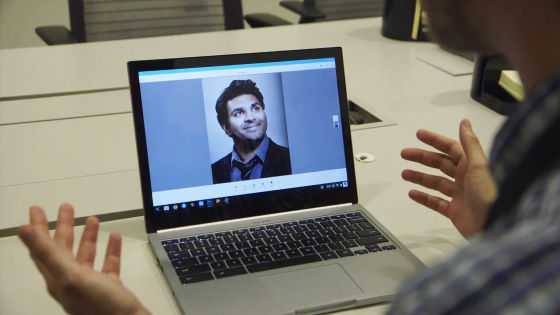 Since it is a touch panel, you can edit images with the same feeling as operating a smartphone.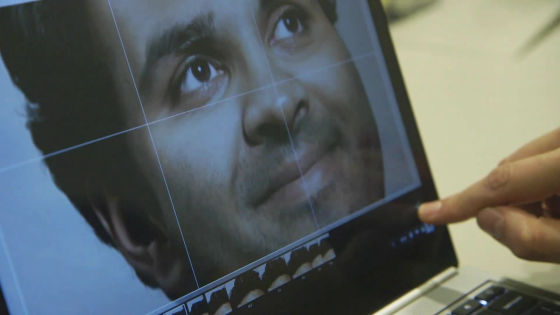 In addition, it is also possible to play the game with the screen with both hands.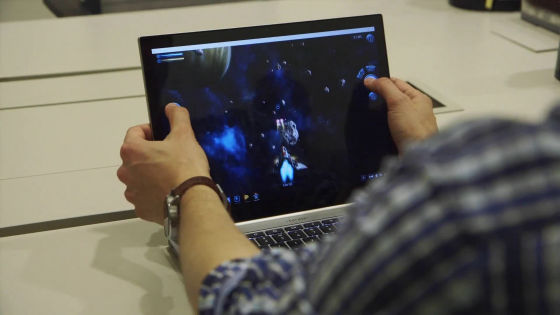 It is also possible to open and operate Chrome OS software and Android application at the same time.