Samsung's collapsible smartphone specification is obvious, folding motion on a demonstration machine and a special display 'Infinity Flex Display' also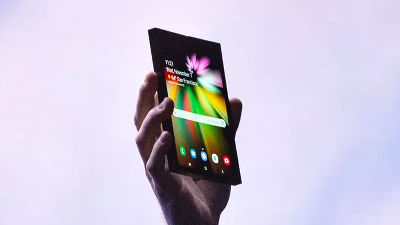 It is widely known that Samsung is developing a folding smartphone, and it has been said that it will be introduced to the market in 2019 . Although the world's first seat was deprived of " FlexPai ", Samsung is presenting an announcement on folding smartphones which is very rare at the time of article creation. Although the terminal name etc. are not clarified, the foldable display is called " Infinity Flex Display ", and details of display size, resolution, etc. are also clarified.

This is Samsung's foldable smartphone - The Verge
https://www.theverge.com/2018/11/7/18072514/samsung-foldable-phone-screen-features-photos-sdc-2018

Samsung reveals key specs for its upcoming foldable smartphone - The Verge
https://www.theverge.com/circuitbreaker/2018/11/7/18073580/samsung-infinity-flex-display-foldable-smartphone-specs-screen-size-features

Samsung showed off for the first time a demonstration machine of a folding smartphone that has long been rumored in the meeting for developers.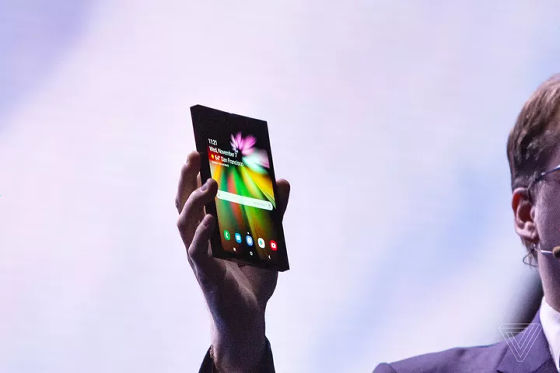 Justin Denison, who is in charge of marketing mobile products, announced that we can not reveal the detailed design of the terminal yet, so we made the whole venue darker and saw something other than "How the display works" It seems that it was made not to be.

Click the image below to see the moment of closing and collapsing the folding smartphone. It looks like it folds to the display side.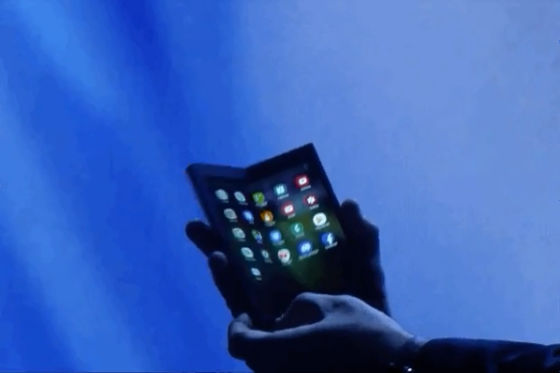 The folding smartphone with Infinity Flex Display published by Samsung has a display size of 7.3 inches tablet size when it is open and becomes a compact size that fits in a pocket like a smartphone when folded.

The following image is a slide photo showing the screen size and resolution when collapsed and opened. At the time of folding, the display size is 4.58 inches, the aspect ratio is 21: 9, the resolution is 1960 × 840 pixels (pixel density 420 dpi), and when it is open, 7.3 inches, aspect ratio 4.2: 3, resolution 2152 × 1536 pixels (pixel density 420 dpi ).

And here are the @ Samsung foldable phone display specs # SDC18 pic.twitter.com/tkGvmqJcdb

- Shara Tibken (@ sharatibken) November 7, 2018

In addition, the demonstration machine uses another display outside the terminal instead of the 7.3 inch display when folding. Since the Infinity Flex Display folds the display inward, it seems to be equipped with two "tablet size display for opening" and "smartphone size display for when folded".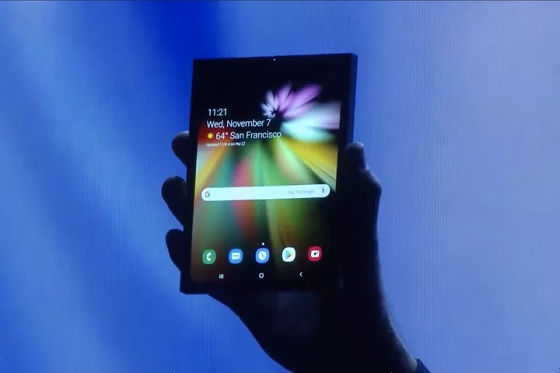 However, it is unknown how the display operates in the product version because it is a demonstration machine to the last. The verge of overseas media only states that "The terminal has a cover display functioning as a smartphone and a main 7.3 inch tablet display."

Mr. Dennison reveals that mass production of Infinity Flex Display for folding smartphones "can be started in a few months" and not only has presented the concept design, it also shows that it is looking firmly at commercialization.

And Google announced that Android officially supports folding devices, and has established close cooperative relationship so that Samsung can release folding smartphones in 2019. In addition, Google seems to provide "folding smartphone guidelines" so that third-party developers can quickly support folding smartphones. Click on the image below to see how Android collapses and changes the display corresponding to smartphone.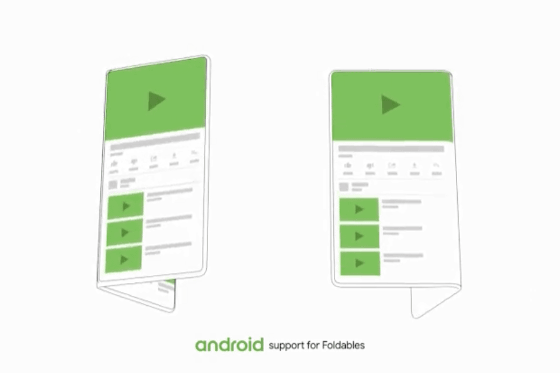 It is also revealed that Flipboard of the news application corresponds to Infinity Flex Display. This application recognizes which state the Infinity Flex Display is in, and flexibly changes the display method according to the display size.

. AttoFlipboard Is Working On An App For AttoSamsung 'S New Foldable Phone. When Closed, You'D See A Single Pane Of Info. When You Unfold The Phone, You Get A Bigger Panel (Right Where You Left Off On The Closed display) and multiwindows # SDC18 pic.twitter.com/08PiAUvY3I

- Shara Tibken (@ sharatibken) November 7, 2018

In addition, Samsung says it will also have a multi-tasking function with three applications called Multi Active Window (Multi Active Window).

But Samsung is not alone trying to release a folding smartphone. Huawei , Lenovo and Xiaomi are also independently working on the development of folding smart phones, and it is clear that that Apple also has patented folding devices that can be used for folding smartphones.

The possibility of a new MacBook in which Apple obtains a patent of "two screen type folding device", using a keyboard as an organic EL display - GIGAZINE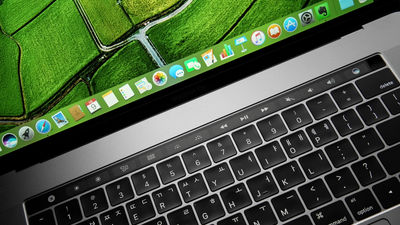 In addition, unlike Samsung's Infinity Flex Display, the world's first foldable smartphone "FlexPai" already announced is designed to fold the display outward, and when using a single display when opening and closing It is designed to be able to.

World's first foldable smartphone "FlexPai" that appeared before Apple and Samsung - GIGAZINE