The latest cinematic trailer of masterpiece "DOOM" fighting deadly with tension MAX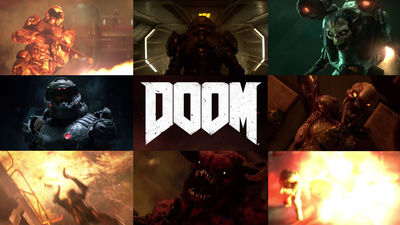 A masterpiece game said to have changed the history of FPS "DOOM"Will be released for PlayStation 4 / Xbox One / PC on May 19, 2016. Prior to launch, the latest DOOM cinematic trailer for overseas has been released, and it is content that tension goes up just by looking at it.

DOOM - Fight Like Hell Cinematic Trailer - YouTube


You can see something like a facility to raise smoke towards the back of the devastated earth.



Doomguy going through the aisle




Before shooting the plasma rifle ... ...



An enemy like Imp was running toward here.




The shootout fails and it is covered over by the body.




I threw away the enemy that hit me ... ...




I punched my face exactly!




At the moment when I looked back, things like missiles grazed along the face.




Armor is already in a state of dreadfulness.




I do not care about such a thing and I will load a shotgun.




And the flying revenant is assault.





Dodge at the place of attack and proceed back to the back.




When it came in a large space, Kakodemon awaited.




Jumping off Kakodemon's attack!




The enemy which is directly under it ... ...




I can step on.




A shotgun and a diendo.




If you think you've defeated you, somehow an oversized monster behind ... ....




It was Baron Obuheru who was behind.




Doomguy going through over many difficult enemies.




The door opens with a goggo cog ... ...




I found something in front of me. Please check the movie to see what happened.




DOOM will be released on May 19, 2016 for PlayStation 4 / Xbox One / PC.