Built-in wire lock with solar power generation & backpack with Bluetooth speaker "Lifepack"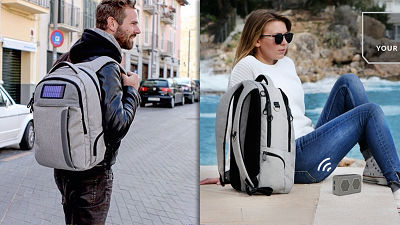 A built-in mobile battery that can be solar-powered and can also be a Bluetooth speaker, a backpack with built-in wire lock that can prevent theft by winding it around a pole or the like "Lifepack"is.

Lifepack: Solar Powered & Anti-Theft Backpack by Solgaard Design - Kickstarter
https://www.kickstarter.com/projects/solgaarddesign/lifepack-solar-powered-and-anti-theft-backpack

Lifepack is a backpack that incorporates a mobile battery with a solar generator that can also be used as a Bluetooth speaker and a wire for anti-theft inside the body. In addition to being able to be used to carry baggage in a very normal way, it is being developed as a convenient bag to build a remote office environment by packing work tools and going out.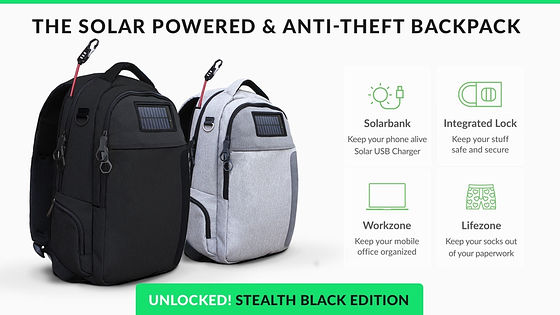 In Lifepack, there are a burglarproof wire (1) built in the bag, a solar battery (2) capable of supplying power with a USB terminal, a rugged hook (3) for fixing the wire, a work baggage 4) and the everyday luggage (5) can be stored separately, two side pockets (6), a shoulder strap secret pocket (7), two secret pockets in the back part 8), fasteners that can be locked with wire (9), hooks that can be used as a bottle opener (10), and many other convenient functions.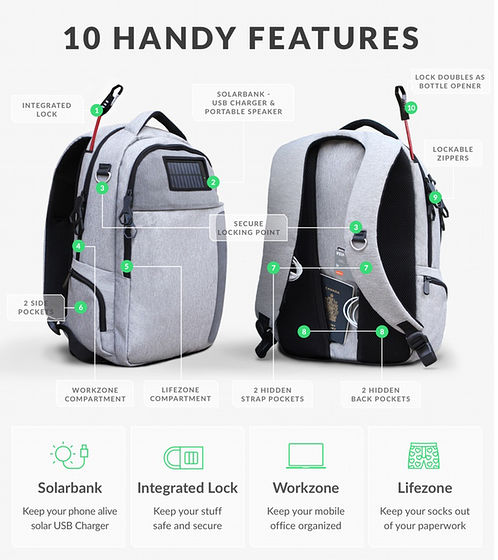 It is possible to supply power to smartphones and tablets even in outdoor environments such as cafes.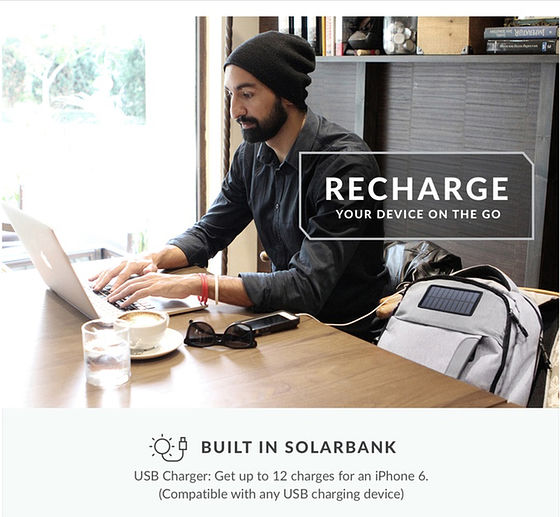 If you pull out the fixing wire, you can fix it on a table or a fence etc. on the spot to prevent theft.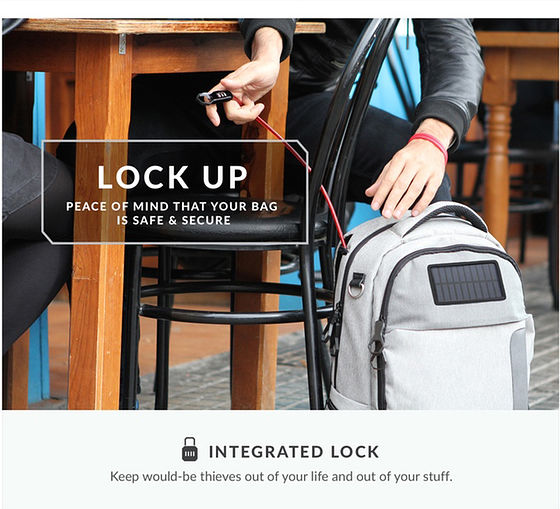 Battery can be removed from the bag, Bluetooth speaker built in the back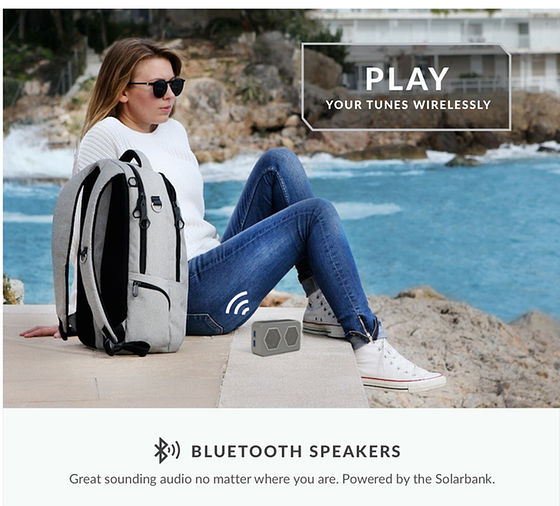 If you put valuables such as passports in the secret pocket of the back part, it seems to be able to prevent the danger of meeting the pickpocket at the street corner.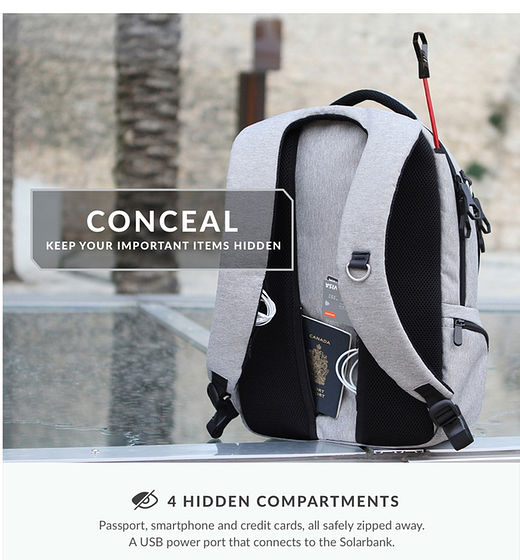 Waterproof performance is not provided, but the surface is subjected to water repellent finish.



It has two independent zones "Life Zone" and "Work Zone" so that you can pack as much luggage as you travel on business trips.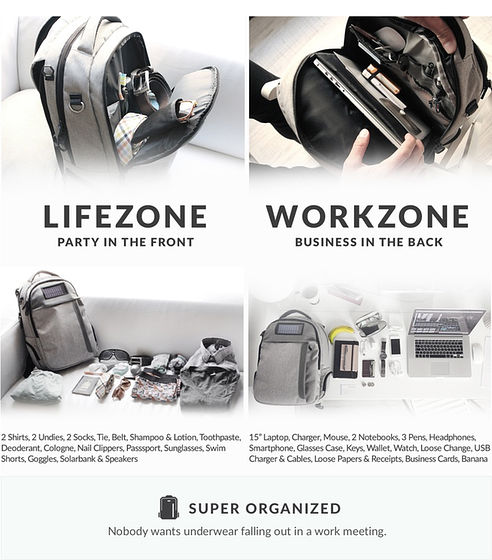 Work "Work Zone" is equipped with cushioned pockets to insert a laptop. There are also pockets to put notes and business cards.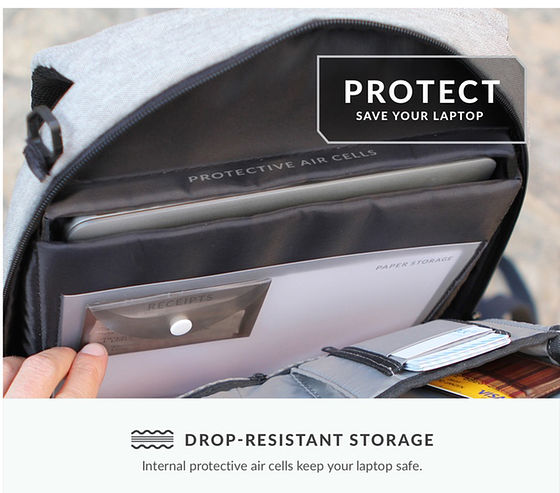 The size of the bag is 46 cm in height × 29.5 cm in width × 15.2 cm in depth and affordable size feeling. Solarbank with solar generator "Solarbank" is 7.5 cm in height × 13.5 cm in width × 4 cm in depth, there is no description of battery capacity, but "iPhone 6 can be charged 12 times" is explained. Each weight is 700 grams for the backpack alone, 450 grams for Solarbank.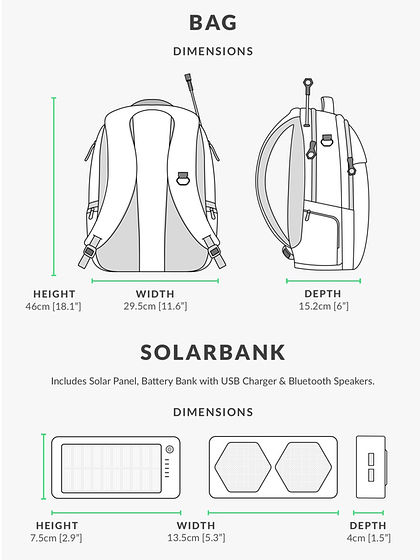 Lifepack is a cloud funding siteKickstarterWe are looking for investment in. About 20,000 dollars (about 2,200,000 yen) of the target amount, at the time of article creation, we have collected about 362,500 US dollars (about 40 million yen) from over 2000 investors all over the world.

The Early Bird Plan (Early Investment Discount Discount System), which is available at 50% off of the market price of 249 dollars (about 27,000 yen), is already full of frames, but it costs $ 149 (about 16,000 yen) at 100 dollars We can continue to invest in the plan. Furthermore, in addition to being able to contribute to a plan of 275 dollars (about 30,000 yen) in two sets and a 500 dollar (about 55,000 yen) plan with 4 sets, "Young Guns Student Deal" for students In the plan it is possible to get Lifepack at $ 125 (about 14,000 yen). However, in this case it is necessary to have a valid student ID card.

For shipping to Japan, a shipping fee of 25 dollars to 150 dollars (about 2800 yen to 16,000 yen) is required separately according to the quantity. The deadline of investment is Japan time at 5:30 am April 29, 2016 (Friday), and the shipping time is scheduled around October 2016.

Lifepack: Solar Powered & Anti-Theft Backpack by Solgaard Design - Kickstarter
https://www.kickstarter.com/projects/solgaarddesign/lifepack-solar-powered-and-anti-theft-backpack