Possibility to be equipped with a new function that can hide the default iPhone / iPad's default Apple application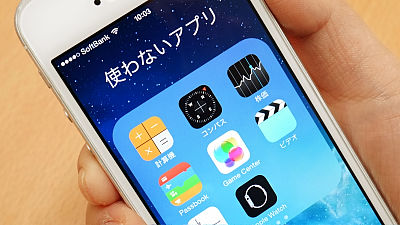 Applications installed by default on an Apple terminal such as iPhone or iPad can not be deleted or removed from the home screen, many people have taken the method of creating "unused apps" folders and putting them together Should However, it showed the possibility of implementing a function to delete and hide less frequently used applications such as "compass" "stock price" "Passbook" "voice memo" from the home screen.

Not just a rumor: Users will will soon be able to remove Apple's stock iOS apps
http://appadvice.com/post/not-just-a-rumor-users-will-soon-be-able-to-remove-apples-stock-ios-apps/709986

ITunes metadata suggests ability to hide stock apps on iPhone and iPad coming soon | 9to5Mac
http://9to5mac.com/2016/04/06/hiding-stock-iphone-ipad-apps/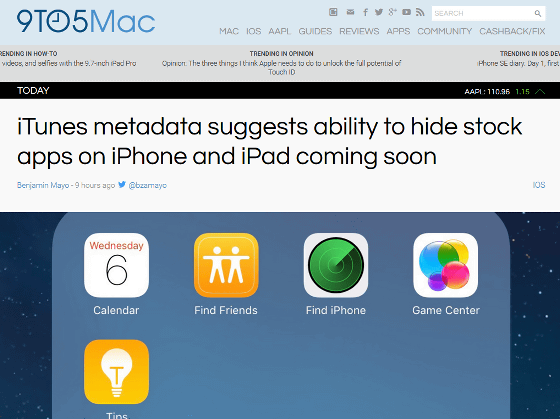 Apple's CEO Tim Cook told Apple's default app in September 2015 "Because some apps are involved in other parts of the iPhone, deleting may cause problems on the iPhone itself. There are also some applications that are not ", but until now, it has been impossible to erase pre-installed applications from the home screen on Apple terminals.

But,AppAdviceAccording to the report, the keywords "isFirstParty" and "isFirstPartyHideableApp" appeared in the iTunes metadata boolean.9to 5MacAlthough it seems that all the values ​​were set to "false" at the time of article creation, the above description is based on the assumption that Apple provides an option of "hide from the home screen / not hide" regarding downloading of third party applications Indicates that there is a possibility.



As I mentioned by Cook CEO, Apple iPhone core apps such as phones and messages are essential for home screen, while "compass", "stock price", "voice memo" etc. are not considered to affect the entire iPhone It is fully conceivable that these applications will also have an option to "hide from the home screen".

Of course, the purpose of the keyword "isFirstParty" "isFirstPartyHideableApp" is unclear and it is highly likely to be used for a different purpose, but connecting the iPhone or iPad to the Mac and "setting up using Apple Configurator If you can realize the function that you can customize the home screen easily without having to take the method of "change", it should be useful for people using Apple terminals.

The "hide the application from the home screen" function may be announced at the World Wide Developers Conference (WWDC) to be held in June 2016, which is expected to announce iOS 10. If the "hide application" function is actually implemented, iPhone 7 which should be released in the fall of 2016 seems to be able to use the delete / remove function as default.