A function that can delete unnecessary default app from iPhone / iPad will be added to iOS 10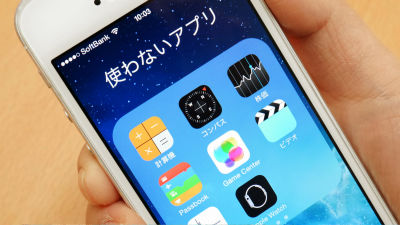 Applications preinstalled on the iPhone and iPad can not be easily deleted on the user side so far, there are many people who created "unused app folders" and threw them all together. Apple opened the event for developers who started on Tuesday, June 13, 2016 in Japan time "WWDC 2016"10 new features were added"IOS 10Although I announced it, it turned out that the beta version iOS 10 now has a function which can delete unused items among iPhone and iPad pre-installed applications.

IOS 10 will let you delete most of Apple's default apps | Ars Technica
http://arstechnica.com/apple/2016/06/ios-10-is-going-to-let-you-delete-most-of-apples-default-apps/

The deletable application icon can be checked from the following web page.

Remove built-in apps from the Home screen on your iOS device with iOS 10 beta - Apple Support
https://support.apple.com/en-gb/HT204221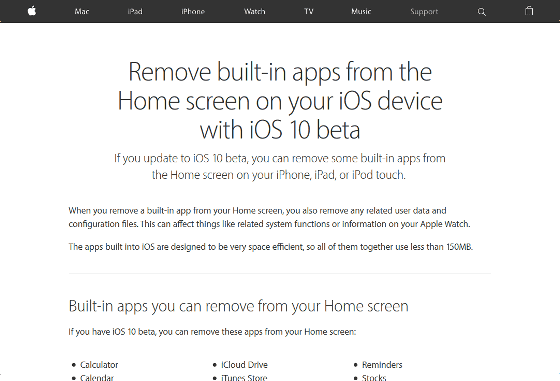 The list of applications that can be deleted from the iOS 10 beta version that is open is as follows.

·calculator
·calendar
·compass
·contact information
· FaceTime
· Find friends
· Home
· IBooks
· ICloud Drive
· ITunes Store
·Email
·map
·Music
· News
· Notes
· Podcasts
·reminder
· Stock price
· Tips
·video
· Voice memo
· Watch
·weather

Deleting all the applications means that 150 MB of free space will be available for the capacity, so once you delete the application you can download it again from the App Store.

Also, if you delete the Music app, CarPlay will be unavailable, and Apple will alert you to deleting the application affecting the related system features and Apple Watch data.