It turns out that Amazon gathered robot developers and space engineers and held events secretly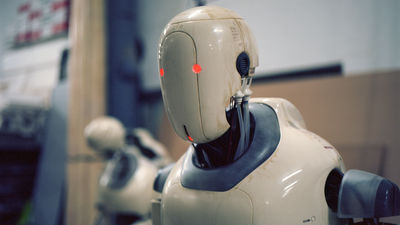 ByDavid Ramos

In order to respond to large orders from customers on a daily basis, Amazon has a robot development team "Amazon Robotics"Or to create a robot development contestHoldingI am putting my emphasis on robot development. As a part of such efforts, it has become clear that we held secret conferences by gathering people involved in robotics engineering.

Amazon Secret Robot Event Boasts VR, Ax Making, Wood Splitting - Bloomberg Business
http://www.bloomberg.com/news/articles/2016-03-23/amazon-hosts-exclusive-robotics-conference-in-palm-springs

In the resort of Palm Springs, California, Amazon gathered robot development companies and robot engineers and was conducting a conference called "MARS". MARS is "Machine-Learning (machine learning)" "Home Automation (Home automation"" Robotics (robotics engineering) "" Space Exploration (space development) ", and experts such as artificial intelligence, robotics engineering, space development were invited. Among the participants, they are manufacturing industrial robotsResync · Robotics, Representatives of Toyota Motor Corporation, Massachusetts Institute of Technology, University of California at Berkeley, Zurich Polytechnic Institute, and so on.

Co-founder of iRobot, the manufacturer of the cleaning robot's rumba, a drone development companyCyPhy WorksHelen Greiner, who is CEO of Helen Greiner, said, "At Amazon 's conference I was able to meet my old friends of robotics and meet new and cool artificial intelligence and space developers."

Seeing old roboticist friends and meeting new cool machine intelligence and space people @ MARS conference sponsored by@ Amazon

- Helen Greiner (@ helengreiner)March 21, 2016
Mr. Dennis Hong who is studying robotics at the University of California Los Angeles has posted a message on MARS's participation on his Facebook. The following movies are arm-type robots fighting with lightsaber.

The Kiva robot, which carries goods in Amazon's logistics warehouse, carried a table with food on the conference venue and seems to have served meals to the participants.

Various robots are exhibited at the venue ......

It seems that a program for participants to challenge making ono and a seminar on artificial intelligence were done.