"On-Lap 1101P" review that can be used not only as a PC's sub monitor but also as a large external monitor of a digital camera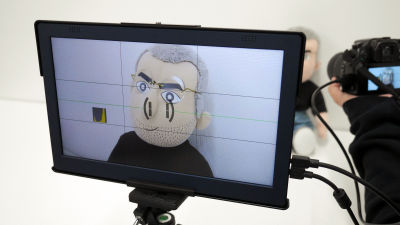 An external display that can be powered from the PC's USB port is very convenient as a PC's sub monitor. Gechic's external display "On-Lap 1101 P"Not only will it become a sub monitor of the PC but also it can be used as a large display for digital cameras if fixed to a tripod with fine screws It is said that it is twice as delicious product as a grain, so how much external display you can use I tried it.

1101P - Gechic Corporation
http://www.gechic.com/product_help_jp.asp?s=28

◆ Appearance check
On-Lap 1101P is in yellow and black boxes.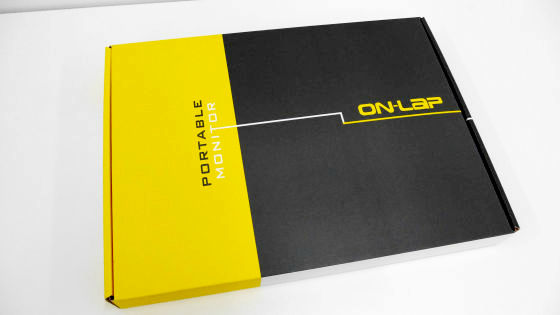 Inside the box were the display body, protective cover, Tripod Mount kit, USB cable, HDMI cable, Velcro belt, AC adapter, instructions.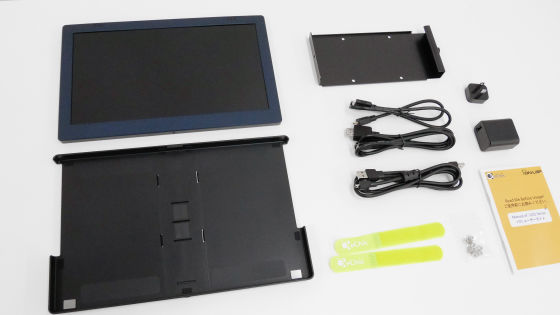 The 11.6 inch display adopts the IPS liquid crystal panel of full HD (1920 × 1080) resolution, and the viewing angle is 178 degrees in both horizontal and vertical. The front bezel is dark blue.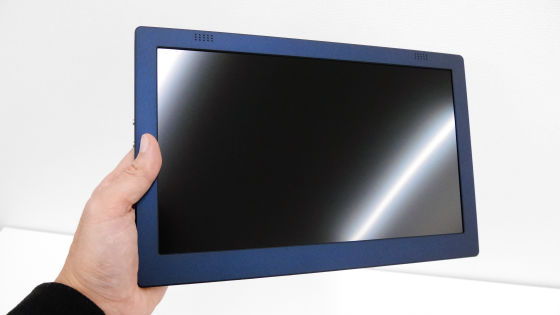 The thickness is 11 mm. The weight is only 480 grams and it is rather lightweight.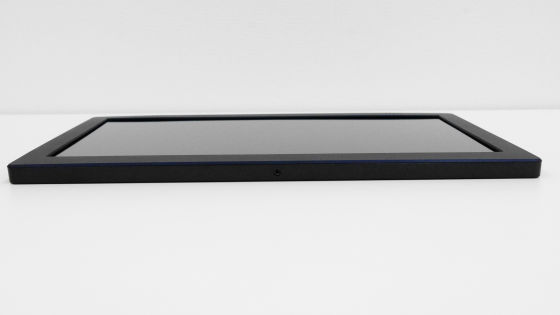 There is a screw hole on the bottom for fixing the cover.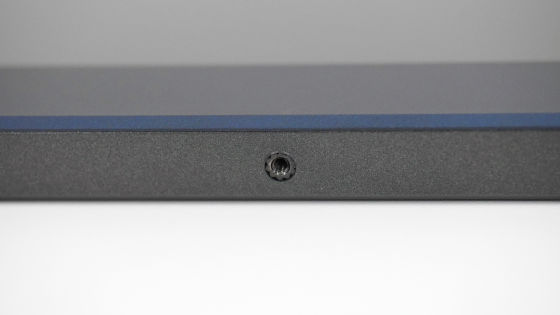 On the left side are a power button, an exit / automatic setting button, a menu / selection button, a volume button and an indicator lamp.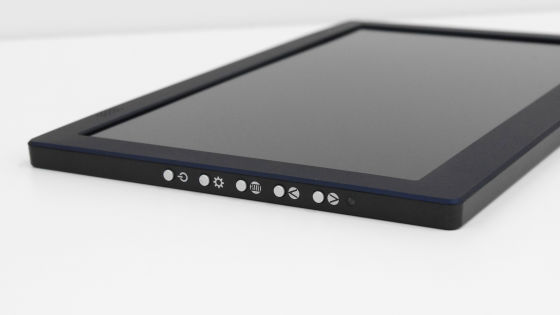 On the right side are an earphone jack, Micro - USB port for DC power input, microHDMI port, DisplayPrort, VGA port.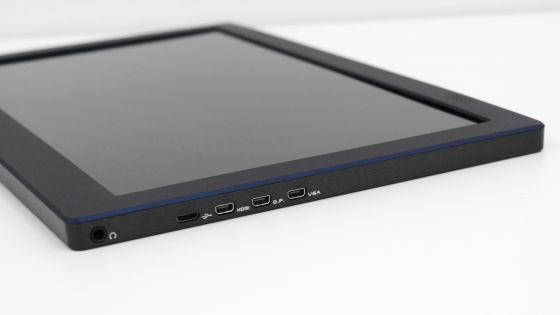 A screw hole also in the center of the top surface.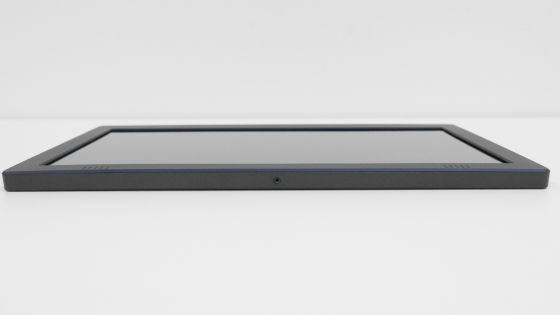 A speaker is carried on the top of the surface bezel.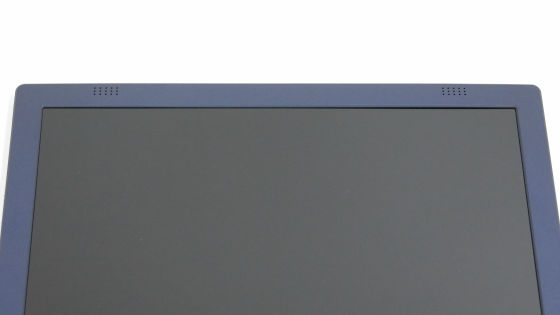 The back of black is made of plastic.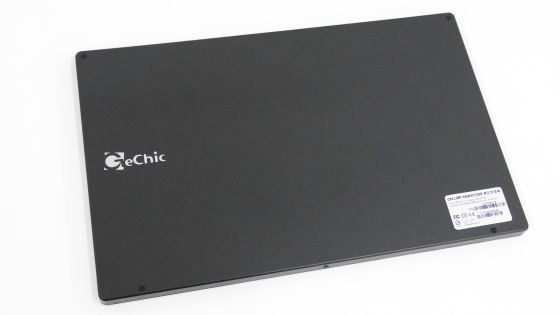 Special cover also made of plastic.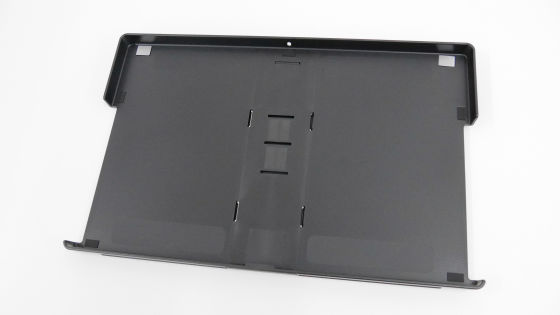 In the center of the back is a non-slip rubber part rubber stick.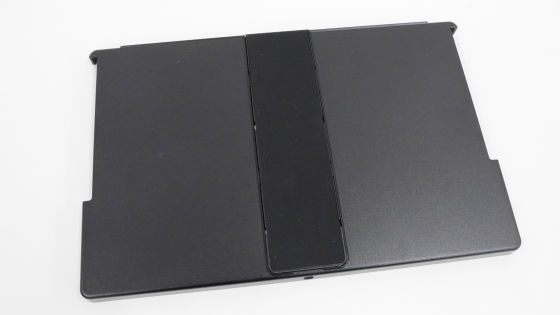 It is like this when wearing a cover. The side of the cover is cut so that buttons and terminals can be used.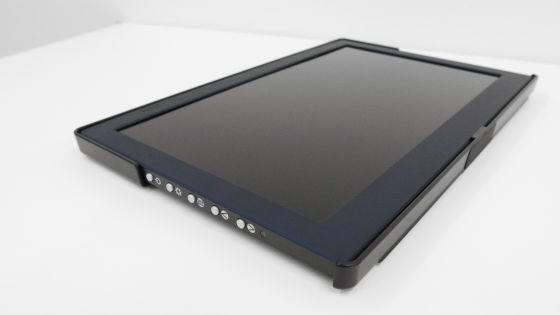 Anti-slip rubber part in the center of the cover opens like this ......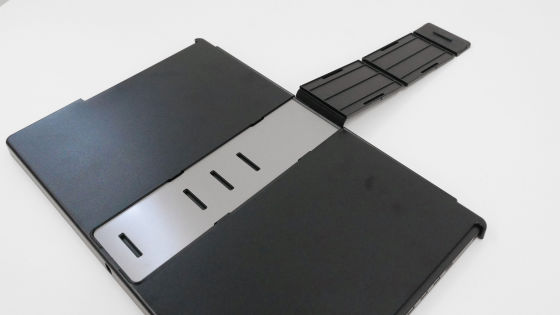 You can also use it as a stand by folding and hooking the nail to the hole.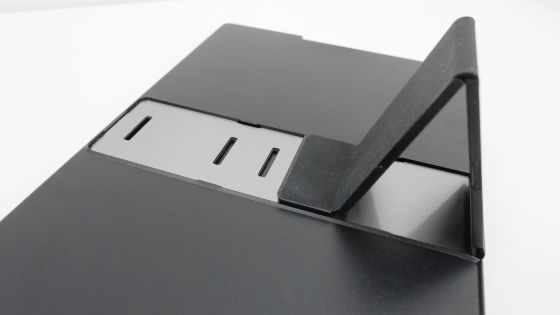 A mechanism in which the angle of the display changes if the position of the hole is changed.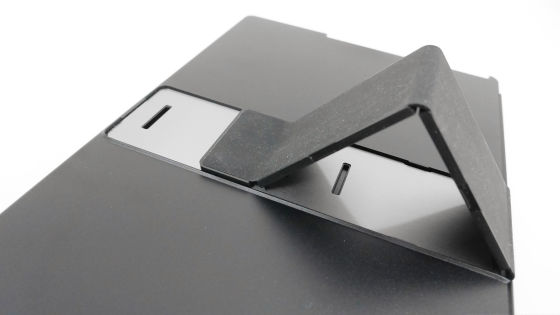 Angle can be adjusted in 3 steps. It stands about 70 degrees.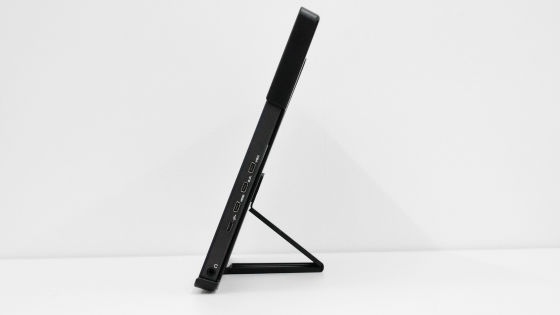 The middle is about 50 degrees.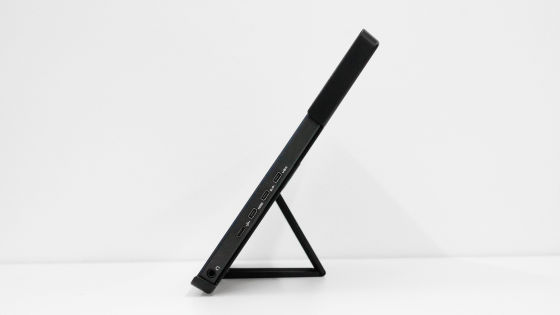 It becomes around 40 degrees when you lay it down.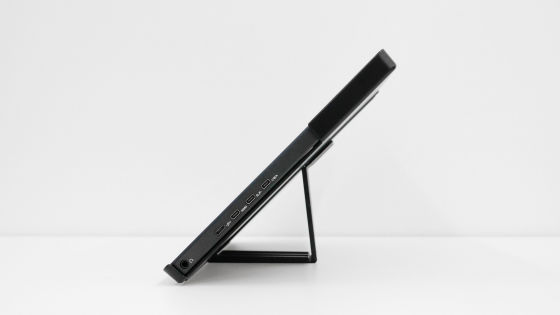 On-Lap 1101P is one of the items of "Ulri" which is an accessory "Tripod Mount kit" for fixing to the tripod of the camera.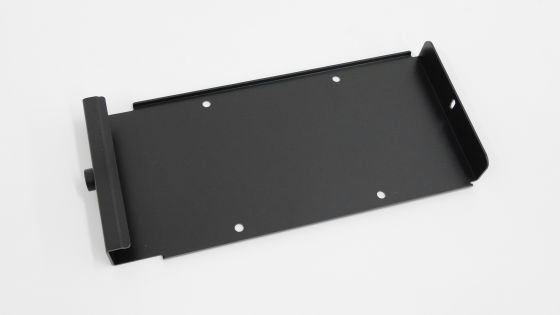 With such a feeling, it is possible to fix it to a tripod with a thin screw (1/4 inch screw). AlsoVESABecause there is a standard screw hole, you can also use monitor arm.



AC adapter is a style that can detach the outlet part according to the outlet shape.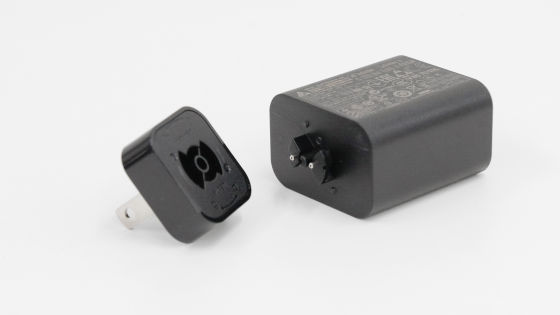 On-Lap 1101P is powered by the USB cable from PC's USB port or AC adapter.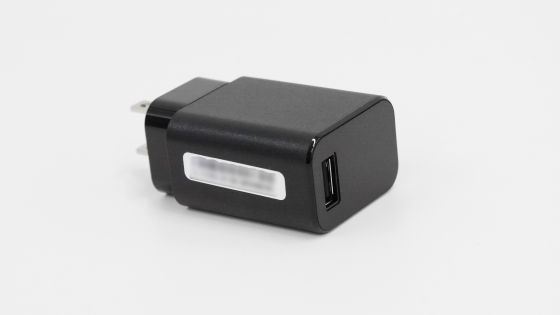 I tried using it as a sub monitor of PC
First of all, I attach a cover with a stand and try using it as a PC monitor.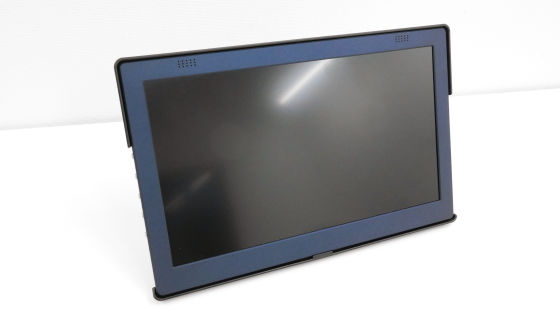 First connect the USB cable to the Micro-USB port of the On-Lap 1101P main unit for power supply.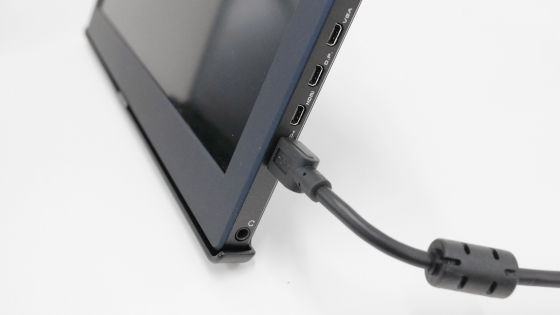 The other side goes to USB port of PC.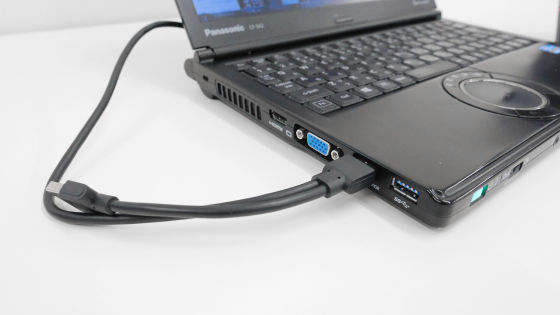 If you are concerned about power supply, you can also use two USB ports.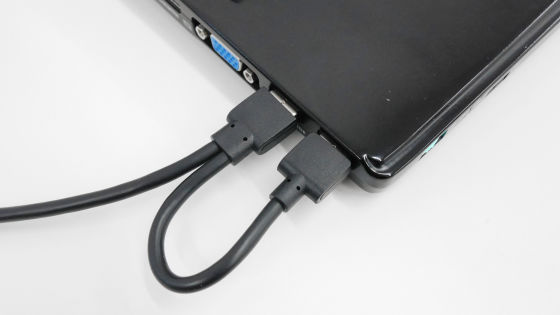 Next, connect the HDMI cable for video output to the microHDMI port of the On-Lap 1101P main unit ......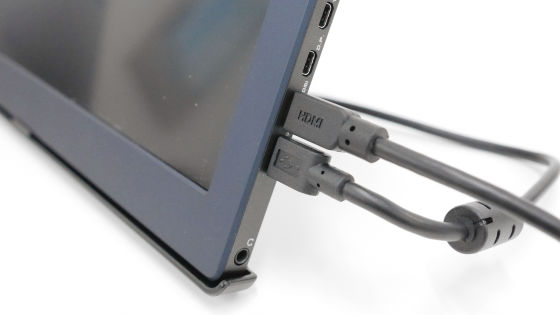 Connect the other side to the PC's HDMI port and OK.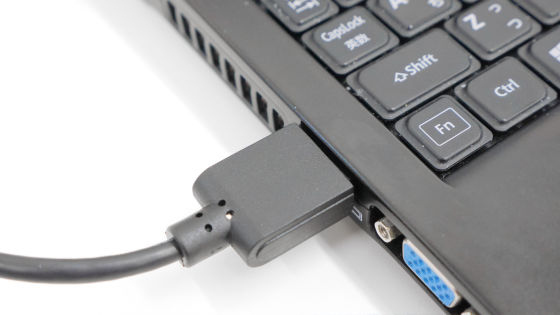 For Windows 7, you can create a dual display environment by setting "Screen resolution" from the control panel.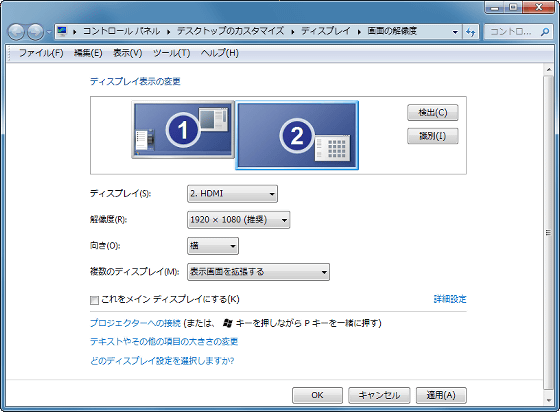 On-Lap 1101P is 11.6 inches and exquisite size that is convenient for use as a sub monitor. It is easy to handle without taking space.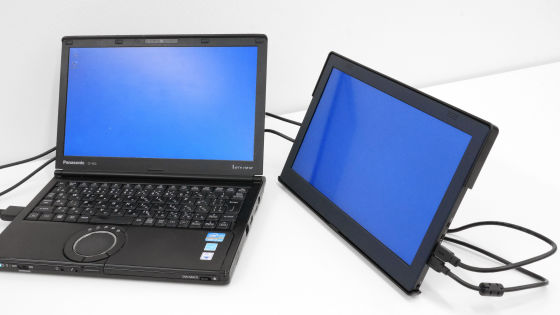 It is like this when GIGAZINE is displayed so as to line up with Let's Note "CF-SX 2". On-Lap 1101P has a screen size as small as 11.6 inches but its resolution is full HD (1920 x 1080) and quite high definition. Very clearly, both color development and resolution feeling are very good.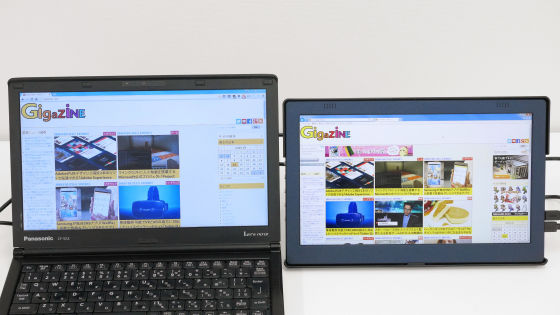 In addition, it is possible to make detailed settings with the monitor alone using the menu button on the side. Brightness, contrast, sharpness ... ...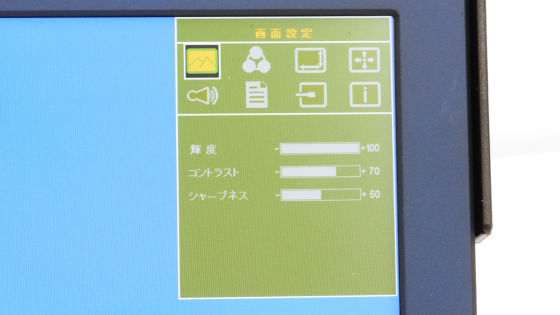 Color temperature, color mode, hue, saturation and ...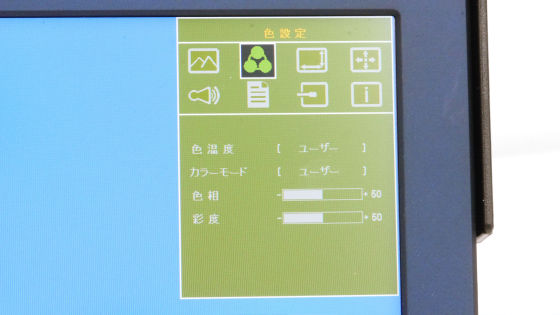 Aspect ratios and ...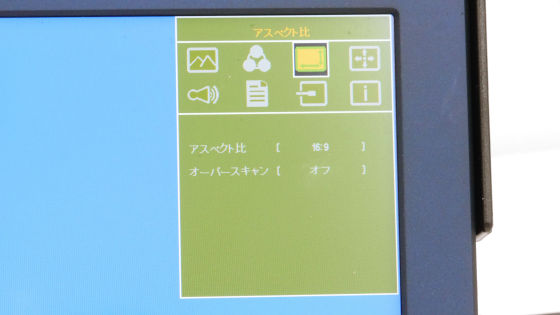 Adjustable horizontal / vertical position, clock, phase etc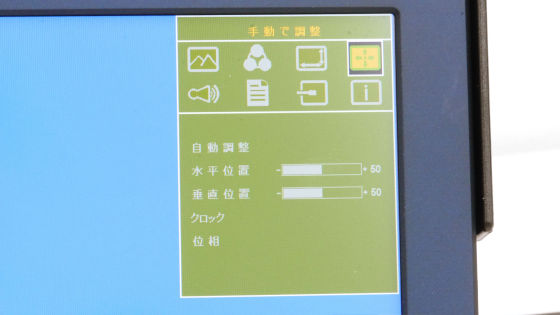 If you operate the volume button, the volume value will be displayed at the bottom center of the screen.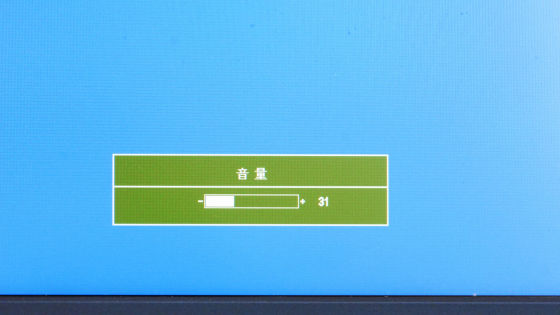 The On-Lap 1101P adopts IPS liquid crystal with a viewing angle of 178 degrees both horizontally and vertically, it is far easier to see than the display of CF-SX2, and also that the brightness sharply drops even from an oblique viewpoint No, the image quality is very good.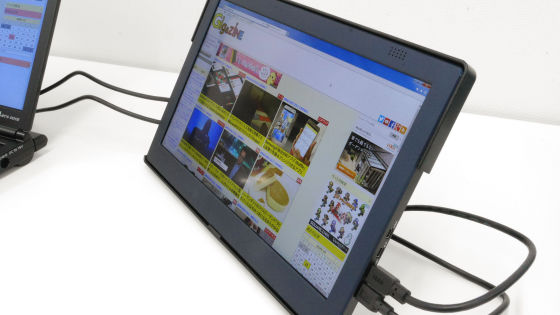 On-Lap 1101P with wide viewing angle and good image quality can be used even in portrait orientation. However, since the stand of the cover does not correspond to the vertical direction, it is necessary to use it to put something behind and stand up. If you want a sense of stability, it seems good to use a monitor arm.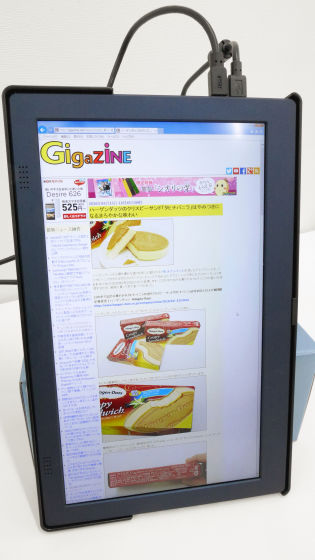 In addition, on-lap 1101P can output sound via HDMI cable connection. If you look at the following movie, you can see that the front dual speakers are of reasonable sound quality and volume.

Dual speakers of USB external monitor "On-Lap 1101P" look like this - YouTube


I tried using it as an external display of the camera
Since the cable of microHDMI-miniHDMI is also attached to On-Lap 1101P, it can also be used as a large monitor by connecting with a digital single lens camera. It is very convenient because you can immediately check digitally shot pictures and movies on the spot.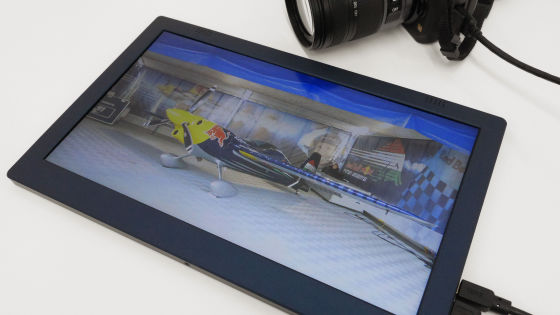 Also, if you fix the Tripod Mount kit with the included screw ......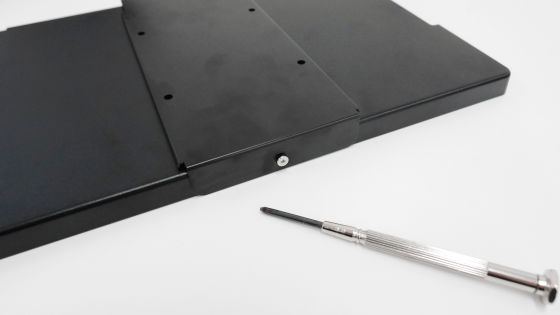 You can fix it to the tripod with the thin screw on the bottom.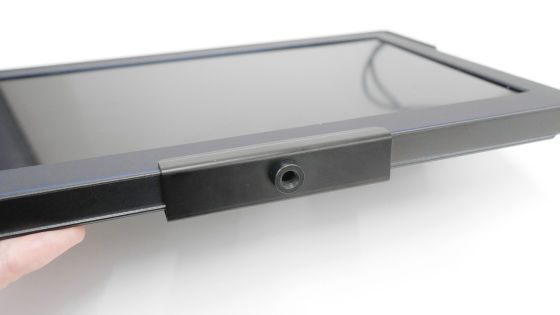 When attached to a tripod it is like this.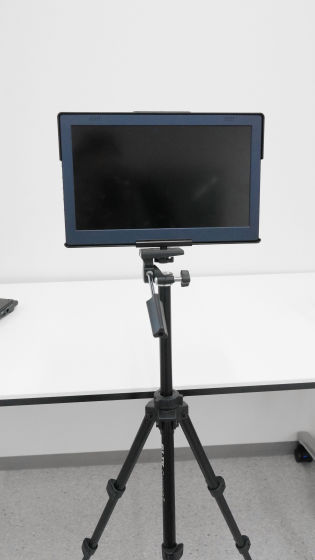 Using an external monitor makes it easy to shoot angles from below.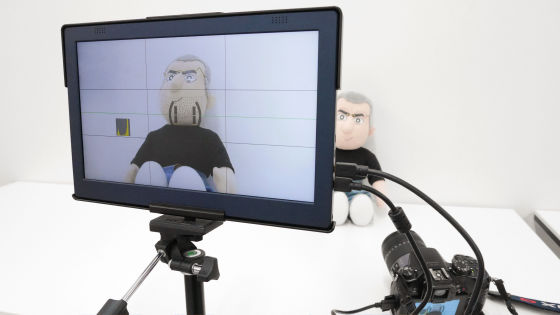 It is also obvious at a glance whether the subject is in focus or not, and it seems to be of great help to macro shoot.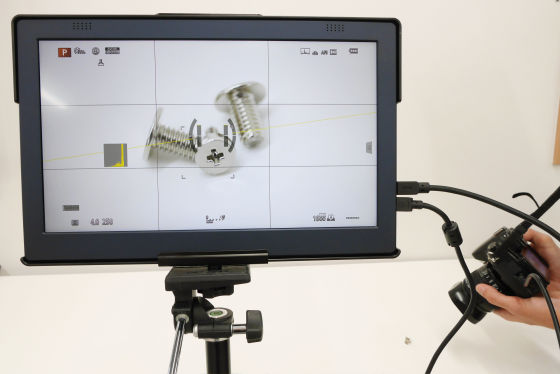 Also,"Etsumi threaded shoeIf you use parts like "On-Lap 1101P can be attached directly to the camera.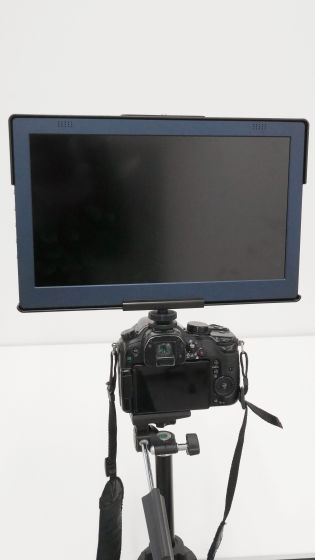 Furthermore, On-Lap 1101 P is "AUKEY AIPower"It was found that even a small mobile battery like the one can be driven.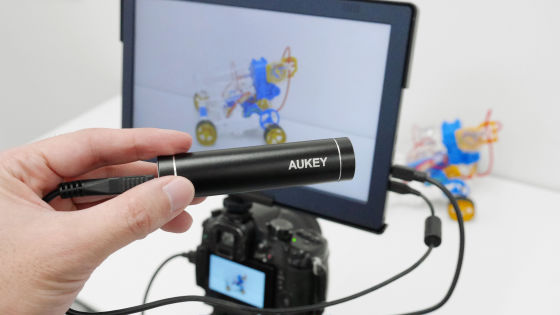 Even with a mobile battery with a capacity of 3000 mAh you can use it for 1 hour, so you can shoot outside with enough.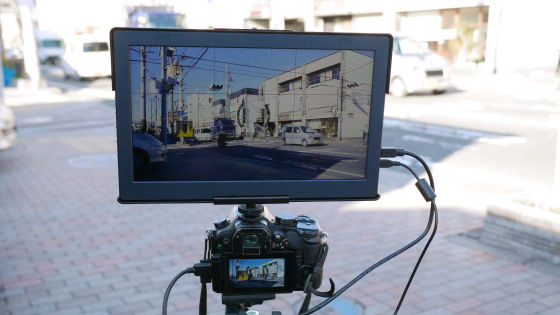 "On-Lap 1101P" that can be used not only as a PC's sub display but also as a large external monitor for digital cameras and digital video cameras is on sale at Amazon 36,879 yen (tax included, free shipping).

Amazon.co.jp: GeChic Mobile Monitor On-Lap 1101P 11 inch / full HD / (1080 p) / 24 Hz input compatible / Photographer model: personal computer · peripheral
http://www.amazon.co.jp/dp/B018587MI6