A fraudulent way to become No. 1 as Amazon's "Best Selling Author" in just 5 minutes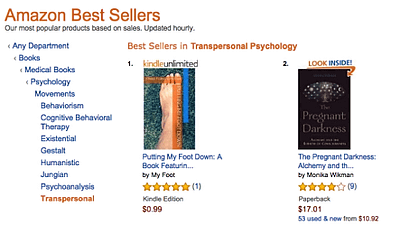 When shopping at Amazon, there may be a tag "best selling first place" aside the product name. This indicates that the item is the best selling in the categorized category, but the ability to publish your book to Amazon "Kindle direct publishing"It is practicing a technique that makes a book of fake publication with" only the best selling first place "with only 5 minutes time and just 3 dollars (about 330 yen).

What Does It Take To Be A "Bestselling Author"? $ 3 and 5 Minutes. | Observer
http://observer.com/2016/02/behind-the-scam-what-does-it-takes-to-be-a-bestselling-author-3-and-5-minutes/

◆ Step 1: Write a book (~ 2 seconds)
The first step to becoming a bestseller is to write a book. However, Brent Underwood, who is pointing this way, was not feeling much to write a book, so he took pictures of his feet. I created a book called "Putting My Foot Down" on one page.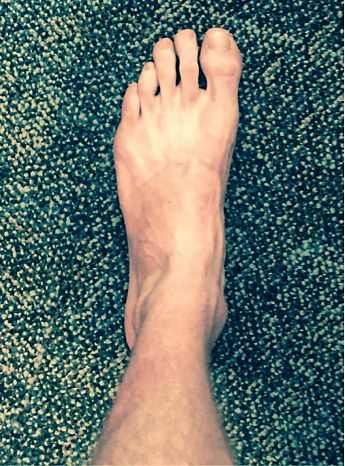 ◆ Step 2: Upload to Amazon (~ 3 minutes)
To Amazon's Kindle e-book, the author uploads and publishes books themselves "Kindle direct publishing"There is a function called. To publish a book, we fill in the necessary items by entering the title and subtitle of the book as follows.



Category selection is the most important, and this time, we set two categories, "Transpersonal Psychology" and "Freemason / Secret Society". Both are categories not on Amazon.co.jp in Japan, you can see that categorization of Amazon.com in the USA is performed more finely.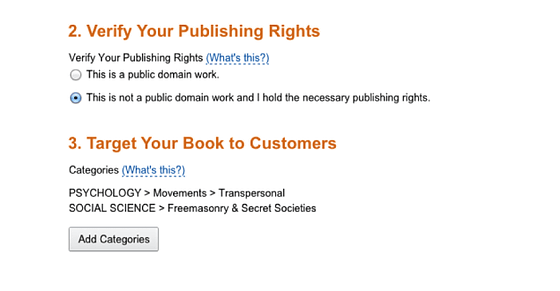 You can create a cover of self-published books ""Cover making tool"Using the function, design a title and so on the photograph of the foot that you shot and upload it, the preparation for publication is completed. Wait for Amazon to get approval.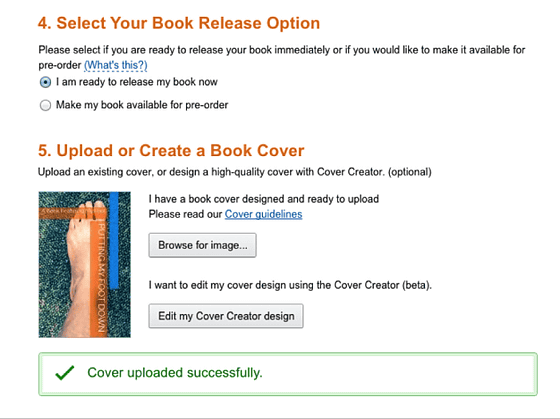 Underwood was waiting for results while it was getting stupid because the effort so far would be wasted if approval did not go down, but the mail arrived that publication was approved soon. This created a page where Amazon could purchase books and became a writer who sells a book of $ 0.99 (about 110 yen) for the whole world.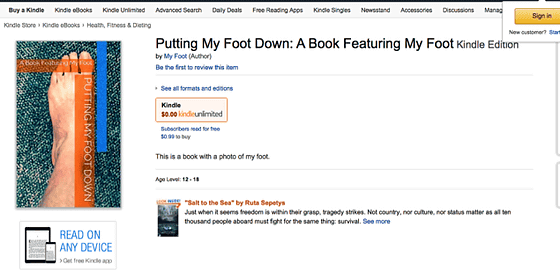 ◆ Step 3: Ask three friends to buy a book (~ 1 minute)
Let me ask with e-mail so that you can purchase a book that I published to an understanding friend. Underwood said that one friend actually purchased the book, but he also purchased three volumes on his own.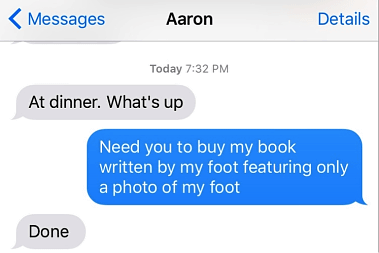 ◆ Step 4: Sell the book
Then the sales on the first day are like climbing eel like a hockey stick.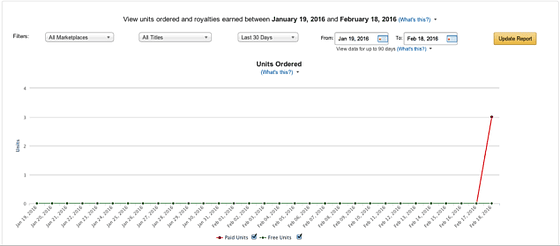 ◆ Step 5: To No. 1 Best Selling Author
The best-selling ranking has been updated once per hour, because it is a category with a small number of dealers in the first place, a book that just shot a picture of a freshly released foot is ranked number one in trans personal psychology category The mark of "# 1 Best Seller" is now displayed.




This effectively became "No. 1 best selling writer of Amazon", so Underwood says that it is not a lie even if you write "No. 1 best selling writer" on LinkedIn's profile. It certainly is not wrong ... ....