A major newspaper suggests prohibition of browsing for users blocking advertisements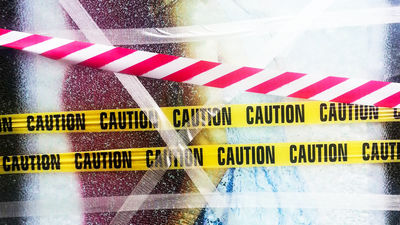 ByAngus Veitch

Newspaper with headquarters in New York and partnered with Asahi Newspaper Company in Japan "The New York Times(NYT) "Mark Thompson has revealed the possibility of blocking users using browser extensions to remove advertisements.

The New York Times Might Ban Visitors Who Use Ad Blockers | Adweek
http://www.adweek.com/news/press/new-york-times-might-ban-users-who-use-ad-blockers-stuff-not-made-free-169828

NYT's CEO Thompson said in a keynote speech at Social Media Week in New York that it is not good to benefit from our company's journalism without contributing to revenue, It is worth getting, I'd like you to think that it is not a nationwide net channel that you can watch for free, it's like a paid broadcast HBO. "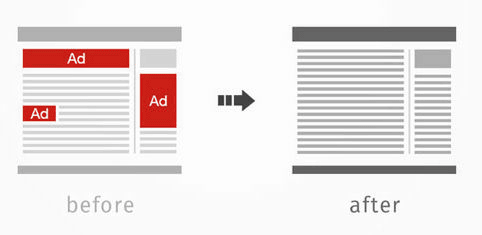 ByShawan Zain

NYT is developing a digital version of subscription service, and Thompson said "Our article is not free." Also, regarding companies that provide advertisement removal tools to exclude specific companies' sites from being subject to removal as well as "whitelist", "companies offering advertisement removal tools need permission to put ads I can not forgive myself that it is kind of ugly. "

Finally, I revealed that I am thinking about blocking users who are not paid subscribers but use ad removal features.

Due to the decrease in paper newspaper sales, NYT's website advertisement plays an important role in earnings. In fact, in the fourth quarter of 2015, advertising revenues on websites rose by 8%, despite a 7% decline in revenue from paper advertisements. Also, the number of digital new subscribers in the fourth quarter was 53,000, reaching a total of 1.1 million. Revenues from digital subscription subscriptions were $ 193 million (about 21.8 billion yen), an increase of 14% from the same period of 2014. CEO Thompson said, "NYT's journalism is expensive and a hand-made product to be paid for."

Regarding the advertisement removal function, it became a subject of discussion also in "Mobile World Congress", the world's largest mobile trade fair held in Barcelona. Google and Yahoo! , AOL officers gatheredpanel discussionThen, Yahoo! "Users using the ad blocking function on mobile are destroying the ecosystem," Mr. Nick Hooz of Google said Benjamin Firth also said, "A company that provides ad blocking capabilities is my It makes me feel uncomfortable to decide to remove advertisements instead ", he showed a critical attitude towards the ad blocking function.

NYT, which suggested the possibility of blocking users of the ad blocking function, said that the next day when the CEO made a remark, "Hints and myths to last a smartphone's battery"And introduced" Blocking ads using ad removal tools "as a way to make batteries last longer among them. According to the article, loading ads during browsing consumes batteries, so installing an application that blocks ads will last a long time on the battery.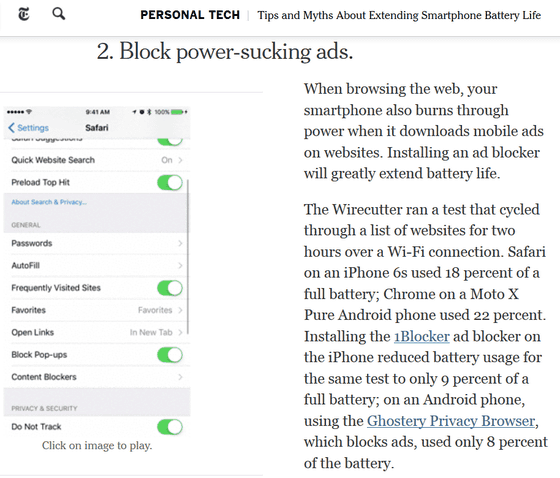 · Continued
Finally the New York Times hides the article for non-advertising users - GIGAZINE