A report on self-published publication of printed books & e-books on Amazon and iBooks Store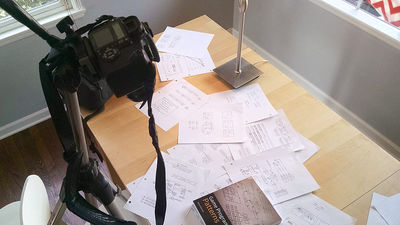 A major game makerElectronic ArtsMr. Bob Nistrom who operates in the company runs a blog about the game programming language. As the number of readers also increased, we blended past blog posts into books and succeeded in turning them into profitability when we sold them at Kindle store and iBook Store by self-published publications. A report on the circumstances until such self-published books are released and the sales data after publication is released.

How My Book Launch Went - journal.stuffwithstuff.com
http://journal.stuffwithstuff.com/2014/11/20/how-my-book-launch-went/

◆ Their own role in self-published publication of electronic books
In order to publish e-books alone by themselves, we need to do all the roles of "editing", "designer", "proofreading", "marketing staff" as well as writing manuscripts. As I read materials on the final "marketing staff", many people preached that "collecting e-mail addresses will be money", so Bob can easily deliver the e-mail magazine for free and free of chargeMailChimpWe used that. Delivery is limited to e-books' easy notices, websites, registration forms, and delivered only to close friends and blog subscribers who really want reply. Considering the time to complete a perfect book, Mr. Bob said that the announcement by the e-mail magazine was done at a very early stage of writing the e-book. As a result, as many as 8000 people registered in the mail magazine.

◆ Cover page design
Mr. Bob's e-book is to edit the blog post so far by one chapter and edit it as an e-book. Since the contents so far are commercialized as books, we have rebuilt the website from the book to increase the value of both books and blogs. Leave links that can be browsed on the blog as "Web version" so far, newly divide the links to Amazon, Kindle etc. into "printing version", "e-book version", "PDF version", etc. on the website Displayed.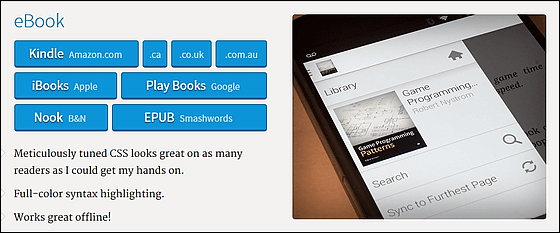 In addition, I design the top page of the website by shooting the cover of the printing plate which was being produced using the camera and macro lens. After that, it seems that it took quite some time to improve the text of the top page, but because one side of the website is a place giving the first impression to the reader, it is worth the time.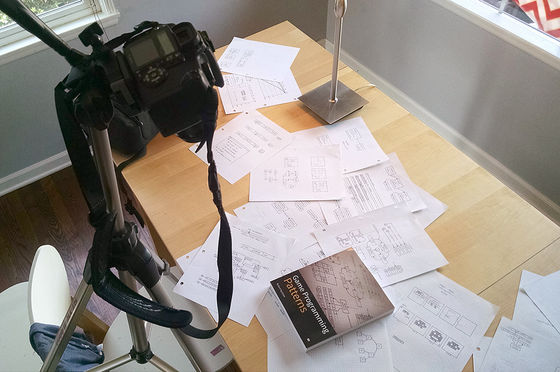 The completed top page is finished as follows.

Game Programming Patterns
http://gameprogrammingpatterns.com/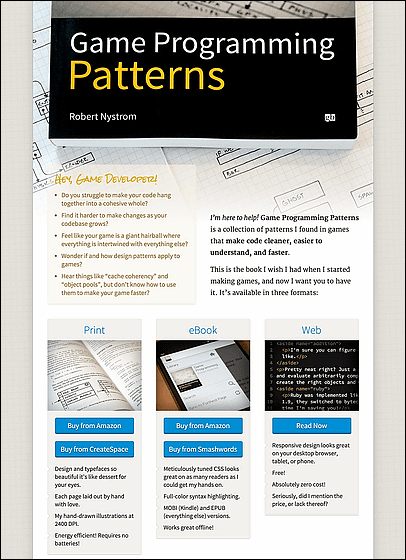 ◆ Blog post posterization
Mr. Bob did the work of rewriting the blog article which I wrote so far to the physical manuscript, but since the manuscript has become so long, he seems to have felt "If there is editing ...". In order to make it useful information for the reader, it took a week to read the previous articles and to change the writing style.

◆ Upload to the web
When the manuscript is completed, in order to publish it as a book, "PDF file for print version (including cover page)"EPUBFile""MOBIIt is necessary to prepare a file suitable for the website to be uploaded, such as "file".CreateSpace,Kindle direct publishing,SmashwordsWhen I press the last "OK" at the end, my nervousness wears down as the tension reaches the apex.

Even then, I am forced to send some misprints and cover page that adjusted the size required for each website, but all the work is completed. As soon as I confirmed that my book was displayed on Amazon, Mr. Bob announced the launch of a new website, new blog post, email, mailing list, SNS.

Especially at this moment I felt the stress was strong, he said that he repeatedly hit the update while traveling around each sales page and blog of tab-displayed books. Although it was only a few minutes from the release, when the story of a novelist who could not sell a book caught his head, I was told that two books were sold by Smashwords. Subsequently, tweets about Bob's books also began to flutter, which means that I realized that I became a "writer" in fact.

The next day, Mr. Bob confirmed the dashboard of all the websites waking up with a feeling like a Christmas child, and as a result, the number of books that could collect the cost of publishing the book overnight was sold I understood. In publishing "ISBNAcquiring number "" Some fonts "" Print fee for books "" Operating licenses "are expensive, but it is said that they have succeeded in making profits.

In terms of how much printed books were sold, at the Kindle store I gained the best selling first place and second place in the "Game Programming" category.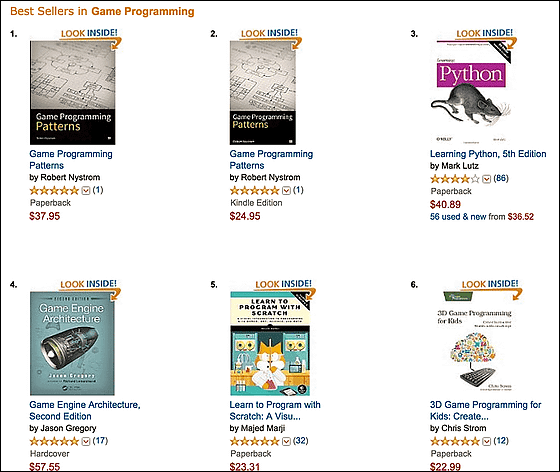 In the "Computer Programming" category, it also ranked No. 1 best seller.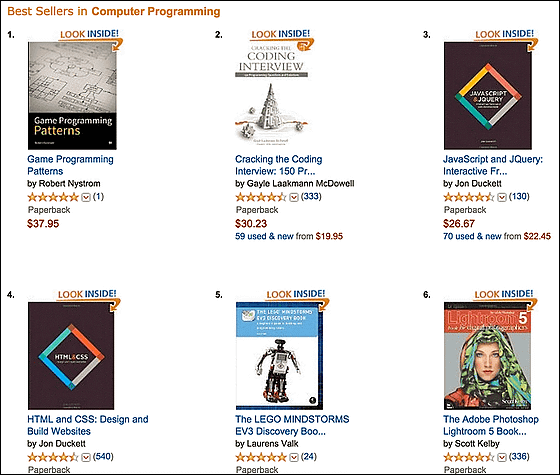 In the "Computers & Technology" department, I kept seventh place holding down Minecraft's book.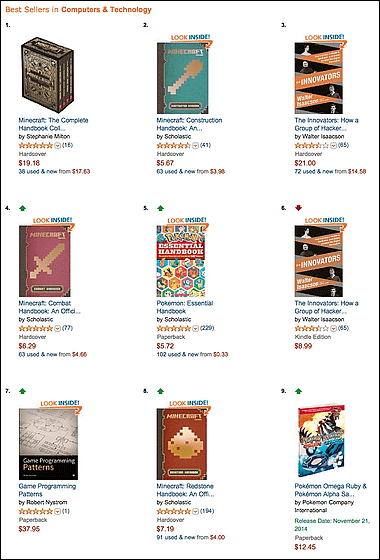 ◆ Sales performance chart of each website
Although I can not touch on detailed sales amount and expenses in this experience story, Kindle sold 125 volumes only on the first day.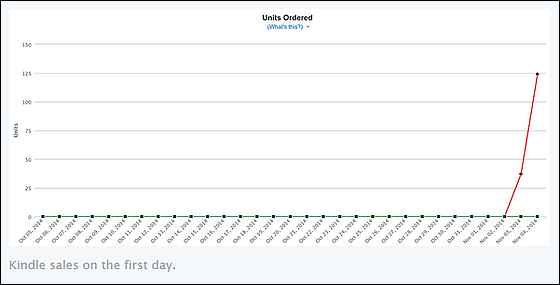 Smashwords sold 27 e-book versions on the first day.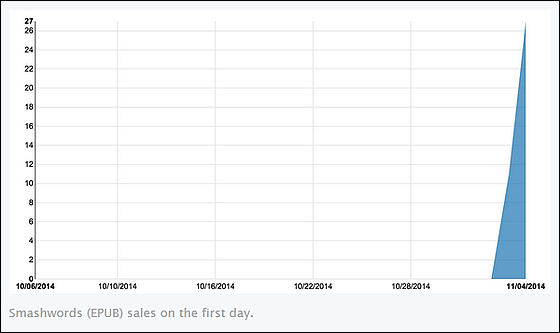 The sales graph of Kindle's printed book looks something like this.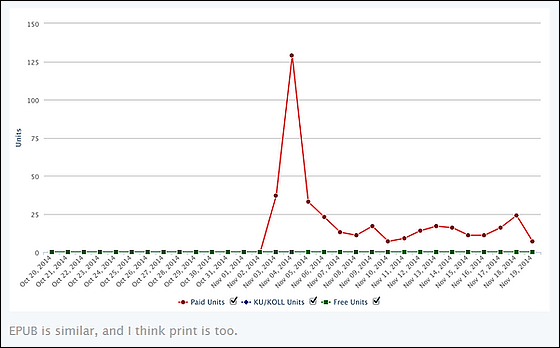 In total, there are 796 printed books, 274 Kindle e-book version, 70 books of Smashwords e-book version, 7 books of iBook store e-books, total print books and e-books total 2 weeks Since 1147 volumes are recorded, the paper medium seems to dominate overwhelmingly. As the Internet service develops, it is a report that makes it clear that publication of books is getting familiar, and for those who think "I would like to write a book ...", Bob's example is very helpful It should be.