How to get a SIM card of a cheap local carrier 'Smart' or 'Globe' in the Philippines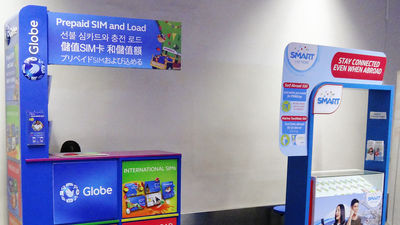 In order to use the Internet abroad, in Japan before departureRental of overseas routerThere are means to use overseas communication services offered by Japanese mobile carriers, but both cost hundreds of yen to several thousand yen every day. When visiting the Philippines, I searched for a way to keep the Internet communication cost as cheap as possible. As a result, the local SIM card & prepaid card was surprisingly cheap, so I purchased it and tried it.

Smart Communications - Cellphones, Mobile Broadband, Prepaid & Postpaid Plans on the # 1 Network
http://smart.com.ph/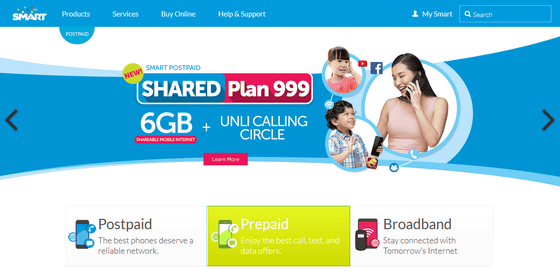 Globe Telecom - Call, Text and Surf on the Country's Largest 4 G Network
http://www.globe.com.ph/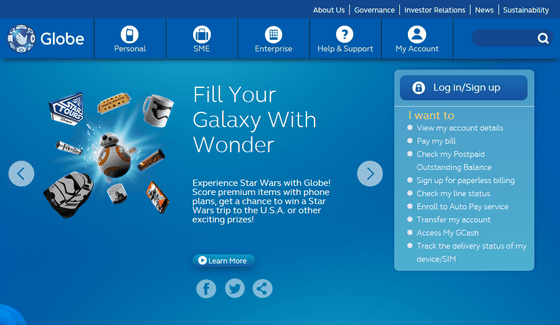 Philippines' main mobile carriers are "Globe"When"SMARTTwo companies. If you bring a SIM-free mobile phone from Japan, you can purchase a SIM card and a prepaid card for charge and use the local communication service. SIM cards and prepaid cards can be easily obtained at airports and shopping mall stores, signs marked as "Globe" or "SMART" are marked. It is relatively easy to find at the airport because guidance is written in Japanese.



Even in the city, there are handling of SIM card and prepaid card at shops where Globe and SMART flags are listed.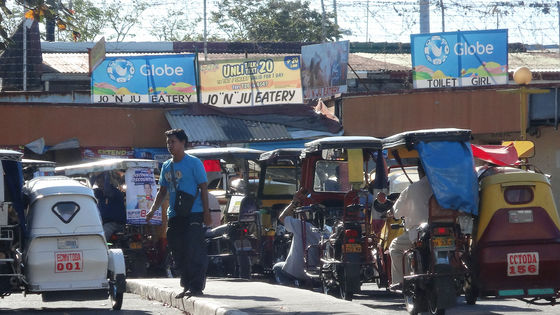 This time I purchased a SIM card at a shopping mall's shop. In the shop I visited, only the SMART's nano-SIM card for iPhone 6s was in stock, so I bought a SMART Triple Cut SIM card at 40 pesos (about 100 yen).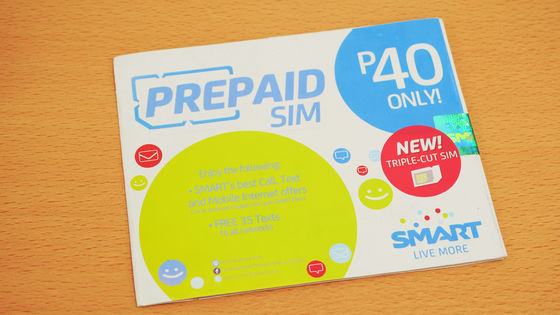 Open the seal and remove the SIM card from the backing. Since it corresponds to three kinds of Mini-SIM, micro-SIM, nano-SIM, it is OK if you remove SIM card of size suited to your smartphone.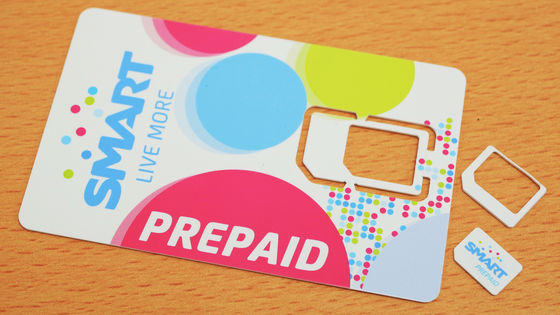 Communication charges must be charged first with a prepaid card. There are 3 kinds of SMART prepaid cards: 100 Philippine Peso (about 250 yen), 300 Philippine Peso (about 750 yen), 500 Philippine Peso (about 1250 yen), this time purchase 300 Philippine peso prepaid card.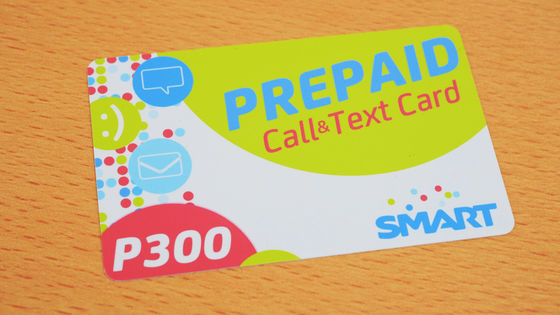 If you cut off the silver part on the back of the prepaid card, the PIN code will come up.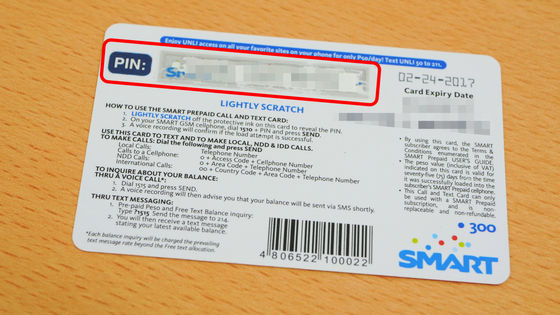 According to the notation of the prepaid card, if you call the "1510 + PIN code" on the smartphone with the SIM card inserted, you can charge the fee to the SIM card.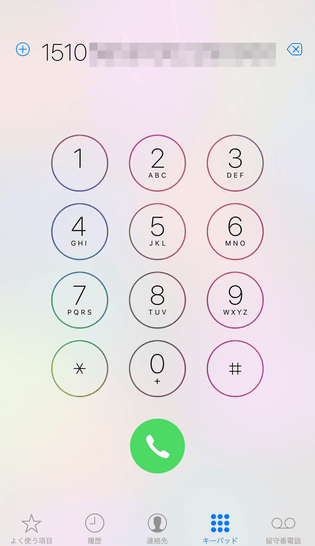 When the charge is completed, the following message will be sent by SMS, Internet connection and telephone function will be available.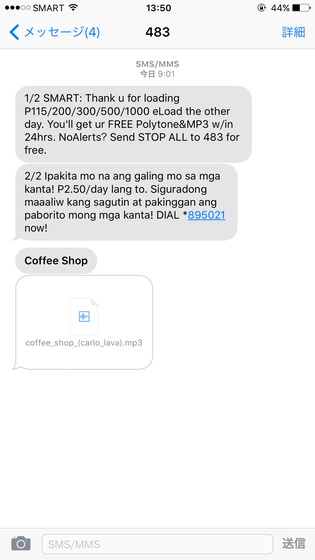 The usage fee is as follows. Phone calls sent to the domestic department from Philippine pesos of 6.50 per minute (about 16 yen), SMS sent to 160 letters per Philippine peso (about 2.4 yen),MMS1 to 2 Philippine pesos (about 2.4 to 4.9 yen), Internet connection to 5 Philippine pesos (about 13 yen), etc.



Although you can use the telephone and the Internet as it is, as the fee is added according to the use time on the Internet connection, it is recommended to first turn on the data usage limit. To limit the data usage fee, SMS sends "PROTECT ON" message to "9999".



You can limit the amount of data used per day. In the initial state, the data usage upper limit of 1 day was set to 3MB. If exceeding the upper limit you can continue to use the Internet at 5 Philippine pesos per 15 minutes by sending "PROTECT OFF" message to "9999".



If you exceed the data usage limit, the following screen is displayed when you connect to the Internet, and you are advised to change the data pack. Click "here" part.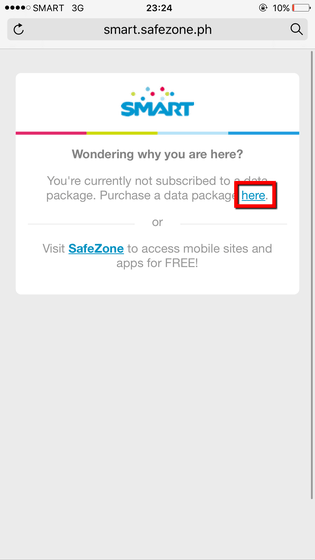 You will see a page where you can check the balance of the charge and the current data package. Scroll down ......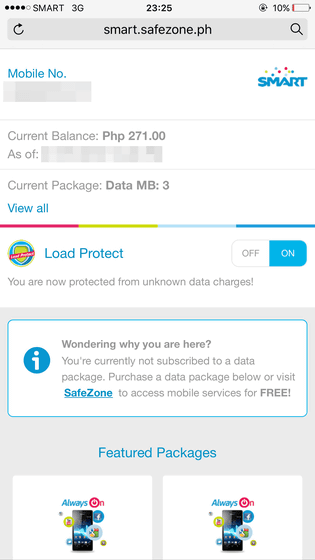 Several data plans have been displayed. Try to tap "Always On 10" plan.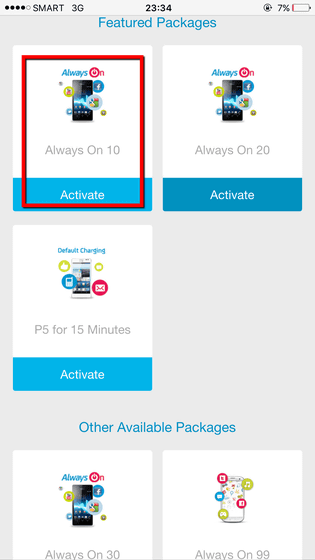 Always On 10 is a plan that sets 10 pesos a day (about 25 yen) a maximum amount of data to 10 MB per day. The data plan is 3MB / 10MB / 45MB / 70MB / day, 20MB / day, 150MB / week, 250MB / 15 days, 100MB / 700MB / 1.5GB / 5GB / 10GB / 15GB / monthchooseableIt has become. When I stayed in the Philippines for about a week, when I set it to the plan "Always On 99" which can be used up to 100 MB per month at 99 Philippine pesos (about 250 yen), it was enough impression to use mail and SMS. However, because it is 3G line, the speed is slower than the LTE line in Japan, so it was more comfortable to use Wi-Fi in the city to watch movies or view pages with many images.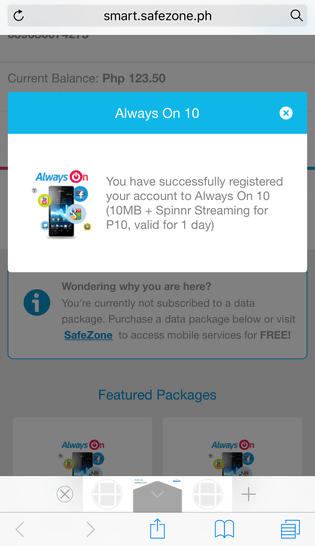 Free Wi - Fi spots were installed in major shopping malls. A major shopping mall chainSM SupermallsI could use Wi-Fi with the network name "SM Free WiFi".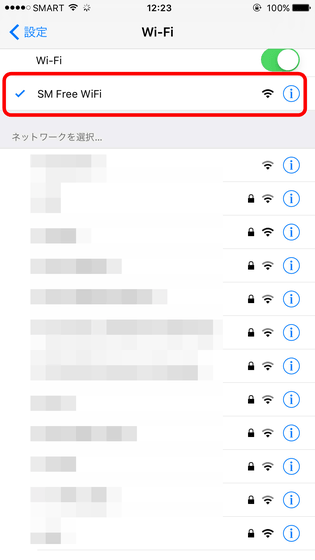 When connecting to Wi-Fi, terms of service are displayed, so tap "Connect".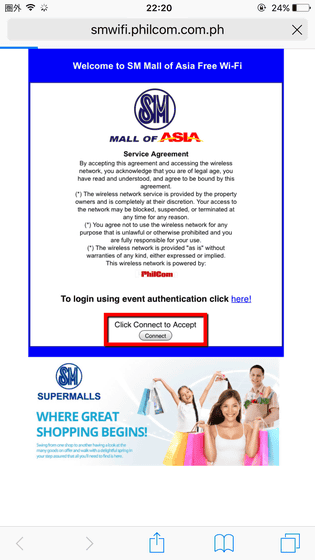 Free internet connection was available for 1 hour. If you do not use the phone function, you can fully communicate with the Internet by using free Wi-Fi at the shopping mall or cafe without buying a SIM card.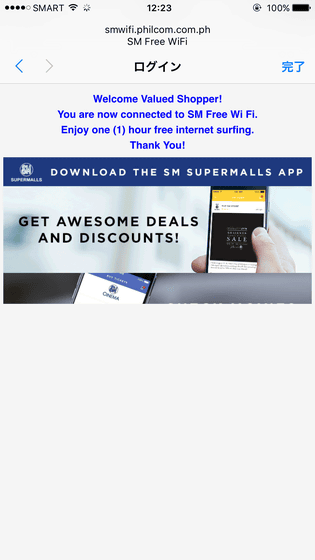 in Mobile, Posted by darkhorse_log