"TorFlow" to visualize the flow of Tor network that can anonymize communication on the world map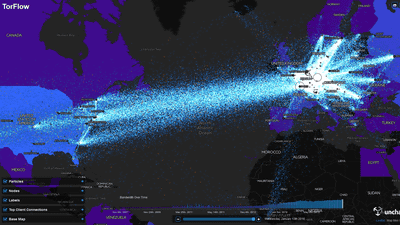 By constructing a virtual circuit that relays a plurality of communication paths, an anonymous communication system that can conceal the communication source is "Tor (The Onion Router)"is. Although it may be abused at the dark site which buys and sells illegal drugs such as "Silk Road", it is useful in journalists and political activists, among those who need to protect privacy and security It is. It is possible to visualize where such Tor network is used all over the world "TorFlow"is.

TorFlow
https://torflow.uncharted.software/

When opening TorFlow, you can see that the Americas and the European continent are connected by a belt like the Milky Way that shines blue. This blue particle band visualized the flow of Tor network.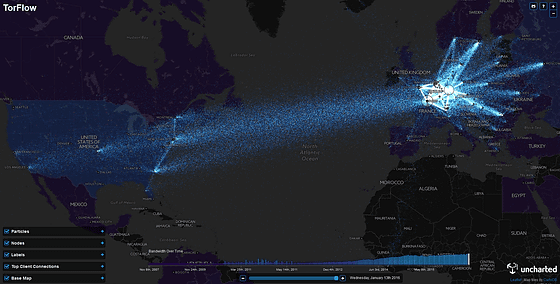 You can zoom in and out of the map by clicking the mouse wheel or plus / minus in the upper right of the screen. Especially Tor communication is actively being carried out in Europe, On January 13, 2016 displayed in the initial state, countries such as France, the United Kingdom, the Netherlands, Germany, Switzerland etc. are connected by Tor network line It is.



By clicking the country on the map you can display Tor network information by country. For example clicking on Germany, you can display the Tor network trends by date on the right side with a bar graph.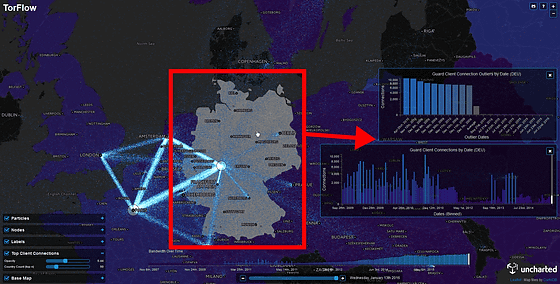 Clicking on the graph allows you to display the movement of the Tor network at that time on the map.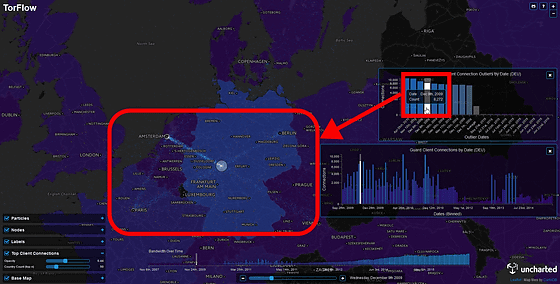 When trying to zoom in around the United States, the amount of traffic is smaller than in Europe, making the movement of the Tor network difficult to see.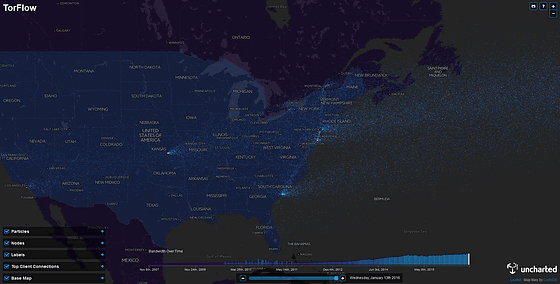 In such a case, by setting each item from the menu in the lower left of the screen, you can visualize the same data even more easily.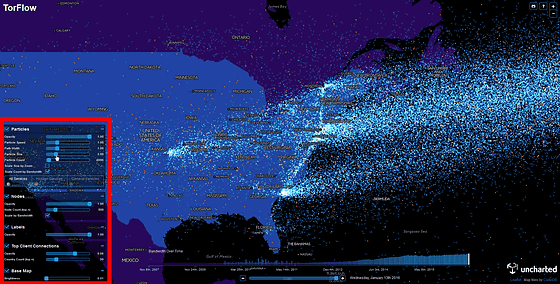 By operating the bar at the bottom of the screen, you can change the age and check the flow of Tor around the world.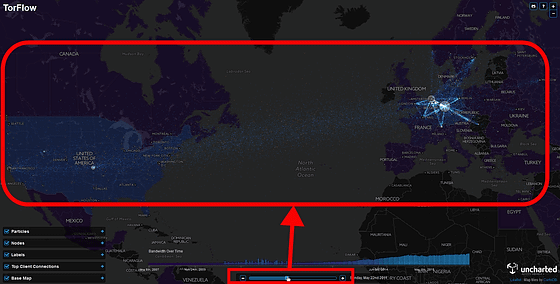 In Japan like this, it seems that we can finally see the particles of the Tor network considerably larger. In other words, you can see that there are few users of Tor network compared to other countries in Japan.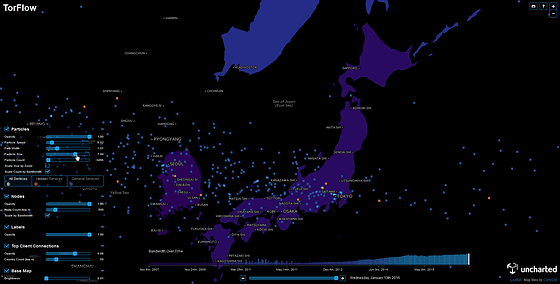 Although it is not very popular in Japan, Tor is increasingly popular mainly in Europe and the United States. Tor was originally known for censorship in China, YouTube · Twitter ·BlackBerry server(BES)Pakistan was blockedSomething to escape the government's monitoring and repression. However, it is sometimes referred to as "dark web" because it is sometimes used to sell illegal items.

How to handle Tor like that depends on the company, Facebook has Tor communication address for Android application and supports secure connection to Facebook with Tor browser.



Twitter also reportedly warned about 20 users that "your account may be targeted by a group of government officials for the purpose of obtaining personal information" As a countermeasure to that, I know that I sent a message recommending the use of Tor.

Twitter warns users they have have been hacked by 'state-sponsored actors' | Technology | The Guardian
http://www.theguardian.com/technology/2015/dec/14/twitter-warns-users-hacked-state-sponsored-actors

Meanwhile, Google is an "open web" that anyone can browse, build a mechanism whereby terrorist propaganda will not be indexed by search engines in order to take measures to prevent terrorists such as IS (Islamic State) from publishing information freely. I tell The Guardian about doing. A method of enclosing terrorist's net activity in "dark web (Tor)" has been proposed, specifically, by the same technology as "tracking type advertisement", a method of identifying a person who posts propaganda is under planning It is.

Google says Isis must be locked out of the open web | Technology | The Guardian
http://www.theguardian.com/technology/2016/jan/20/google-says-isis-must-be-locked-out-of-the-open-web