I tried to eat it by buying "Black Sander 2016 raw" drifting with luxury at Black Thunder's "Lost Chocolate Shop"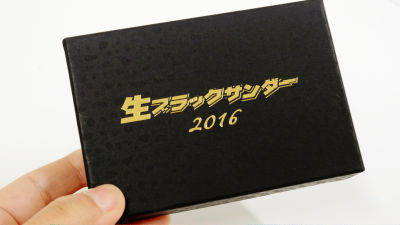 As Valentine's Day approached, shops and manufacturers became chocolate push, but during that time, sweets manufacturersYuraku ConfectioneryIs Tokyo's station at a glance Chocolate "Black Thunder"Limited time store"Los Angeles Chocolate Shop"Was opened. "It was sold last year and it was sold out at a brief moment"Raw Black ThunderAlong with a new product "Black Thunder Chocolate Cake"Happy yellow black sander (lemon taste)Since it is said that such as "has appeared," I bought it at a store and tried it.

It is in the first stop of Tokyo StationTokyo OkashidorandoBlack Thunder's limited time store was appearing in one corner of the house.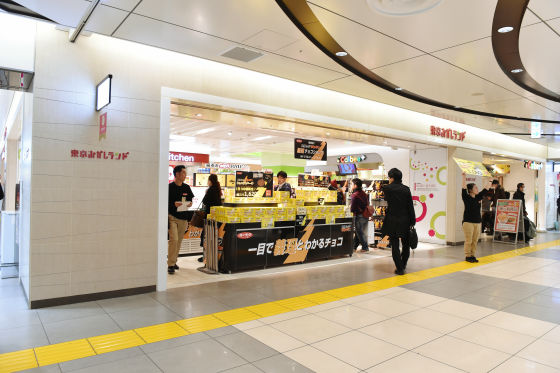 In the shop, "chocolate shops of obligation", "chocolate which seems to be obligatory at first sight", such as sense of obligation chocolate is still appealing to this.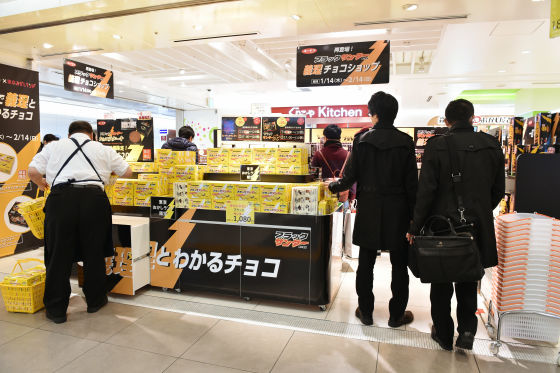 Black Thunder's first lemon flavor "Yellow Black Thunder of Happiness (lemon taste)" ... ....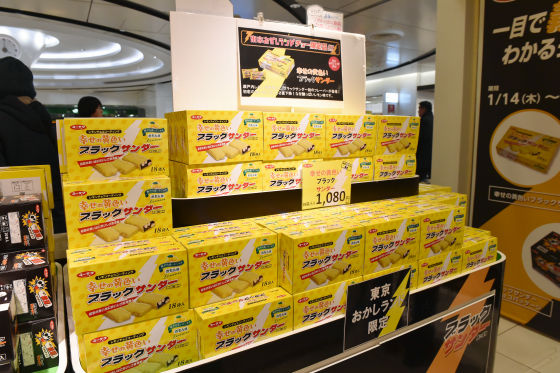 Black Thunder of obligation chocolate package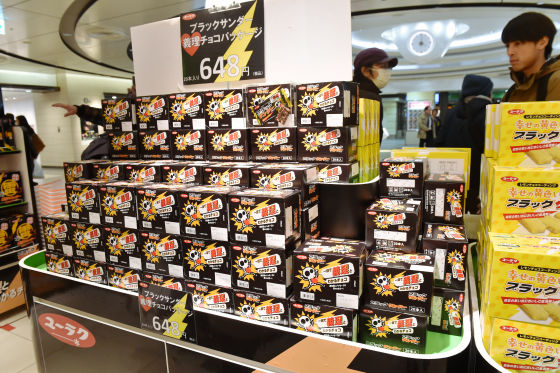 Various black sanders such as Tokyo Thunder were lined up all along.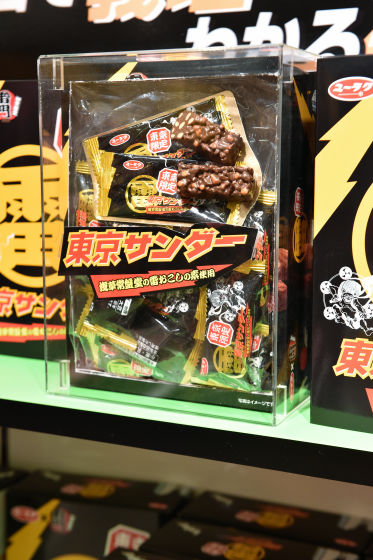 In addition, "Black Thunder Chocolat Cake" which was released as a new product last year and "Raw Black Thunder" which was sold out immediately was sold exclusively, Black Thunder Chocolat Cake was sold at 9 o'clock / 15 o'clock on 1 day only, sale Black Thunder will be distributing numbered tickets from 13 o'clock and 17 o'clock only for 50 pieces a day. The waiting queue lined up along the stairs in front of the shop, and when I headed out past 16 o'clock, people were already lined up, even one hour before the live Black Thunder tickets were distributed.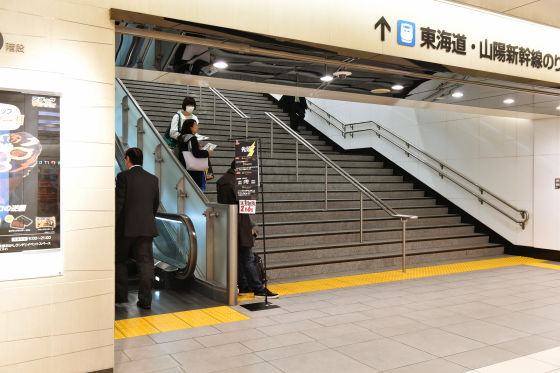 When you are in line, you will receive a sheet like this. It is supposed to exchange this for later with a numbered ticket, and the numbered tickets are ready to be exchanged for goods at any time during the day.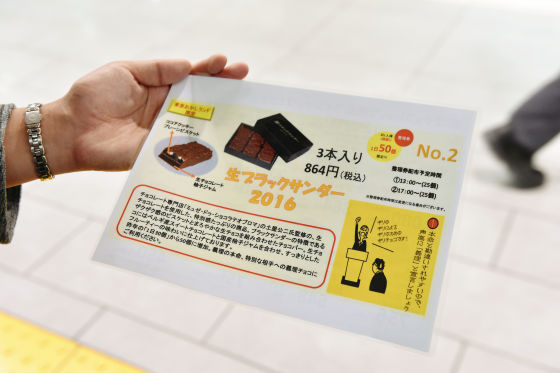 Approximately 15 people will line up at around 4:50 pm.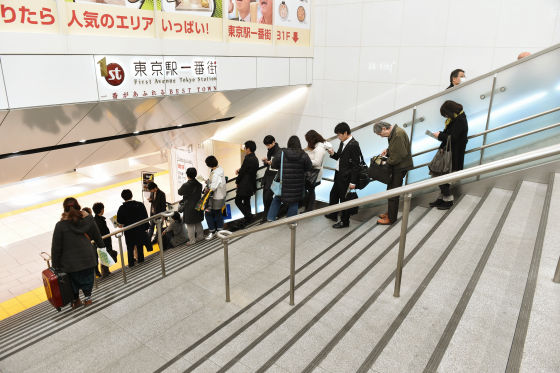 So, this is the black sander that I bought this time 3 kinds. The front is "Raw Black Thunder 2016", the left is "Yellow Black Thunder (Happy Lemon taste)", and the one on the right is "Black Thunder Chocolat Cake".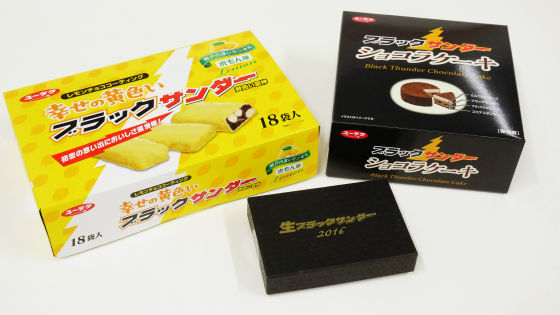 First I will eat it from raw black sander 2016 which was sold last year and sold out by haste.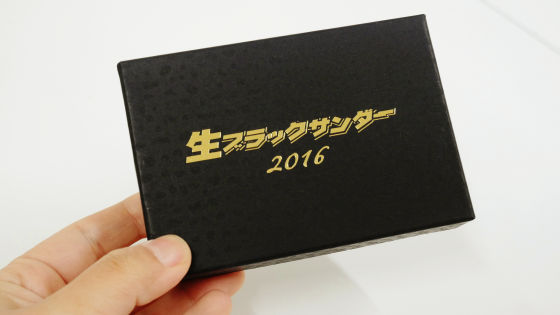 Looking at the raw material name, it is characterized by containing cream, citrus peel, liquor, etc. besides chocolate and cocoa cookie.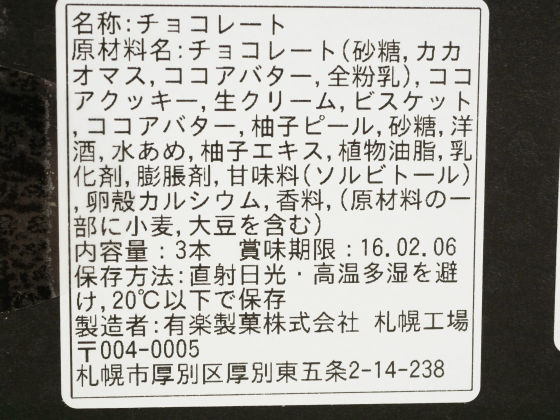 Try opening the box with the pakari. ...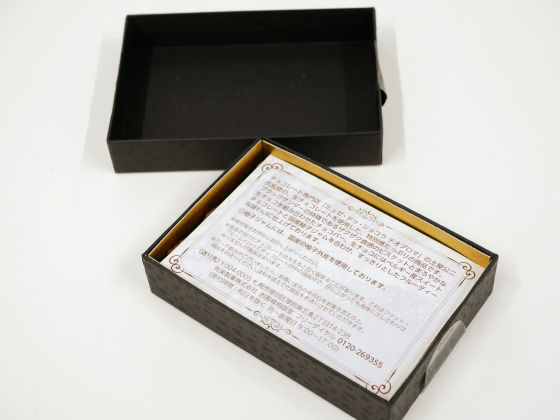 An explanatory note like this. Raw black sander is a specialty store of chocolateMusee de Chocolat · Theobroma"It was developed by Koji Tsuchiya under supervision.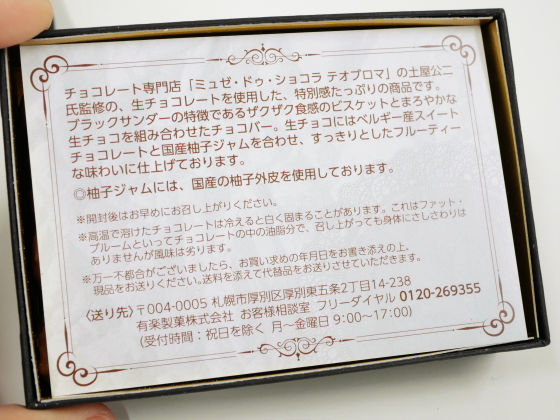 Three chocolates were lining under the instructions.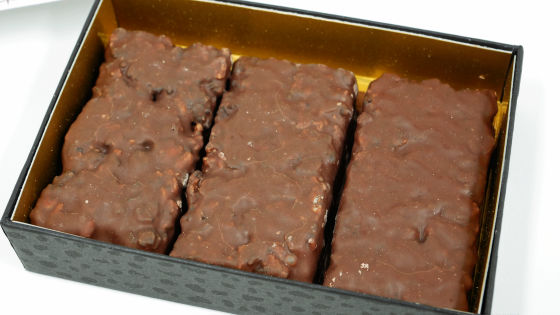 Because the word "raw" is contained, I thought that it is surely soft, I thought I tried to cut it with a fork ... ...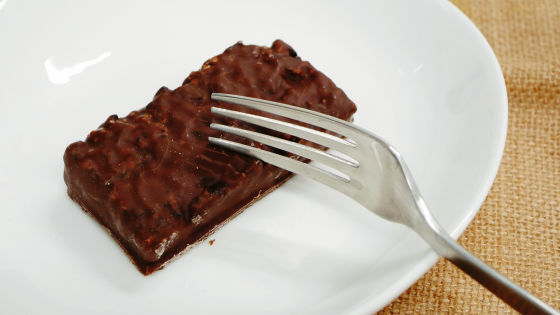 There was no tooth at all.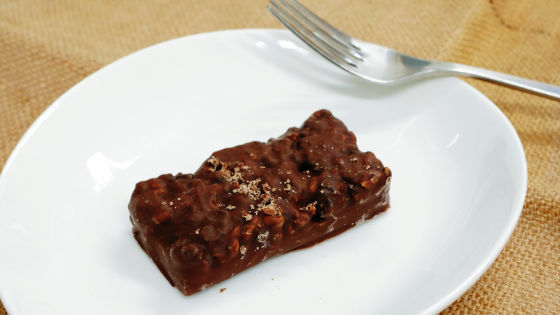 So in the first half of chocolate, the usual black sander cookies were packed and the lower half was packed with soft raw chocolate. Sweet chocolate from Belgium is used for raw chocolate, and it is a very smooth texture. Domestic Yuzu jam is contained and it has a refreshing flavor, you can also feel the texture of yuzu peel and faint bitterness. The crispy texture is certainly Black Thunder, but the usual cheapness has been completely removed and it is a taste for adults.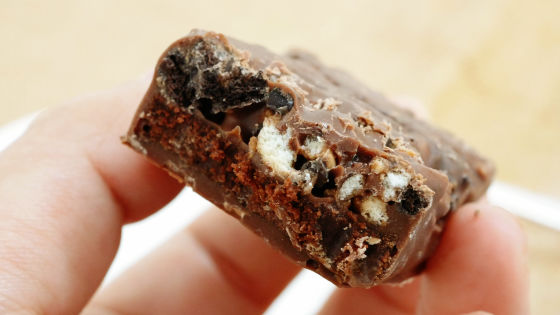 Next, Black Thunder Chocolat Cake.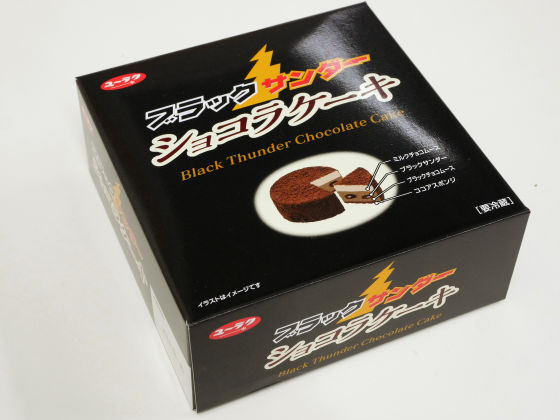 When I opened the box, a hole cake appeared.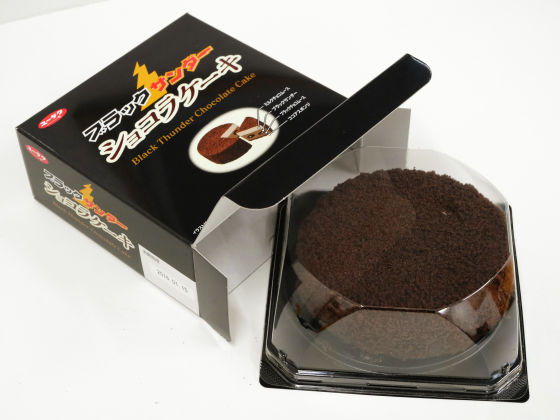 Diameter is about the same as iPhone 5.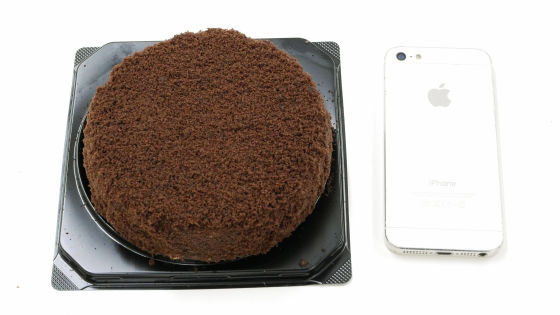 The height was about one third of iPhone 5.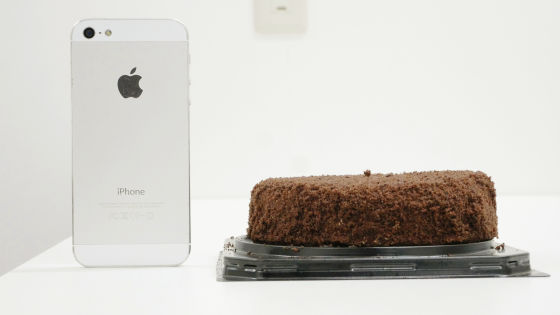 The surface is covered with something like cocoa cookie.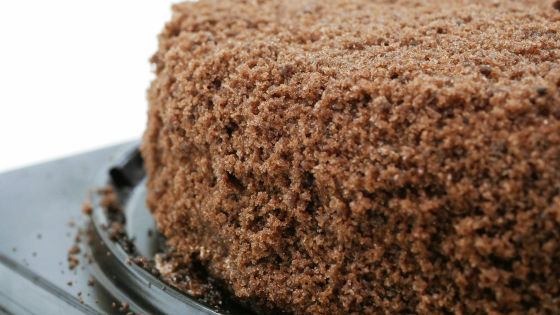 When I cut it, the cake was four layers.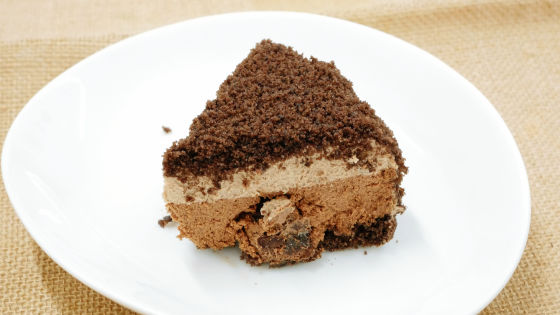 The cocoa cookie on the surface is not crispy as "zakkaku", it has a light texture with a feeling of "sakusaku", the bright cream of the color is mellow and sweet, the cream with a dark color is strong with bitter chocolate and bitter, the bottom There was a cocoa sponge laid. Overall it is a very smooth texture, with luxurious feeling that does not seem like Black Thunder drifts. However, as we are eating, ...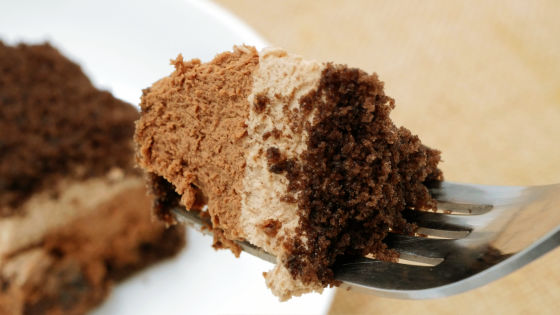 Black chunks of chunks appeared from inside. Black thunder who came out from inside when he is eating while hoping that "This is a favorite chocolate cake ...!!" Expands expectations firmly asserts that "It is obligatory".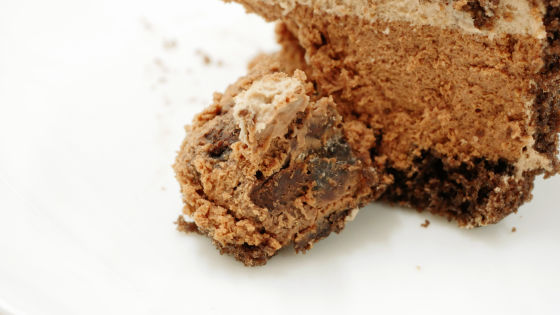 Finally, I will try to eat yellow happy yellow black sander (lemon taste).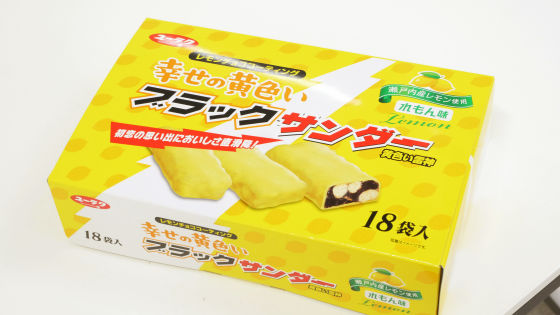 Raw material names include sugar, cocoa cookie, flour, lemon juice powder and so on.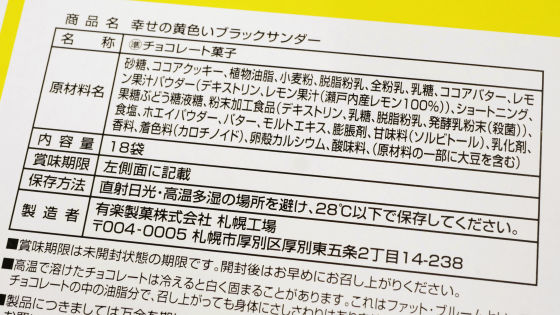 Although nutrition component indication was not described in the other two products, the yellow black sander is 129 kcal per one.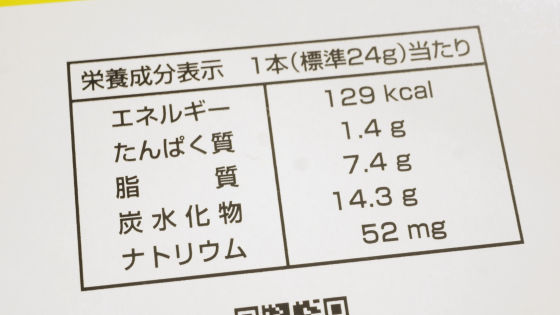 When opening the box, there are 18 black sanders all in line.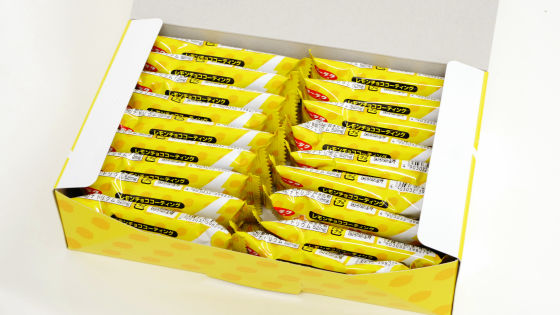 Pouch is more cute than usual. I used lemon produced in Setouchi.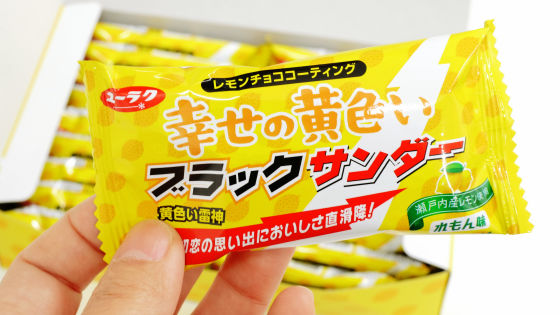 When opening the bag it looks like this. It is coated with yellow chocolate.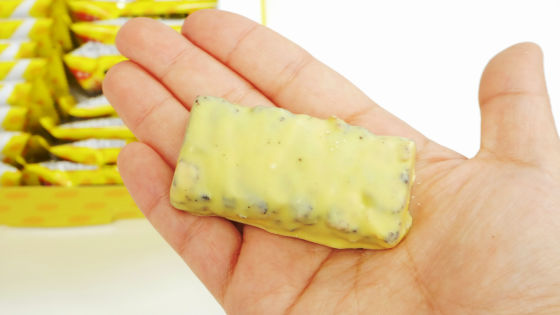 When eating, the fragrance and artificial fragrance of lemon spreads at the moment you put it in your mouth. The crispy texture was usual black sander itself, enjoying the refreshing sweet lemon flavor. Although live black Thunder and Black Thunder Chocolat Cake had a feeling of luxury, but the happy yellow Black Thunder is a good sense of cheap in a good sense, the appeal power as a duty chocolate is Pikaichi.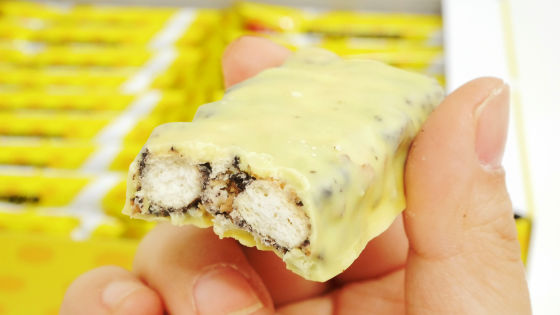 In addition, raw black sander 2016 is tax 800 yen, black thunder chocolate cake 1500 yen without tax, yellow happy black sander (lemon taste) is 1000 yen without tax. Black Thunder's "Lost Chocolate Shop" is open for a limited period until February 14th, raw black sander 2016 purchased on January 14th expires on February 6th, Black Thunder Chocolat cake on January 15th Since it was a consumption deadline, when matching to Valentine, it is necessary to purchase it by seeing the timing.