A developer of an application that was also used in the September 11 terrorist attack on Paris, "I should not have a guilt feeling" while stopping the IS account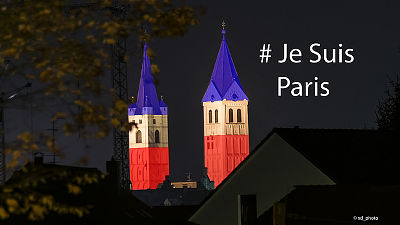 ByXdbooking

It occurred in France on 13th November 2015 and it is said that at least 130 people have diedParis simultaneous terrorist attacks"Islamic countries (IS)" announced statements claiming involvement. A cryptographic message application that such IS is used for communication and activities in the organization "TelegramDevelopers ofPavel Droov(Pavel Durov) talked about the fact that the application is being used by the IS, "You should not feel guilty" once, but after the terrorist attacks in Paris stopped accounts related to IS Has been announced.

Founder of app used by ISIS once said 'We should not feel guilty.' On Wednesday he banned their accounts. - The Washington Post
https://www.washingtonpost.com/news/morning-mix/wp/2015/11/19/founder-of-app-used-by-isis-once-said-we-shouldnt-feel-guilty-on-wednesday-he-banned-their-accounts/

Mr. Droff is the person who developed Telegram, while SNS that divides popularity with Facebook in Russia "VKontakte(VK) "who is the founder of the company. The Telegram developed by Mr. Droff is a messaging application that realizes high confidentiality by encrypting the contents of the message to be sent and received, but its confidentiality is consequently misused by IS , There are indications that September 11 terrorist attacks occurred in Paris, and even the opinion that "applications should be banned" has also been raised.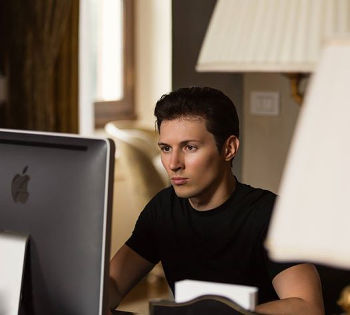 Even as such an indication is raised, Mr. Drov is clarifying the policy not to respond to the deletion of the application because there is meaning in the existence of Telegram. Mr. Droff, who took part in TechCrunch's event held in September 2015 before the incident occurred, said, "Ultimately, privacy and our privacy rights are more than fears of terrorism like terrorism I think that it is important as well, "he talked about the significance of Telegram's existence.

Furthermore, "As far as IS is concerned, it is clear that it is in war situation in the Middle East, eventually the IS will find a method to use for communication within the organization, and if we consider safety to be unprotected , I will also look for the following tools: We should not feel guilty about developing applications, we are doing the right thing to protect the privacy of our users, "Telegram He made remarks to the effect that he did not regret having developed. You can see how it looks around 14 minutes and 40 seconds of the following movie.

Pavel Durov of Telegram: WhatsApp Sucks - YouTube


Durof asked about the prohibition of encrypted messaging applicationsPosting to VKWhile proposing "Introduction of prohibited words"Facebook postIn the same way as the Islamic extremists, we are announcing a statement that condemns the "short-sighted socialists" within the French government as the responsible officials. Mr. Durof criticized the incident as "a result of the policy and carelessness of the French government", while expressing condolences to the victims of the incident.

It was Mr. Droff who was faced with such severe criticism, but on November 18Posting to Telegram's site(Required account) "Telegram is puzzled as it turns out that IS was spreading propaganda using Telegram's public channel.We are concerned with IS which existed in 12 languages ​​78 "We stopped the channel," said a surprised voice when it became clear that it took action to stop some of its services.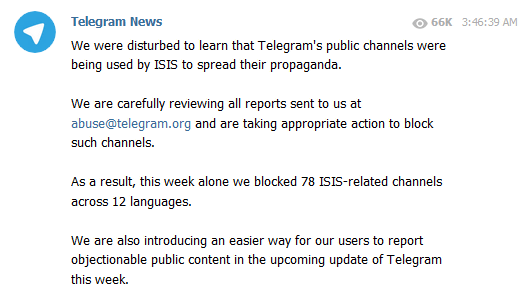 The functions of Telegram are roughly divided into "private chat between individuals and groups" and publicly-released feeds called "channels", which are divided into Twitter's "direct messages" and "public feeds" It is similar. It is the function of this channel that Mr. Droff has taken action.

Mr. Durof and his brother Nikolai have launched a VK which is a popular SNS in Russia that is more popular than Facebook, but it is said that there is also "extreme" attention about. Mr. Durof's policy outraces the system of the government in many cases, and VK sometimes received a heavy accusation from the US government because the user allowed uploading of movies and files not having copyright Thing. Regarding Soviet-Russia's victory anniversary celebrating the conclusion of the Second World War, "67 years ago, Stalin had won the right to oppress the people of the Soviet Union from Hitler and said that he was controversial There was also.

In addition, Mr. Droff's extreme behavior may even be wandering around the "strange" and "ingenious" differences. Mr. Edward Snowden who was a person at the time by looking at people's scenes on the road under the eyes, throwing paper money from a window of the building, looking at the scenes of people competing with each other on the road under the eyes, and flowing out secrets of the former NSA contract staff, When it turns out to be hidden by the government, there seems to be a situation in which it is attracting attention by offering jobs at the company, and repeating unusual actions.

Easy money: Russian Zuckerberg provokes crowd fight over $ 160 notes - RT News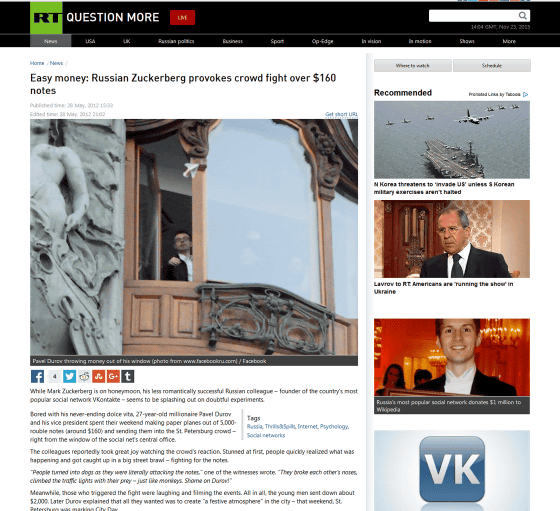 Mr. Durof, who was asked to be deleted from the government when an entry to cast doubt on the authenticity of the Russian parliamentary elections held in 2011, was asked to remove from the government, and the photograph of the tongue- I also posted it on Twitter as a view. Due to this posting Mr. Durof 's home in St. Petersburg was surrounded by SWAT. Although SWAT withdrew afterwards, Mr. Durof seemed to have felt the necessity of a tool like an encrypted messaging application and led to the development of Telegram.

In 2013, the investigation comes around as suspected of having run over the police officers with a car, Mr. Drov denied, but the pursuit does not fit but the pressure from the government increases. After that, when asked to submit data of Ukrainian dissidents who used VK in 2014, Mr. Droff finally gave up and sold the shares of the owned VK and escaped to the outside of the country about.

The voice of Telegram's "Channel" function, which was just released in September 2015, earlier pointed out as "promoting Islamic extremists' activities". Published on 29th SeptemberReport of Middle East Media Research Institute (MEMRI)In addition to being warned that it will become a hotbed for suicide bombing terrorism acts, a British research institution "IS IS supposed to be always online with Telegram even if it is suspended 1000 times if Twitter" There were a series of voices calling doubts on the dangers of Telegram, such as pointing out what it was doing.

Under such circumstances Telegram announced freeze of IS related channels. But in this statement, "This measure does not adapt to restrictions on the freedom of saying in the region, for example, even if it is illegal to criticize the government in a country, Telegram is involved in government-led censorship Such action is contrary to the intention of the founder.In this time measures to block the IS related account were taken but Telegram will block if a peaceful alternative proposal is indicated It shows a posture saying "I will not do it."




Following the measures of Telegram this time, the IS members who used Telegram once said that "a war against Telegram has begun" and they are showing angsties.

Important. Major#ISUser on@ Telegram: "The war on Telegram has started".#ISAccounts suspended. BIG policy shift.Pic.twitter.com/qFY0ldi2xU

- Charlie Winter (@ charliewinter)2015, November 18