Which one of PS 4, Xbox One, and Wii U is the best selling the latest version of data released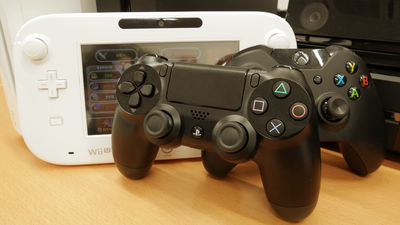 In the third quarter (July - September) of the three major game console makers at the end of October 2015, while three kinds of game hardware machines such as Sony's PS 4, Microsoft's Xbox One, and Nintendo's Wii U are competing for market share, We delivered a report. Ars Technica, which analyzes the sales trends of the three major manufacturers from quarterly reports, has completed the latest version of the graph and found out how the sales volume of game hard changed in the whole world.

Analysis: Sony continues to widen its console sales lead over Microsoft | Ars Technica
http://arstechnica.com/gaming/2015/11/analysis-sony-continues-to-widen-its-console-sales-lead-over-microsoft/

Although Sony shipped 3.3 million PS4s in the same period of the previous year, in the current fiscal year, more than 700,000 more 4 million PS 4s were shipped, maintaining the top position. Xbox One shipments are second with 1.73 million units, but it has decreased by 17% from approximately 2.5 million units in the previous year. In Microsoft's report, "Xbox" also includes the number of other Xbox series, but the shipment quantity of low-priced Xbox 360 is increasing. Although Wii U shipments are at the bottom, they are slightly rising from 760,000 units in the same period of the previous year and ship 720,000 units.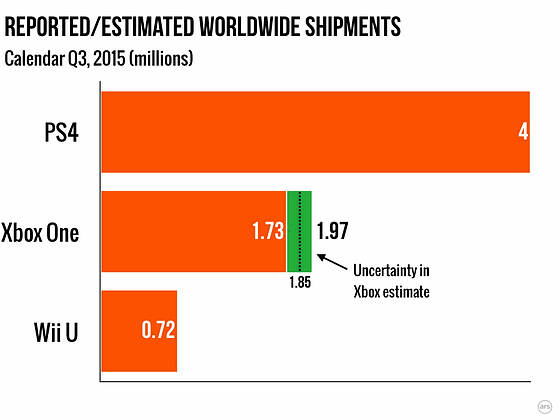 It accounts for 52% of the market as of the third quarter of 2015, with PS 4 gradually increasing the market share of the game console market. Sony carried out price cuts of the PS4 main unit on October 1, but since there is no influence on shipments of this term, there is a possibility that further differences will be opened in the next term. In addition, MicrosoftBackward compatible function to play Xbox 360 games on Xbox OneAlthough it got a system that can compete with PS4's "PS2 archive" by installing it, it seems that it was impossible to demonstrate the effect immediately.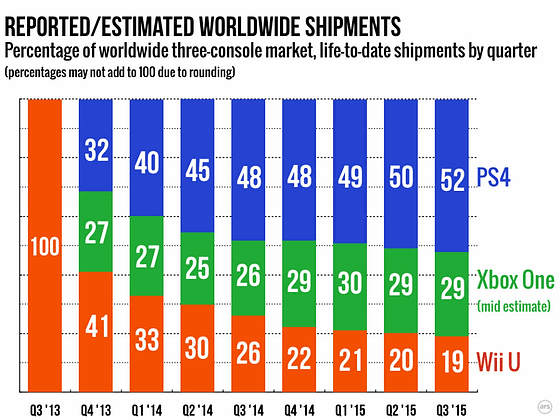 On the other hand, when analyzing shipments every year from PS4 and Xbox One launch, PS 4 is 13.5 million, Xbox One 7.2 million. Since Xbox One has increased by 25.5% over the previous year, it has a greater growth rate than PS 4. Ars Technica expects that if Xbox One can maintain the same rate of increase, it will catch up with PS 4 in annual sales over the long term.