I ate a rich and creamy tartar sauce and eat "Tul chicken top bukkake" cuffed with a juicy chicken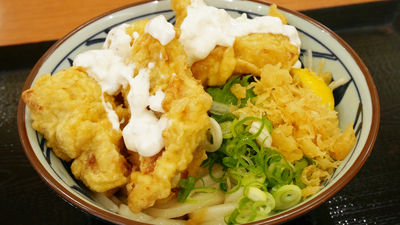 Topping bukkake noodles with refreshing savory flavored umami with juicy meat and freshly baked tofu with chicken heavenly sauce and baked rich tartar sauce from the top was the "Tar Chicken Heavy Bukkake"is. I actually went to eat because I was wondering what kind of harmony it would be like to have an unexpected combination of refreshing udon and taratar sauce that can enjoy the tasteful taste.

Seasonal Limited Menu Tall Chicken Heavy Bukkake | Sanuki Fried Udon Marukame noodle
http://www.marugame-seimen.com/new_menu/

(PDF) "Tal chicken heaven bukkake" to be sold nationwide from October 2! | Sanuki Frying Udon Utterly Marukame noodle
https://www.toridoll.com/ir/pdf/150924tb.pdf

Arrived at Marugame noodle.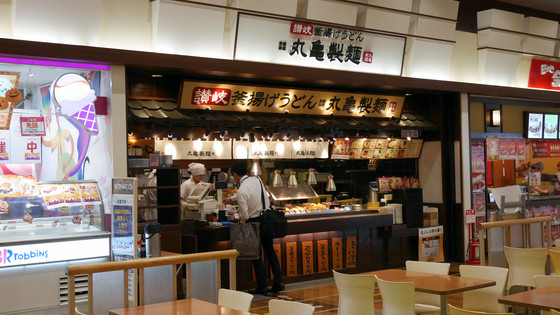 In the shop front menu "Tal chicken heavy bukkake" released on October 2, 2015 (Friday) was also joining.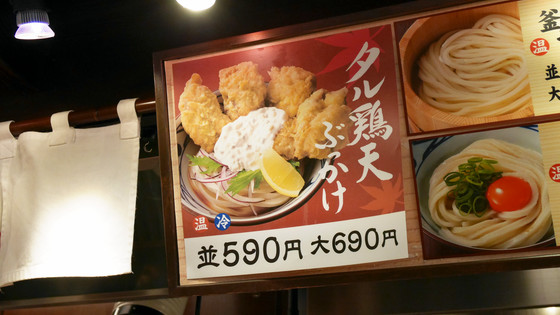 That's why I ordered "Tul Chicken Heavy Bukkake" immediately, but wait a while until the item arrives as saying "Will it be enough for about 4 minutes? Negi and Temakus are usually included in self-service, but this time we will bring the udon that is finished up to your seat, so when ordering "May I put the onion and the heavenly drink?" I was asked.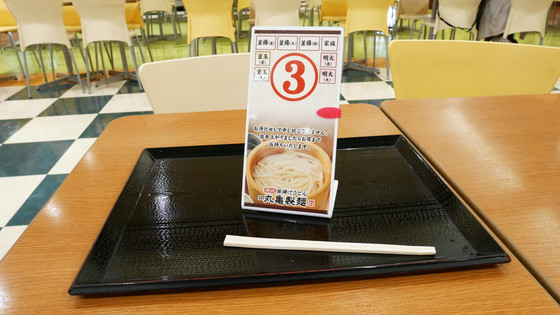 So after 4 minutes from ordering, a parallel size of "Tar Chicken Heavy Bukkake" arrived.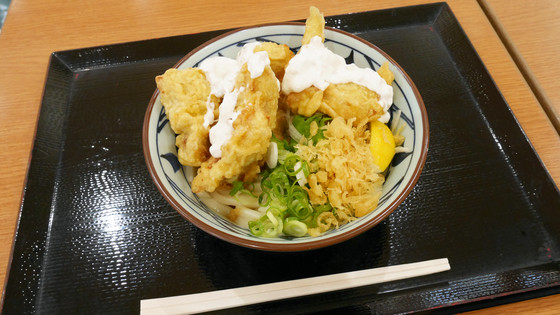 Toppings are four chicken heaven plus tartar sauce, mizuna, onions, lemon, heaven.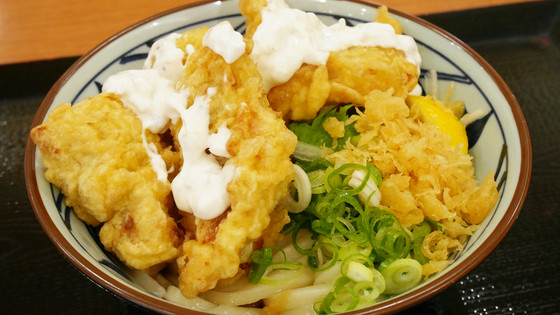 I can see the udon and the soup faintly under the poultry weather.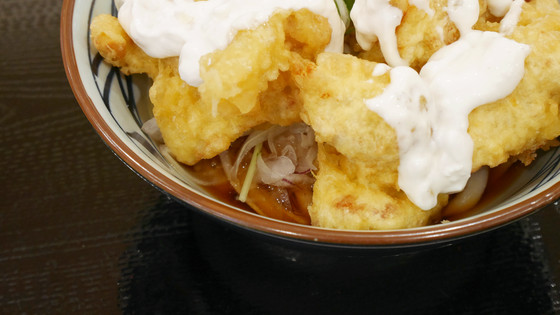 Chicken weather is pretty big. Chicken breast meat is used for "Kashie Ten" which can be ordered separately as a udon topping, but it seems that chicken sky of "Tall chicken heaven bukkake" is using thigh.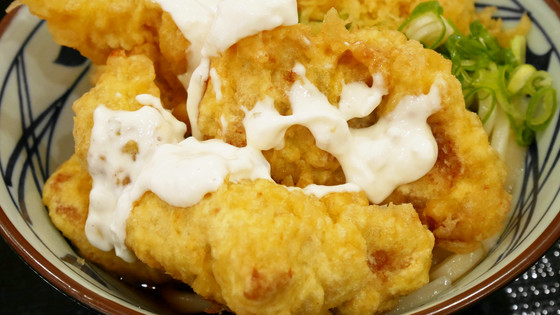 Lemon is topped, it is okay to eat it.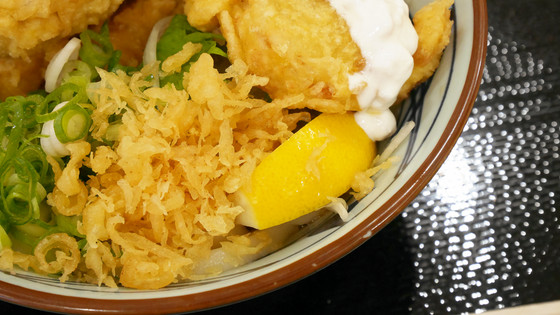 Compare the size of the bowl to iPhone 6 and this is like this.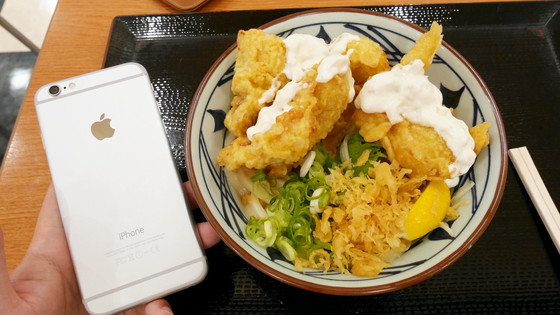 There is a height in the vertical because the baryumic chicken skies are piled up, and it is premonition that it seems to be quite satisfactory even in the same size.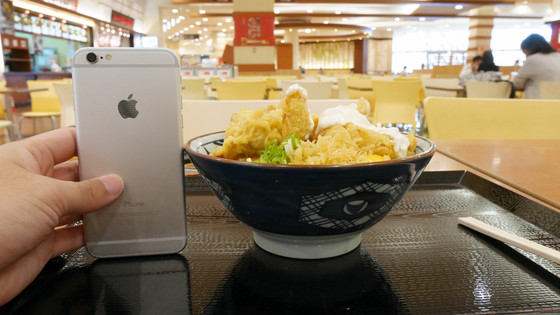 It was difficult to eat chicken even in adult males in a bite.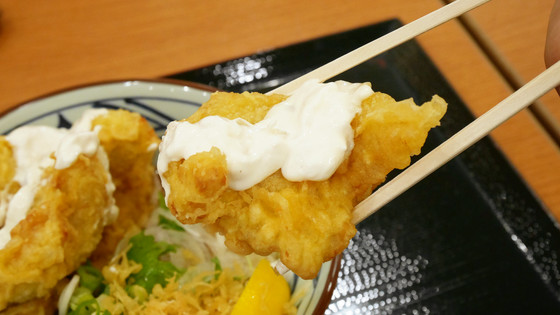 So, first try eating chicken with paki, the refreshing fragrance of Yuzu spreads in the mouth as soon as you chew. As for chicken meat only with using thigh meat, it is very plush and juicy, and you can see clearly that the meat juice is overflowing with dew, as you see the cross section. Also, because the poultry fries are fried, the clothes are crispy, and the compatibility with the texture of the meat's texture is also good. Tartar sauce is a creamy thing that makes you feel the sweetness of onions well, and it also goes well with crispy juicy chicken meat. Besides, the chicken weathered firmly so that it can be eaten without tartar sauce.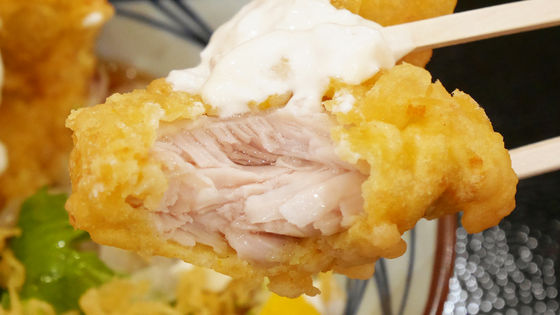 A large amount of onion slices appear from the bottom when eating chicken.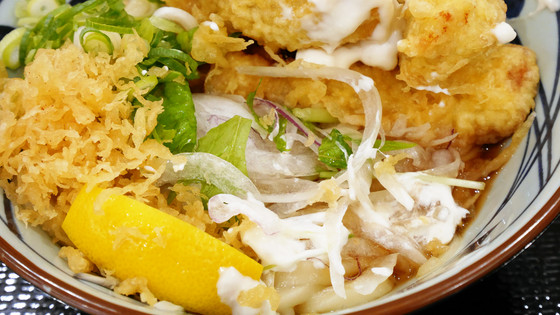 Bukkake Udon is a refreshing and stable taste with soup's effect. The onions are raw, but the bitterness is tough, and the texture is shakiyaki.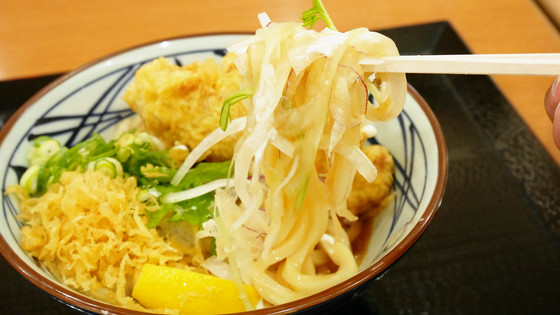 When you squeeze the garnished lemon it turns into a refreshing taste.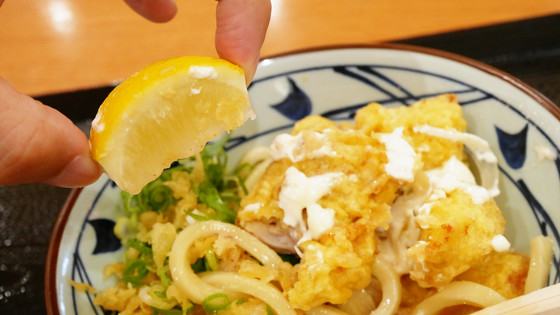 Also, it is OK even if you let chicken suck in plenty. The rich and creamy tarutaru sauce and the sweet soup which the kelp and the bonito flavor worked well were very good, and you can enjoy a different flavor from eating with only tartar sauce.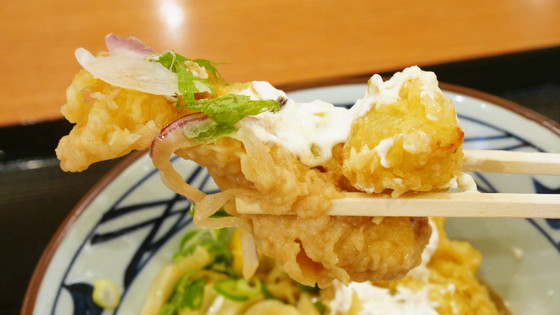 In addition, 'Tal chicken heaven bukkake' is a limited-time sale from October 2 (Fri) 2015 to the end of November, even if parallel size is 590 yen including tax, large size 690 yen including tax.