A multimedia tablet "dtab d - 01H" that can enjoy a large powerful sound with Herman Kardon 's Clari - fi hasty movie & photo review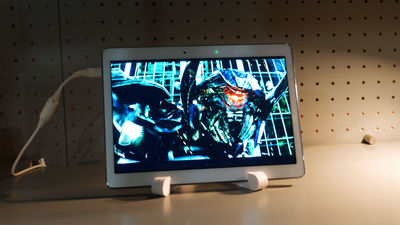 10.1 inch wide wide UXGA (1920 × 1200) high image quality large screen & low frequency dual speaker and high range dual speaker total 4 speaker built-in. Large powerful sound. Enjoying multimedia tablet.Dtab d - 01 H"is. Not only was it suitable for playing back video content, but it seemed to be able to use unique applications such as "postcard translation application" and "gesture operation"NTT DoCoMo 2015-2016 Winter Spring New Product / New Service PresentationI actually touched it.

Dtab d-01H | Products | NTT DoCoMo
https://www.nttdocomo.co.jp/product/tablet/d01h/index.html

"Dtab d - 01H" touch & Try booth.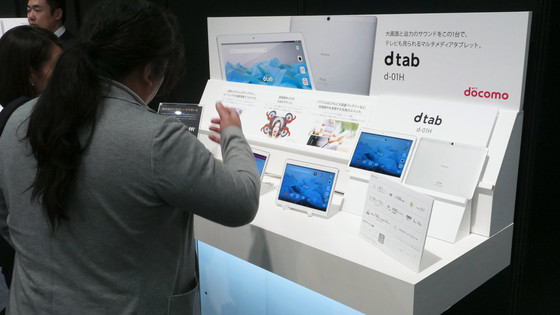 This is "dtab d - 01 H". The main body color is only Silver, the display size is 10.1 inches, the resolution is wide UXGA (1920 × 1200).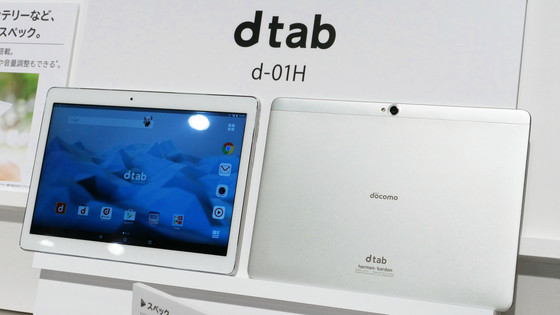 The spec is like this. The OS is 2.0 GHz (quad core) + 1.5 GHz (quad core), the OS is Android 5.1, the RAM is 2 GB, the storage (ROM) is 16 GB, the main camera is about 13 million pixels, the battery capacity is 6000 mAh (planned), the LTE communication speed is Up to 150 Mbps at reception and up to 50 Mbps at transmission. Wi-Fi corresponds to IEEE 802.11 a / b / g / n / ac. One Seg / Full Seg viewing is also possible.



surface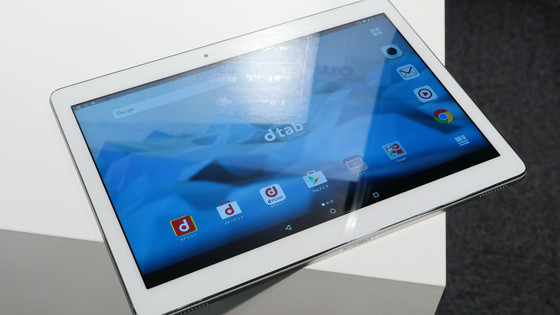 back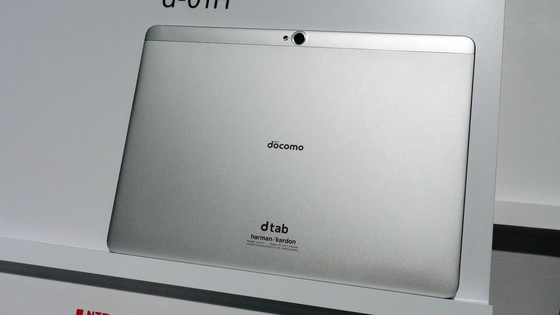 The main camera is about 13 million pixels.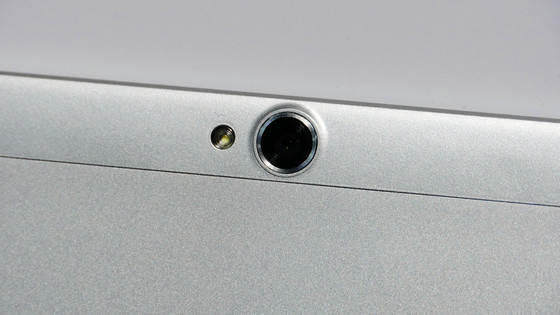 At the bottom is the "dtab" logo and "harman / kardon" logo.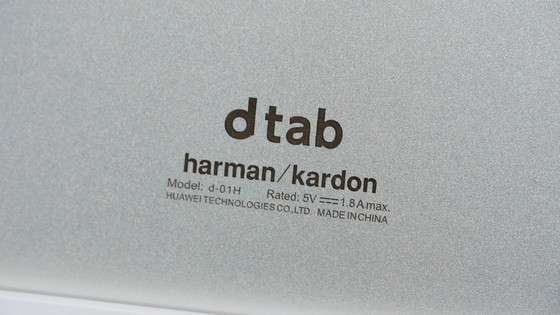 Earphone jack and speaker on the top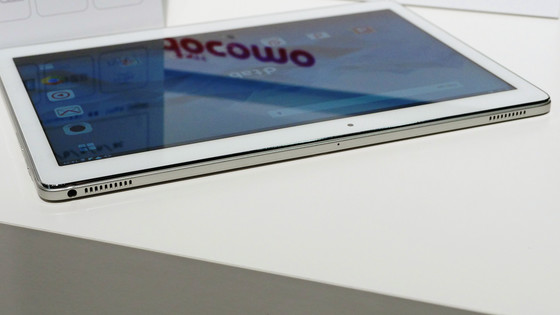 Looking up it is like this.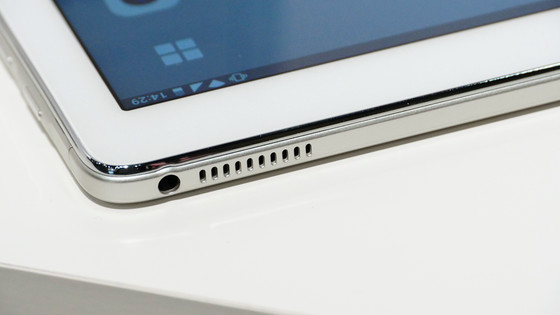 Two speakers also on the bottom.



On the left side is a Micro - USB port for charging.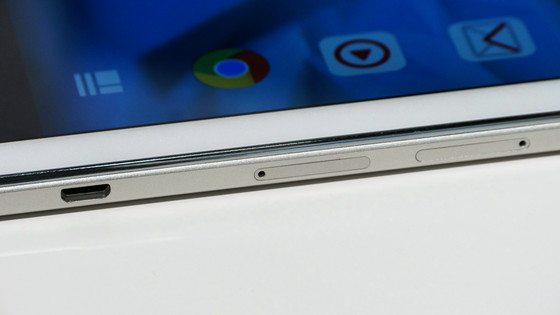 Volume adjustment button and power button on the right side.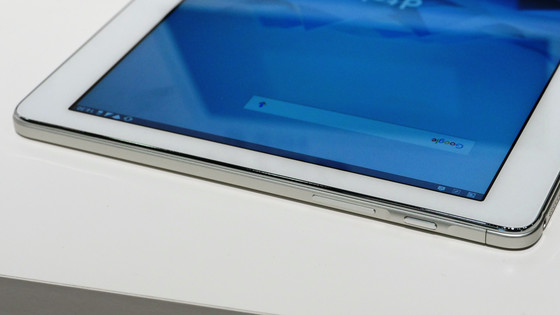 "Gesture operation" that you can operate the terminal without tapping the screen.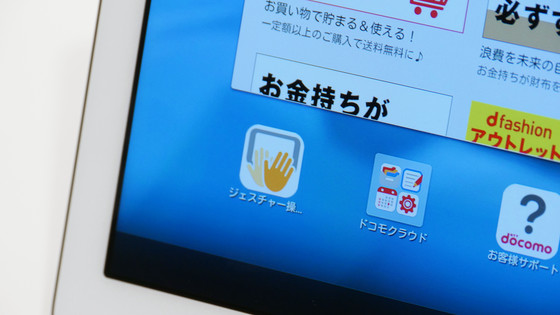 With gesture operation, you can operate media players, TV, d gourmet etc. with gestures only.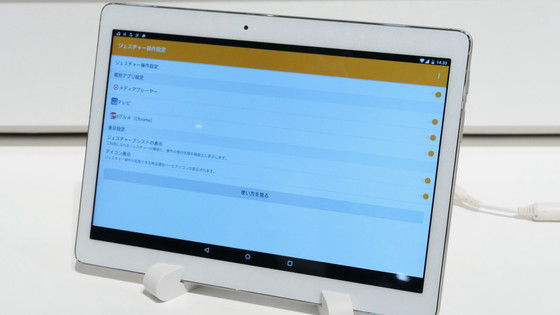 It actually looks like this. Just by raising and lowering hands, you can adjust the volume, mute, and select songs.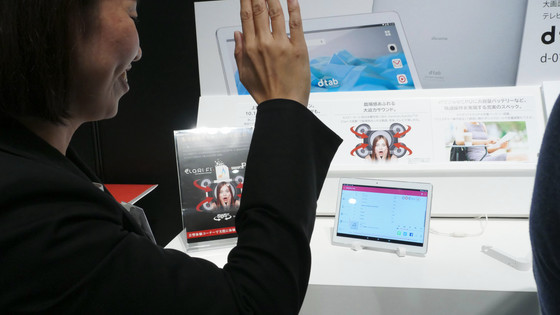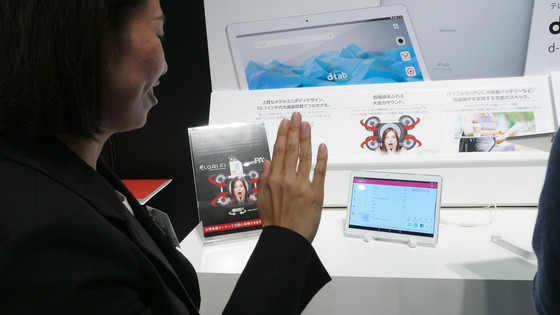 You can see how you operate "dtab d - 01H" with only gestures in the following movies.

"Dtab d - 01H" operated only with gestures - YouTube


In addition, "dtab d - 01 H" is Hermann Cardon 's "Clari-fiSince it is equipped, you will be able to enjoy music and video content with higher sound quality by restoring music data lost by compression.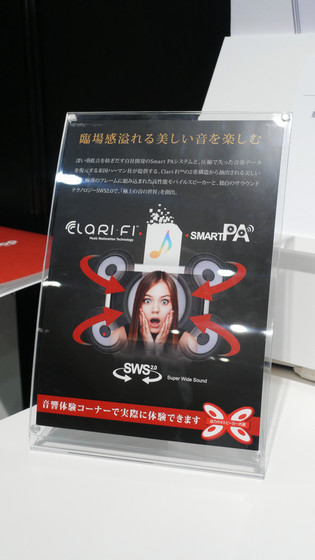 I could actually experience this in the acoustics experience corner.



When I played video content with "dtab d - 01 H" in a private room, I heard the heavy bass firmly and enjoyed the level clearly distinguished from the comparative tablet.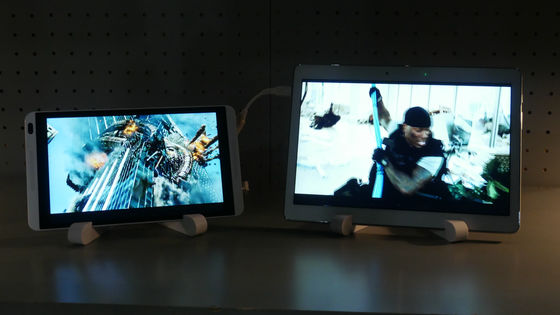 And this is a "postcard translation application". It is an application that you can translate written letters immediately, and it is an app that you can easily communicate with foreigners even if you are not good at English.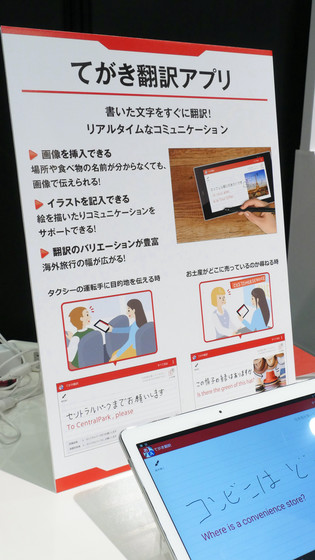 It is like this when actually using it.

I tried using "postcard translation application" with "dtab d - 01H" - YouTube


"Dtab d - 01H" is scheduled to be released late November 2015.