∀ Sid Meade, a worldwide designer who had a great influence on many SF works such as Gundam and Blade Runner talks about design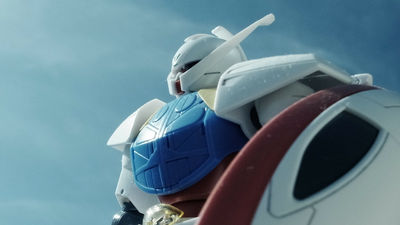 ByToshiyuki IMAI

"Gundam series" broadcasted in 1999∀ Gundam(Turn-A-Gundam) "∀ Gundam · Turn X · Smo etc.Designing multiple mobile suitsA worldwide industrial designerSid MeadeHe is. SF movie "Blade runnerMr. Mead, also known as a police spinner who appears in "Curved NationalI am interviewing.

Meet Syd Mead, the Artist Who Illustrates the Future - Estate of the Arts - Curved National
http://curbed.com/archives/2015/07/23/syd-mead-city-architecture-blade-runner-design-future.php

Q:
When designing something by yourself, is it affected by specific buildings and architects?

Mead:
There is no such thing. Modern architecture is the architectural style as a structure or an object. I designed it by Philip Johnson in New YorkAT & T BuildingAnd the World Trade Center Building (WTC Building) designed by Minolu and Yamasaki. All of the floors on the 110th floor are in the same floorplan in the WTC building, and these things were not done before modern construction. Also,The ShardAnd Lord Norman Foster designed30 St Mary AxModern architecture such as modern architecture is also spectacular, but these seem to be far from the classic sense building. As for why these buildings are born, there is only one thing to say because it can be built.

Mr. Sid Meade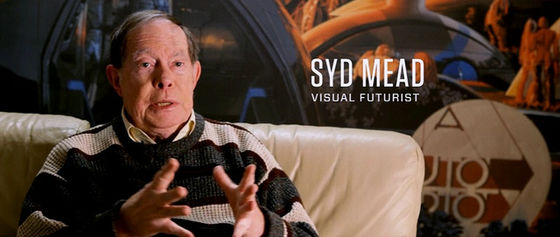 ByPlaying Futures: Applied Nomadology

Q:
Was it influenced by something in the design of the blade runner?

Mead:
At Blade Runner, I designed a future city in 2019 which is not so far from now. When designing, we refer to cities in the western region such as New York and Chicago that were planned city planning considering mass transportation and cars. Also, I tried to design the city to be designed to have a difference in height. The city's height and the popular rank are synchronized, the skyscraper has a sky lobby in the skyscraper, the upper class people do not take the foot below the 30th floor, etc. It was.

The world of blade runner drawn by Gouache Painting. A track of characteristic design called "armadillo" is stopped on the road.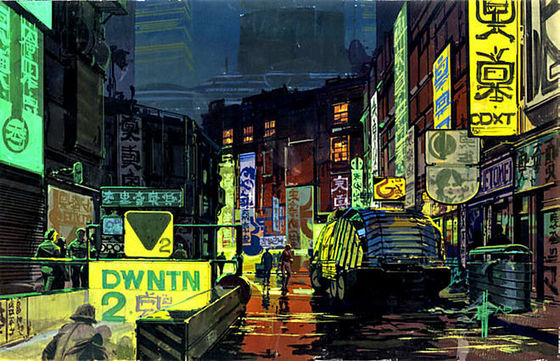 Q:
Today, many skyscrapers are built one after the other so as to compete in height, but it seems that the future envisaged with Blade Runner seems to be closing in on the fly.

Mead:
That is exactly the case. Because modern materials are like elements that limit the height of the building does not exist.

Blade runner illustration as well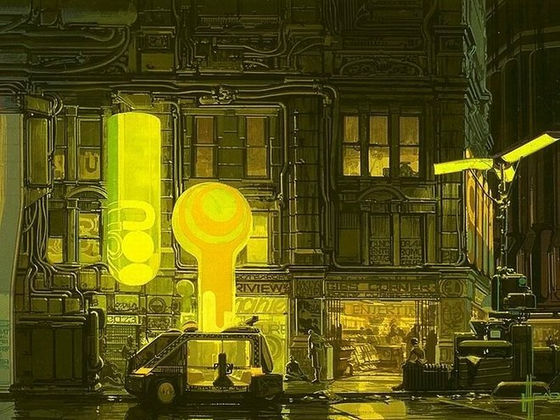 Q:
Do you have any buildings or architects that were helpful in designing the Tyrell head office building?

Mead:
Such as Angkor Wat and Maya civilization. In the buildings of the old society many things with richly structured and heavy feelings are made due to the deification of the ego.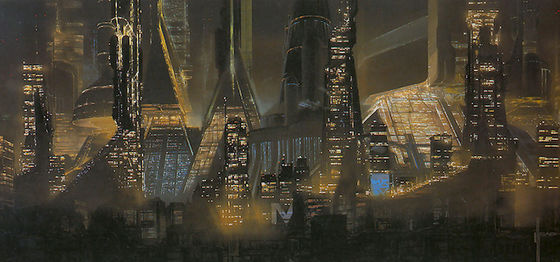 Q:
In blade runners, advanced technologies such as vehicles flying in the air will appear. If you ask someone 'imagine the city and building of the future in thirty years from modern technology, what kind of things do you imagine?

Mead:
If I am planning a city in the future, we will arrange a couple of skyscrapers that are currently in fashion and place something like a countryside floating in the air in existing buildings.

Polis spinner that appears in blade runner designed by Mr. Sid Meade.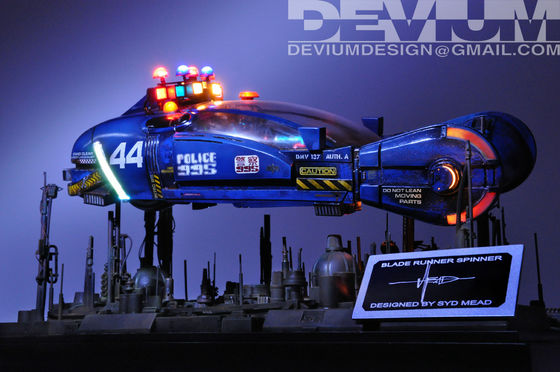 ByDevium Design

Q:
Have you heard about the architects influenced by your work?

Mead:
I know that many architects love blade runners. When I was working in a movie, everything was a mix of Byzantine style, Maya, postmodern, Memphis and so on. We called these as "retro deco" or "elegant garbage".

Q:
Are you still asking for ideas from architects and designers who are planning urban planning?

Mead:
No. However, I can not say details, but I am currently working on a big project. In the past, I helped in the initial stage of construction of the theme park of the billion dollar (about 120 billion yen), one in Singapore and the other in Kobe in Japan. I also worked with Michael Jackson on the construction of Jackson Park.

Q:
Many of your works seem to be optimistic about the future. However, now it seems that many people are not envisioning such a future. Why do you imagine a bright future?

Mead:
I think that designing a dark future is like causing a catharsis, in other words, I think that it depicts a situation that "I do not have to happen to myself" as it is. On the other hand, designing a good future is more difficult.

Illustration of "National Geographic Picture Atlas of Our Universe". This illustration is a movie "EridiumIt seems that it became an inspiration for.