Two models of 5.2 inches and 5.7 inches are expected to be released from the latest Nexus series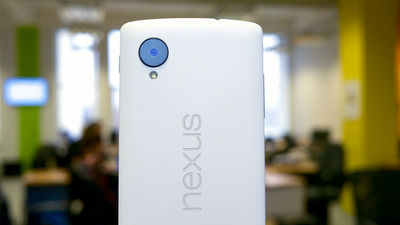 ByKārlis Dambrāns

Nexus 4·Nexus 5·Nexus 6·Nexus 7·Nexus 9, Google has been releasing Nexus handsets in cooperation with various leading manufacturers. It is clear that the latest model of such Nexus series is 2 models of 5.2 inch LG terminal and 5.7 inch Huawei terminal, tablet is not expected to be released.

[Updated] [Rumor] No Nexus Tablet In 2015, But Two Phones - A 5.2 - Inch LG (Code Name Bullhead) And A 5.7 - Inch Huawei (Code Name Angler)
http://www.androidpolice.com/2015/05/26/rumor-no-nexus-tablet-in-2015-but-two-phones-a-5-2-inch-lg-code-name-angler-and-a-5-7-inch-huawei-code-name-bullhead/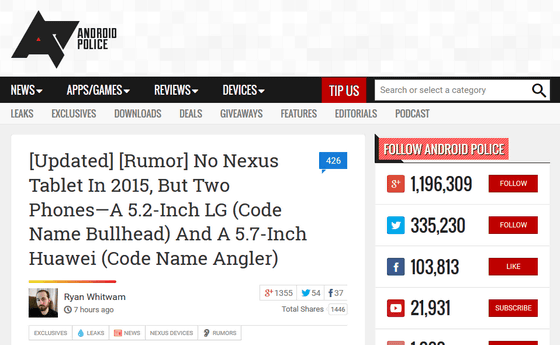 Provide Android related newsAndroid PoliceAccording to the information obtained, the new Nexus series seems to be a 5.2 inch LG terminal and a 5.7 inch Huawei terminal.

The codename of the LG terminal is "Bullhead (catfish)", 5.2 inches display mounted, the battery capacity is expected to be around 2700 mAh. It seems that details such as storage are not grasped, but there is information that ARM chip and Snapdragon 808 are loaded. Note that Snapdragon 808 is a LG flagship modelLG G4It is the same as the processor installed in

Bullhead is expected to be the 2015 model of Nexus 5. If so, the current Nexus 5 display is 4.95 inches, so Nexus 5's display size will be expanded to 5.2 inches.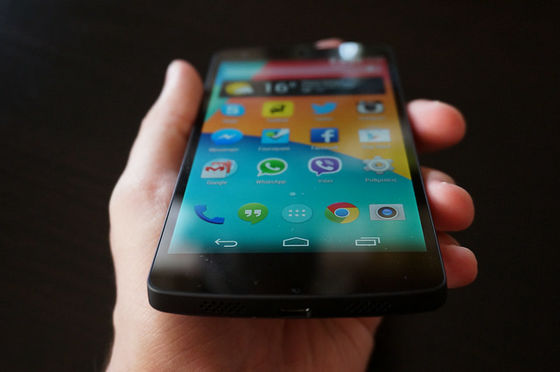 ByJohn Karakatsanis

On the other hand, the code name of the terminal Huawei is in charge of manufacturing is "Angler (anko)". It is supposed to adopt Snapdragon 810 as a processor with a 5.7 inch display, and the battery seems to have a large capacity of 3500 mAh. However, detailed specifications may be fine-tuned until release.

Angler is positioned as the 2015 model of Nexus 6. In this case, the display size will be 5.96 inches to 5.7 inches, contrary to the larger display size of Nexus 5, so the screen size will be compact.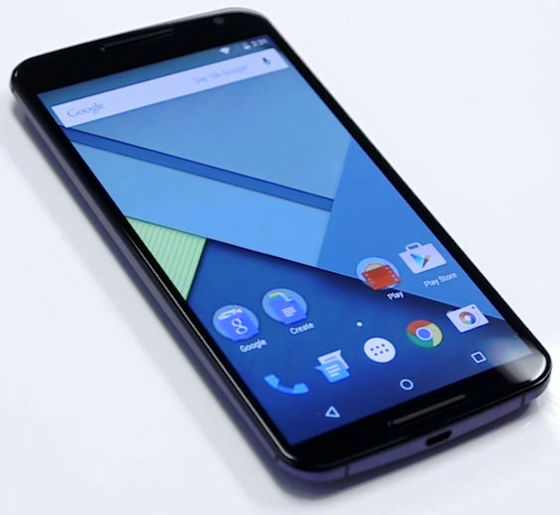 ByChris F

Android Police says, "The reliability of these information is 7 out of 10, worthy of trust," he says, "It is almost certain that the tablet terminal will not be released from the Nexus series in 2015." In addition, the new Nexus series is expected to be released in October 2015 as before.

Also from China's biggest social media Weibo "The new Nexus series will be manufactured by Chinese hardware makers"rumorIt is said that the possibility that Chinese manufacturers such as Lenovo, Xiaomi, Huawei, ZTE etc. will manufacture the next Nexus terminal is very high.