Potential for sudden change in smartphone power chart while Microsoft is developing custom ROM of "Windows 10" overwriting Android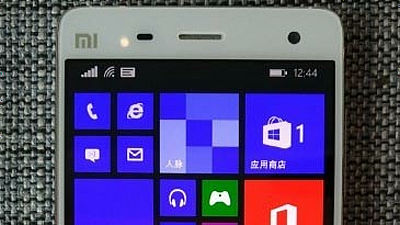 Microsoft is a smartphone manufacturer in ChinaXiaomi (Small U.S. technology)It was revealed that we are testing a custom ROM that can be changed to "Windows 10 for Phone" OS by installing it on a Android smartphone.

Microsoft Is Developing Software That Converts Android Phones To Windows 10 | TechCrunch
http://techcrunch.com/2015/03/17/microsoft-android-rom/

Microsoft tackles China piracy with free upgrade to Windows 10 | Reuters
http://www.reuters.com/article/2015/03/18/us-microsoft-china-idUSKBN0ME06A20150318

The beginning of things is that MicrosoftWindows 10 will be released this summer"AnnouncedStatement of WindHEC 2015Inside, there was a description that asks for partnership with Xiaomi as follows.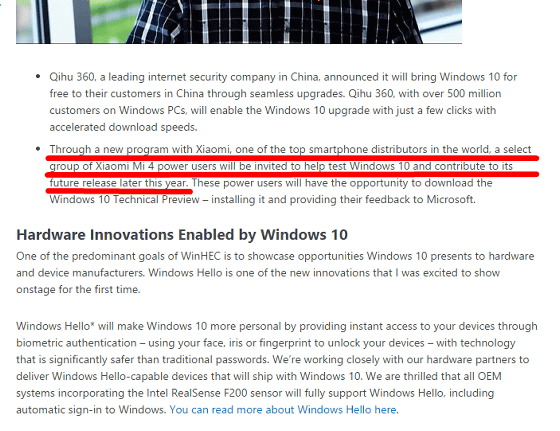 In the new program with Xiaomi,Xiaomi Mi 4Users will be invited to test Windows 10.

TechCrunchAccording to information gathered from information sources, "Windows 10" for Android terminal under development by Microsoft with Xiaomi is not intended to build a dual boot system with Android OS, but overwrites Android It is a custom ROM of type that transforms Android terminal into Windows 10 terminal. That is, on Android OS Windows 10EmulatorIt does not move either, it does not give choices by dual booting, it is what "hacks (take over)" the Android terminal completely.

Mi 4 released by Xiaomi, running Windows 10.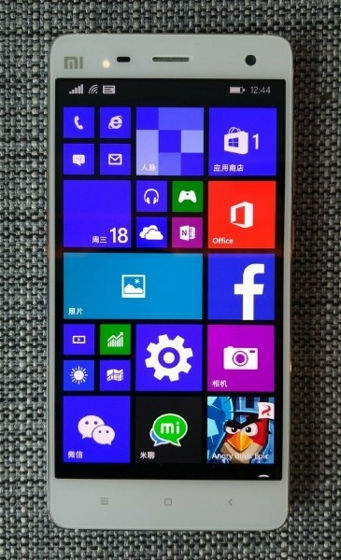 When experiencing the "seamless computing irrespective of the device" targeted by Windows 10, if you experience the goodness of Windows 10, it is Microsoft 's comprehension that Android users will consider switching to Windows 10.

The fact that Microsoft chose Xiaomi, a Chinese company as a partner, seems to have a huge meaning. In the Chinese market, it is Android's fork OSCyanogenModThere is a Nexus killer "OnePlus One"Since it seems that resistance to custom ROM is small in the huge Chinese market, it is considered to be the best environment for hacking Android. Furthermore, Microsoft, how,Policy to allow free upgrade of Windows 10 against pirated Windows in the Chinese marketIt is thought that it is trying to take in Chinese pirate users all the time and is aiming for Chinese users to incorporate mobile OS · desktop OS together.