Full feature Windows 10 that runs on ARM-based processor Snapdragon, and demonstration of Win32 application moving crisply also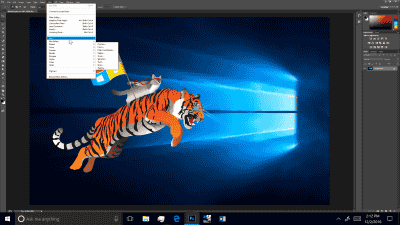 Microsoft's developer conference held in Shenzhen, China "WinHEC Shenzhen 2016"Microsoft announced Windows 10, which runs on an ARM-based processor" Qualcomm Snapdragon. " It is SoC used in smart phone · tablet, Windows 10Win32The appearance that the application moves nullnull is being demonstrated.

Microsoft is bringing Windows desktop apps to mobile ARM processors - The Verge
http://www.theverge.com/2016/12/7/13866936/microsoft-windows-10-arm-desktop-apps-support-qualcomm

The state of the demonstration carried out at WinHEC keynote lecture can be confirmed in the following movie.

Windows 10 Running on a Qualcomm Snapdragon Processor - YouTube


At first glance this Windows 10 looks like ordinary desktop Windows 10, but it is running with Qualcomm 's Snapdragon 821 instead of an Intel processor. Operating the start button from the desktop screen and using various applications is extremely smooth.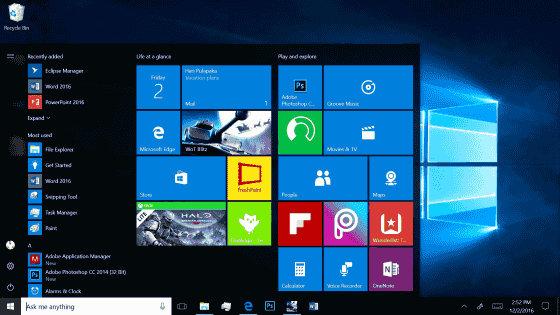 On the control panel system, you can see that "Windows 10 Enterprise" version of Windows 10 is running on ARM based processor Snapdragon 821 (notation 820), 4 GB memory.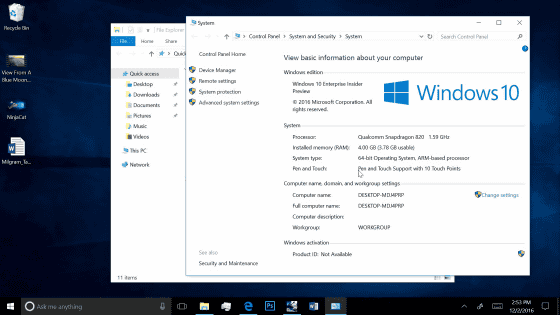 The 4 core CPU is not so high in the idle load.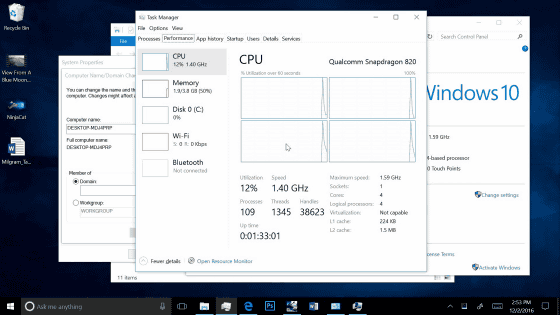 Windows 10 Standard Browser Even in scenes using Microsoft Edge, there is no blown out by scrolling.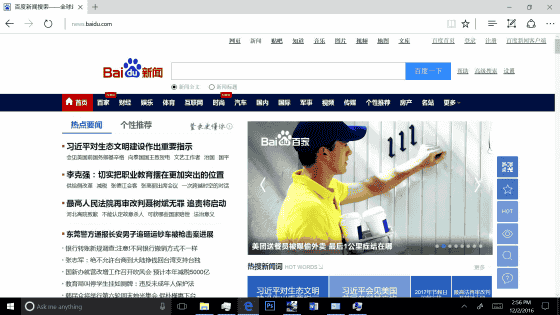 Of course, screen writing at Penool which is Edi's Uri is also OK.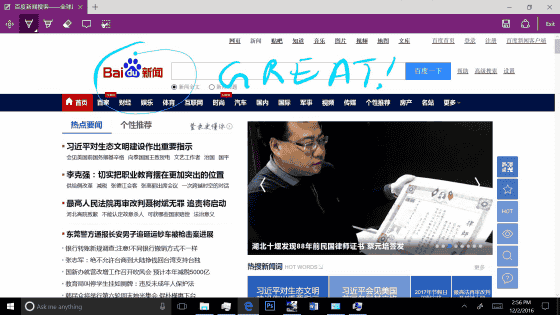 Changes in the CPU utilization in the series of operations so far are shown in the graph, but it seems that they are moving comfortably enough with the power of Snapdragon 821.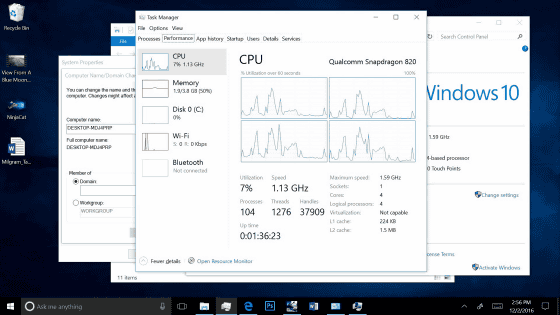 In the high-resolution movie playback scene, although it can be confirmed very slightly, it is a level with little problem in viewing.



Snapdragon version Windows 10 can run various x86 (32 bit) versions of software using the emulator (binary translation) as well as the universal application of Windows 10. In the demo using Photoshop CC ......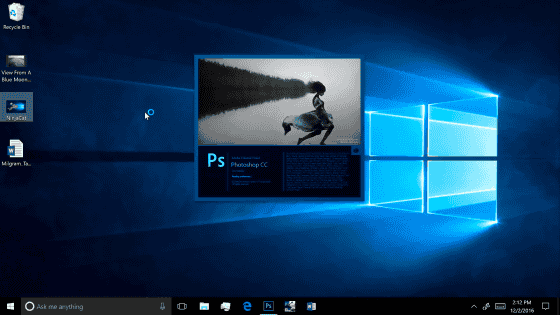 There is no unnatural movement due to startup and tool operation, smoothness equivalent to Windows 10 running on a general Intel processor. Because it uses the emulator, it seems to be unstable in the operation using the CPU, but seems to be a level that can be operated extremely comfortably.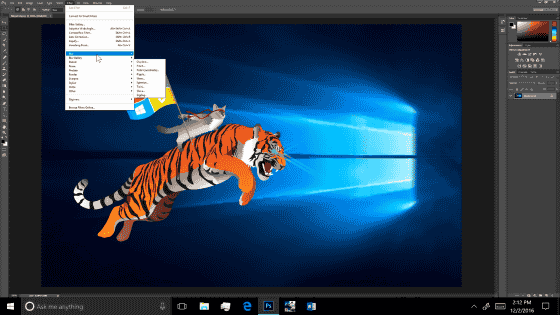 3D game "World of Tanks BlitzIt is also moving null null.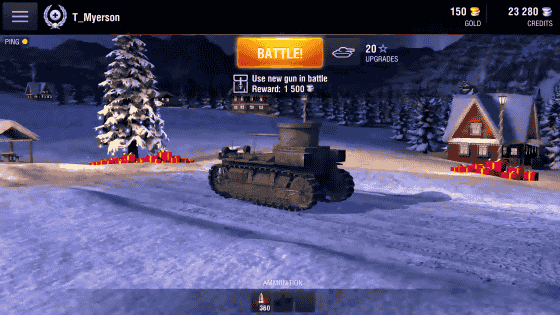 Also Word application ......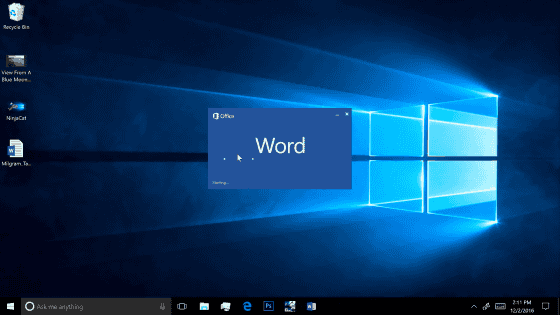 It moves without problems.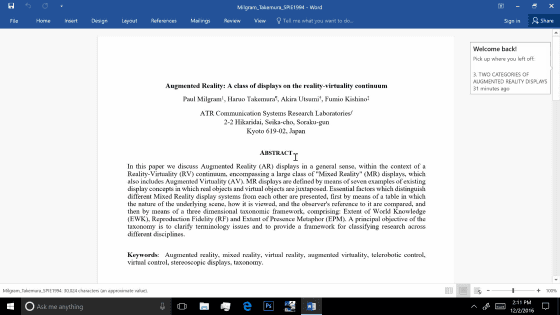 Windows running on ARM processors was released on Surface RT, but due to the fatal shortcoming that Win32 applications can not be used,End of salebecame. However, unlike the Intel processor, there are many customers' opinions that they want to utilize the "past heritage" of Windows Win32 applications using an ARM processor that is excellent in power saving and suitable for mobile terminals, and Microsoft He started developing the Windows 10 that runs on ARM basis and developed Windows 10 that is compatible with Qualcomm and Snapdragon series, which are technically affiliated.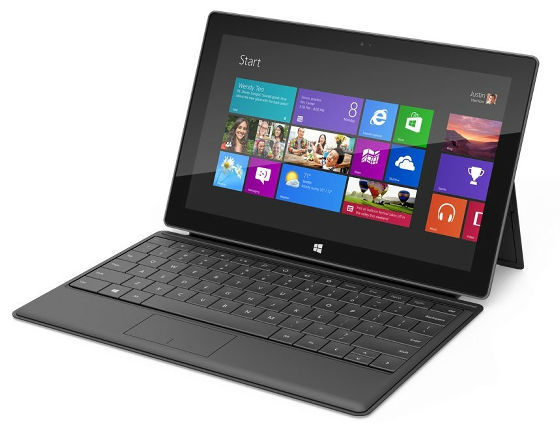 Microsoft plans to release Snapdragon-compatible Windows 10 in 2017, the first to be supported is Qualcomm's next high-end SoC "Snapdragon 835". In the demonstration movie, since it was comfortably moving with Snapdragon 821,Snapdragon 835, which is said to have better performance than the A10 processor installed in the iPhone 7 seriesSo it seems that Windows 10 can be used comfortably.

Microsoft's Terry Myerson on supporting the ARM processor, which has been supporting Intel processors so far, says, "It is by no means never to neglect Intel." When emphasis is placed on machine power, it is beneficial to Windows 10 users that choosing according to the usage situation of the customer can be selected as an ARM processor when using it for Inte processor, mobile terminal or power saving performance is important That's it. Moreover, we do not give special preferential treatment about license fee of Windows 10 corresponding to Snapdragon for PC and mobile terminal makers, too.

In addition, Mr. Miason said, "Despite the strong demand for 2in1 terminals that can be used for laptops and tablets as a platform for Windows 10, desktop PCs, notebook PCs, tablets, smartphones, unnecessary IoT, VR etc. We will continue to support a wide range of terminals. "It seems that Windows 10 Mobile will not fade out immediately with the advent of Snapdragon-ready Windows 10.