Protective film "Halo Back" that can add a "back" button to the bottom left of iPhone's main body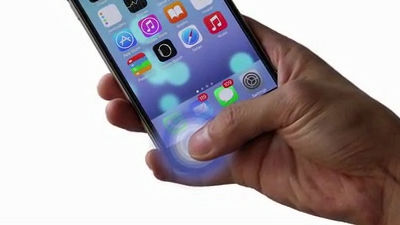 In iOS, the "back" icon is often arranged at the upper left of the screen, especially if the screen is larger than "iPhone 6" or "iPhone 6 Plus", it may be difficult to tap the icon with one hand There is. Protective film for iPhone 6/6 Plus that seems to be useful in such casesHalo Back"You can add a" back "button to the bottom left just paste the film on the screen, so it seems to be easier to operate with one hand.

Halo Back: World's First Smart Screen Protector by Haloband Inc. - Kickstarter
https://www.kickstarter.com/projects/haloband/halo-back-make-your-iphone-perfect

You can figure out what "Halo Back" is, by watching the following movie.

Halo Back - YouTube


Trying to push the "return" button placed at the upper left of "iPhone 6" "iPhone 6 Plus" is difficult even for people with big hands.



You can paste Halo Back onto the iPhone 6/6 Plus and just press the lower left bezel part, you can do the same operation as pressing the upper left return button.



Touch-type displays used in most smartphones are "Capacitance method"It is operating with the mechanism to operate by utilizing the change in capacitance between the finger and the panel. When touching the surface of Halo Back, one of the layers composed of five layers conveys the change in capacitance to the upper left of the screen of the iPhone and reproduces the same state as tapping the icon.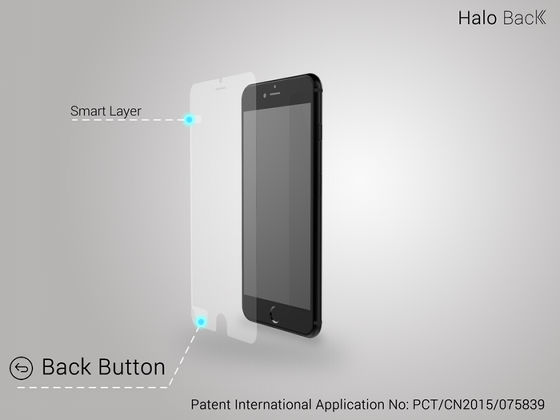 Not only does the back button on the upper left do not disappear, but Halo Back increases the number of options for the operation.



Of course, Halo Back also has the role of a protective film, protecting the display from scratches and others, realizing touch like the Retina display. The weight of Halo Back for iPhone 6 is 6 g, and Halo Back for iPhone 6 Plus is 8 g.



You can check how to paste "Halo Back" on iPhone's display with the following movie.

Apply and use a Demo of Halo Back - YouTube


"Halo Back" is currentlyKickstarterWe are looking for investment in. At the time of article creation, "Halo Back" can be invested in the following plans are as follows, you can select the type of "iPhone 6" and "iPhone 6 Plus" respectively. The shipping fee to Japan is 5 dollars to 25 dollars (about 600 yen to about 3000 yen), and the shipping schedule is August 2015.

◆ Early Bird plan for early discount
$ 42 (about 5100 yen) or more: 3 Halo Back
$ 70 (about 8500 yen) or more: 5 Halo Back
$ 140 (about 17,000 yen) or more: 10 Halo Back

◆ Regular Plan
$ 17 (about 2100 yen) or more: 1 Halo Back
$ 34 (about 4100 yen) or more: 2 Halo Back
$ 50 (about 6100 yen) or more: 3 Halo Back
$ 80 (about 9700 yen) or more: 5 Halo Back
$ 150 (about 18,000 yen) or more: 10 Halo Back
$ 280 (about 34,000 yen) or more: 20 Halo Back

The deadline of investment is until 1:31 on June 13, 2015.

Halo Back: World's First Smart Screen Protector by Haloband Inc. - Kickstarter