Introduction of music listening service "Spotify" to Starbucks decided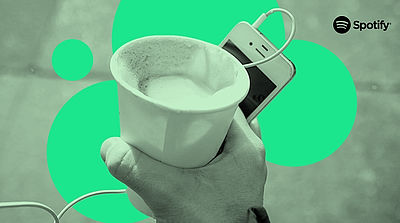 It was announced that "Starbucks" of the global coffee chain and "Spotify" of music streaming service formed a partnership. Starbucks customers will be able to play Spotify's playlist through the application, and Spotify users will start sequencing mutual services, which will allow Starbucks to get "stars" to get prizes.

Starbucks and Spotify to Connect Music Streaming Service into World-Class Store and Digital Platform | Starbucks Newsroom
https://news.starbucks.com/news/starbucks-spotify-partnership?hootPostID=7e0a63422233093efa2dbbd1928d1f20

Starbucks and Spotify Redefine Retail Experience by Connecting Spotify Music Streaming Service Into World - Class Store and Digital Platform | Spotify Press
https://press.spotify.com/us/2015/05/18/starbucks-and-spotify-redefine-retail-experience-by-connecting-spotify-music-streaming-service-into-world-class-store-and-digital-platform/

Starbucks and Spotify announced the signing of a partnership on May 18, 2015 (local time). Starbucks offers "My Starbucks RewardsSportify will be added as part of "Starbucks mobile app will be added music listening function. In addition, My Starbucks Rewards is a loyalty program limited to the United States that "star" that can be exchanged for benefits by paying with Starbucks card registered mobile application will be collected,My Starbucks membershipProgram different from.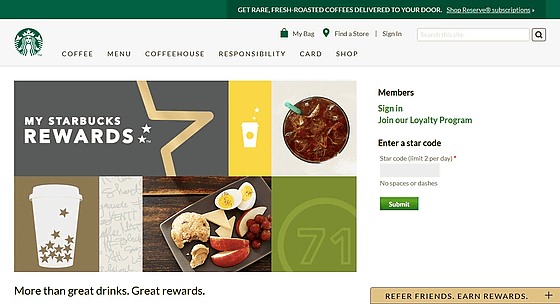 Spotify Premium, which is a paid plan of Spotify, will be awarded to approximately 150,000 American Starbucks employees, and from the fall of 2015, Starbucks employees who received Spotify Premium will be You will be able to create playlists in store BGM using Spotify. Register members of My Starbucks Rewards are supposed to be able to listen to Starbucks' in-store BGM playlist from mobile applications. Also, registered members of My Starbucks Rewards can tell the playlist's request, there is also the possibility of getting a star.

Meanwhile, Spotify users will be able to obtain Starbucks stars by using the Spotify service, plus a new playlist of in-store BGM selected by Starbucks will be added in addition to existing functions of Spotify. It is a service development that benefits both Starbucks customers and Spotify users, and a new platform is created by top companies in the coffee industry and music streaming industry.

Daniel Ecu of Spotify says "Starbucks with a rich musical tradition and many customers are also enthusiastic music fans, we are very proud to be such a Starbucks music partner," I have commented on it.




In Japan, Spotify is preparing for service provisioning, and it seems that it will be the earlier story that the partnering service with Starbucks will start, but the same service development will be started in Starbucks in Canada and the UK sequentially.