If you do not update iOS forever, you will not be able to play videos from the YouTube application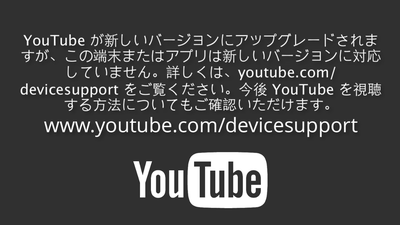 YouTube Data API, which YouTube uses for watching YouTube from mobile applications and smart devices, has been updated. This will end support for the YouTube application on some devices, making it impossible to watch a movie using the YouTube application on older versions of iOS, Apple TV, some smart TVs, Google TV, etc. I will.

YouTube Engineering and Developers Blog: Bye-bye, YouTube Data API v 2
http://youtube-eng.blogspot.jp/2015/04/bye-bye-youtube-data-api-v2.html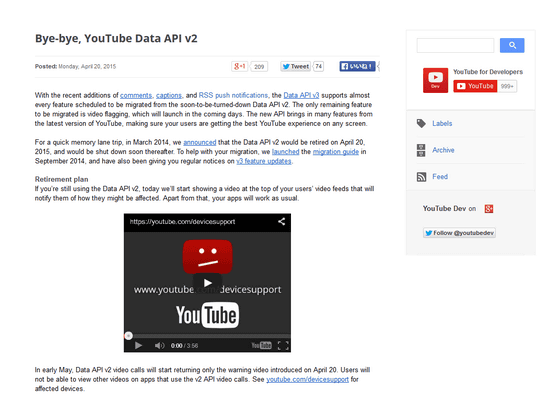 YouTube App No Longer Available on Older Apple TV, iOS Devices - Mac Rumors
http://www.macrumors.com/2015/04/20/youtube-older-apple-tv-discontinued/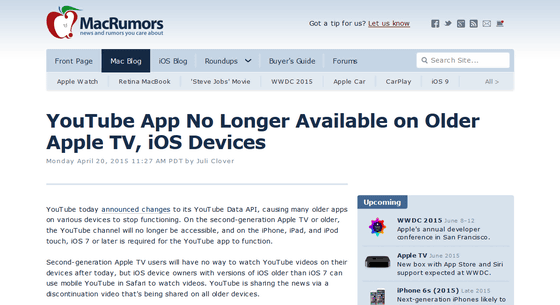 With the update of "YouTube Data API", the YouTube channel will be unusable on Apple TV before the 2nd generation. Also, on iOS devices such as iPhone, iPad, iPod touch, if the OS version is iOS 6 or earlier, you can not watch the movie from the YouTube application. Users using Apple TV before the 2nd generation will no longer have a way to watch YouTube, but for iOS devices you can upgrade the OS and upgrade the YouTube app, or use browser applications like Safari YouTube viewing is possible by using it.

With this update of "YouTube Data API", the API which has been used until now will be completely shifted from "v2" to "v3". This makes it impossible for the YouTube application using "v2" in the API to watch the movie, which is not only for iOS devices and Apple TV, but also for smart TVs released before 2013 and There are targeted devices in Google TV, Blu-ray recorders and others as well.

When you watch a movie from the ended support YouTube app, the following movie is played.

https://youtube.com/devicesupport - YouTube


For iOS devices, updating the OS from "Settings" -> "General" -> "Software Update", updating to iOS 7 or later version, if you update the YouTube application, you can again watch the movie from the application I will.

In addition, with this update, movies can not be played from the first half of May 2015 in the terminal where the movie can not be viewed from the YouTube application. In the latter part of May, support is completely stopped Movies can not be played. Until then, since you can watch movies from the YouTube application on Apple TV or iOS, so that it does not mean that "YouTube can not be viewed suddenly! It seems to be good to consider updates and terminal replacement.