Various new discoveries on the second Balkan peninsula such as "Nama's foot enchanting mermaid" and a mysterious "yellow cat"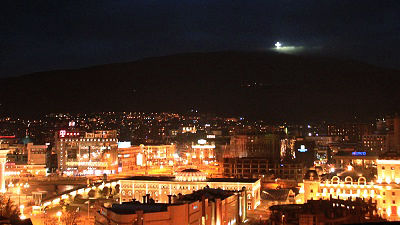 Beyond weakening yen, Lira of Turkey also lowered the currency value. In Macedonia, a huge shopping mall that has never been seen appeared. A hostel with a dormitory appears in Pretty Sina, the capital of Kosovo where there was no choice of cheap hotel. A German discount store Riddl advances to Croatia, which joined the European Union. There were various changes in the Balkan peninsula that I visited in about 5 years.

Hello,Takuya Sudo @ circle around the world bicycle @ Charridermanis. I left my bicycle in Egypt and traveled from Istanbul in Turkey to Sarajevo in Bosnia and Herzegovina for three weeks from mid January this year.

Bulgarian stick-shaped pretzel with lovely panda drawn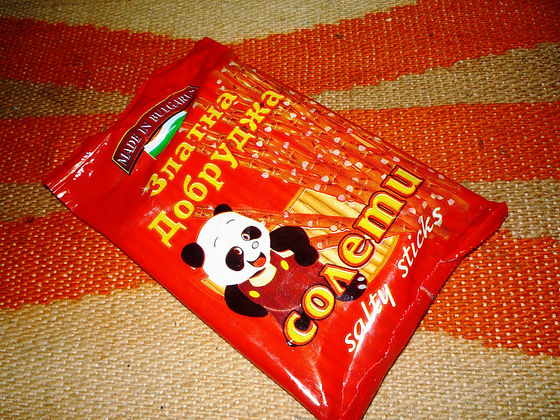 We rediscovered this visit. "Why are you a panda?" I was always worried, but looking at the eyes, the stick-shaped pretzel looked like a bamboo bamboo.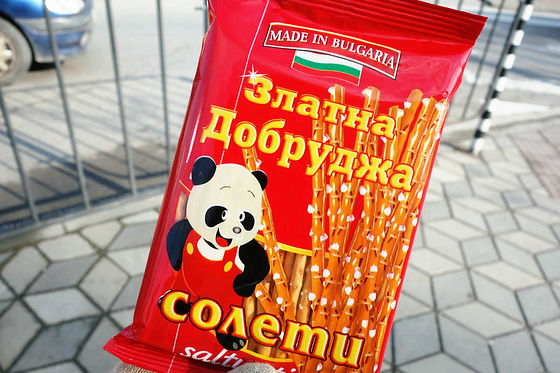 There are many things I did not realize just by traveling like this one time. I focused on the discovery that this time is the second time, I tried summarizing the trip of the Balkan Peninsula.

◆ Yellow cat character
Doraemon, Hello Kitty, Nyarome, Kuroneko Yamato, recently a character such as Gibanhaan of a youkai watch motif has many characters as a motif. A funny cat character was drawn on the wall also in Sarajevo, the capital of Bosnia and Herzegovina who visited about five years ago.

White feathers that can also fly in the sky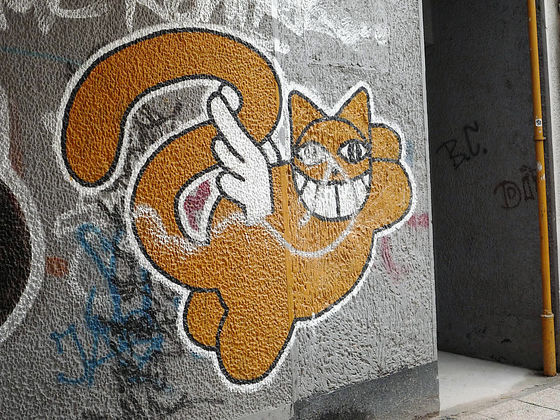 Characteristic big mouth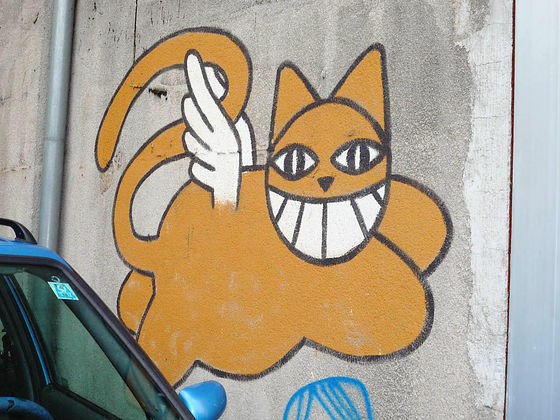 Surrounded by rose flowers.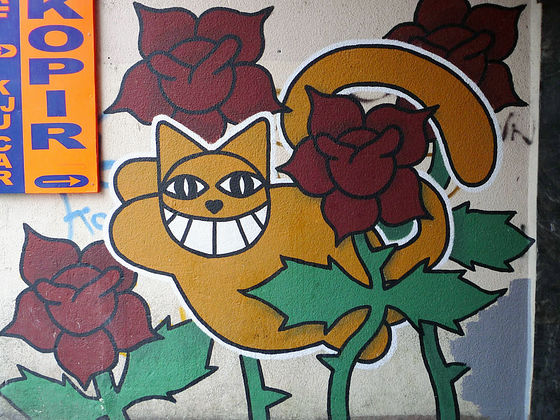 Reading



A white feather on a yellow body, a big mouth and a heart-shaped nose, a face you can not forget for the first time. This time I found it in Pretty Sina in the capital of Kosovo.

The appearance spreading both hands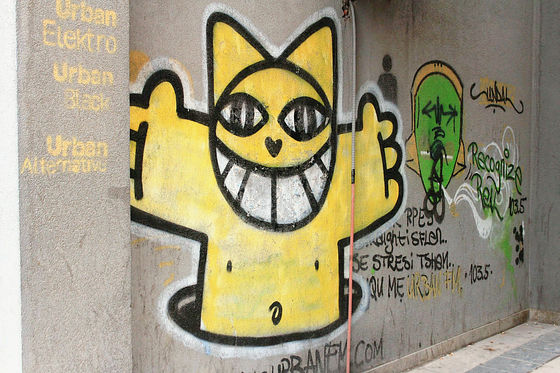 A huge figure drawn on the wall of the building. Even the next building is flying in the sky.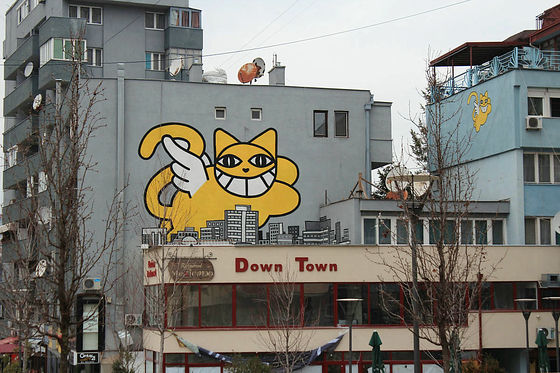 When asking a question by asking an image that "I do not know about this cat?" To the hostel's employee who was staying, I search on the Internet and use the English version of Wikipedia as "M. chat"It found out the item 's. It turns out that it is a character created by an artist called "Thoma Vuille" from Switzerland. M. chat 's M is Mosieu (Monsieur), a honorific name for a French man. Chat is a cat, so if it's English, it is a nuance of "Mr. Cat".

This time Sarajevo who visited again saw the figure I expected. Strangely enough, only the appearance of a cat different from last time.

It is hard to understand, but I can confirm a little bit.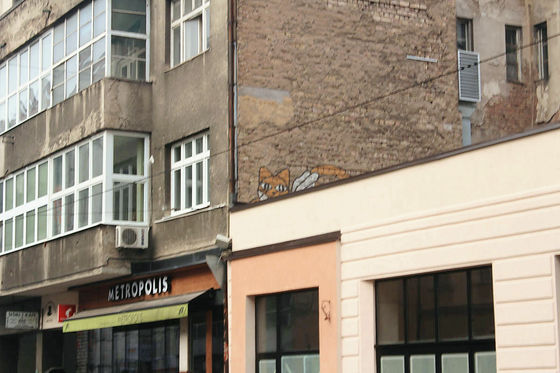 Also flying on the wall also flying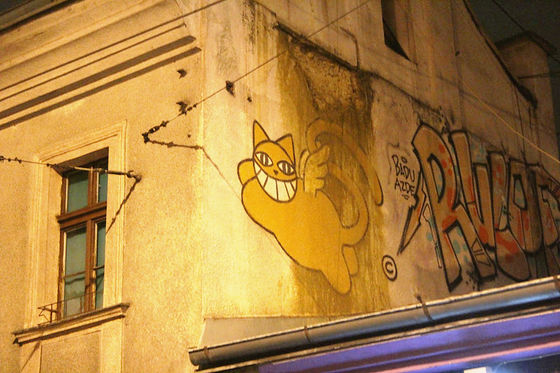 One drawn on the wall of the hostel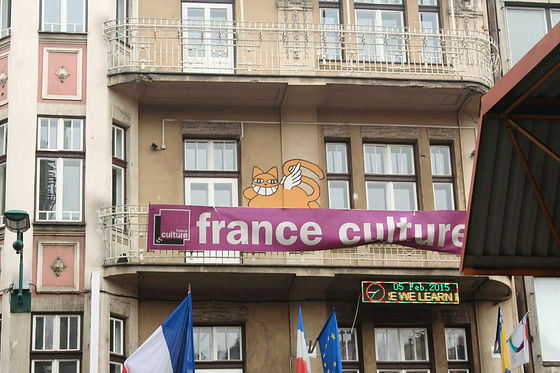 This covered the entrance of the shop.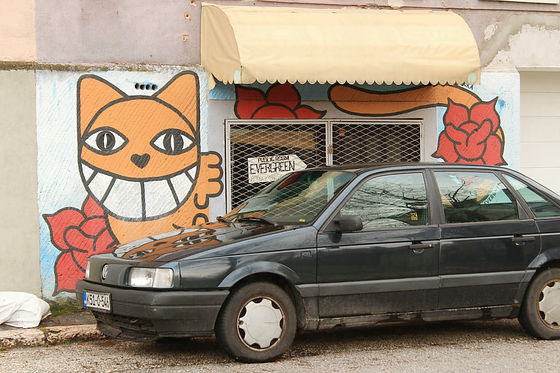 And I also found this cat in Paris, the capital of France that I visited last summer.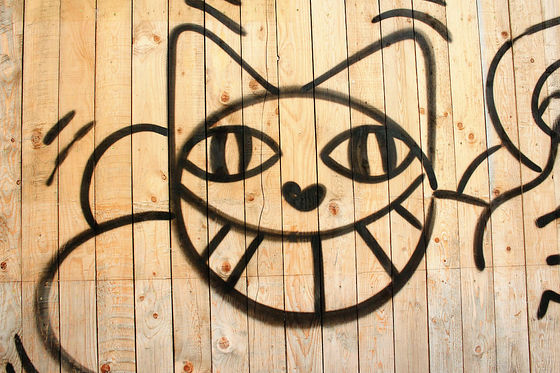 M. chat summary siteThe appearance of this cat drawn in various countries is introduced. This cat is also in Kagurazaka, TokyoThere is a place to be drawnit seems like.

◆ Asahi Flag and a country with two national flags
In recent years bashing from neighboring countries as a war criminal flagAsahi Flag. Like the Asahi Flag, the design with the motif of sunlight in the sun, centering around the sun is subject to protest by some people in neighboring countries. Since when did such a news come to be heard? Formerly former YugoslaviaMacedoniaThe flag of Japan was similar to the design of the Asahi Flag.

The flag of Macedonia flew to the capital Skopje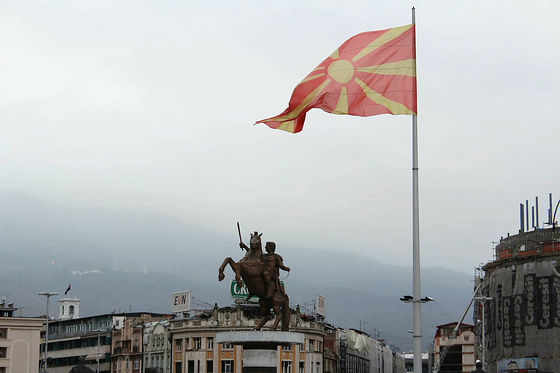 Also the feet of the square are like this.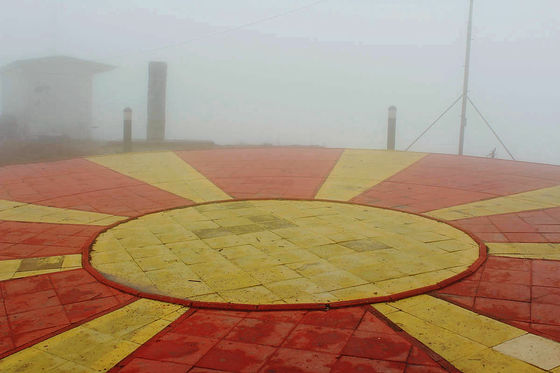 Many Macedonian national flags raised in a souvenir shop



Because of this country, Swatch of the global clock manufacturer also used the Asahi flag design.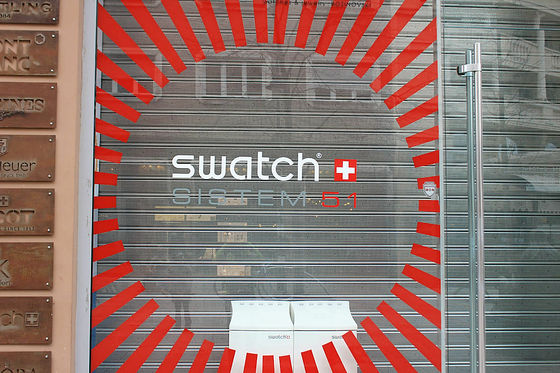 ◆ a city filled with strange statues
Continually to Macedonia, the capital city Skopje is striking arts or street statues everywhere in the city. Sometimes a surreal figure that is difficult to understand. If you are walking anyway, you will find something.

The nose that hides in the valley of the building also looks rough cattle



Even though it is ethnic dance, what comes to mind is the seat of a banquet where men subordinate drunk bosses.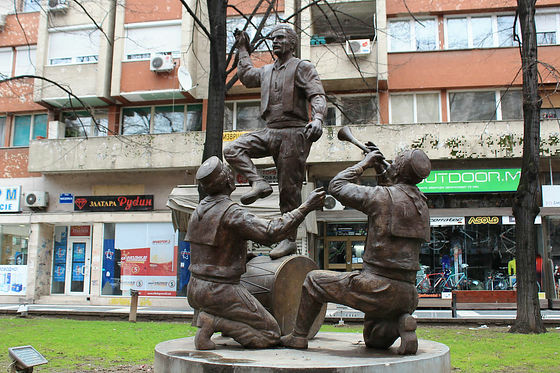 A woman throwing herself in a river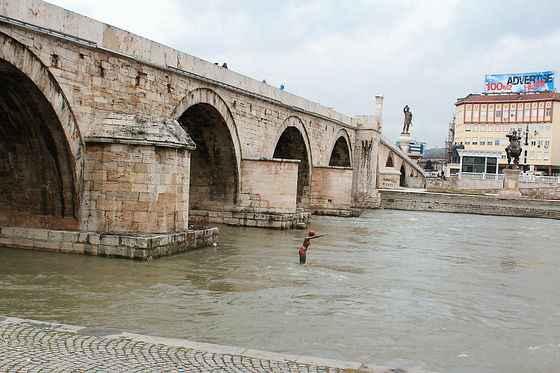 I found an object with fish as a motif.T. M. RevolutionI was excited with the phrase "Nama's foot enchanting mermaid" emerging in the song "HOT LIMIT". From the interpretation of that phrase, one timeTopics on the netBecause it was supposed to be, it remained in memory.

It is a beautiful leg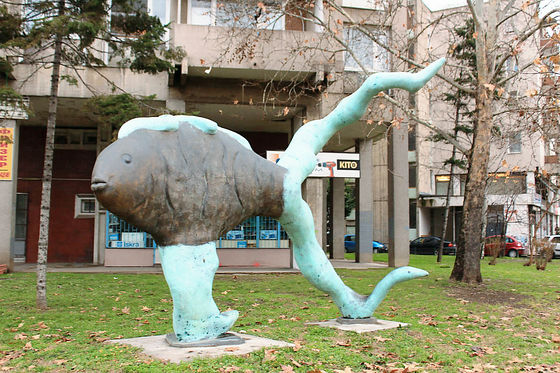 Pichi Pitchi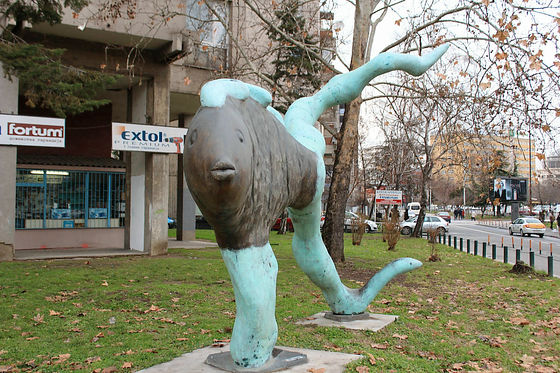 By the way, I used to keep a picture well in the last time. When visiting Skopje, please try looking.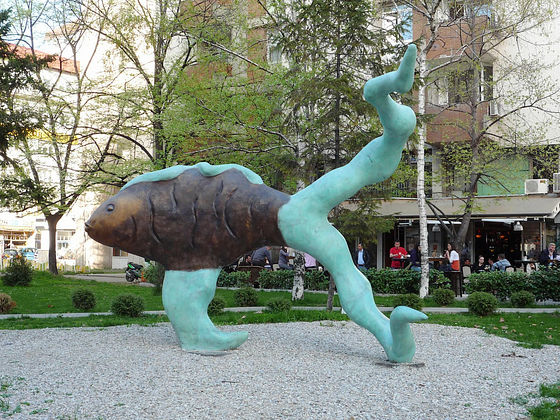 ◆ Lamb Store and Migros
Since discovering in Kazakhstan in Central Asia,Turkic ethnic groupsAs a connection as a Turkish company, I thought that supermarket "Ramstore". This time I used it again in Macedonia, but the atmosphere of the logo is the same as the supermarket "Migros (MIGROS)" in Switzerland. Turkey also has a supermarket chain of the same name.

As I was interested in it,Turkey · MigrosAlthough Switzerland Migros was involved in the establishment, it was sold in 1975 and becomes a company with 100% Turkish capital. Although it became a separate company, it continues to operate a supermarket under the name Migros in Turkey. This Turkish / Migros was a lam store with a super market opened outside of the country. Turkey · Migros seems to be unable to use the name Migros overseas, so now I understand why there is no lamb store in Turkey even though it is a Turkish company.

Lamb Store is a green kangaroo mascot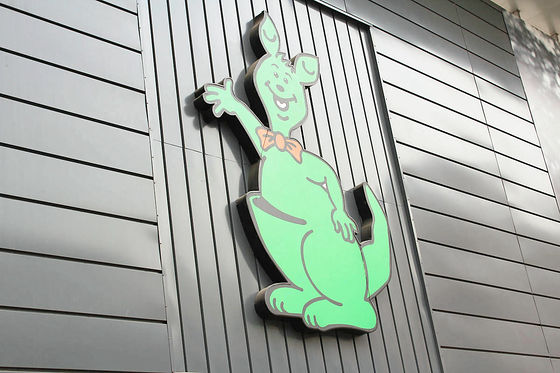 Headquarters Switzerland · Migros

Migros - Ein M besser
http://www.migros.ch/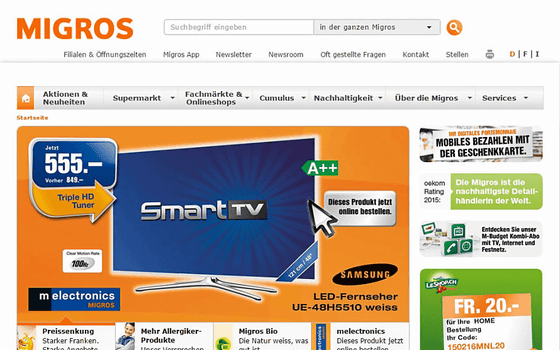 Macedonian lamb store

Ramstore
http://ramstore.com.mk/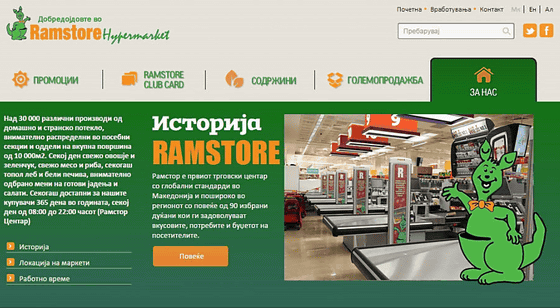 ◆ what does not change, what has changed
In the Balkan Peninsula, which was the first time in about five years, such as croissants everywhere, hamburger cuisine like kebab, drinking yogurt lined with supermarkets, the memory of the last trip overlapped. There are things that have not changed, others are unusual.

The Galata bridge over the Golden Horn of Istanbul is a place where anglers gather.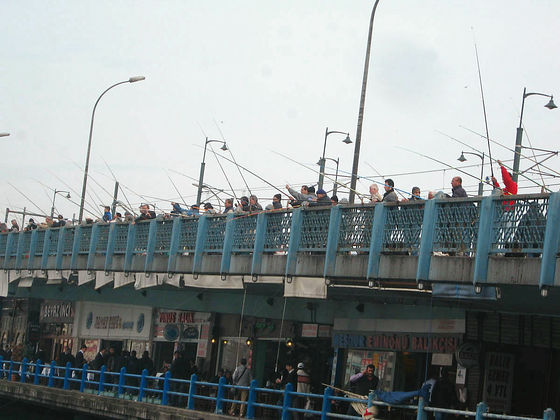 Despite the cold weather in January this time, it was crowded with many anglers like last time.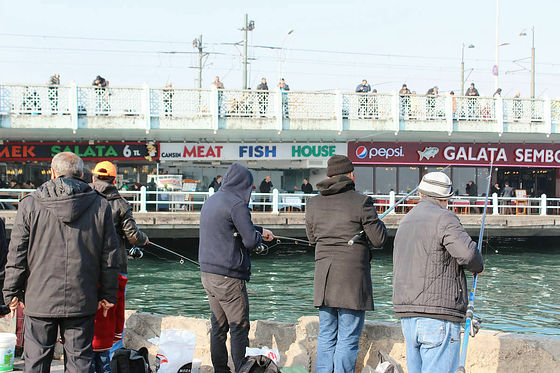 If you visit Istanbul, you definitely want to recommend mackerel sandwich.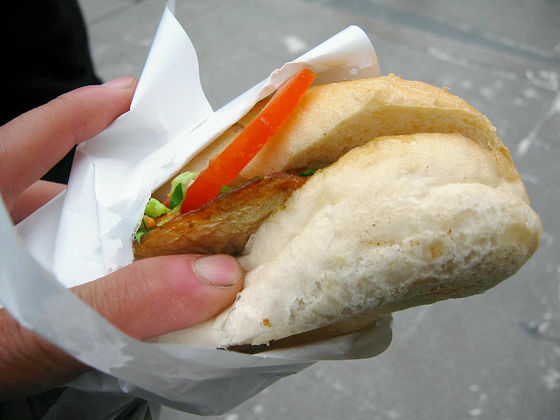 Of course I also got a visit this time. Freshly baked mackerels caught in bread are juicy as they gargle and juice overflows with fat. Despite this fat, it does not get persistent as lemon juice is combined. Since vegetables are also together, it fits into the stomach bag easily.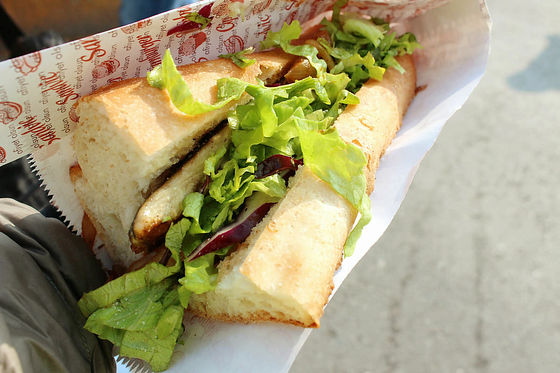 Wall advertisement of Chupa Chaps seen in Sofia, Bulgaria's capital ... ...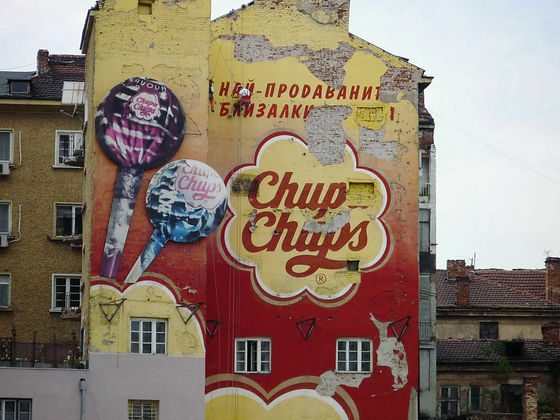 I was dealt with frustratingly because I finished the task.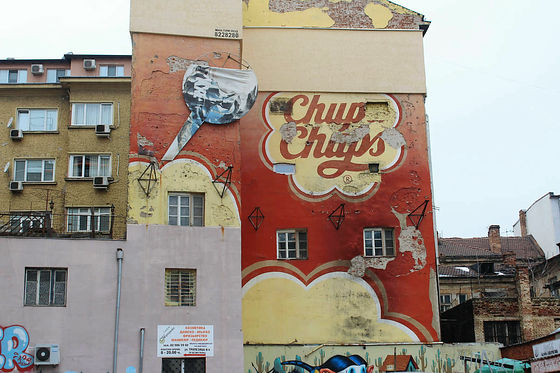 Sophia's accommodation is about 10 Euro (about 1350 yen) in dormitoryHostel MOSTELIt is recommended. It is popular secret that the room rate includes buffet type breakfast, pasta and glass beer dinner.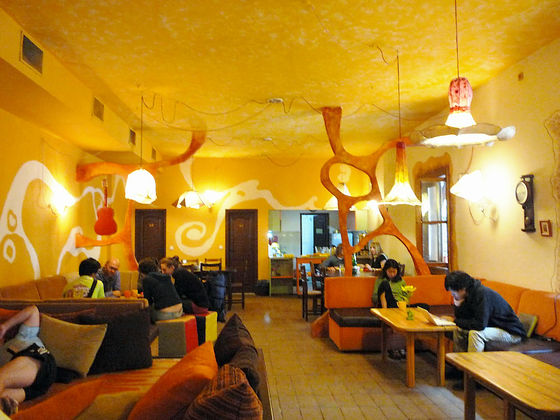 It was crowded with many travelers this time too. Including morning and evening meals, same price as last time. The dinner system was improved to choose from three kinds, pasta, rice & beans, egg & vegetable. And of course with beer. Because we can rotate, dinner will not be monotonous even if you stay a night.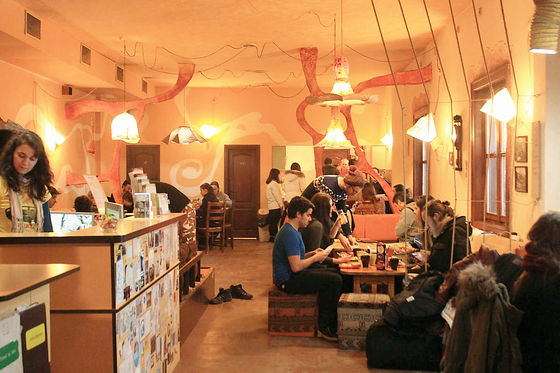 The walls of apartment houses seen from the hostel MOSTEL seemed to be damaged quite a lot.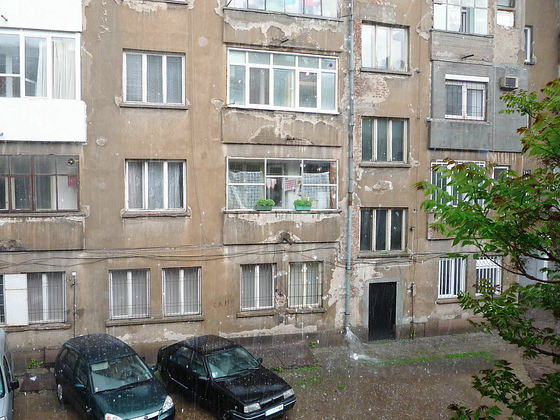 It seems that it was repainted this time, and it turned into a beautiful building.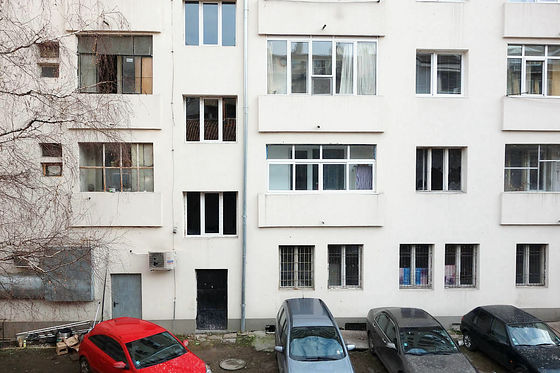 Fanta's "exotic" flavor exists in Kosovo.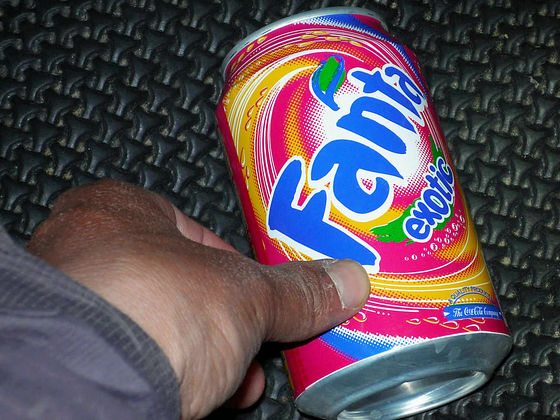 Despite the renewal of the design, I found the same flavor. It seems that some fruits have been mixed, but it seems like it is not possible or impossible ... ....



Located in Sarajevo, capital of Bosnia and HerzegovinaBashucharussiaWas developed as a commercial district in the 16th century under the Ottoman-Turkish reign. Today, many tourists visit as a good old sightseeing spot that makes you feel history. Water drawing area that was built in 1891 is a unique shape. The street where wooden building souvenir shops ranked was similar to the atmosphere of Japan.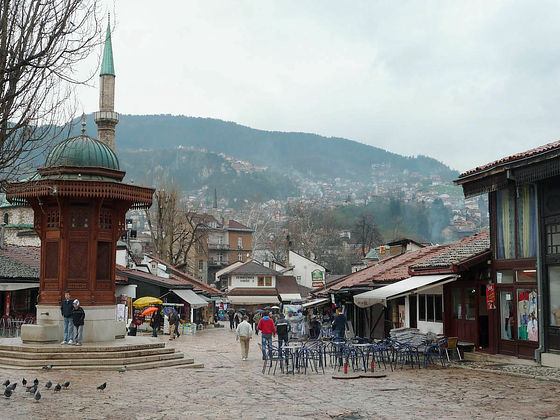 Sarajevo in early February made a snow makeup due to severe cold weather. Because there was an altitude inland, it was getting cold as the limbs got caught.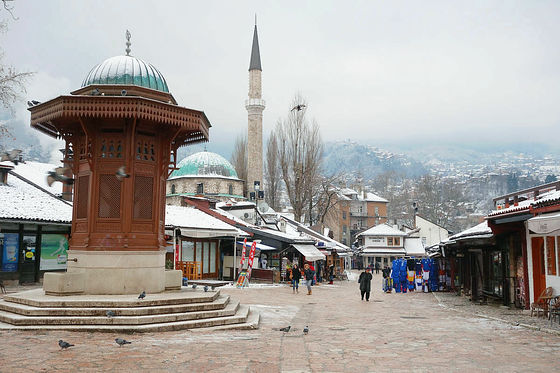 Thus, the Balkan Peninsula was a rediscovery trip. By the way I went to see the opposite sex, but I can not find happiness in the future.

Even though there was nothing, the Balkans penetrated again was fresh. Last year, it was the United States for the first time in about two years, France for the first time in about four years, and Thailand for the first time in about six years. The view that can be seen also changes by the time spent, so it is hard to stop the trip.

(Sentence / photo: Takuya S. Narou Charriderman
Cycling around the world for a bicyclehttp://shuutak.com
Twitter@ Shuutak)