I tried spinning the world famous Nuremberg Christmas Market with a fragrant Grüw wine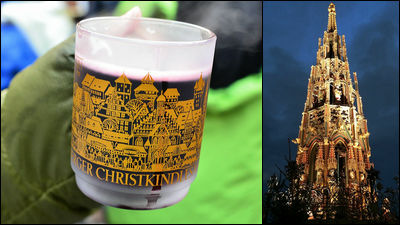 Although it is said that Christmas market originated in Dresden in Germany, I have experienced home place in Nuremberg's Christmas Market which is said to be the world's most famous.

Guten Tag!World newspaperA special reporterRyuta Matsudais. Have you been to the Christmas market? Recently, it seems that it is done also in Japan, but the real home is still Germany. There are three major Christmas markets in Germany, each one "the world's largestStuttgart"The oldest in the worldDresden"The world's most famous Nuremberg" has become. This time, I went to Christmas Market "Christoquin Dress Markt" in Nuremberg, one of the most famous in the world.

◆ History of Christmas market
On the official website of the Federal Republic of the German Embassy / Consulate General, the history of the Christmas market is written as follows.

German Embassy German Consulate-General - Christmas Market
http://www.japan.diplo.de/Vertretung/japan/ja/08-kultur-und-bildung/feste-traditionen/Weihnachten-D/Weihnachtsmaerkte__D.html

Historically proven as the first Christmas market in Germany is probably not the most famous Nuremberg, but the Christmas market of Frankfurt am Main, which took place in 1393. However, the Christmas market at the time was not like today. It was the last opportunity to buy and sell everyday goods, mainly before a tough winter came.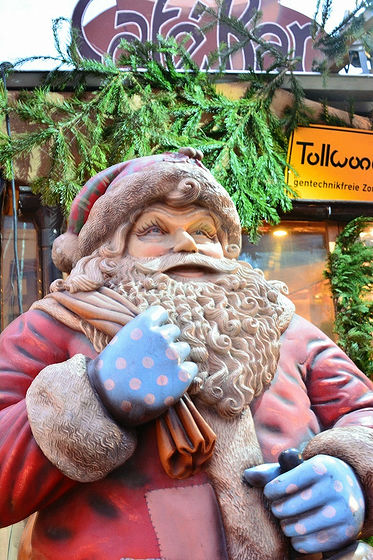 ◆ City with "Christoquin dress Markt", Nuremberg
Nuremberg is a small town in southern Germany.FC Bayern MunichIt is one hour by express train from Munich famous for football team saying that it is good access. For that reason, aiming for this Christmas Market not only from Germany but also from all over the worldOver 2 million people visitedIt is said that it is. It is very popular.


It is a sign of Christmas market this year. Just watching it makes me exciting. Generally, the Christmas market is held from the beginning of December until December 24.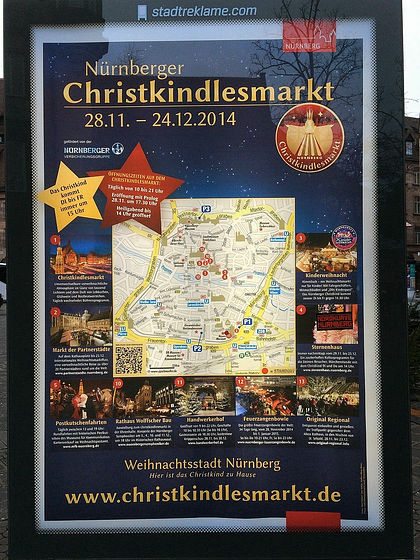 People who looked cool in Santa played Christmas music. The atmosphere comes out, and listening also becomes fun.



The stalls made of brown walls line up on such a red roof. It is unified and cute.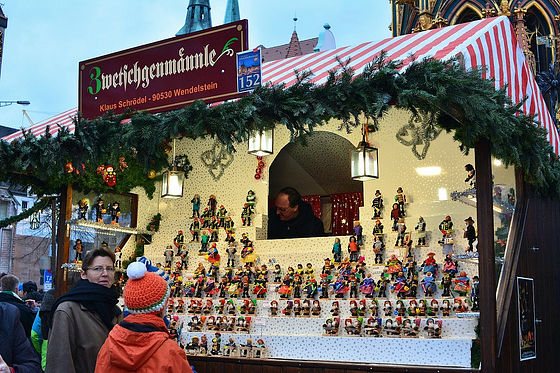 ◆ From cute Christmas merchandise to food, drinks are everything!
There are many shops and things in the market. A couple of excerpts ......

1: Classic Christmas ornament store of miscellaneous goods
Wooden, metal, large, small and a variety of ornaments decorate the entire shop. The price is 5 euro (about 700 yen) to 20 euros (about 3000 yen).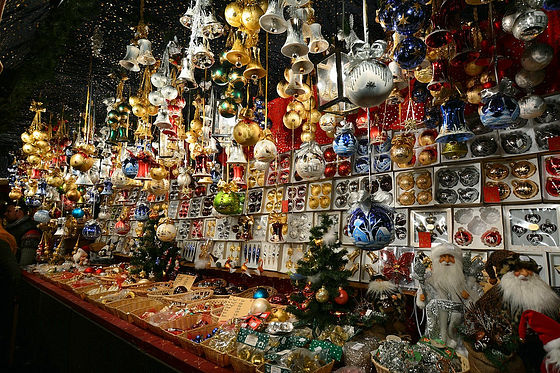 Here is a wooden ornament with motifs such as flowers.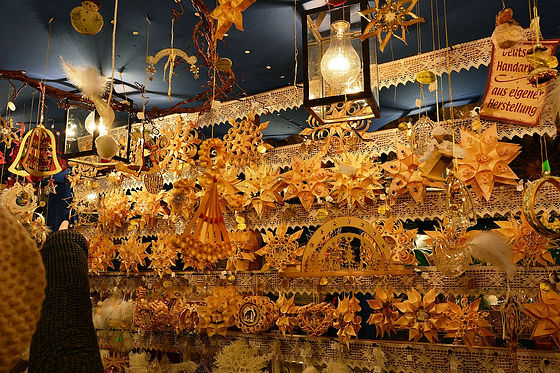 2: star shaped light
Recommended for those who want to romanticize Christmas night. A star hung from a dark room gently shines. The price is from 12 euro (about 1700 yen).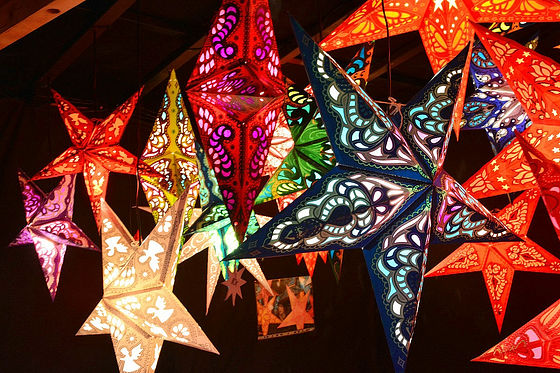 3: Stylish candle store
Although it looks like a beer, there are also interesting items that are actually candles. The price is from 6 euro (about 850 yen) to 12 euros (about 1700 yen).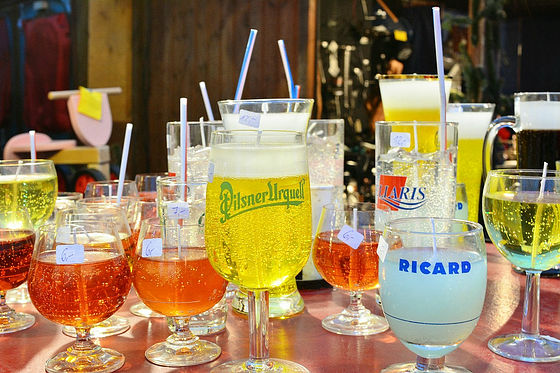 4: Nuremberg sausage
Although Germany thinks of a large sausage, it is characteristic that sausages of Nuremberg are small. It is a staple of Christoquin dress Markt with food called dry · im · vecra that sandwiches it in bread and eats it. One 3.5 euro (about 500 yen).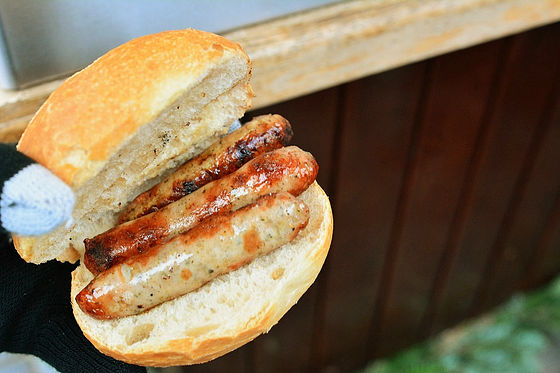 Just watching the baked figure is fun! But it smells good so I eat it ....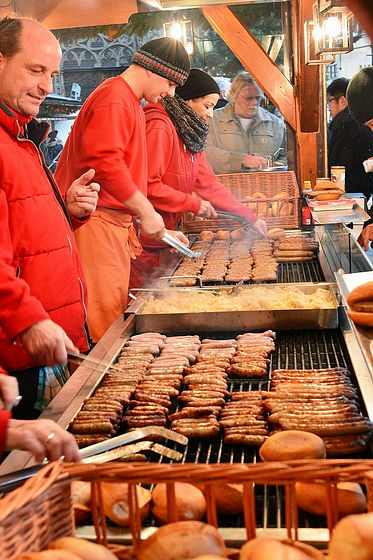 5: Pizza shop for one person
It is a recommended shop where you can have a kiln next to the shop and eat freshly baked pizza. The balance of cream cheese, bacon and onion is outstanding! 3.5 euro (about 500 yen).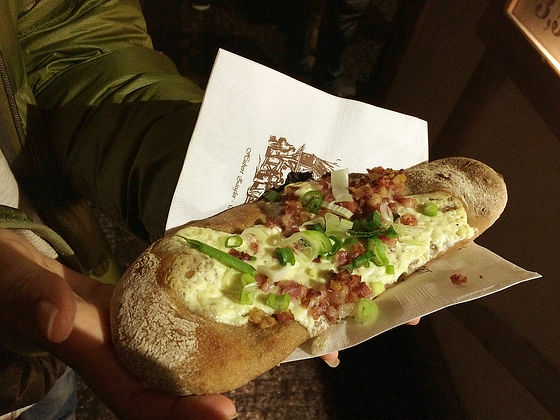 This is the kiln with which it is installed. Firewood is making a good atmosphere.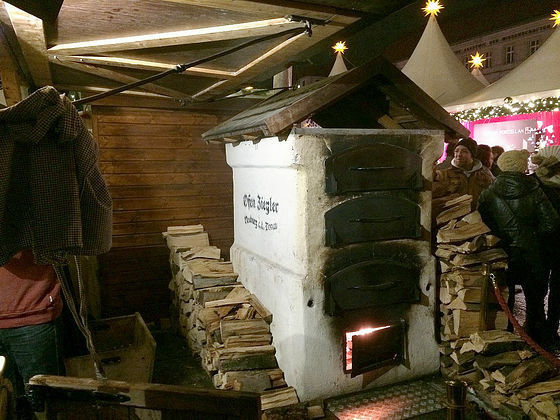 6: Cookies with spices,Leap Kuchen
Traditional cookies that are fragrant with ginger and so on. There was a normal type containing almonds and a version coated with chocolate. Each is 1.8 euro (about 260 yen).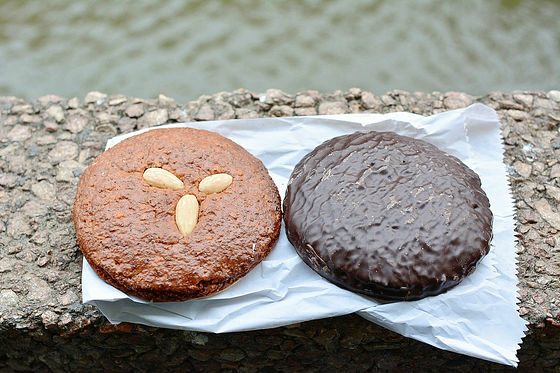 The shop is surrounded by cookie and it looks cute too!



Speaking of Christmas MarketGrül Wine
In Japan, there is a way of calling Japanese English "hot wine", but in German it is called Grüw wine. It is a must have for cold nights. Because the spices soaked in each shop are different, when you compare drinking, the taste is different and interesting. You can choose from Red, White, Half & Half. Sometimes I get cookies by service. Including deposit, 5 euro (about 700 yen) to 6 euros (about 850 yen).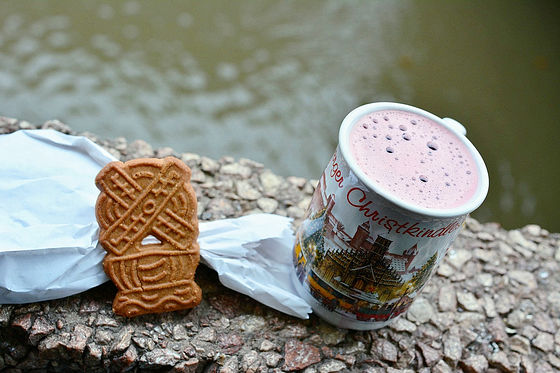 Everyone is drinking while chatting while walking. It is recommended because the body warms up and it is a handy price.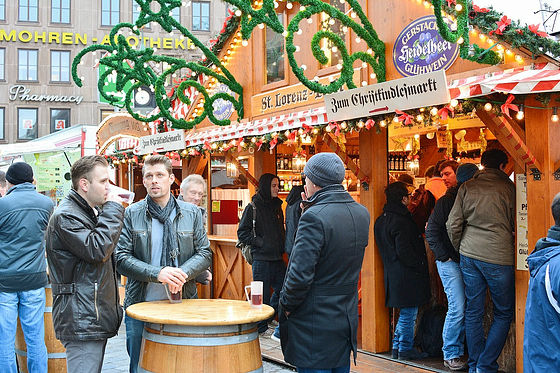 ◆ Cute glass of wine grin Best 5 on hand
Glasses that pour griddle wine are different for each shop and town, and because there are many kinds, ranking themselves with arbitrary and prejudice!

No. 5: Glass of Munich based on deep blue
It seems that children are playing with snow painted and it makes me smile, but I can not deny a sense of omission, so I ranked fifth.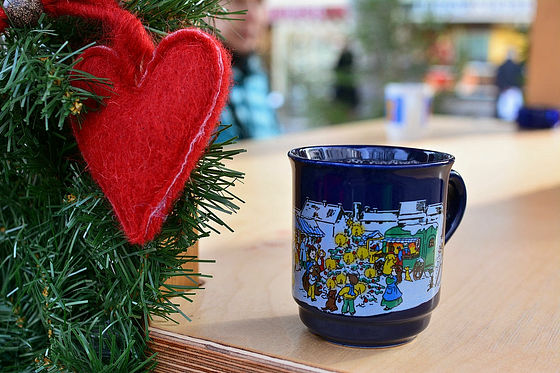 No. 4: Glass of Nuremberg that embodied Simple Is Best
To the translucent elongated glass, the minimum necessary paint, yet golden color is used to create a sense of quality. But from the point of cuteness it is fourth place.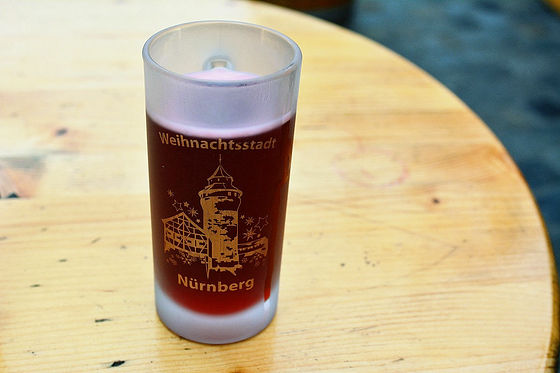 3rd place: glass of Munich with Santa's painting classic based on white Munich
Personally, Santa's expression did not eat only Susuku so I ranked third.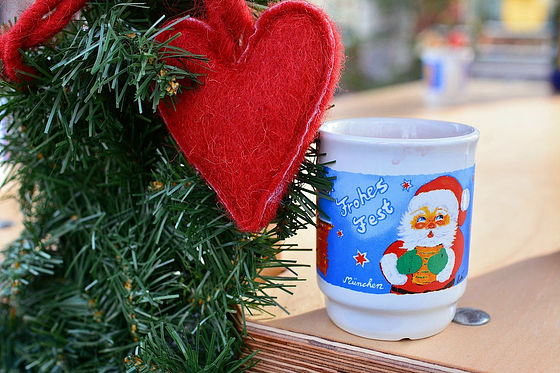 No. 2: Glass of Nuremberg where the Church of Our Lady and the tree are painted finely on a white glass
The fashionable degree is high, and the probability that cute girls have in the city is high, so it is second prize solemnly.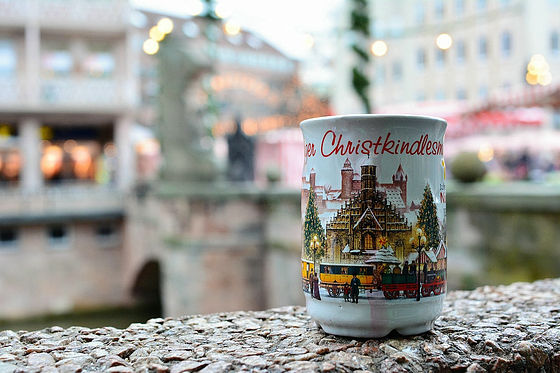 First place: Nuremberg glasses in the form of red socks indispensable for Christmas
A Christmas tree and a snowman, and a small gift box are painted. When I drink a glass of wine with this glass, I should not be alone to feel the gift from Santa.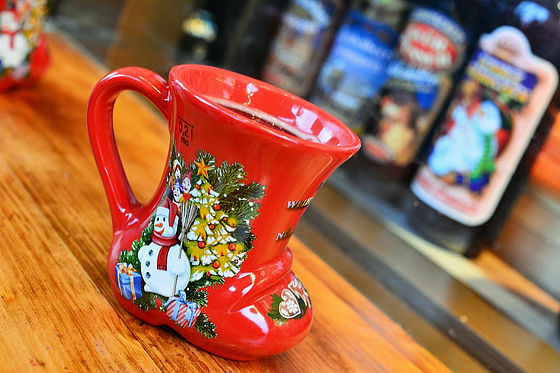 Grül Wine will pay a glass deposit of 2.5 euros (approximately 350 yen) when ordering. Of course, if you refund the glass after drinking, the deposit will come back. You can take it home as it is, so it will be a nice souvenir.

◆ Christmas markets are after all the night
The shop opens at Christmas market before noon so you can enjoy eating and walking. However, it is still nice to recommend. Grilled wine drinking while watching light-up tree, church, etc does not collect.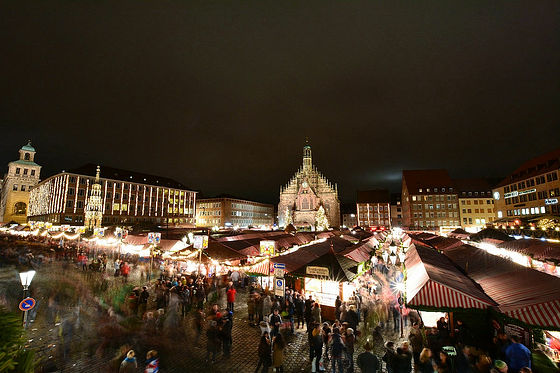 The Frauenkirche church in front of the market. Although it is very impressive, the appearance of light up is beautiful.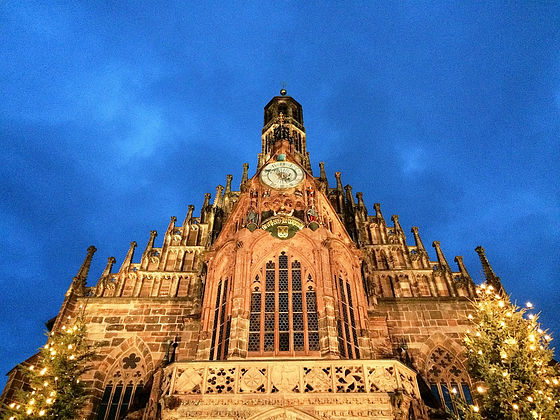 And finally, I will introduce the Christmas pyramid of Nuremberg. Christmas pyramid is set up in the German Christmas Market with a big tree, the pyramid of Nuremberg seems famous, it seems to come true when asking whilst turning the golden circle. It was lit up and it was very beautiful.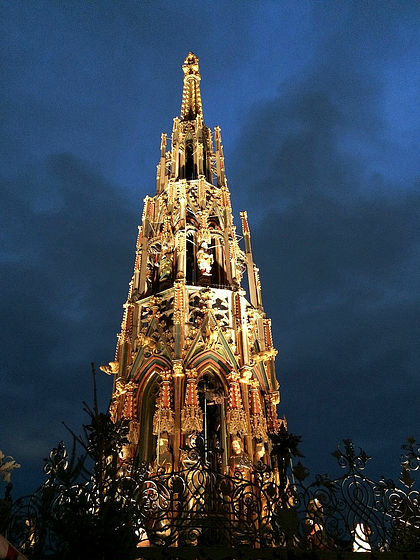 This is a golden ring. I also did a wish, but it is a secret since it seems that the effect will disappear if I say it ......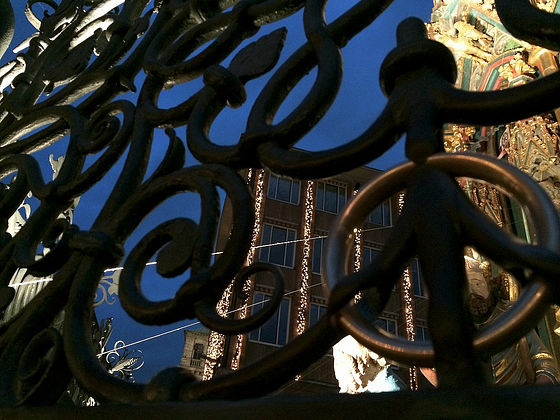 There are Christmas markets in all over Germany, and there are plenty of places to enjoy in addition to Nuremberg. Why do not you try spending your next Christmas in Germany? Grüw Wine's glass was cute so we decided whether we would bring back with her bride or not, so we decided to take it as a baggage for the trip so we abandoned it ...... When I came next time I decided to return with some think.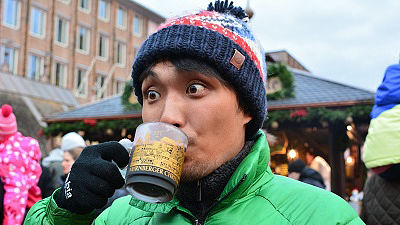 Statement · Interview: Ryuta Matsudahttp://matsuda-cho.com

Supervision: World newspaperSekaishinbun.net