THE IDOLM @ STER MOVIE & Kirakiru's 2015 calendar to be distributed by the Tokushima Bank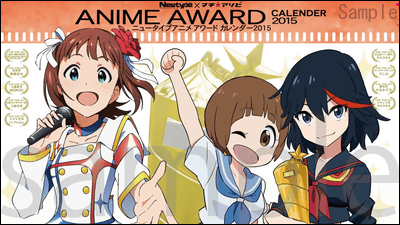 "Tokugin will support the New Type Anime Award.By saying that, "October 2014 held"New type animation award 2014In "Award winning work"THE IDOLM @ STER MOVIE To the other side of the glow!(Theater screening department) and "Kirakiru" (TV department) was designed by the Tokushima Bank in 2015 will be distributed.

Tokushima Bank: 2015 About the Tokushima Bank Calendar "Newtype × Machi ★ Associate ANIME AWARD"
http://www.tokugin.co.jp/newsrelease/news2014/news_141224.html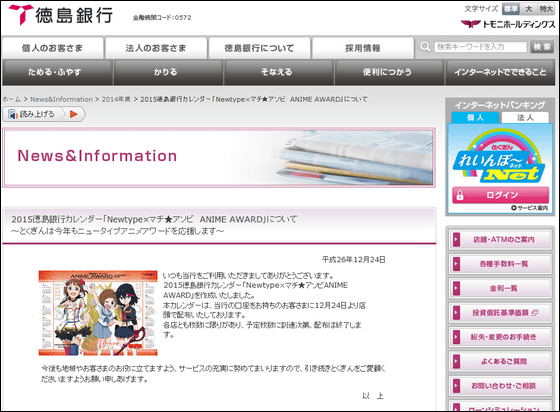 The Tokushima Bank 2015 calendar "Tokigin will support the new type animation award." - Machi ★ Assobie
http://www.machiasobi.com/events/tokugin.html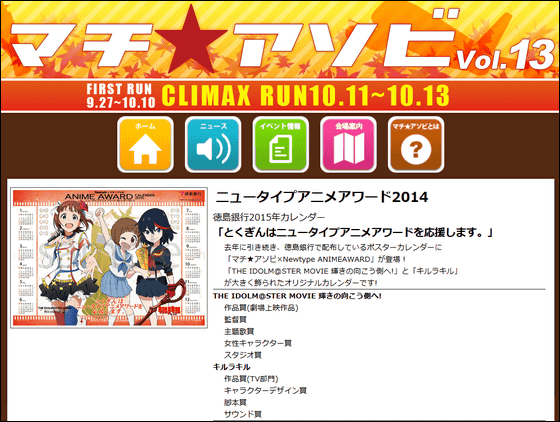 A sample of the calendar looks like this. Since it is a sample to the last, I am lowering the image quality than the actual one.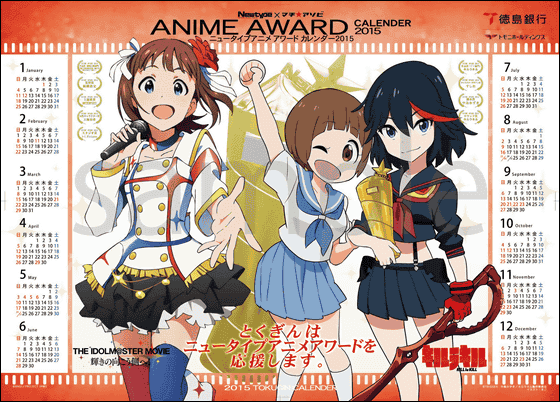 In Tokushima Bank, we have the same track record of making idol master & Fate / Zero in 2013 and calendar of advancing giants & steins gates in 2014.

Of the works that became illustrations this time, in addition to the work prize (theatrical screening department), "Director Atsushi Nishikori," Theme Song Award (M @ STERPIECE), "The IDOLM @ STER MOVIE to the other side of the shine! She has won five crowns with female character prize (Amagi Haruka) and Studio Award (A-1 Pictures).

Also, "Kira Kiru" achieved 4 crown with Character Design Award (Sushio), Screenplay Award (Nakajima Kazuki), Sound Award (Sawano Hiroyuki) in addition to the work award (TV division).

Please note that this calendar is being distributed at stores from December 24 (Wednesday) to those who have an account at Tokushima Bank. Distribution will end when reaching the planned number because there are limited number of sheets at each shop.